Readers Say
Boston.com readers aren't ready to give up remote work
"My entire company worked remotely for 14 months and met or exceeded all of our numbers and metrics."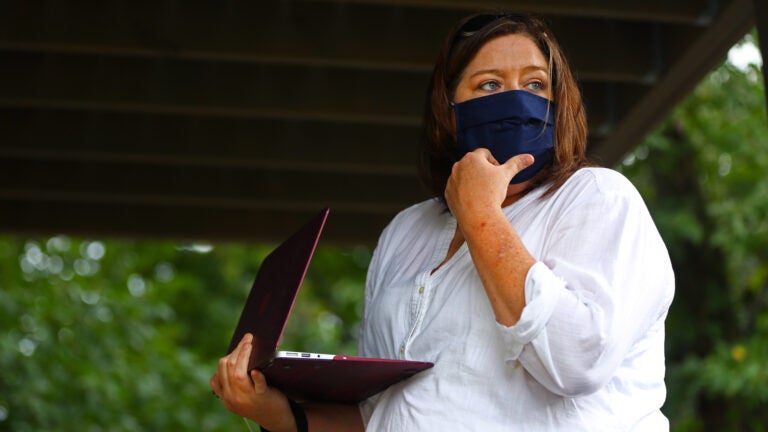 It seems the pandemic has put many of our fall plans in limbo for the second year in a row. Many companies were planning for a return to the office after Labor Day, but with coronavirus cases rising across the country, in-person work plans are once again up in the air.
When we asked readers in March, a majority of respondents said their employers hadn't yet shared any plans to return to the office, and readers were pretty evenly divided on whether they preferred a hybrid model or a full return to their desks.
Since then, the news about COVID-19 has changed substantially. Vaccination rates in Massachusetts are now much higher than they were earlier this year, with 70% of the population having received at least one dose. However, Mass. and the nation are also facing a rise in cases caused by the highly transmissible Delta variant. Last month, the Centers for Disease Control and Prevention issued new guidance that everyone wears masks indoors, regardless of their vaccination status.
Given the rising cases across the state and changing COVID-19 policies at local businesses and within communities, we asked readers how their plans for an office return may have changed in the last six months.
This time around, 74% of readers said their employers had developed concrete plans to return to the office, and 47% of the 500 people polled said they would prefer to continue working remotely.
"I am not keen on my company's mandatory return to work, especially with my mode of transportation being the MBTA," said Britney, who works in interior design. "Going in two days a week was manageable, but three days a week has made a much bigger impact. I am so exhausted."
Some readers said they were following along closely with news about the Delta variant to make their decisions about returning to the office. Of the people polled, 62% said their employer wasn't requiring proof of vaccination to return to work, and 23% said they were. Fifteen percent of readers haven't gotten confirmation from their bosses on the issue.
"I've already begun using the commuter rail and traveling into Boston again. Masks are still required and it's been fine," said Elizabeth, an epidemiologist. "With this new Delta variant circulating even among the vaccinated, I'm rethinking my options about going into the office."
In Mass., some businesses are requiring their workers to be vaccinated. Newton-Needham Regional Chamber surveyed 450 of its member businesses and found that one in four will have a vaccine mandate in place. Some readers said they're hoping their own companies will follow suit.
"I would prefer my company to require vaccination for return to the office," one reader said. "I believe they are leaning that way, especially with Google's announcement of the same, but a final decision has not been made."
What's your work preference?
We asked readers to share their thoughts and concerns about returning to work in person. Below is a sampling of responses from people who are itching to get back into the office, wishing to stay remote forever, and those hoping for something in between.
These responses have been edited lightly for clarity and grammar.
Remote
"The only difference between working remotely and in-office is I save two hours in commute time. My entire company worked remotely for 14 months and met or exceeded all of our numbers and metrics. Another benefit was the amount of money saved by not having business travel to customer sites. Another benefit of remote work is the ease on traffic and impact on the environment." — Dennis, software sales
"The remote office has been a real eye-opener in a positive way. The lack of commute and home work space is great and I have no distractions. Productivity and focus are much better. In addition, I hardly ever have to gas up and only put about 2,000 miles on my car in the past 12 months. The majority of people pushing for a return to the office are managers who need to visually see their employees. I think the new model should be less managers and more staff." — Anonymous
"I work at a large law firm. Lawyers may continue to work remotely as much as they like, but lower-level staff must return full-time in September, despite the fact that some of us could do 90% of our job remotely. I wouldn't mind hybrid/going in as-needed, but going in every day again is making me consider quitting my job of over 25 years. I'm so over the MBTA and risking my life to COVID because of maskless people who think they don't have to follow the rules." — Anonymous
"Strongly in favor of remote. Drastic quality of life improvement. Don't want to deal with the commute and can easily do my job from home so there is no point in having to trek in just to sit in a cubicle and do the same thing I can do at home. They clearly have a trust issue with employees." — John, commercial real estate
Hybrid
"I don't mind commuting into the office one or two days a week when I choose so. I would welcome a flexible hybrid model that leaves me flexibility based on how comfortable I am at any given time." — Meaghan, travel sales
"Many of my employees are resistant about returning to the office. They argue that they've done their jobs successfully from home, why do they NEED to return to the office full-time? Most of them would agree to a hybrid model. The employees seem to be in the driver's seat on this issue. We can't afford to lose employees who can find a remote/hybrid job elsewhere." — Elizabeth, HR Director
"I work in tech and my job can be done from anywhere. We've been able to access the office and have held meetings since June. I've been excited to see my colleagues in person and do the kinds of brainstorming and relationship-building that have been harder to achieve over Zoom." — Anonymous, tech
"[S]ome in-person work presence is absolutely necessary. I'm thankful they're mandating employee vaccinations as well as continuing to require weekly COVID testing. However, within my team, the majority of my colleagues remain concerned about any in-person work. Even before the Delta variant, there was anxiety over returning to the office, which has only been amplified in recent weeks due to the Delta variant — regardless of the cautious protocols in place … I feel there also needs to be additional flexibility beyond mandating three days/week onsite. Within my team, there are some staff who would benefit working only 1-2 days/week onsite based on their job functions, commutes and other work-life balance considerations." — Anonymous, IT manager
Back to office
"Never left the office. Prefer the office as my home is my home, not my office. I have a very small place — my personal desk at home is a travel desk that lays on my lap — and I would have to upgrade my internet (on my own dime) to support the company's system." — Tressa, insurance
"I prefer being in person and back in the office. While it was clear through the pandemic that we were able to perform our jobs remotely, the return to office has resulted in a very positive shift in team and company morale. Having the option to work from home when needed is nice, but remote work is no comparison for the collaboration and socialization that occurs in-office." — Steven, commercial banking
"I miss my team and the routine of going out into the world every day. I trust the science that says that if the vast majority of us are vaccinated then the risk of contracting the disease is very low." — Anonymous
"I am vaccinated and have no concerns. Really looking forward to it — I am tired of being home." — Anthony, consultant
Boston.com occasionally interacts with readers by conducting informal polls and surveys. These results should be read as an unscientific gauge of readers' opinion.
Newsletter Signup
Stay up to date on all the latest news from Boston.com