Readers Say
We asked for the places that serve the best coffee in Boston. Here are your favorites.
Boston.com readers recommended 89 spots to enjoy the best cup of coffee in Greater Boston. Here are the top 5.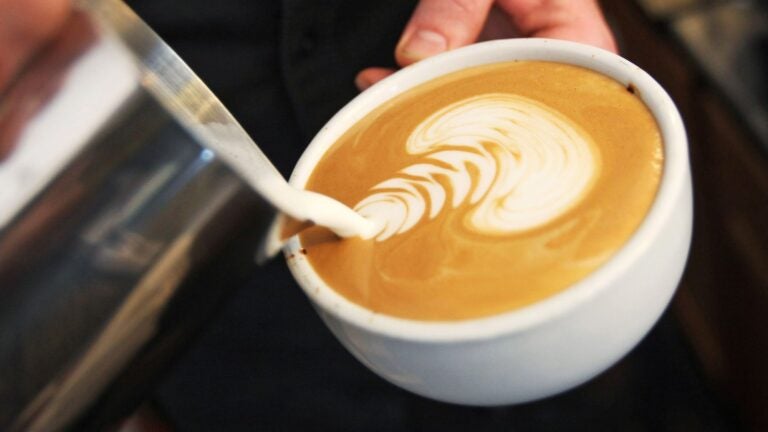 Where is the best coffee shop in Boston?
We asked readers this question last week, and they had a lot to say about their morning (or afternoon) pick-me-up. More than 260 readers responded to our survey providing 89 of the best shops, and what to order.
Several reader responses complimented the friendly service or inviting atmosphere at their favorite shops. Some seemed to be coffee connoisseurs who took years to settle on the best place for coffee drinks.
We also asked our readers whether coffee or tea was their preference.
The majority of Boston.com readers (80 percent) said they prefer coffee over tea, while 15 percent said they prefer both. Only three percent said they prefer tea, and two percent responded "neither."
Coffee or tea?
Our readers had so many different recommendations that we mapped out all 89 locations in the Greater Boston area. We received suggestions to local coffee chains, neighborhood diners like Busy Bee in Brookline, and even 7-Eleven. Of course we had some recommendations from die-hard Dunkin' fans too.
Below are the top five coffee shops that received the most reader votes, and a map of all 89 locations across Greater Boston.
Serving Stumptown Coffee, this local chain ranked as the top choice on our readers' list of cafes. Its Boston Common, North End, and Back Bay locations make it the perfect place to sip a latte while people watching. "I love the one across from the Boston Common. "My fave is the honey cinnamon latte. I have also tried their pour over coffees. Food and baked goods are also delish," Frances Fong wrote.
"Atmosphere, food, and coffee are all excellent, and what you'd expect from a classic city coffee shop. My girlfriend and I love going here, and the coffee is so much stronger than something like Dunkin' Donuts that the extra price is worth it," another reader wrote.
Recreo truly takes on the farm-to-cup approach as a single-source coffee shop. Owned by Miriam and Hector Morales, Recreo's coffee beans are all grown on their family-owned farm in Nicaragua and roasted in-house. According to their website, a third of Recreo's profits go toward funding their farm and providing quality education for workers and their families. "Lovely people roasting small batches with beans from their family farm in Nicaragua. The gorgeous flower-filled patio is an oasis on Centre Street in West Roxbury. The coffee is great, and there's a small but nice selection of pastries," one reader wrote.
Our readers say Pavement Coffeehouse not only offers the best coffee, but great bagels and pastries as well. The cafe focuses on small batch roasting at its Brighton roastery, and only sell coffee they're most excited about, according to their website. "Love a vanilla iced latte with a toasted rosemary salt bagel, and veggie cream cheese," one reader wrote. Another reader specifically recommended Pavement's single origin coffee from Guji, Ethiopia.
George Howell is known for pioneering the specialty coffee movement, and launching popular drinks from the Boston area. With locations across Boston, Newtownville, and Acton, George Howell cafes offer commuters on the way to their next meeting a delicious brew and a menu of upscale treats. "Always consistent with the coffee and service," Jay Lin wrote.
And if you really want to know why their coffee is so good, sign up for one of their coffee education classes or shop their coffee equipment located inside the cafe so you can make a decent cup of joe while working from home.
It's should come as no surprise that Dunkin' showed up on this list. "America runs on Dunkin'" slogan might as well be changed to "Massachusetts runs on Dunkin'." Bill Rosenberg opened the first Dunkin' in Quincy in 1950. Now there's more than 11,300 locations nationwide. This coffee chain favorite already launched their fall menu, and recently announced a Patriots-inspired doughnut. "I love the flavor of their coffee, cream no sugar. They are everywhere and consistently good," Mary Somers from Natick wrote.
Some other honorable favorites for the best coffee in the Greater Boston area include Tatte, Render Coffee, Jaho, and Greystone Cafe.
Check out all 89 recommended locations that serve the best coffee in Greater Boston in our interactive map below.
Newsletter Signup
Stay up to date on all the latest news from Boston.com