Readers Say
'Circles of Death': Boston.com readers rank the 10 most painful rotaries in Greater Boston
"We think the rotary is a nightmare, but the nightmare is us."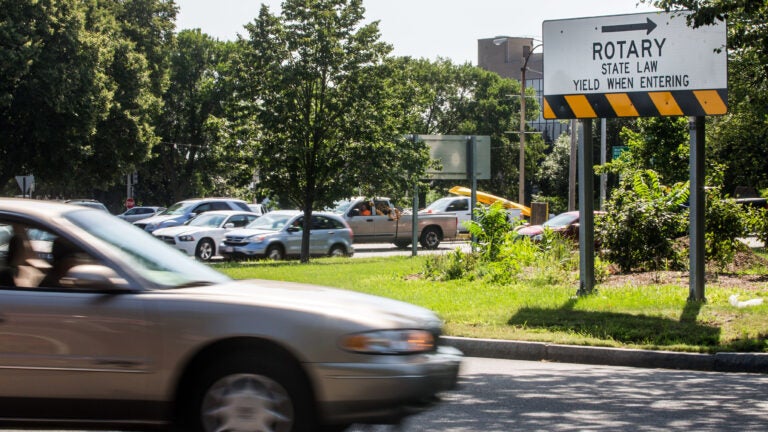 Pro tip: Don't bring up driving in Greater Boston unless you've got a lot of time to listen to the responses. After all, there's nothing Hub drivers like better than telling our roadways-from-hell horror stories. And when it comes to rotaries, that goes double.
That truism played out in spades in the responses to our latest poll asking people for their least favorite rotaries in Greater Boston; almost 350 drivers responded, using no shortage of adjectives in doing so: "horrifying," "terrifying," and "painful" were all well represented, along with the phrases "hot mess," "nightmare fuel," and "hell of all hells."
To top it off, no fewer than three area rotaries were referred to using the appellation "Circle of Death": Roosevelt Circle in Medford, Route 2 in Concord, and Newton Corner over the Mass. Pike, where, judging from the sheer number of references, there should be a MassDOT sign proclaiming the title.
All in all, 44% of respondents to our rotaries poll concurred with the description "I hate them, they're the devil," while only 30% identified with "I'm a rotary stan, they keep things flowing"; 13% copped to never thinking about rotaries, while an equal amount responded "Other."
Among those who chose to comment, though, several pointed out that the issue isn't the rotaries — it's the drivers.
"I love all the rotaries, equally," said Fred from Danvers. "As for the drivers who freeze up in a panic when they approach one — they're my least favorite." Another anonymous respondent perhaps put it best when they said, "We think the rotary is a nightmare, but the nightmare is us."
And Mike from Norwood made it a point to reference the most common phrase uttered while driving through a rotary (that can be shared on a family website): "Look, kids! Big Ben, Parliament!"
But which of the area's rotaries haunt our readers' driving nightmares the most? It was hard to get an exact count, since people had a tendency to call rotaries by any variety of different names, but we managed to narrow it down to a top 10 worst rotaries in Greater Boston — including a clear winner. Here's the countdown:
No. 10: Route 129 Rotary at Route 128
Location: Reading/Wakefield
Featured reader quote: "It looks like the lines were painted by a 6-year-old and any true Boston driver knows a rotary SHOULD NOT HAVE ANY LANES PAINTED ON IT!!! That's what car horns are for — to emphasize your right of way in a rotary. Whoever designed the lane configuration in this rotary should get a new career." — Debb, Reading
No. 9: Roosevelt Circle (Interstate 93, Route 28 and S. Border Road)
Location: Medford
Featured reader quote: "Because you have cars exiting 93 at 60 mph and not slowing down OR yielding." — Rich, Arlington
No. 8: Sullivan Square (I-93/Routes 1, 99, and 38, Alford and Main streets)
Location: Charlestown
Featured reader quote: "Not only is it completely confusing and seems unnecessary, but it is a highly popular pedestrian and bike area and it feels like you are taking a huge risk every time you want to walk to the T." — Nancy, Charlestown
No. 7: Bourne Circle (Route 28 and Trowbridge Road)
Location: Bourne
Featured reader quote: "Both of them gotta go [Bourne Circle and Buzzards Bay Circle]."
No. 6: Powder House Circle (College Avenue, Broadway, Warner Street, and Powder House Boulevard)
Location: Somerville
Featured reader quote: "Putting red lights in the middle of the rotary defeats the entire purpose of the rotary, which is to keep traffic flowing smoothly and reduce potential crash points." — C., Somerville
No. 5: Fresh Pond Parkway (Routes 2, 16 and 3 — technically two rotaries)
Location: Cambridge
Featured reader quote: "It's a nightmare. I say a tiny prayer when I have to face one."
No. 4: Bell Circle (Routes 16, 60, 1A, and Beach Street)
Location: Revere
Featured reader quote: "It's like driving in a real life Wii Mario Kart game." — John, Saugus
No. 3: Newton Corner (I-90)
Location: Newton
Featured reader quote: "Maybe not a rotary in the purely traditional sense, but it has the spirit of one. My 80-year-old grandparents were staying in that weird hotel over the Pike once and I had to drive their car for them — I just couldn't turn them loose at Newton Corner, they would've been eaten alive." — Elizabeth, Watertown
​​No. 2: Kosciuszko Circle (Morrissey and Day boulevards and Columbia Road)
Location: Dorchester
Featured reader quotes: "No one will give anyone an inch. It's the most stereotypically Boston nightmare. Blinkers mean nothing, the single-finger salute is prominent, and it's like American Gladiators for driving." –– Marla, originally from Dorchester and now "Roxbury-by-inches"
"One night I was driving towards Carson Beach and hopped on the rotary where Columbia Road and William J. Day Blvd intersect. I'm about to merge on and next thing I know, the person to the left of me makes a LEFT turn and starts to drive in the opposite direction! I had to keep honking my horn for oncoming cars to stay alert that a car was going the wrong way. It was insane!" — Renée, West Roxbury
No. 1: Route 2
Location: Concord
Featured reader quotes: "The Rt. 2 traffic has no idea what to do most of the time, and there are three other on-and-off sections for local traffic as well. It's beautiful and terrifying at the same time."
"Who puts a rotary in the middle of a highway?!"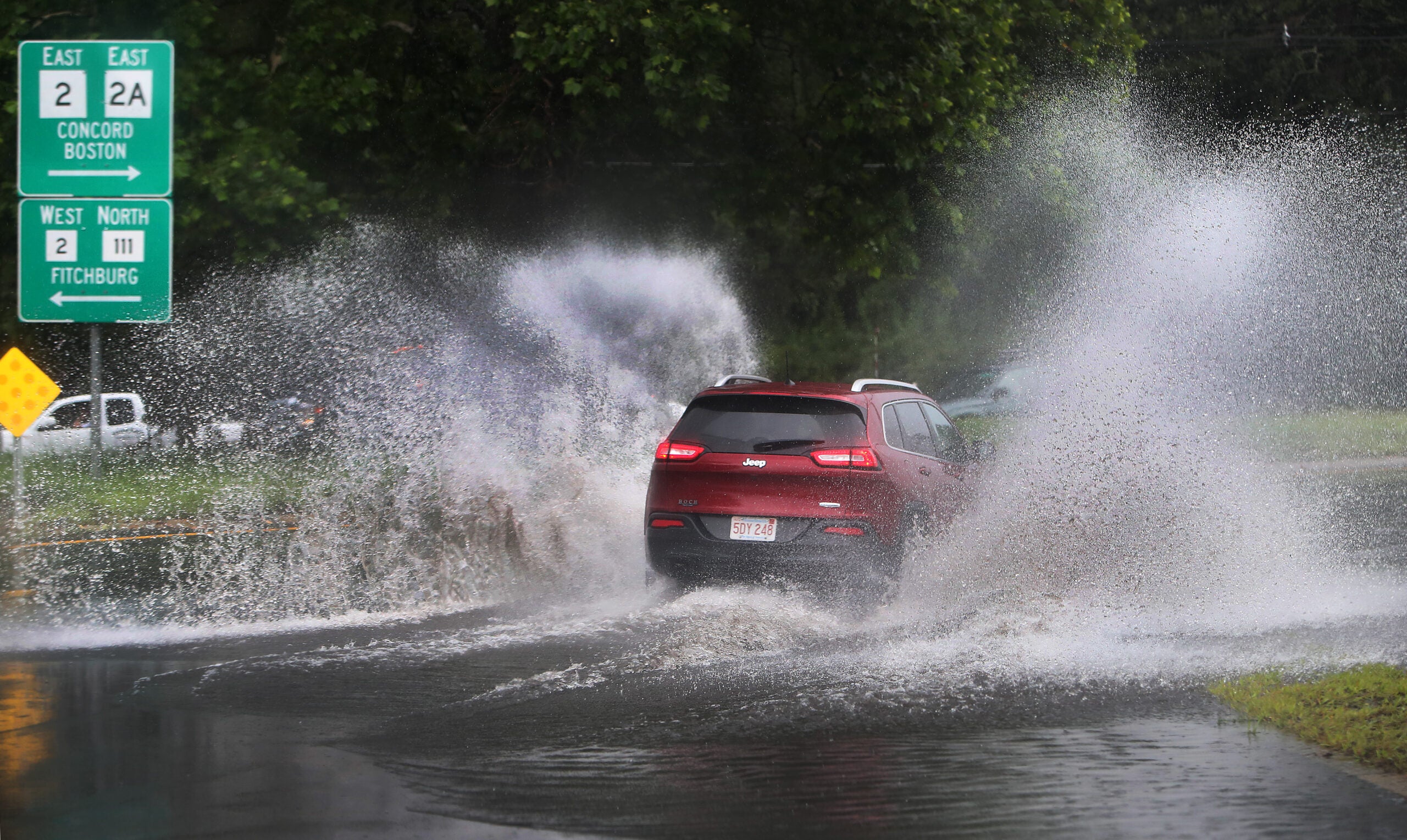 While the Route 2 hellscape was the clear winner — about twice the number of mentions as the No. 2 finisher, Kosciuszko Circle — there were plenty of others that got mentioned outside of our top 10.
HONORABLE MENTIONS:
"Braintree/Union Street Rotary! They keep trying to improve it with different lane configurations, but until people actually learn what a yield sign means, nothing will help." — Amy, Braintree
"Drum Hill, Chelmsford. Most of my experiences with this rotary have been nailbiters." — Jane, North Reading
"If Station Landing [in Medford] counts as a rotary [editor's note: it doesn't], then that is absolutely one of the worst. I think every civil engineering student should be required to drive through it in the snow before they can graduate, so they know exactly what not to ever do." — Nick, Mattapan
"Jamaica Plain at Center and the Arborway. I regularly get beeped at by people that don't understand the rules, like I am the idiot! They put in new lines/lanes thinking it would help. It didn't."
"The BU Bridge/Memorial Drive rotary. Use at your own risk … if you want to lose no less than 20 minutes of your life before Red Sox games. From the geese taking a leisurely stroll across Memorial Drive, and fighting your way merging from four imaginary lanes into one lane towards Boston, you'll have a quintessential Boston rotary experience, road rage guaranteed. The worst I've seen at that rotary: a guy leaves his car and then opens another driver's door to attempt to punch him." — Margaret L., Brookline
"I really despise the rotary at Southeast Expressway Exit 15. Every time I approach and enter it, it's an adventure, and not a good one, because everyone getting on or off the expressway at that exit is clearly busier and more important and more special than anyone else on the road, in their mind, at least. I'd honestly rather be the ball in a pinball machine than take that exit." — Jennifer, originally from Dorchester, now living in Roslindale
Here's what readers had to say about their least favorite places to drive in Greater Boston:
"Least favorite places to drive in Greater Boston are the Cambridge side of the Cambridge/Allston exit on the Pike during any rush hour. Leverett Circle from Storrow and Herald and Albany are quite awful as well. But nothing compares to the hell that is 93, either direction, at any time of the day, on any day of the week." — Tyrone, Worcester
"Not a single person in Lynn knows how to drive an automobile. God save you if you end up behind a 'Garcia's Taxi' or any other Toyota Sienna for that matter." — Brian, Lynn
"I have a pet peeve about people knowingly traveling all the way up the wrong lane only to cut someone off at the last second to jump into the lane they should have been in the entire time. There's no better example of this than the Leverett Connector when there's a back-up on the left lane heading to Storrow but an open right lane heading to Nashua Street. People just cause more traffic but cutting off cars and trying to squeeze in at the last second. It's a badge of honor for me that I never have and never will let anyone in between me and the bumper in front of me." — Chris, Boston
"Route 9 from Boston to Wellesley. Five years ago a friend on a Friday took this route at 5 p.m. sharp! I nearly had a stroke … I would have taken Jamaica Way to Pond Street, to Newton Street to Hammond Parkway to Brookline Street to Dedham to Nahanton to Kendrick to Greendale to Webster to Central to 135."
"Woburn, Route 128/95 especially at Route 93 — Massholes drive in the left lanes to cut right and brake hard, or brake hard and cut right, in heavy traffic to exit right at the last second. They cut off vehicles, block lanes, and initiate mass brake waves, causing many crashes."
"So many options here, but the Back Bay and South End are both high on my list. Congested streets, pedestrians who ignore 'don't walk' signs, resident-only parking that leaves visitors circling forever. Sigh." — Jennifer, originally from Dorchester, now living in Roslindale
"The Waterfront … no parking anymore … too few escape routes … too many freaking people."
"My least favorite is actually Boston proper and not because of rotaries but because of the ridiculous pedestrian traffic lights that tell them to 'walk' when cars are trying to turn on a green light. I think this causes more bad tempers than any rotary. Just take a drive up Clarendon Street and try to turn onto Newbury, Boylston, or Stuart Street." — Susan, Boston
"My least, and most, favorite is easily Storrow Drive. Every drive is filled with the anxiety and excited anticipation of when the next truck is going to get Storrowed. I think every Bostonian feels the same way. You love to see it, but you don't want to get stuck behind it!" — Nick, Mattapan
Boston.com occasionally interacts with readers by conducting informal polls and surveys. These results should be read as an unscientific gauge of readers' opinion.
Newsletter Signup
Stay up to date on all the latest news from Boston.com