Readers Say
Michaela Coel calls for greater transparency in new manifesto, 'Misfits'
The book, adapted from a speech by the "I May Destroy You" creator and star, will be published next month.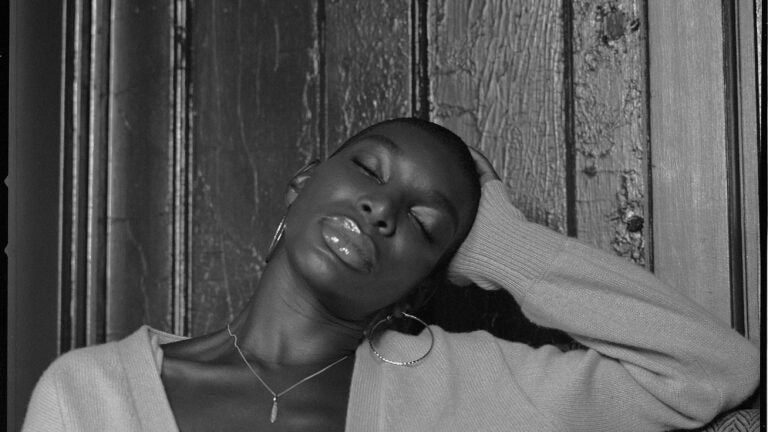 The city of Edinburgh, Scotland, was the epicenter of a powerful energy pulse on Aug. 22, 2018 — not the kind that precise scientific equipment can detect but one whose ripples would be felt by sensitive human instruments in the weeks and months that followed.
That evening, Michaela Coel, a rising British TV star, was invited to address her colleagues at the prestigious Edinburgh International Television Festival. Speaking to a few thousand industry peers in a lecture hall and countless more viewers watching her online, she shared stories from her ascent, a narrative that was by turns wryly comic and devastating.
Coel talked about growing up a member of one of only four Black families in a public housing complex in East London. She described her time at drama school, where a teacher called her a racial slur during an acting exercise. She discussed her surprise, after achieving some professional success, at being sent a gift bag that contained "dry shampoo, tanning lotion and a foundation even Kim Kardashian was too dark for." She recounted how she had gone out for a drink one night and later realized that she had been drugged and sexually assaulted.
She spoke of resilience gained from a life spent "having to climb ladders with no stable ground beneath you," and she classified herself as a misfit, defined in part as someone who "doesn't climb in pursuit of safety or profit. She climbs to tell stories."
Three years later, Coel — now 33 and the celebrated creator and star of the HBO comedy-drama "I May Destroy You" — regards this speech as a satisfying moment of personal unburdening.
As she said in a video interview a few weeks ago, "We go in and out of working with people and we never quite know who they are, and no one ever quite knows who you are. There's something quite liberating about just letting everybody know."
With its explicit calls for greater transparency, Coel's address (known formally as the James MacTaggart Memorial Lecture) resonated across the entertainment industry and provided a narrative and thematic foundation for "I May Destroy You." Next month, the speech will be published by Henry Holt & Co. as a book titled "Misfits: A Personal Manifesto."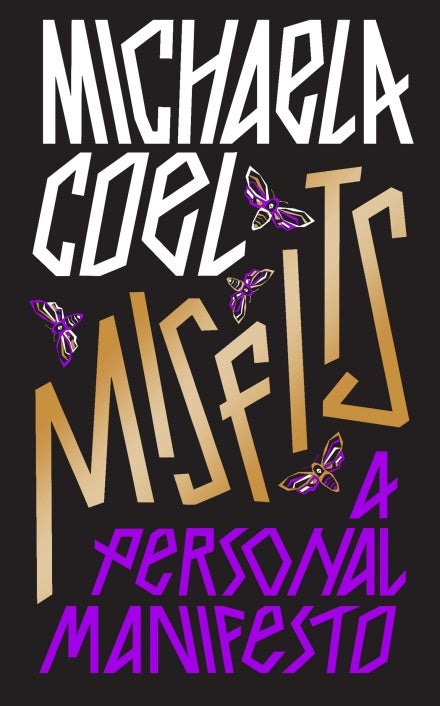 To an audience that is still discovering Coel, her life and her work, "Misfits" may seem like an artifact preserving the moment that its author became the fullest version of herself.
But to Coel, it represents a particularly validating episode in a career where she has always felt empowered to speak her mind.
"I've always been annoying people about these things," she said with a laugh. "I don't know where I got the cheek to be like this. But from the beginning, there's always been a story where Michaela was pushing and saying, 'There's something wrong here.'"
To this day, Coel is relentlessly candid about the choices that go into her work, even when it comes to the decision to call "Misfits" a "manifesto," which she said was foisted upon her by her publishers.
As she explained, "I was like, 'But it's so small, it's not really a book.' They were like, 'A book is a binding of papers.' OK, fine, can we call it an essay book? 'Mmm, no.'"
She was more circumspect about discussing where on the planet she was while we had our video conversation. Despite a report in Variety that Coel had joined the cast of the Marvel superhero sequel "Black Panther: Wakanda Forever," she said, "I'm in America. I don't know why I'm here. I have a feeling that I'm not supposed to say." (A spokesperson for Marvel declined to comment.)
Paapa Essiedu, a co-star on "I May Destroy You" and a longtime friend of Coel's, said that since their time together as students at London's Guildhall School of Music and Drama, he had known Coel to be a courageous, forthright person.
"Her voice was always very clear," Essiedu said. "She always felt like she was unperturbed by what was expected of her, and she was able to think and speak independently."
Even so, Essiedu said, "Remember that she is just a normal person," who talks trash with her friends "and can be funny and can be really annoying. Her day-to-day life is not her espousing how to make the world a better place."
In the speech, Coel described frustrations she had endured on her breakthrough comedy series, "Chewing Gum," which ran on the E4 channel in Britain and on Netflix in America. She spoke about crying into an unpurchased pair of tights at a drugstore after a phone call where it was suggested that she would have to hire co-writers to help her on the series.
She also talked about turning down an offer to make "I May Destroy You" with Netflix when the streaming service declined to let her keep any ownership rights for the series. (In the lecture, she told this story with an allegorical flair, imagining it as a negotiation with a fictional stepmother she called "No-Face Netanya.")
Amy Gravitt, an executive vice president at HBO who oversees its original comedy programming, said she was moved by Coel's lecture when she watched it online.
"There was so much that she said in that speech that resonated as a woman working in this industry," said Gravitt, who first met with Coel in 2017 after the success of "Chewing Gum."
"When she talked about her desire to see another person's point of view represented onscreen, that resonated deeply with me as a programmer," Gravitt said.
Far from feeling reluctant to work with someone so outspoken, Gravitt said, "I feel like I only want to work with people who feel comfortable speaking their mind."
Coel ended up making "I May Destroy You" for HBO and the BBC. When I asked her if Netflix must cry itself to sleep every night for losing out on the show, she answered, "Well, melatonin works a charm."
A press representative for Netflix said in a statement: "Michaela is an incredibly talented artist who we were thrilled to work with on 'Black Mirror' and 'Black Earth Rising' among others, and who we hope to work with again in the future."
Coel said she never hesitated to tell her lecture audience about having been sexually assaulted.
"I never had that thing where I kept it to myself and was afraid to say it because of what people thought," she said. "And because I never had that incubation period for shame and guilt to make a home inside of me, it never did."
Talking about the assault now was like "looking at a scar," she said. "I look at the scar, and it's like, whoa, that happened. But now I'm alive to look at this scar, which means that I've come around the bend."
At the time she gave the lecture, Coel was already writing what would become "I May Destroy You," in which her character, a young writer named Arabella, is served a spiked drink and sexually assaulted.
To this day, Coel said, she encounters people who are fans of the show but do not realize it is based on her experience. Other viewers approach her, over social media and in person, to tell her about their own traumas.
"I've cried with strangers on the street," she said.
"I May Destroy You" became a pandemic-era staple when it ran last spring and summer, and it has inspired its fans in other ways.
In February, the series received no nominations for Golden Globes, prompting an outcry from its audience. Deborah Copaken, an author and memoirist ("Ladyparts") who was a writer on the first season of the gauzy Netflix comedy "Emily in Paris," wrote in an essay for The Guardian that the snub "is not only wrong, it's what is wrong with everything."
In an interview, Copaken praised Coel for putting "people on the screen you've never seen on TV except as extras or others," in a series that encompassed topics such as sexual consent and the assimilation of immigrants.
"It doesn't do the thing of making people who aren't white and Western into paragons of virtue," Copaken said. "These are interesting people with messy lives. At every turn, it challenges viewers' assumptions."
Coel herself said she was too enchanted with the broader reaction to her series to worry about the Golden Globes controversy.
"I was on this cloud of gratitude," she said, "and I could hear there was something happening. I was like, guys, I don't know how to come down from the cloud and deal with this."
Last month, "I May Destroy You" was nominated for nine Emmy Awards, including limited or anthology series. Coel and Essiedu received nominations as actors, and Coel was also nominated as a director and as a writer on the series.
'I May Destroy You' and @MichaelaCoel finally got #Emmys nominations https://t.co/urqZ3WRxeU

— Los Angeles Times (@latimes) July 13, 2021
Now Coel faces the happy challenge of figuring out a follow-up to "I May Destroy You," and she is emphatic that the series has concluded.
"To me, it's very clearly finished, isn't it?" she said. "Imagine if there was a Season 2. I just think guys, come on, it's done. Unless somebody has this amazing idea for Season 2 that doesn't destroy Season 1, for me it is closed and finished."
Coel said she faced no external pressures to deliver her next project. "HBO and BBC were very kind," she said. "They said, 'Hey, Michaela, you've done a great thing for us. You can just chill out, take as long as you need.' But I'm not like that."
She quickly pointed her camera at a whiteboard on which she had started to map out a new story arc, but she turned the camera back at herself before any words were legible. She would say no more about the new series except that the BBC had committed to making it.
Gravitt, the HBO executive, said her network was "in the early stages of talking to Michaela and the BBC and various artists who are all a part of the team of 'I May Destroy You,' and excited at the prospect of having this new project to work on together."
Essiedu said Coel had not been changed much by reaching a new echelon of fame, and that she remained an artist who was motivated more by the work more than by the celebrity.
"She deserves the credits and the plaudits," he said. "She's not going to shy away from that, which is something that us Brits are very good at doing. She's maybe a bit more like you Americans in that approach."
But having twice experienced the satisfaction of feeling that her viewers truly and fully received what she was saying — with her MacTaggart lecture, and with "I May Destroy You" — Coel said she could hardly ask for much more.
"As a writer, sometimes I'm fraught, I'm frazzled," she said. "I'm trying to be clear, piece by piece, and the audience valued me and listened to me."
With a mixture of relief and delight, she exclaimed, "The way that people listen to me in this life! All I've learned is to be heard."
This article originally appeared in The New York Times.