Readers Say
'Sign me up!': Boston.com readers say they're ready for a COVID-19 vaccine booster shot
"An ounce of prevention is worth a pound of cure."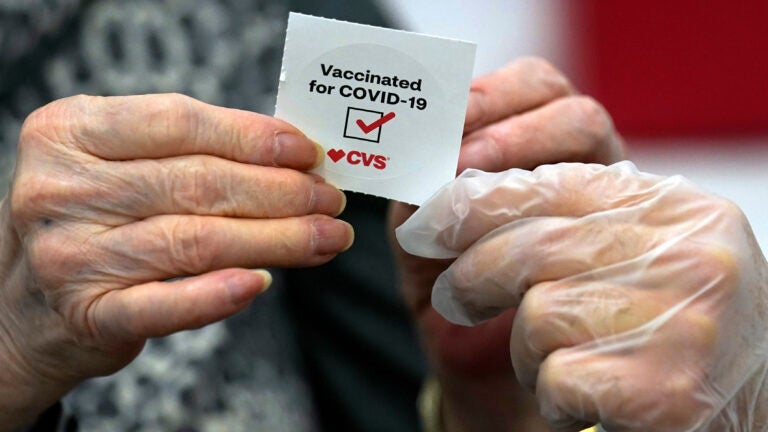 Booster shots for the COVID-19 vaccine could be coming to Americans as soon as next month, according to the Centers for Disease Control. For more than 4 million people in the state who are fully vaccinated against the virus, that means another dose this fall.
Last week, officials for the agency said people who received the Pfizer or Moderna vaccines should get their extra dose eight months after their second shot. Johnson & Johnson vaccine recipients will also need extra shots, but health officials said more studies are needed to determine when.
"Our plan is to protect the American people, to stay ahead of this virus," CDC director Dr. Rochelle Walensky said.
Following the announcement, we asked Boston.com readers if they'd be willing to get a booster shot for the vaccine and the majority of them said they'd have no problem lining up for their extra dose. Of the 2,098 readers polled, 69% said they plan to get the booster once it's available to them. Just 24% of readers said they wouldn't be getting the booster, and another 6% said they hadn't decided one way or the other just yet.
Readers who said they planned to get the additional shot described the decision as a "no-brainer."
"If it will continue to keep me and my loved ones protected I'm all for a booster," said one reader. "Sign me up!"
The agency has released a number of studies that suggest the current vaccines are less effective against the highly contagious delta variant. According to the CDC, booster doses could be administered beginning the week of Sept. 20.
Many of our vaccine hesitant readers said they were worried about the efficacy of the vaccine if booster doses were needed. Many common vaccines require booster shots, including for tetanus, hepatitis, and measles, mumps, and rubella. Others were more concerned that the COVID-19 response continues to be extended.
"Got vaccinated just like everyone else. Still haven't gotten my life back. This madness has to end," one reader wrote. "Give people a choice. This is not the black plague. This is the new flu and it's here to stay. Get on with your lives."
Gov. Charlie Baker has not reinstated statewide restrictions such as indoor mask mandates but has said he supports aggressive action to control the spread of the virus.
"Once we know more from the feds, about what they're thinking about in terms of timing and all the rest, we will move very aggressively to make sure that those who are eligible to get boosters to get them, and especially those who were part of those communities that got it first the last time because they're with the most at risk," Baker said.
More than 300 readers shared their thoughts and concerns about the booster shots with Boston.com. Ahead, you'll find a sampling of their responses.
These responses have been edited for length and clarity.
Do you plan to get the COVID-19 booster shot?
Yes, I'll get the shot
"I will do it to keep myself and others around me safe, especially with the delta variant spreading. I imagine that COVID shots will eventually become yearly vaccinations, much like flu shots." — Kevin, Brookline
"I am currently pregnant and have been vaccinated in early 2021. I would be very interested in getting a COVID-19 booster shot to protect myself and my unborn baby. Research shows that women who are pregnant have a more serious illness from the COVID-19 virus, and I want to do everything to be safe with the variants." — Jennifer Chen, Quincy
"It seems necessary to prevent death from the delta variant at the very least. Perhaps it will help those with underlying conditions to stay alive." — Juanita Upshaw, Roxbury
"I am in my early 70s. I received my 2nd Pfizer in March 2021. I will take the 3rd dose in Nov. 2021 if it's offered to me. It's a no-brainer that the vaccines overwhelmingly keep individuals from developing severe disease/death. I feel fortunate that I had my two doses already. Bless all those who worked on developing the vaccines and administering them." — Marie, Melrose
"I'm a nurse at a major Boston hospital and received my vaccine in December. I'm already past the 8 month time period and am worried I don't have adequate protection at work." — Anonymous
"I am a healthy individual in my 20s. However, I trust science and vaccines. Even though I know statistically speaking I'll likely recover easily from COVID, I don't want to risk spreading the virus further and endangering others." — Anonymous
"Yes, as a senior citizen who realizes that I am at increased risk of not surviving COVID if I were to get it, I absolutely would get a booster. To me it's the same as getting my flu vaccine every year, receiving the pneumonia vaccine, and the booster shots my husband and I both got for our childhood vaccines when our grandchildren were born. An old quote that I heard from my mom as a child: An ounce of prevention is worth a pound of cure." — Bea L., Glenolden
"If the CDC recommends a third shot, then you get one because they know what they're talking about. Am I going to 'do my own research' and enroll 5,000 people in a double-blind study?" — Chris, Boston
No, I don't want the shot
"I think we need to slow down and do smaller tests for longer periods of time to validate the effectiveness and long-term safety of these repeated vaccinations. Real science is far more methodical. COVID-19 is not dangerous enough to warrant such wide rollouts so quickly. Just two weeks ago they were talking about these boosters for only immunologically compromised people. Now it is for everyone? Slow down for everyone's safety." — John, Chatham
"No, there will always be another variant and more boosters. This madness will never end." — Chris, North Andover
"I got my first 2 shots this spring. But the last time I got poked I had a very bad reaction. It hurt quite a bit at the injection site, and it wreaked havoc with my GI system for several days. So, right now I'd say no, but once I'm eligible, I will probably find it hard to resist going back for another poke." — Matt C., New Hampshire
"Considering they keep talking about a date but then saying it needs FDA approval, I wonder which it is. Is it September 20 or when the FDA approves it? The left hand has no clue what the right hand is doing. Secondly, after the booster, then what? Get a booster every six months for the rest of your life? Nobody seems to know." — Anonymous
"Really hope that there are no vaccine mandates for the boosters! I am ok with the original vaccine mandates because there were large phase 3 clinical trials but the third dose has not been tested in a clinical trial." — Andrew, MGH
I'm still on the fence
"I'm not sure that there is sufficient efficacy data to demonstrate a notable increase in efficacy for otherwise healthy individuals. Plus I believe the doses would be better used in Canada or Mexico or other nations which have substantial travel with the U.S. Should reformulated vaccines emerge, I'd likely reconsider my position." — Anonymous
"I was 100% all-in on boosters when it meant keeping masks at bay. Now that mask mandates are back, I don't know if it's worth it." — Anonymous
"I think the booster is better served for older people and those that are immune-compromised. Any excess supply outside of those two groups should go to poorer nations that need it more." — Anonymous
Boston.com occasionally interacts with readers by conducting informal polls and surveys. These results should be read as an unscientific gauge of readers' opinion.
Newsletter Signup
Stay up to date on all the latest news from Boston.com