Readers Say
Alden Balmer is running to keep a decades-old promise to his late grandfather
"I grew up dreaming that someday I would be running the Boston Marathon for my grandfather, fulfilling that promise I had made."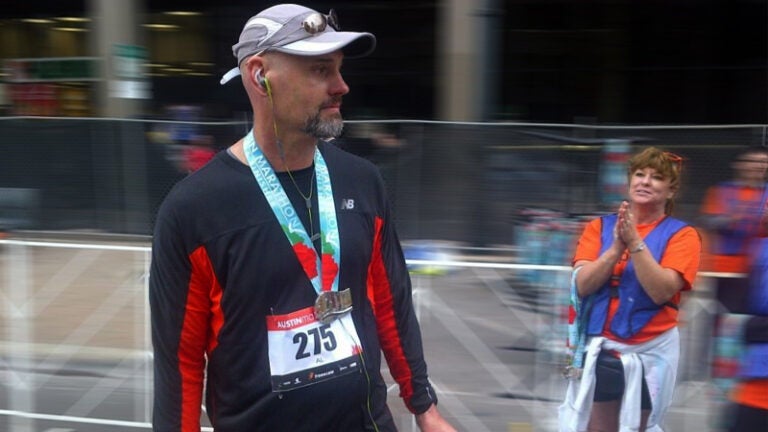 In our "Why I'm Running" series, Boston Marathon runners share what's inspiring them to make the 26.2-mile trek from Hopkinton to Boston. If you're running the marathon, you can share your #WhyImRunningBoston story here.
Name: Alden Balmer
Age: 56
From: Austin, Texas
When I was 11 years old I spent two weeks in the summer of 1976 watching the Olympics with my grandfather. We would both get up early each day and watch every event together. This was my first Olympics. Of all the events in the Olympics, there was one that captured our attention and excitement more than all others — the marathon.
That year there was a lot of hype around one of the runners representing the United States, Frank Shorter. Frank had won gold in the previous Olympics held in Munich, Germany. After all the hype we were both really looking forward to the final event of the 1976 Olympics, the marathon, and what a race it would be that year.
We got up early to see the start of the race. Frank was running in the lead pack from the start of the race. It looked like he was running the race of his life and was well on his way to becoming a back-to-back two-time winner of the marathon. His lead was so large there was no way anyone could catch him. Then, out of nowhere, the East German runner Waldemar Cierpinski had chased down Frank. At mile 23 Waldemar pulled away and passed Frank. Waldemar would go on to set a new Olympic record to win the gold medal. It was the most amazing race I had ever seen.
At that moment I wanted to be like those marathon runners. Even though Frank ended in second, he was my hero. At the end of the race, I looked at my grandfather and said to him, "Grandpa, some day I am going to run that race." My grandfather looked at me, smiled, and said, "You will do remarkable things in your time."
Two weeks after I had made that promise to my grandfather he passed away from lung cancer. Watching the summer Olympics with my grandfather was one of the most special times of my life and the last time we would spend together. After his passing, I would feel the weight of my promise. I knew that someday I had to run that marathon. At the time, there was only one marathon in the country that was recognized and talked about — the Boston Marathon.
I grew up dreaming that someday I would be running the Boston Marathon for my grandfather, fulfilling that promise I had made. As a kid, I would follow the Boston Marathon and read all about it. As I got older, life happened, you go to school, you start a family, you start a career. Some dreams start to fade away and some become near impossible.
I am just an average runner. I have had to face the reality that I would never be able to qualify on time but I never really let go of the dream. I received the call I had dreamed of receiving on May 13 when I was asked to be part of the Community Rowing Inc. charity team. So here I am, 56 years old, with the opportunity to fulfill a promise and dream I have had since I was 11 years old.
To make this moment even more special than it already will be, I will also be running with my 78-year-old mother. My amazing mother, Karen Ostlund, has run more than 100 marathons and the Boston Marathon has always been her dream marathon. She is making this her last marathon so it will be so special that the two of us will both be living our dream together in the same race.
Editor's note: Entry may have been lightly edited for clarity or grammar.
Newsletter Signup
Stay up to date on all the latest news from Boston.com