Readers Say
Erin Tapahe is running in honor of her Native American roots
"Running is a tie to my ancestors and running has always been there for me."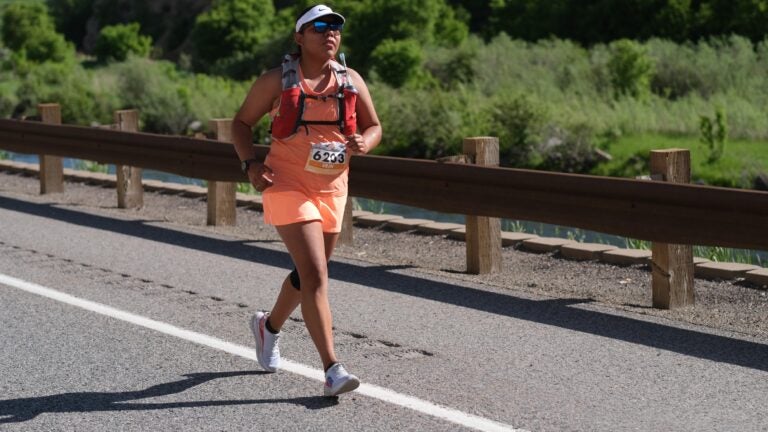 In our "Why I'm Running" series, Boston Marathon runners share what's inspiring them to make the 26.2-mile trek from Hopkinton to Boston. If you're running the marathon, you can share your story here.
Name: Erin Tapahe
Age: 25
From: Window Rock, Ariz.
Ya'at'eeh. I am Diné (Navajo), originally from Window Rock, Ariz. I am excited to participate in the 125th Boston Marathon on October 11. I am honored to represent and raise money for the American Red Cross of Massachusetts. This year's Boston Marathon is on Indigenous Peoples' Day! The Boston Marathon usually happens in April on Patriots' Day, but this year, it is in October on Indigenous People's Day, which is an important day to all Native American people because it brings celebration, unity, healing, and awareness to the Indigenous people in the United States.
When I was 13-years-old, I had a traditional Navajo ceremony called a Kináadla. This is a woman's ceremony that takes place over a span of four days. I ran three times a day: before the morning to welcome the sun, high noon, and finally toward the evening during sunset. You are supposed to run further on every run and push yourself more. This is a symbolic representation of life and a way to help prepare the young woman for the challenges and beauty of life. The Kináadla introduced me to the power of running as a way of prayer and healing.
Running is a tie to my ancestors and running has always been there for me. It pushes me and helps me be aware of my body, mind, and spirit. I felt helpless at the beginning of the pandemic. The Native American communities were largely impacted by COVID-19. I stayed busy and turned to running as a way for prayer and healing.
This past year has been difficult for many people and thousands of lives were lost. The day before the Boston Marathon I plan to do an honor jingle dress dance in Boston for all the runners and those affected by COVID-19. I will run in prayer for all those affected by COVID-19. Ahe'hee (Thank you).
Editor's note: This entry may have been lightly edited for clarity or grammar.
Get the latest Boston sports news
Receive updates on your favorite Boston teams, straight from our newsroom to your inbox.