Readers Say
8 takeaways from 'Her Perfect Life' and 'The First to Lie' discussion with author Hank Phillippi Ryan
"It was the first moment I realized how vulnerable reporters are."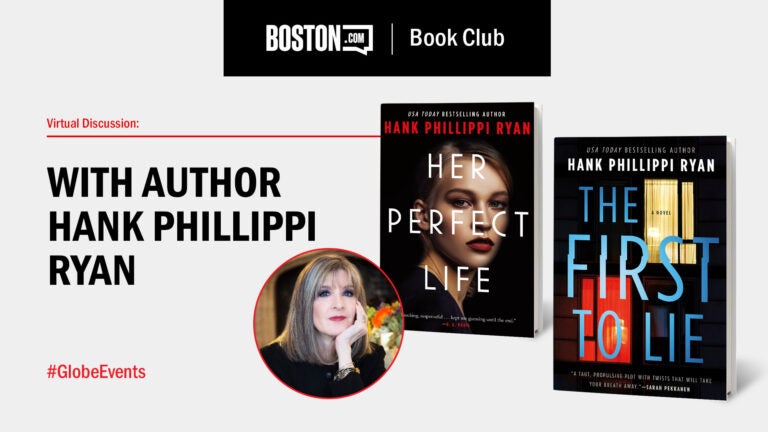 The Book Club recently hosted a virtual discussion with author and award-winning reporter Hank Phillippi Ryan to discuss her two most recently published novels, "Her Perfect Life" (released Sept. 14) as well as "The First to Lie," which came out in paperback in January. Moderated by Kym Havens, events manager at An Unlikely Story bookstore, our conversation covered making enemies, what it means to be a storyteller amid the pandemic, and what truly makes a "Hank" novel.
Ahead, we share our top takeaways from the event, and you can also watch the full recording here.
Phillippi Ryan can see how "Her Perfect Life" is her most personal novel yet.
"My editor said 'Her Perfect Life' was my most personal book of all and I didn't think that when I was writing it, but I do see that now," said Phillippi Ryan. Though the novel is in no way autobiographical, it reveals the inner world of what it's like to be a popular television reporter with a "perfect" reputation—both the good and the bad. "Every one of those Emmys also represents an enemy—a story that I told that someone didn't want me to tell. And that's what I wanted to convey in 'Her Perfect Life.' Lily (the protagonist), for all the good she does, has enemies."
Especially during the pandemic, books offer a "safe" escape.
Amidst the veneer of terror at the beginning of pandemic, the author decided to be a storyteller with intent and approached her work with an even greater enthusiasm to entertain and offer readers a reprieve from the pandemic and immerse them in another world. "I realized with this blossoming understanding that it's always safe inside a book, where you're solving someone else's problems and living someone else's life," said Phillippi Ryan.
There can be dangerous impacts from being a TV reporter.
The author reveals the dangers and stresses of being a high-profile TV reporter. She herself had a disturbing experience while anchoring the weekend news in Atlanta. It was midnight and the reporter was driving home after anchoring the news live, only to find the police surrounding her house. Someone had broken in at that time because they knew she'd be gone because of the live broadcast. "It was the first moment I realized how vulnerable reporters are, how public our lives are," said Phillippi Ryan.
Phillippi Ryan revealed more of the "human moments" of being a reporter.
The version of a story that makes it on air doesn't always reflect the grueling months of work that goes into it. The author shows readers this during a scene inThe version of a story that makes it on air doesn't always reflect the grueling months of work that goes into it and the emotional side of the process. The author shows readers this emotional side during a scene in "The First to Lie," where Ellie, a TV reporter, has to question a grieving husband who recently lost his wife in a car accident. "This is a crushing, personal human moment," said Phillippi Ryan, referencing the vulnerability between Ellie and the widower. "The idea is, as Ellie knows in the situation, what she finds out may help other people. Do you take that step? That's what I can let you in on, you don't see that on TV, you just see the result, you don't see the agonizing and emotional process." Though it may be difficult and even feel wrong sometimes to interview a subject in the height of their grief, it's part of a reporter's job to execute on an important story and approach it with care and compassion.
The starting point for each book the author writes is the idea of getting a "good story."
"There's this thing that reporters say to each other: 'That was a heck of a story, great story,' and that's the highest accolade you can get," said the author. "Working on my novels, I had that same frizzle of emotion."
Despite spending 30 more years in journalism than as an author, Phillippi Ryan equally enjoys writing both fiction and nonfiction.
She finds that one informs the other: both have a character that the reader cares about, a problem that needs to be solved, a "good guy" and "bad guy," and the hope that justice will be served in the end. Though when she first began writing fiction, she was challenged by the idea of imagining her own details and creating her own new world, as she was so used to recording the exact scenery and dialogue she saw and heard as an investigative reporter.
A "cat and mouse game" is the DNA of her novels.
Phillippi Ryan said, "The character has the story," so they arise simultaneously— you can't have one without the other. But if she had to choose, Phillippi Ryan is a plot person. "I think of conflict as my beginning…if there's any DNA of a Hank novel, it's a cat and mouse game. But which character is the cat and which character is the mouse? And you will see that throughout my books. As I'm writing the books I don't even know."
She hosts "First Chapter Fun" on Facebook
Every Tuesday and Thursday at 12:30 p.m., Philippi Ryan collaborates with Canadian thriller writer Hannah Mary McKinnon to read the first chapter of a new book live. The duo is coming up on their 200th episode.
---
Join our next virtual Book Club discussion

Join the Boston.com Book Club on Oct. 27 at 6 p.m. for a virtual discussion with The Silver Unicorn Bookstore's Paul Swydan and ESPN senior writer and author Seth Wickersham on "It's Better to Be Feared: The New England Patriots Dynasty and the Pursuit of Greatness."
Pre-order "It's Better to Be Feared" from: Bookshop | The Silver Unicorn Bookstore
GIVEAWAY 🎉
Publisher Liveright is raffling off 10 free copies of "It's Better to Be Feared" to Boston.com readers. RSVP to the event and submit a discussion question for your chance to win! (Open to U.S. or Canada residents only.)
Can't wait? Buy a ticket to The Silver Unicorn's in-person launch event on Oct. 11 with Wickersham and columnist Chad Finn at The Bull Run Restaurant in Shirley.