Readers Say
40 songs that should be on your pump-up playlist, according to readers
"Music is my running fuel."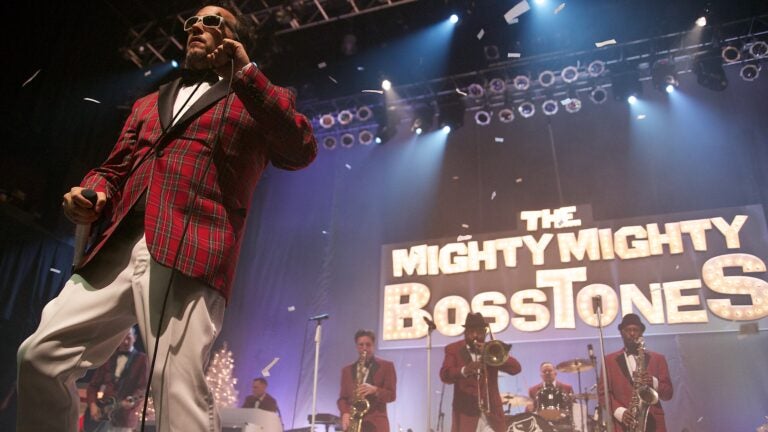 When Clyde Dickey takes off at Hopkinton to start the Boston Marathon, the one thing he'll have with him is music. Dickey, who's been running Boston for ten straight years, has spent time leading up to the marathon perfecting his playlist for the big day.
"Music is my running fuel," he said. "I had just updated my music playlist and sent it to a friend. It's about four hours and 15 minutes. The list includes quite a variety and spans from the 1960s to 2021, the six decades of my life."
We asked Boston Marathon runners and Boston.com readers what songs they listen to when they need an extra boost to get them across a finish line, get in the zone before a big presentation, or hyped up to accomplish a tough task. We got a mix of high-energy and inspirational suggestions spanning both genres and decades.
"Music is essential," said Leigh Ann Frick of Simpsonville, South Carolina who's accomplishing a decade-long goal by running the Boston Marathon this year. "'Eye of the Tiger' is on my playlist multiple times. I just added 'Rattle' by Elevation Worship where the message is, 'Since when has impossible ever stopped you?' High energy and positive messages!"
Whether you're running a marathon or just need some music recommendations to add to your pump-up playlist, Boston.com readers have the songs you need to take you to the next level. Below, you'll find reader suggestions and why they think you should be adding them to your music library.
Rock
"'Someday I Suppose' by the Mighty Mighty Bosstones. Why? Local heroes and a throwback to my early college days. Gives you some swagger out on the road." — Nate Root, Sherborn
"All older classics! 'Good Times' starts me up thinking about a good time. 'Fire Inside' is like internal motivation. Helped me prep for Falmouth Road Race years ago when I was injured. I was able to finish that race in large part to that song. 'I Wanna Be Sedated' because sometimes when working out, I think I would rather be sedated! All great beats to walk/run/exercise to!" — Lynn, North Attleboro
"When working out, including running, I tend to listen to hard rock such as Led Zeppelin and AC/DC, specifically Led Zeppelin's 'Immigrant Song' and AC/DC's 'Highway To Hell,' 'T.N.T,' and 'Thunderstruck.' I've found that AC/DC's songs tend to have really good rhythm and pace that I can match and keep up with while running." — Tai Melendy, Brighton
"If I had to pick a current inspirational song to run to from this year it would be "Follow You" by Imagine Dragons." — Clyde Dickey, Hilton Head Island, S.C.
Metal
"Welcome Home (Sanitarium)" by Metallica. Even if you think you hate metal, throw on the last three minutes of that song near the end of a run and tell me it doesn't get you amped! The fast-paced drums and deep guitar, followed by harmonized guitars in what's basically a three-minute outro, feel like the embodiment of what would be produced if someone said 'harness pure energy and describe it using only music.' It's epic!" — Cliff H., Boston
"Lots of metal and hardcore punk. Hatebreed's 'I Will Be Heard' and Rob Zombie's 'Never Gonna Stop' are two favorites. I'll mix in some Mighty Mighty Bosstones and Dropkick Murphys as well. They're loud, fast, and angry. That's what I think gets me fired up the most." — Tommy, South Boston
Pop
"'Dancing on My Own' by Robyn. The beat is fast, infectious, and high energy. Makes me go faster without feeling it. Plus Robyn is bad ass." — Nate Root, Sherborn
"I listen to Madonna and Paula Abdul. My all-time favorite beat is 'Buffalo Stance' by Nenah Cherry." — Marissa Lopes, Somerville
"'You Gotta Be' by Des'ree. It's not necessarily a loud and energetic song but singing those lyrics out loud immediately motivate me to power on." — Jodi, Stoughton
Podcasts
Some people, including Danica Patrick, former race-car driver, said they turned to podcasts to train for the marathon or get through other long challenges. These are some of their favorites.
"One of my favorite podcasts is 'The Happiness Lab' with Yale Professor Dr. Laurie Santos. In her podcast, Dr. Santos discusses the latest scientific research on what makes us truly happy! She also happens to be a friend of mine from our undergraduate days at Harvard, and it is fun to listen to the calming voice of an old friend!" — Amy Comander, Newton
"The podcasts I listen to are 'Call Her Daddy,' 'Girls Gotta Eat,' and 'Where Should We Begin?' with Esther Perel." — Julie Champagne, Boston
"I listen to podcasts, especially with my long runs. You know it's a long run when you can get through a Joe Rogan podcast." — Danica Patrick
Listen to all the songs mentioned in this article at the Spotify playlist below. (Editor's note: Playlist includes songs that may contain profanity.)
Newsletter Signup
Stay up to date on all the latest news from Boston.com