Readers Say
PHOTOS: Here's what readers have to say about their pandemic pets
"She has brought plenty [of] love, laughs, and fluffiness to our new fur family."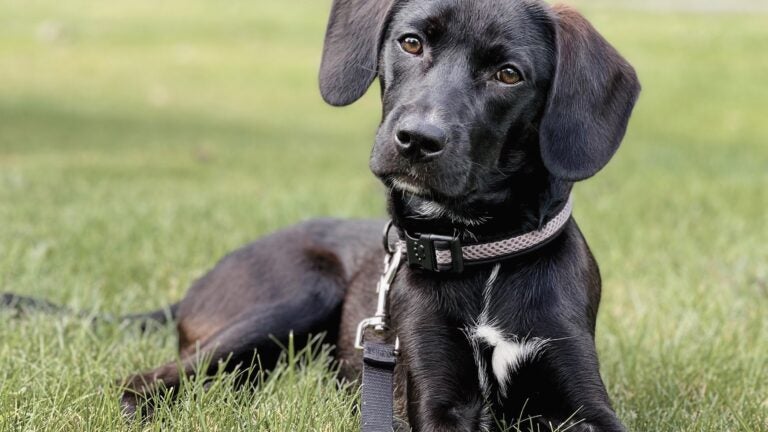 For many people, the silver lining of the last year and half of the pandemic has been the pets they've welcomed into their homes.
Since the start of the pandemic, the demand for pets has skyrocketed. Roughly 1 in 5 Americans adopted or bought a pet between March 2020 and May 2021, according to The American Society for the Prevention of Cruelty to Animals.
As many return to work and school, those pets are still bringing companionship and love to their new owners. We asked Boston.com readers if they were among the 23 million American household who took on pet ownership during the pandemic and they shared their adoption stories with us.
"During the pandemic we were all anxious, and at the worst of it, unable to see our friends and family. Adopting our cat Bennie was the best thing we could have done for our household," said Alexa of Marshfield. "He loves us all unconditionally and is always ready to comfort anyone who sits still long enough. We are so glad we made the decision to adopt."
Ahead, you'll find photos sent in by readers of their furry — and scaly — four-legged friends so we can all share in their cuteness.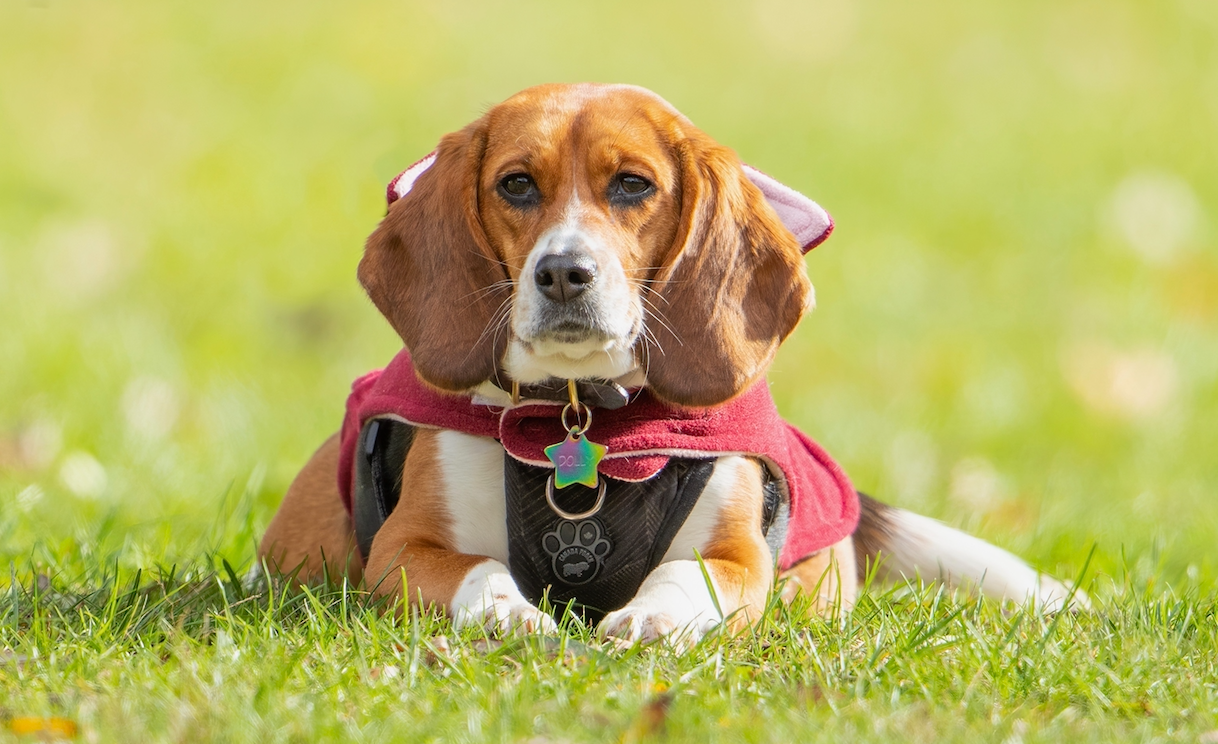 I had been searching dog rescue sites for years but my work schedule always made me pause. On a random day in March of 2020, we quickly packed up our desks with the intention to work from home for two weeks. I submitted applications with rescue organization that same night, thinking a couple of weeks at home would allow time to acclimate a dog to my life and sort daycare and dog walking options. All the dogs were spoken for but one rescue organization interviewed me in hopes of a future opportunity.

As fate would have it, a few days later, the rescue had taken in eight biomedical research beagles due to a laboratory being shut down due to COVID. I drove to the rescuer's home, met all the bouncy beautiful beagles and fell madly in love. One beagle in particular wouldn't leave my side, her gentle loving face gazed so sweetly into mine. The cliche is true, she chose me. And I am forever thankful.

I named her Dolly. With the knowledge that Dolly's first year of life was spent in a cage in a laboratory, it was pure joy to introduce her to the world. We walked the woods, visited parks, explored trails, she saw swans and turtles and horses and made friends with humans and animals at every turn. Her lively spirit and kind heart brighten my every day.

The pandemic was a lonely and isolating time for many, especially those who live alone. But Dolly's presence opened a door to another land — a friendly, welcoming, warmhearted one. I've met more friends and neighbors in my community than I've ever known before. Eighteen months later, this magical little beagle continues to inspire. She is a joy maker. She holds the heart of my home. I am so fortunate to have found her. Mutual rescue is not a myth.

—

Kathleen, Woburn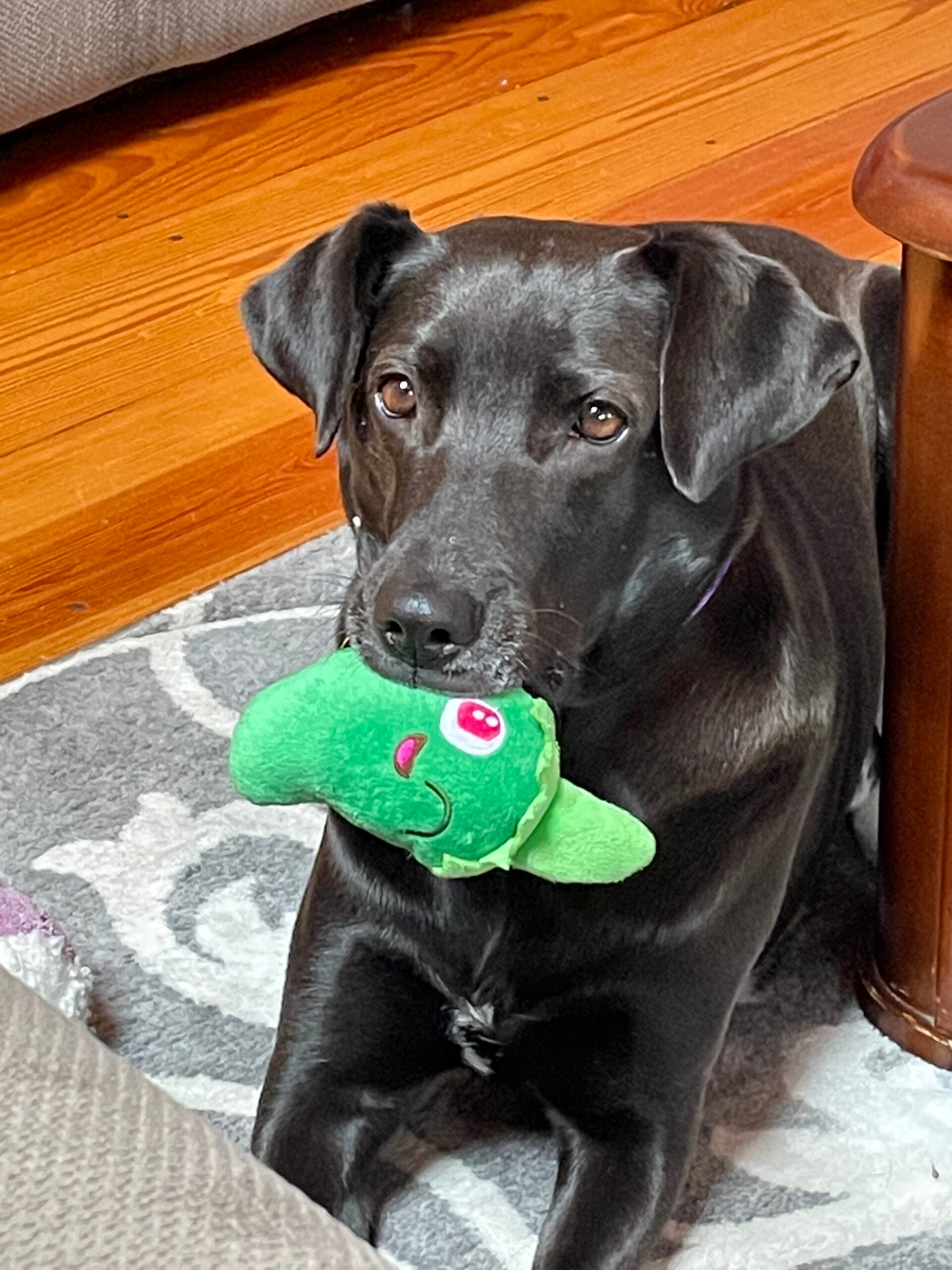 We had been spending so much time at home since both our jobs had us go remote during the pandemic. We wanted some extra company in the house since it's just us two. We lucked out big time! Our dog Xena is amazing. She was really timid at first but the longer she's been with us, the more her personality has come out. She does kangaroo hops when she wants to go outside. She whines and yips like crazy when we come home from being out somewhere. She is seriously the sweetest. We've never owned a dog before so this is new to us but I think we took to each other pretty well. Xena is an amazing addition to our family and we couldn't be happier.

— Courtney and Bill, North Attleboro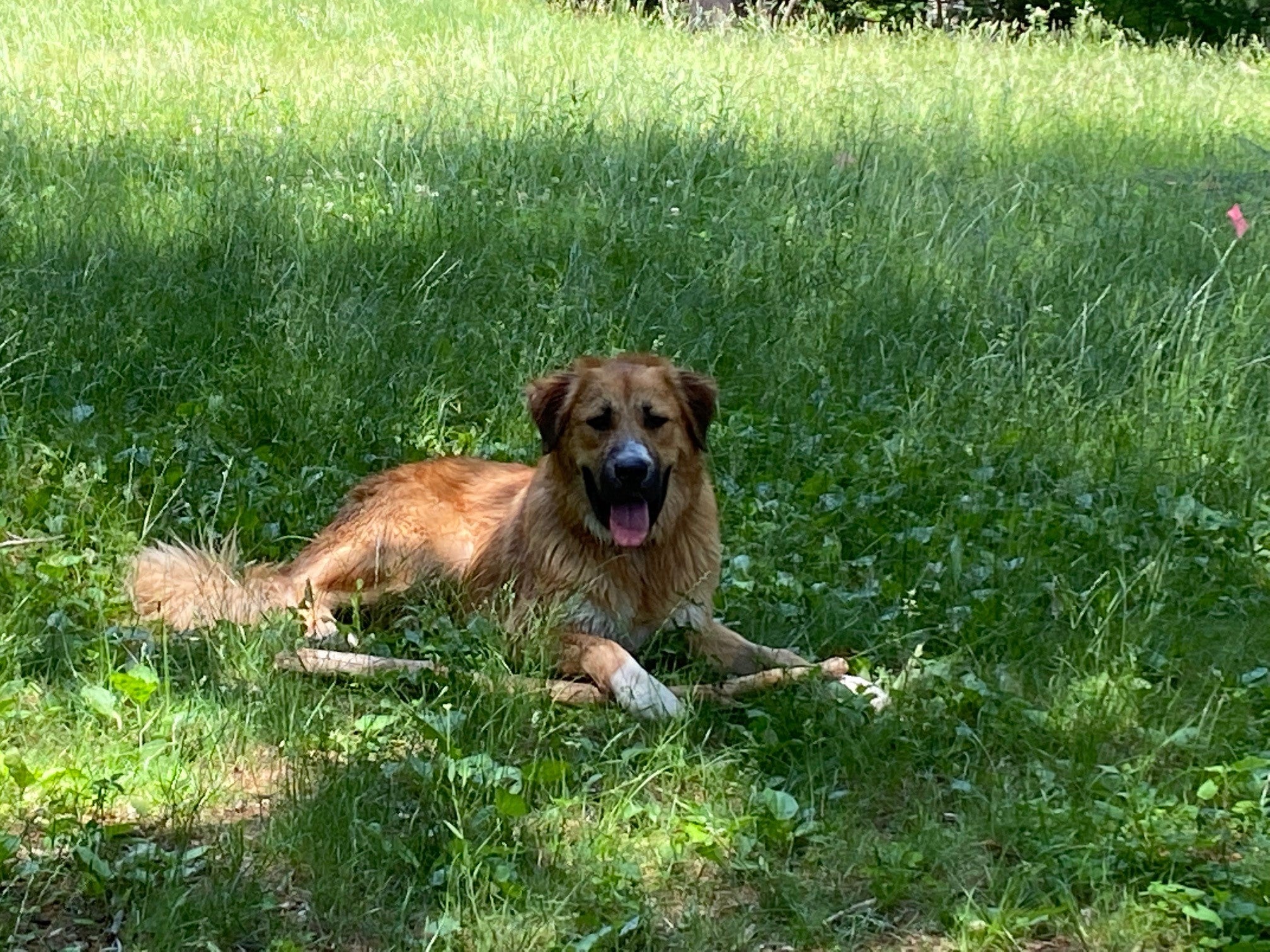 I've always wanted a dog and finally had the time to dedicate to taking care of one during the pandemic. It's been the best experience. I couldn't have gotten a more sweet and kind rescue pup and am very grateful for all of the time I've been able to spend with him. Pets really make you, and everyone they come in contact with, happy.

—

Candace, Brookline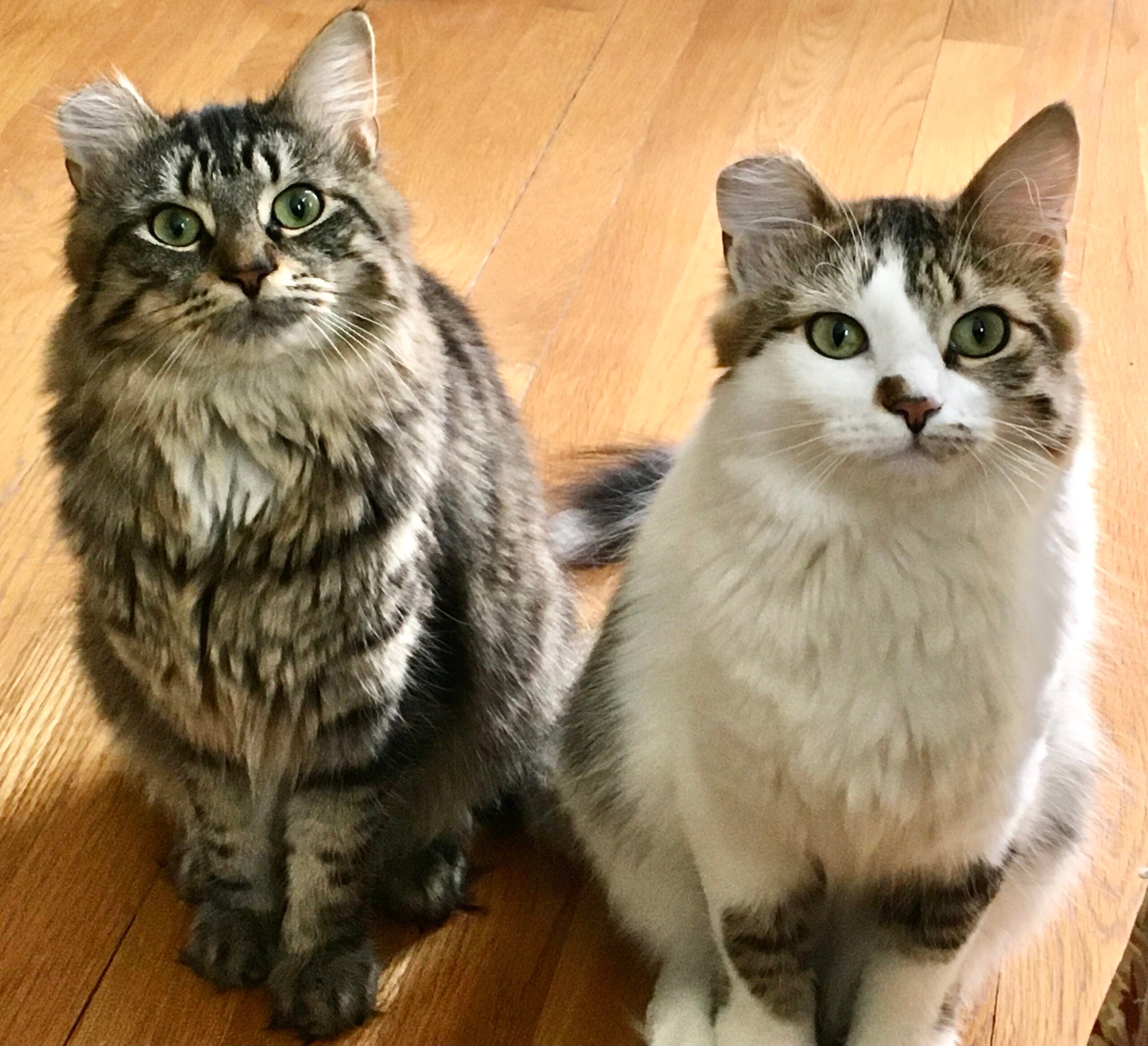 Our old cats had passed away in 2019. We were missing the company of felines so we're not "new" pet owners, but the pandemic gave us the opportunity to take in a pair of shelter cats. They are the apples of our eyes.

—

Amy, Bolton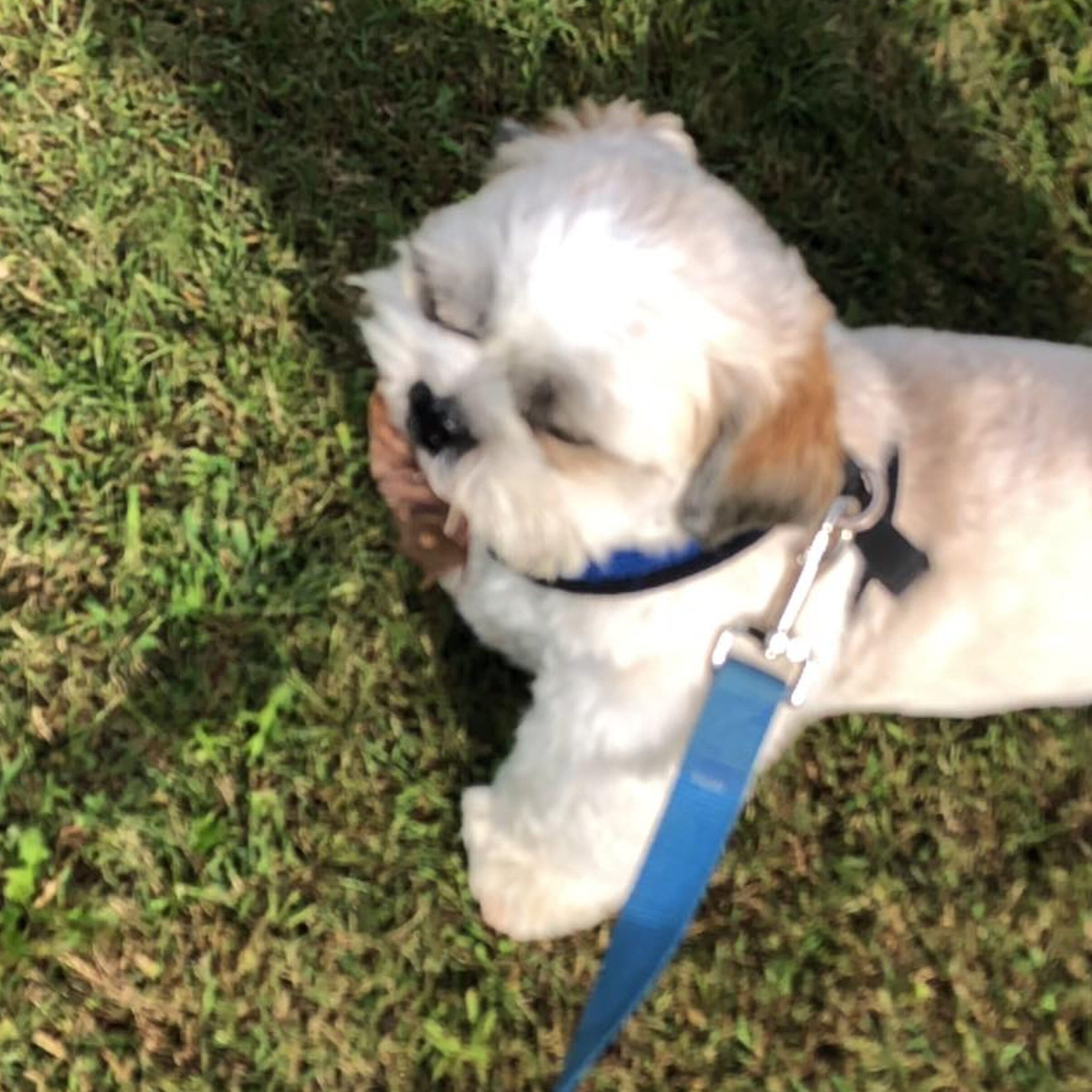 It was during the final, dwindling weeks of blissful autonomy preceding COVID when Bentley Chestnut first entered our lives. It was a sudden and impromptu decision, driven foremost by a gnawing intuition that's yet to steer me wrong. Our tiny nuclear unit had been ailing since last November, after the unexpectedly premature and traumatic loss of our first dog, Nugget. His passing left a pervading, maudlin emptiness that left no corner of the house unscathed. For months we mourned, tethered by a grief that only seemed to swell and intensify. As winter waned into the dawn of next year, I resolved to help mitigate our sorrows by welcoming a new puppy into the family.

I found a breeder, called, and upon hearing our options were dwindling due to demand, told her that we'd see her bright and early Saturday morning — in Upstate New York — if she would have us. After six hours of jambled nerves and anticipation, the three women — myself, my mother, and my little sister — arrived in a quaint little town by the Finger Lake region, just an hour's drive from Syracuse. I launched up the stairs excitedly to be met by a gaggle of Shih Tzus: small and large, dark and light, young and old. Cautiously, I asked to see the remaining puppy of the latest litter: a tiny brown fluff with a streak of black across his eyes like a bandit. When I stepped into the pen and lifted him into my arms, I finally understood that special euphoria borne of maternal instinct. There was no going back — our little Sagittarius spitfire, born December 20 of last year, would be coming back home with us.

Bentley [became] a playful, spry little pup — a far cry from the calm and cautious mop of fuzz we'd taken home in March. He is smart, a quick learner, and distinctively idiosyncratic. Bentley has been an invaluable source of love, light, and comfort for the three of us, and above all a picture perfect fit in our family dynamic. It is because of Benny that we have been able to heal and move forward, remembering Nugget with fondness as opposed to pain. In his loss he gifted us another bright, beautiful, and loving companion that helps us to celebrate and cherish each and every day.

—

Nora M., Berlin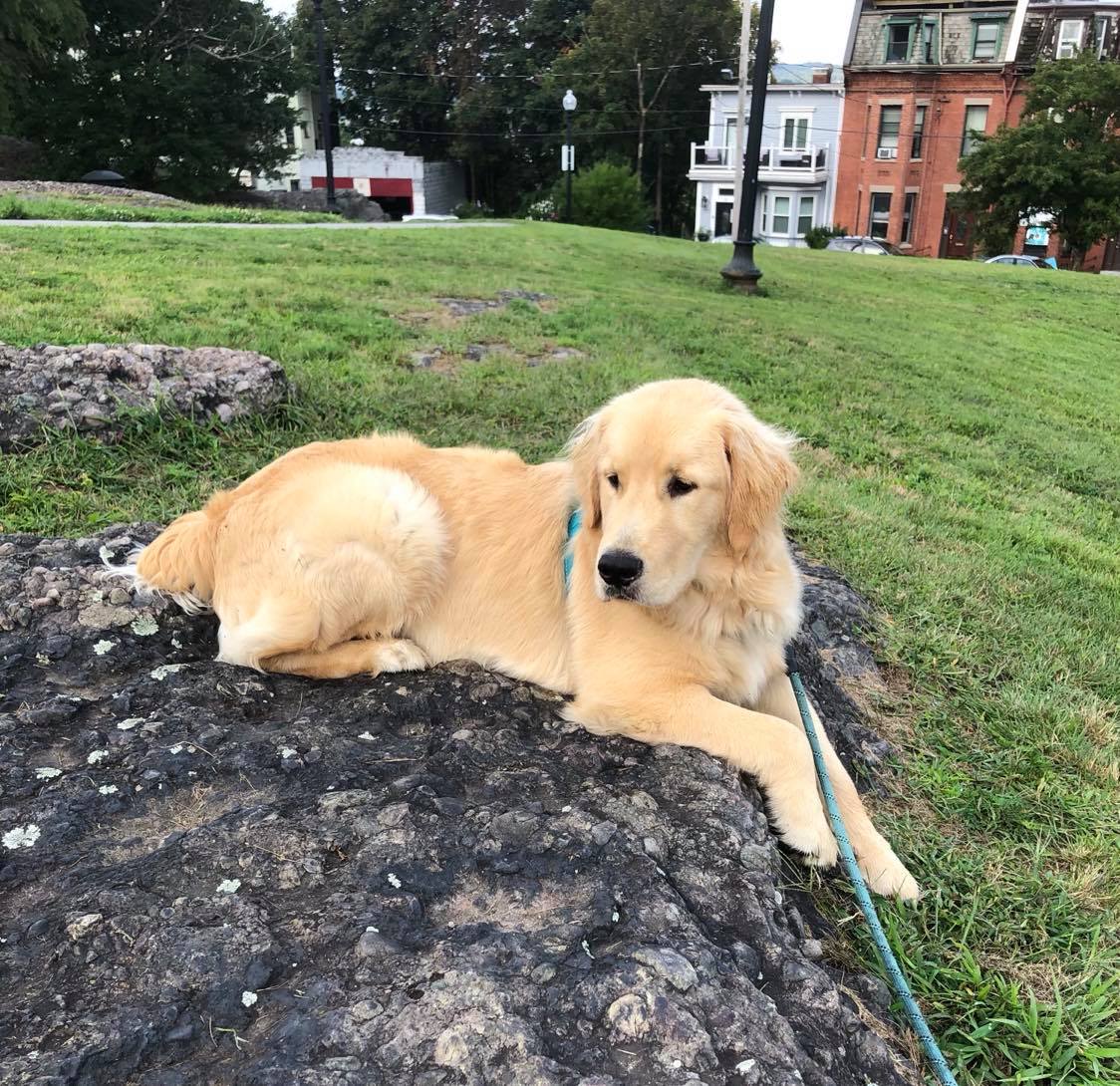 Our son had been wanting a dog for years. With him being in high school, we thought the window of him being home to enjoy a dog was closing. My husband retired and he felt he now would have time for a dog so we got one. Our dog is actually a retirement dog, but qualifies as a pandemic dog due to the timing.

—

Rica, Roxbury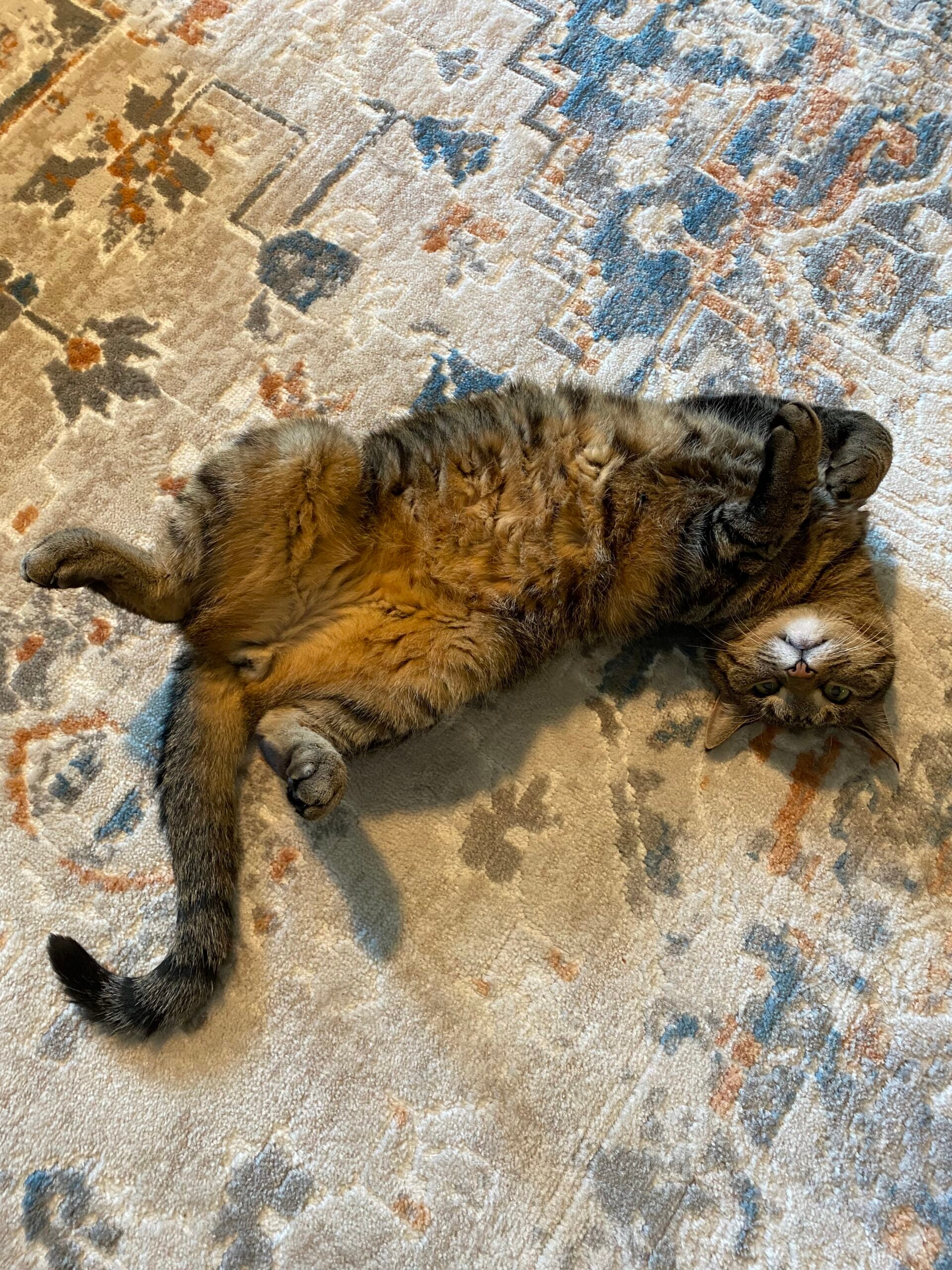 Sammy is a 12-year-old cat I adopted from Northeast Animal Shelter in January. He was miserable at the shelter, and wouldn't interact with me whatsoever on the day I went to rescue him. As a self-described "dog person," it took me quite awhile to understand how to live with a cat. Sammy spent close to a month hiding in my apartment, and wouldn't even eat until after I went to bed. Now he's made himself right at home. He loves to play just as much as he loves to snooze, and greets me like a dog when I get in. I never realized how smart, clever, and loving cats can be until I adopted one.

—

Robert M., Beverly
We have been multiple adopters of older dogs for awhile. In June 2020, we adopted our 10-year-old pug Sophie from a shelter in Los Angeles, Calif. Why? Well, we are partial to the breed and not many pugs were available in the Northeast. She is the sixth rescue we have had in almost 11 years. People love these dogs when they are young but as they get old like us need extra care. They become neglected, abandoned or worse.

We discovered Pug Rescue of Los Angeles about seven to eight years ago after losing our first pug. We could not find many rescues with pugs at that time and were very skeptical of breeders. We decided to commit to adopting or fostering older pugs — they just need the love. Last June my Chris flew to L.A. after we agreed on Sophie and a quick email to the director of the rescue. Our Sophie is loveable, sweet, full of life [and] both blind and deaf, something we were prepared to take on. Chris flew to L.A. but Sophie was too big at 30 lbs to fly home so he rented a car and drove cross country. The two of them had a great trip seeing many sights in the U.S. along the way.

Today, Sophie is living a wonderful pug life in the town on Nahant. She enjoys her many daily trips in her yard and also likes to take travels along the North Shore. This summer we visited Cape Code and Martha's Vineyard and she was [a] great traveler. She makes friends where ever she goes.

— Michelle C.,

Nahant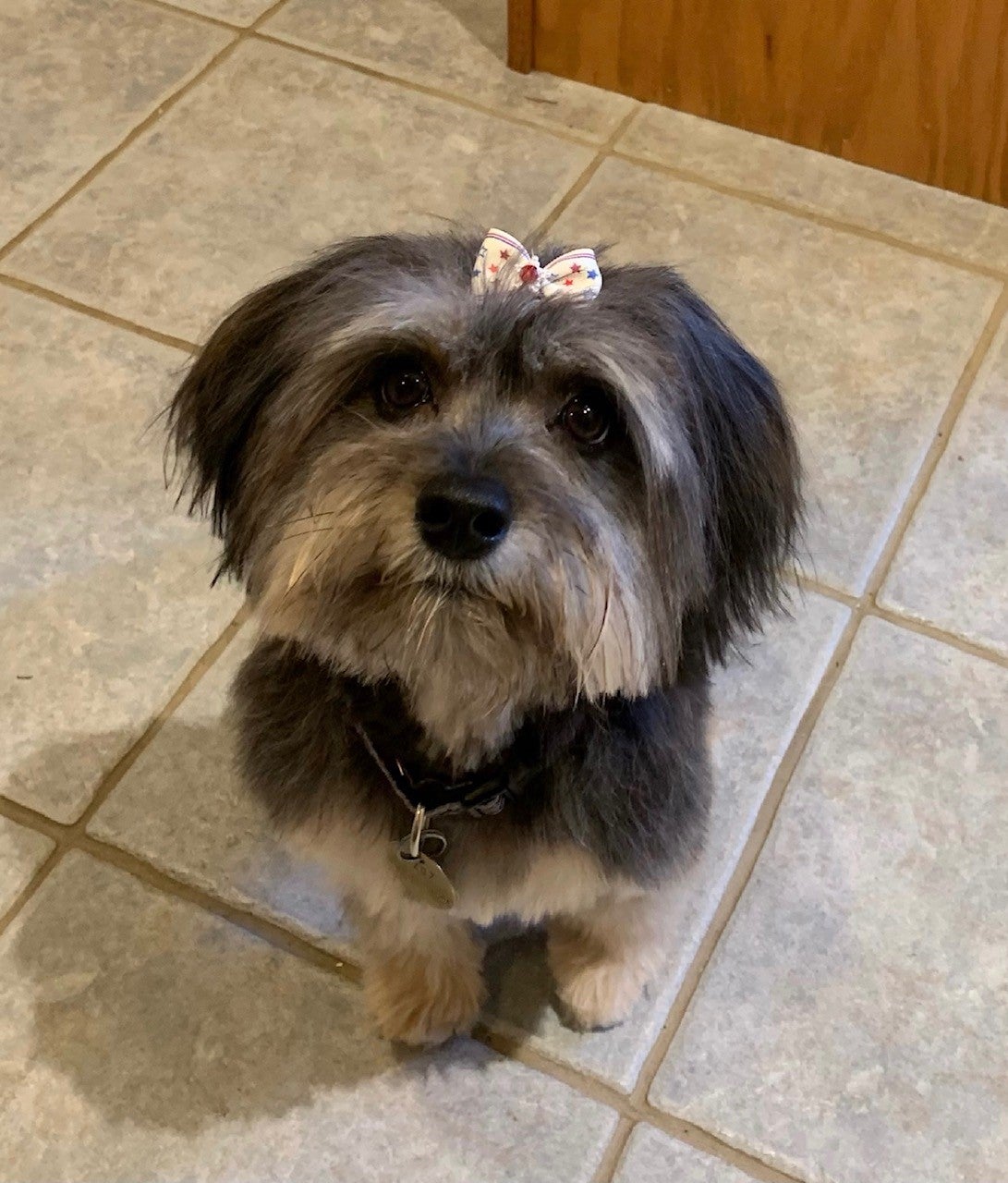 Why get a new dog? Honestly, boredom. We have an older dog and when you are hanging out at home ALL the time, it is a good time to train a new puppy. Harley is a rescue from Texas we got in July 2020 and has been a pure joy. She is is incredibly friendly and affectionate. She loves walks and belly rubs. There is not an ounce of regret that we chose to add her to our family.

—

Dawn, Burlington
Our dear cat went missing in August 2020. We think a new coyote neighbor moved in and got her. In October we adopted two kittens from Mississippi and immediately fell in love with them. Instead of tears all the time, there were tears missing our old cat mixed with laughs of delight at our playful cats. We love them so much and felt so lucky and grateful to find such wonderful new family members during such a hard, sad time. The first time another person came into our house after the vaccine they were so surprised and curious — they had no idea there were faces other than ours for nearly half a year!

—

Kathryn, Arlington
It had been a few years since my last cat had passed away and a friend of a friend of mine had rescued a pregnant stray. I figured it was a good time to adopt a new kitten. I didn't expect him to be 20 percent Maine Coon. Quinton's a big baby.

— Cassandra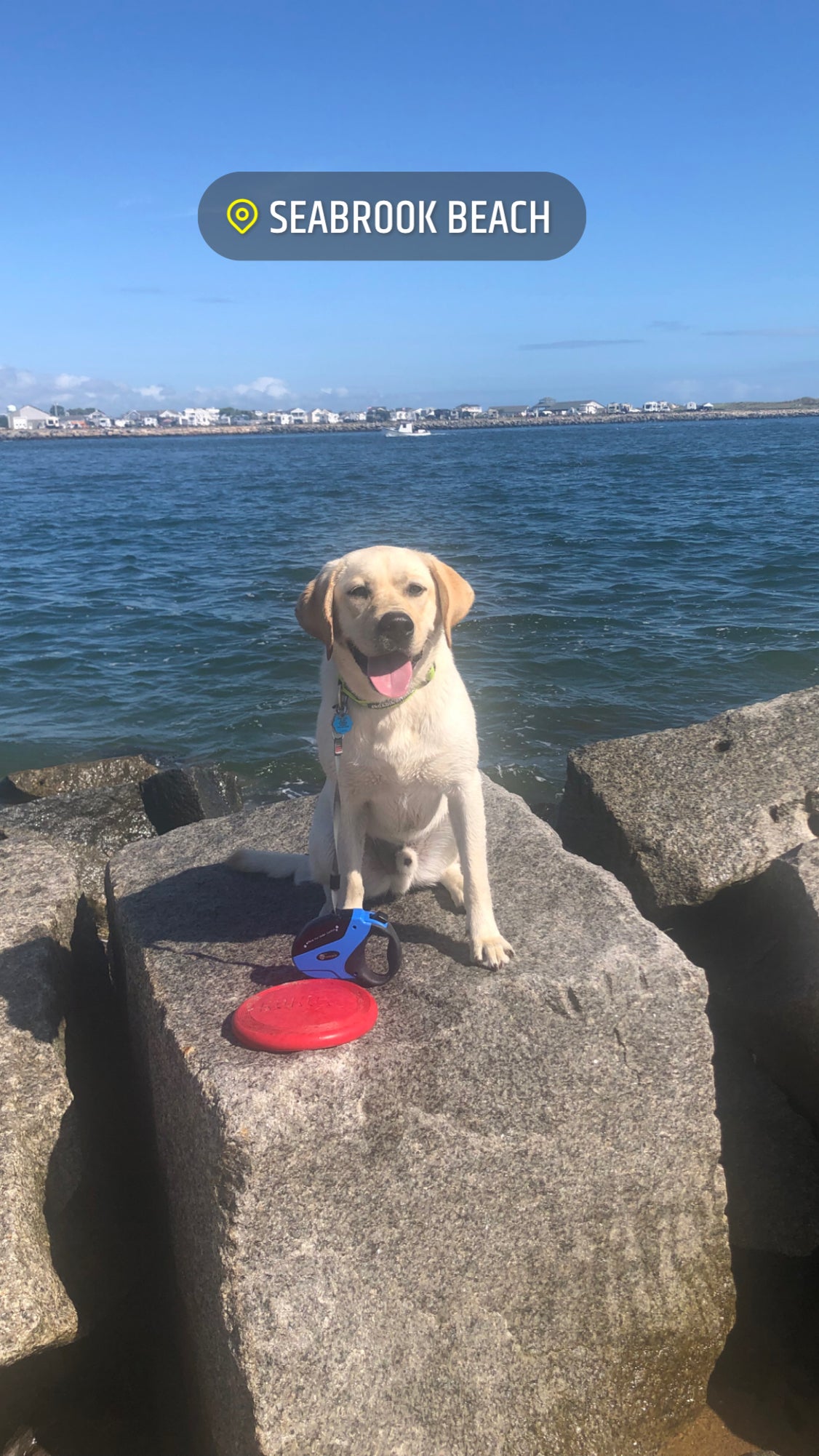 I had been waiting a very long time to get a dog. When my kids were older and work was better, there was always something keeping me from doing it. My kids and I were very on board, but my husband not so much. The people my nephew got his dog from were having another litter and I just went for it! My daughter was remote for 12th grade for three days a week and my son was home from college from November to February so it was a good time. We got Rudy in December 2020 and it's by far the best thing I have done in a very long time. He is not just a pandemic pet but he is my empty nest puppy. He makes us so happy and keeps me moving! My husband fell in love almost immediately! The pup had not been alone for more than two to three hours until this month!

—

Lisa K., Andover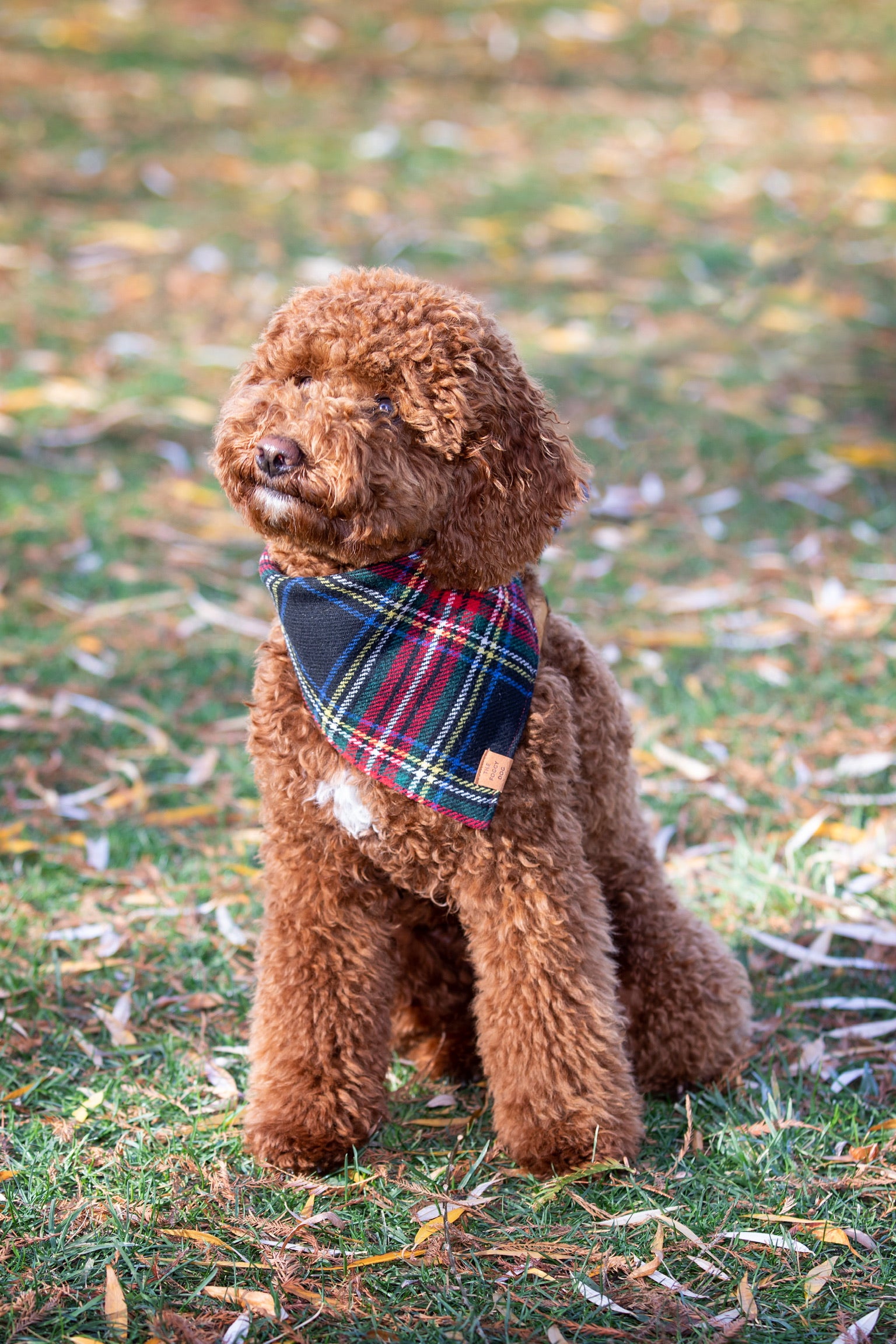 My fiancé and I knew we wanted a dog "one day." But when the end of quarantine was truly no where in sight we decided, "Why not now?" We had a living situation that made it possible, would have time to train it properly, and we also knew that we wouldn't want to have a baby and a new puppy at the same time one day, so we took a chance and got our puppy in June 2020. We wouldn't have it any other way!

— Anonymous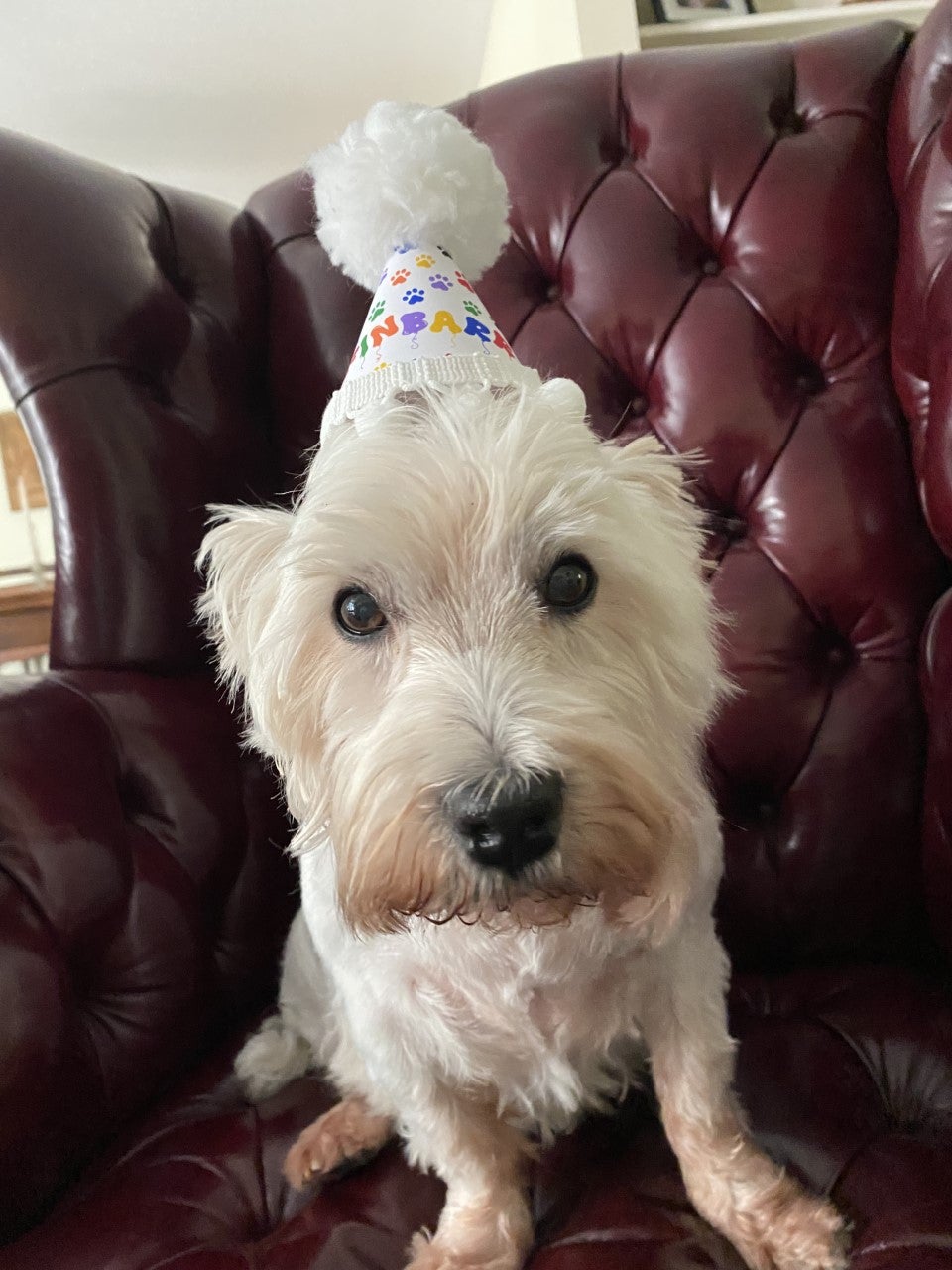 Oscar, my 13-year-old rescue Westie, died unexpectedly in September 2020. I was absolutely devastated. About a month later, I saw on Facebook that a 10-year-old Westie had been rescued from a puppy mill down south and would be available for adoption through Northern New England Westie Rescue Inc. I contacted them and they selected me for this special adoption.

I picked up my new fur baby, who I named Finbarr (Patron Saint of Cork), in an Olive Garden parking lot just before Halloween. He had been driven from Missouri to Massachusetts by volunteers in a rescue caravan. It was love at first sight and he has settled in beautifully. I worked remotely from the time of his adoption in October 2020 until the spring of 2021.

When I went back to work, my father watched Finbarr during the day. He is never alone and feels totally loved. He turned 11 this summer and I threw him a birthday party. We are a team.

— Caitlin M., Worcester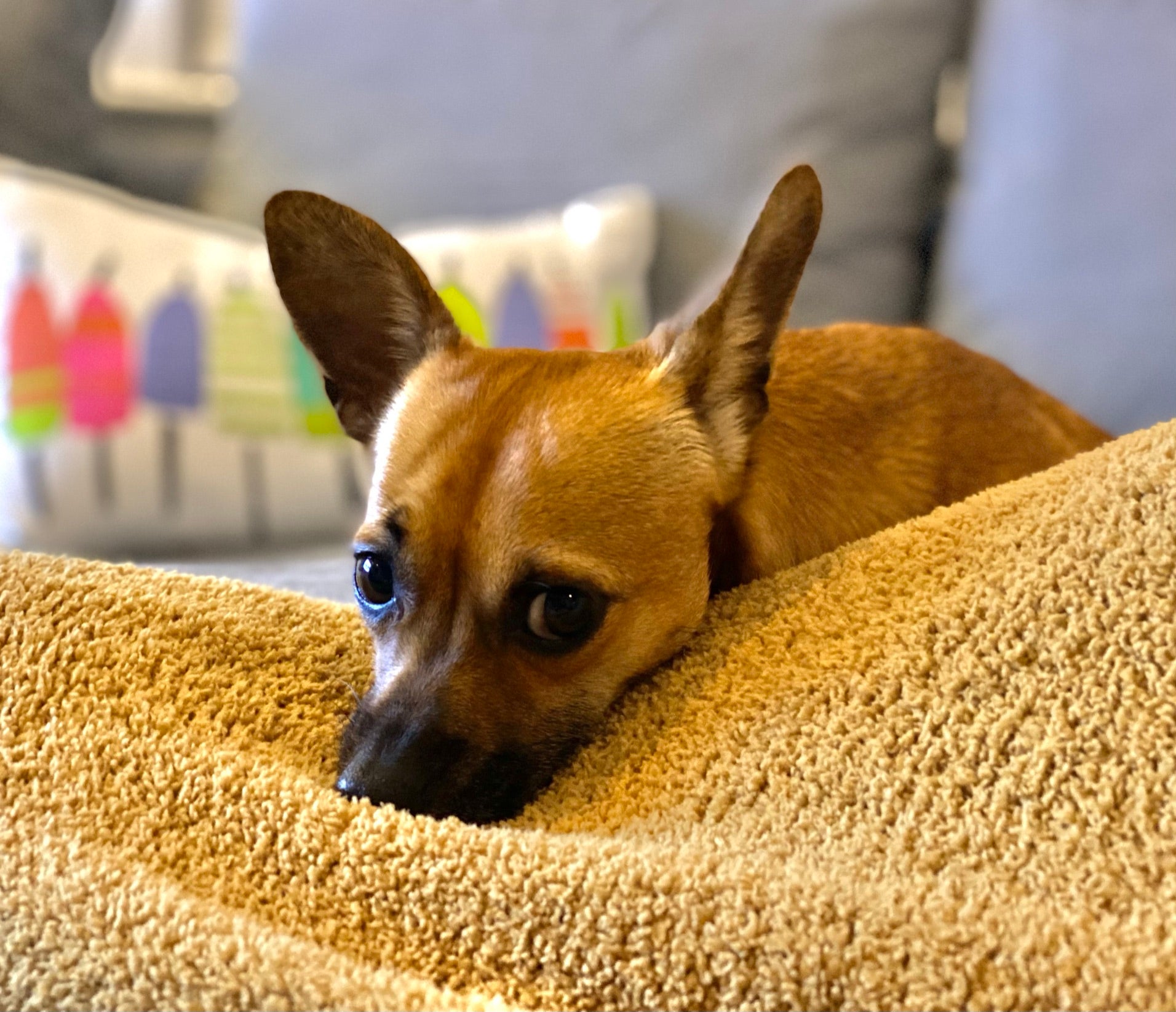 We lost one dog two years earlier and planned not to get another but working from home and being isolated made us realize it was the perfect time to adopt a dog since we would be home to train it. We adopted a 2-year-old mix who was rescued from a Texas kill shelter. We named him Myles because he came so far to his forever home. It was so much better having a new dog while isolating.

— Wayne B.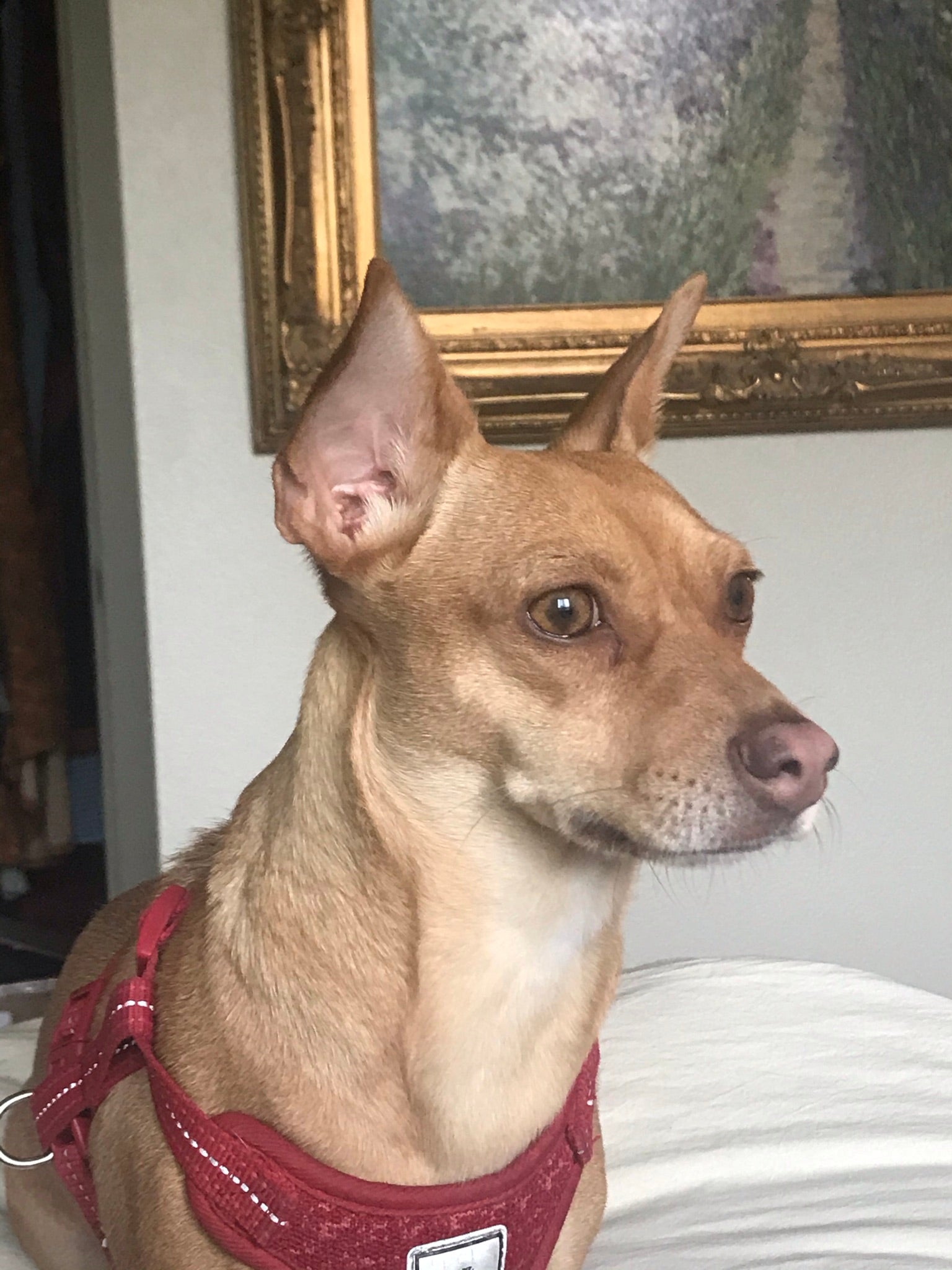 I liked walking a friend's dogs and volunteering at a local dog shelter. One thing led to another and voila! I found my little girl. The early morning walks — well, I'm not a morning person, but anything for her. I enjoy watching her play at the dog parks. We go everywhere. We took a summertime road trip to Kansas where she saw muskrats. She has little T-shirts and a warm red coat for colder weather. And she can [be] found most often on my lap.

— Maria S.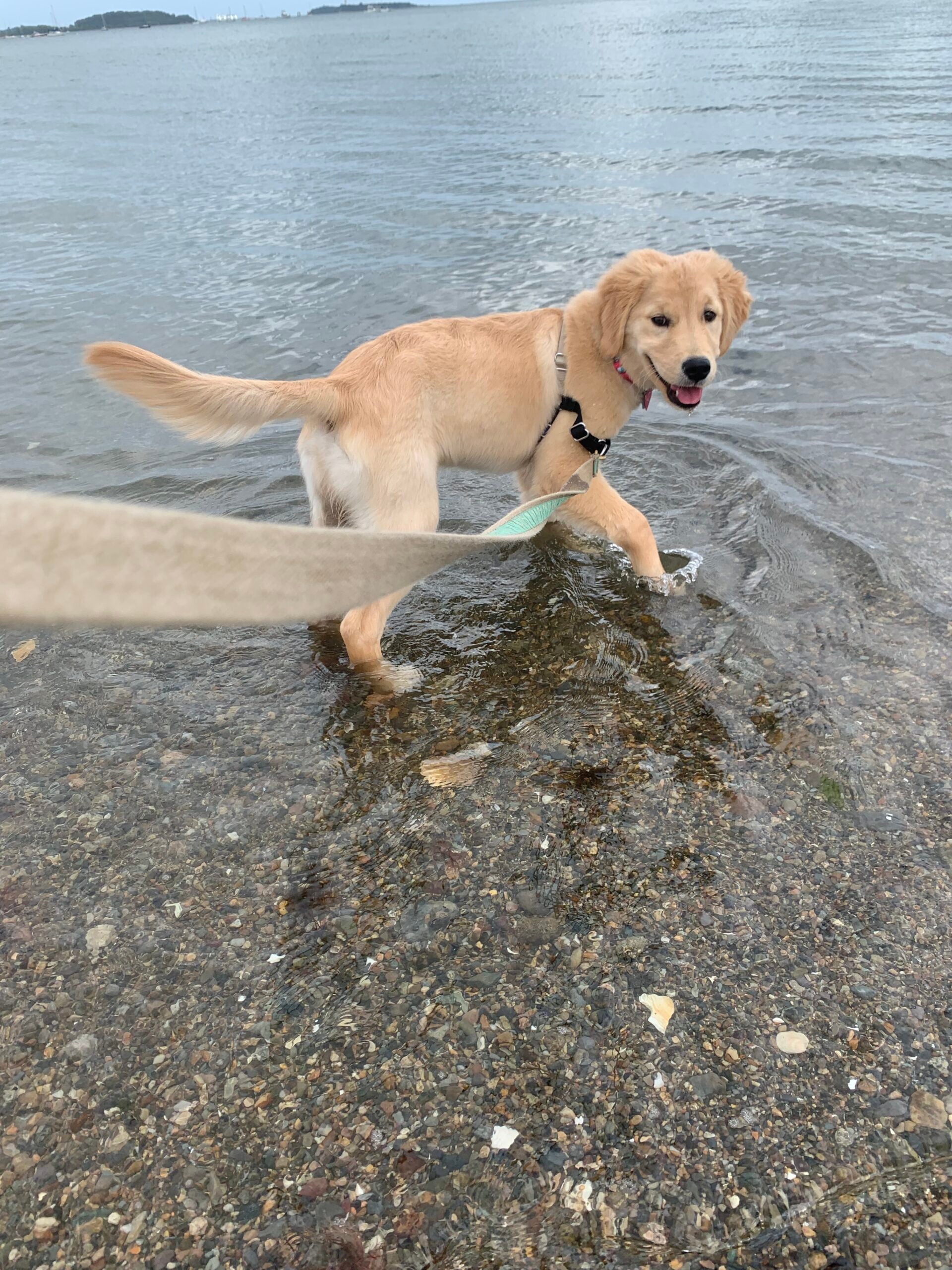 I got a golden retriever puppy from a lovely breeder in Rhode Island. I had wanted a golden since I was a kid but always had silly reasons on why I couldn't let myself get one (small yard, small house, what if someone is allergic, and so on.) After all the stress of being a RN in a Boston hospital and a mom to young kids through this, I said screw it I'm getting what I want. Birdie has brought me out of a depression and I have met nice people just by walking her. I want to continue on with therapy dog training for her, she is certainly a special dog and has brought our family so much joy!

— Kellie, Quincy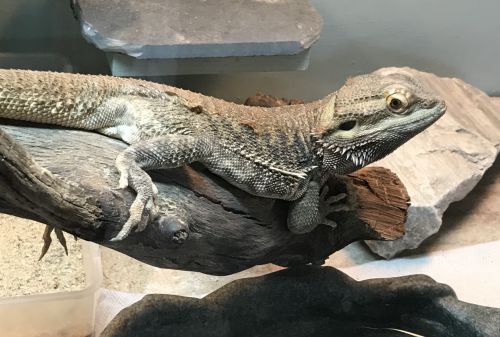 I picked up Finster in March 2020, right as the pandemic hit. My previous bearded dragon had just passed away. I saw him on Craigslist and knew he needed to be better cared for. He's my little buddy, and he kept me company while I worked at home, running around my office and generally just making a nuisance of himself.

—

John K., Lincoln, R.I.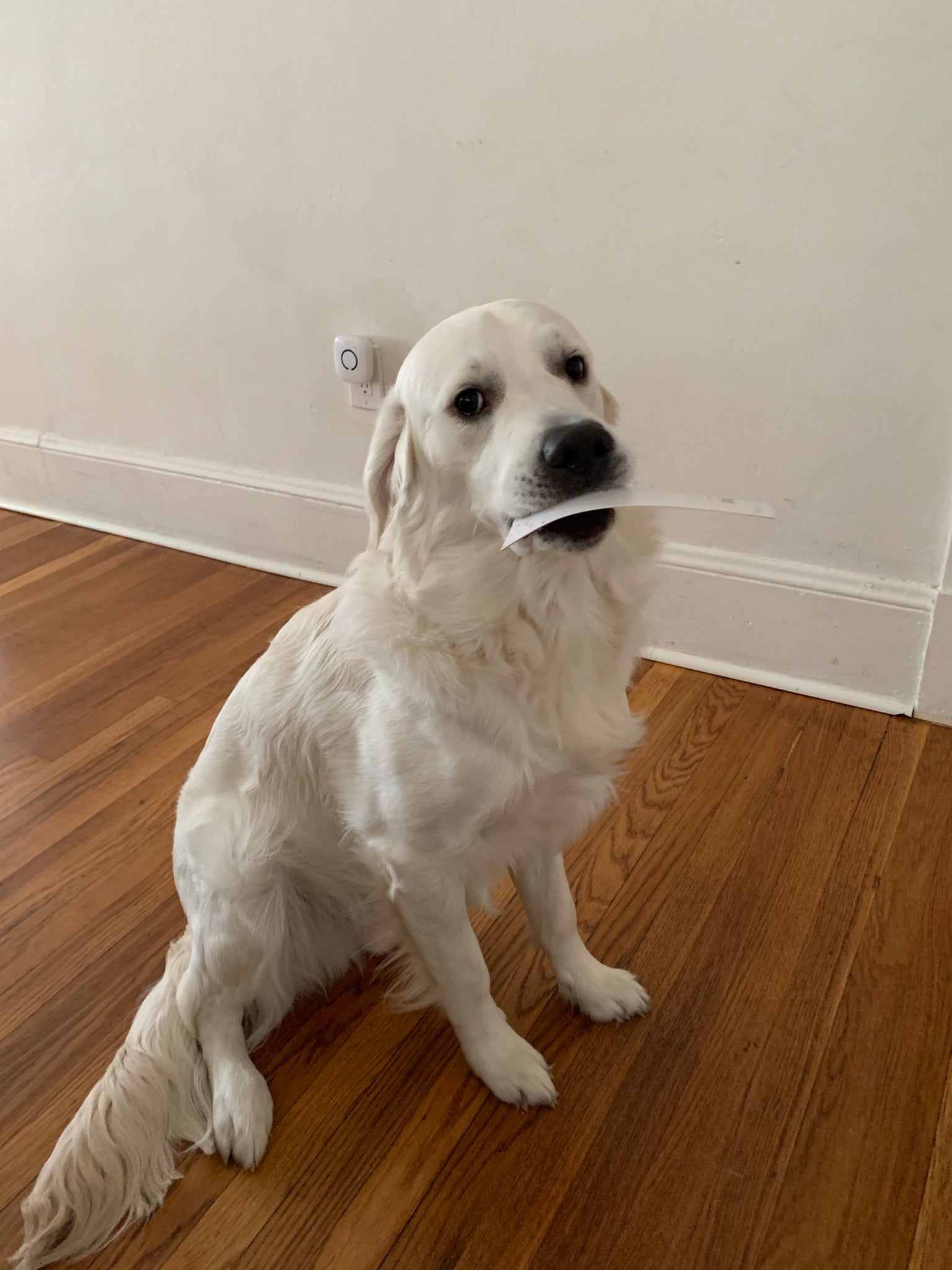 We had been looking prior to the pandemic, but it was very tricky to find a dog as adoption agencies were already wait listing people. Ultimately we found a wonderful breeder in upstate New York and brought home Bukowski, our golden retriever, and he has been the best addition to our family. Being stuck at home for a year was less terrible with him around. Allowed us to discover many new outdoor spots as a family!

—

Allie N., East Boston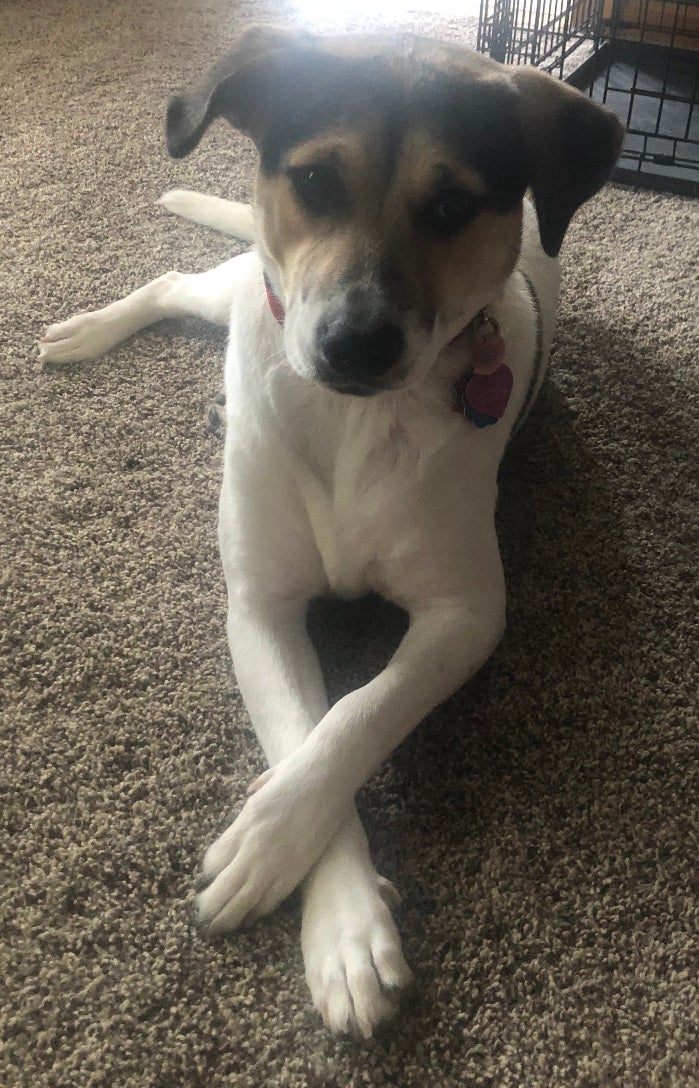 We lost both of our elderly dogs during the pandemic. Our house was so quiet and missing the pitter-patter of paws. About six weeks after losing our last dog, we found Ruby! She's a 3-year-old beagle German shepherd. Best thing about the whole pandemic!

— Anonymous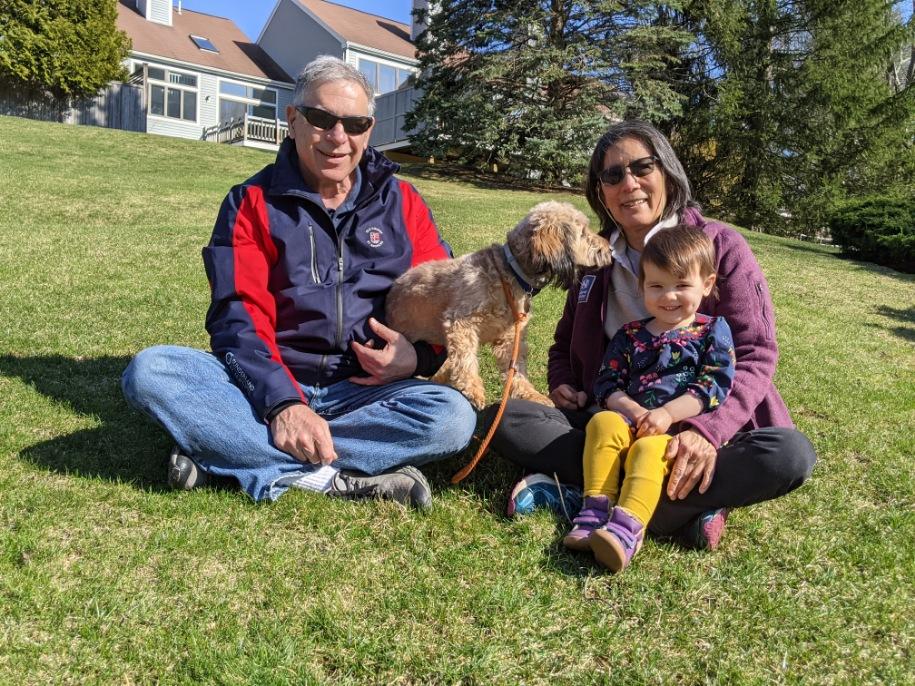 We are senior citizens and therefore empty nesters. We felt the time was right to adopt a dog to give him a loving home.

— Molly J.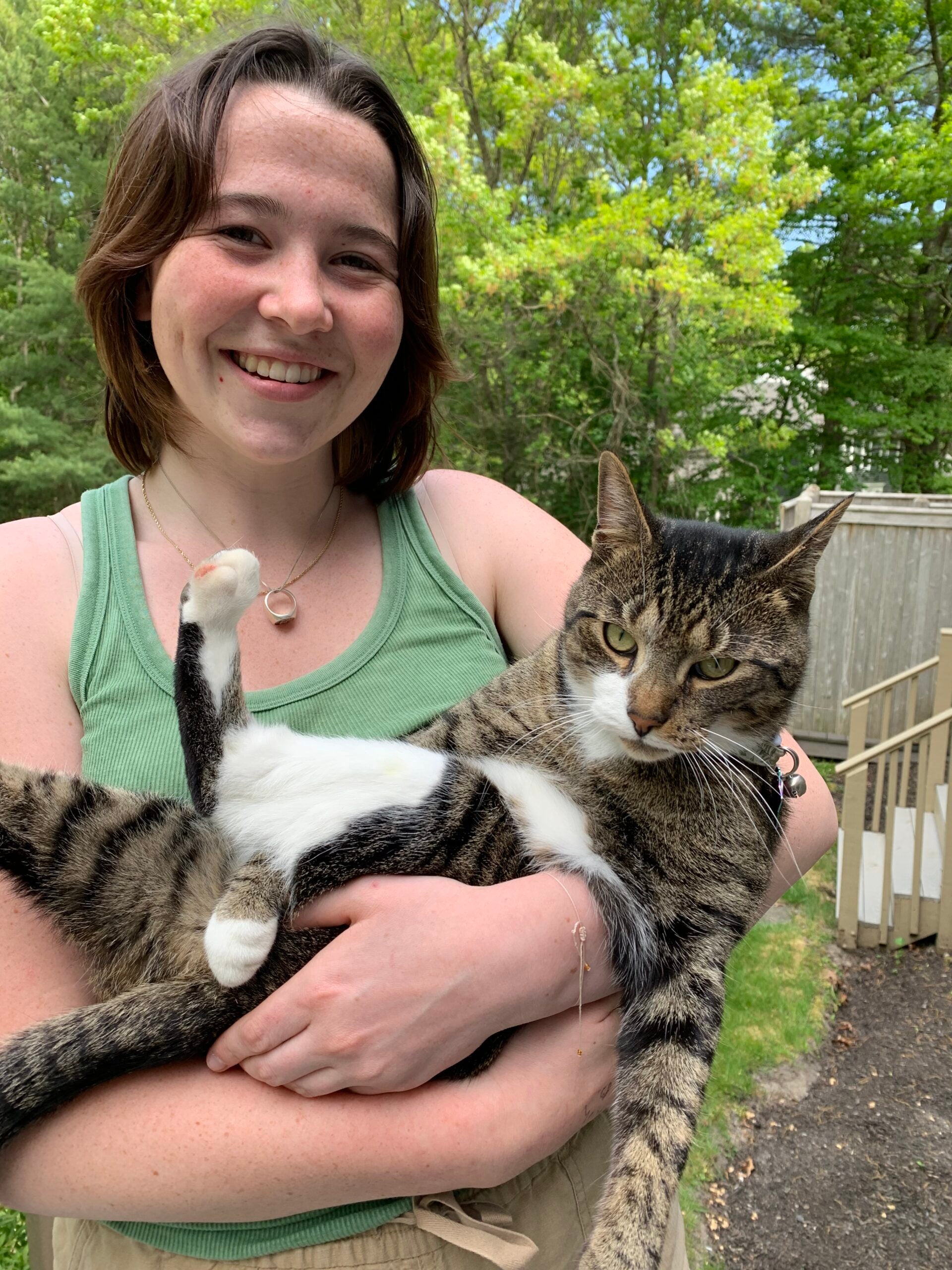 During the pandemic we were all anxious, and at the worst of it, unable to see our friends and family. Adopting our cat Bennie was the best thing we could have done for our household. He loves us all unconditionally and is always ready to comfort anyone who sits still long enough. We are so glad we made the decision to adopt.

—

Alexa, Marshfield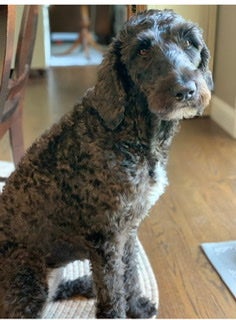 We wanted to get our current dog a friend and our dog walker, who also manages a rescue, had someone surrender a labradoodle. She's perfect. She's three years old, and an absolute love. Her name is Cora.

— Dan, Auburn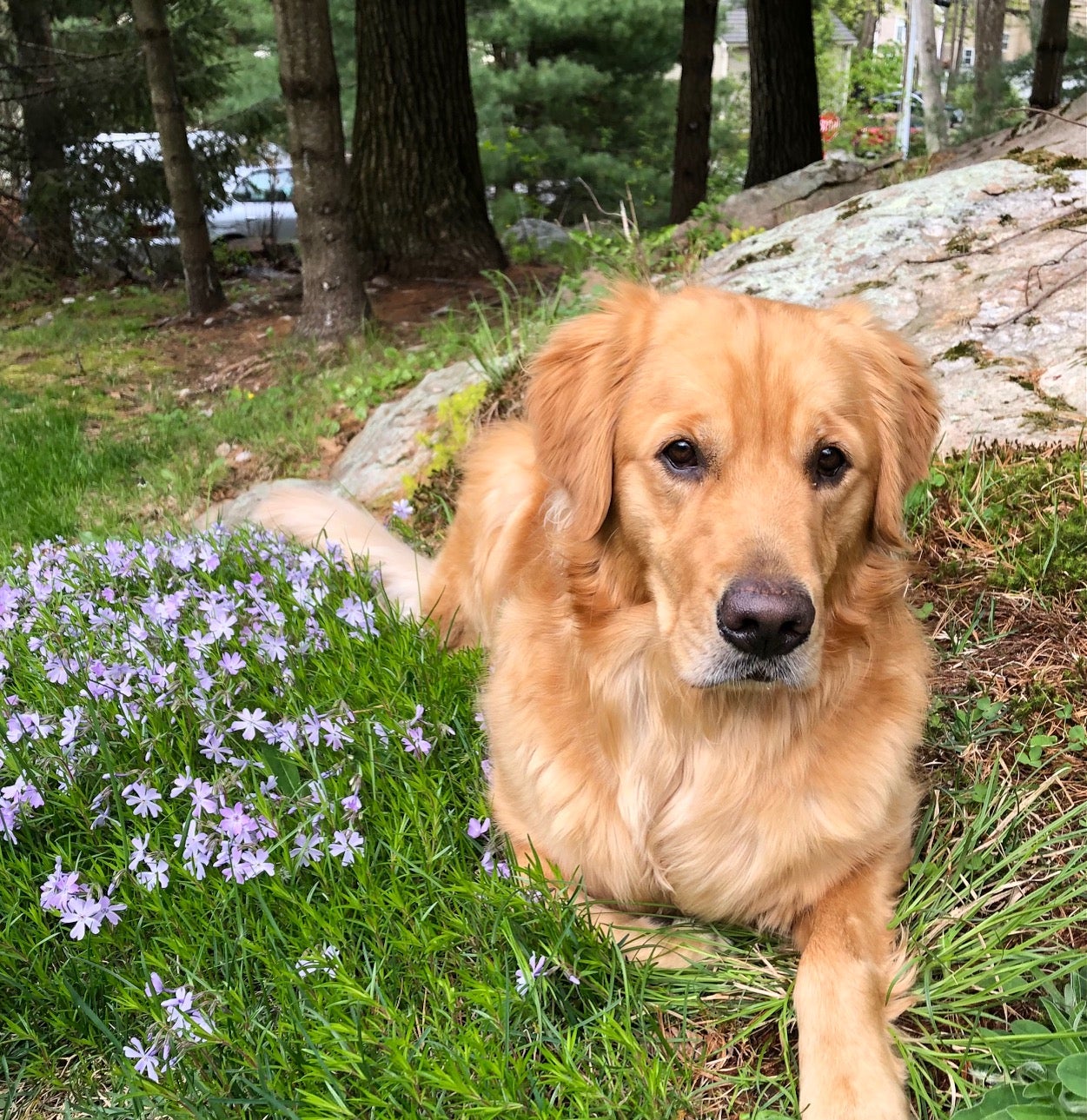 My daughter is in the military and was transferred overseas in 2020. However due to pandemic restrictions she was not able to take her golden retriever Oliver with her. So we agreed to let Oliver live with us. He is a real sweetheart and has been a wonderful addition to our family.

—

Jeff W., Framingham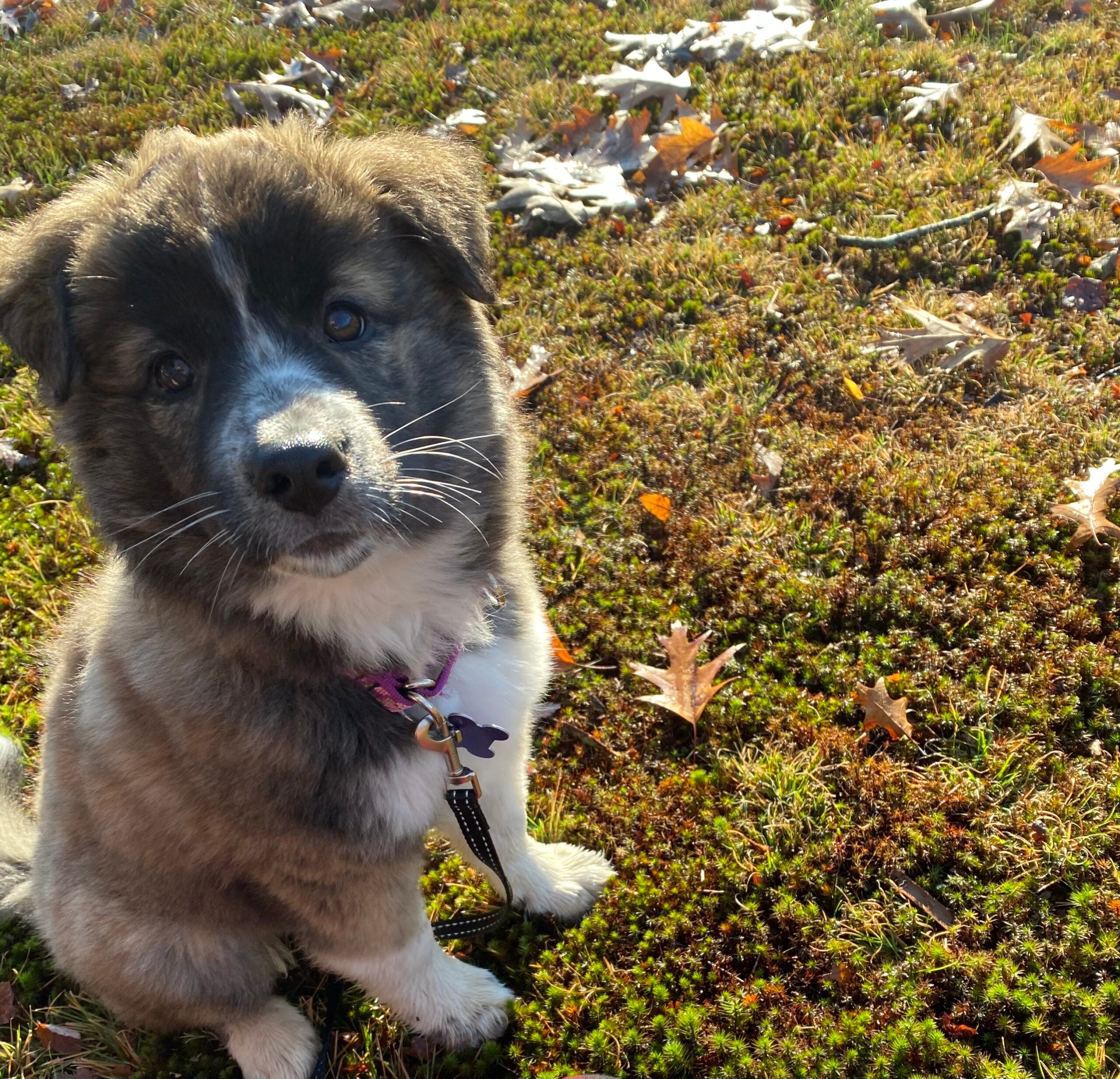 Working from home allowed for the time and flexibility to care for a pup.

—

Kyle, Auburn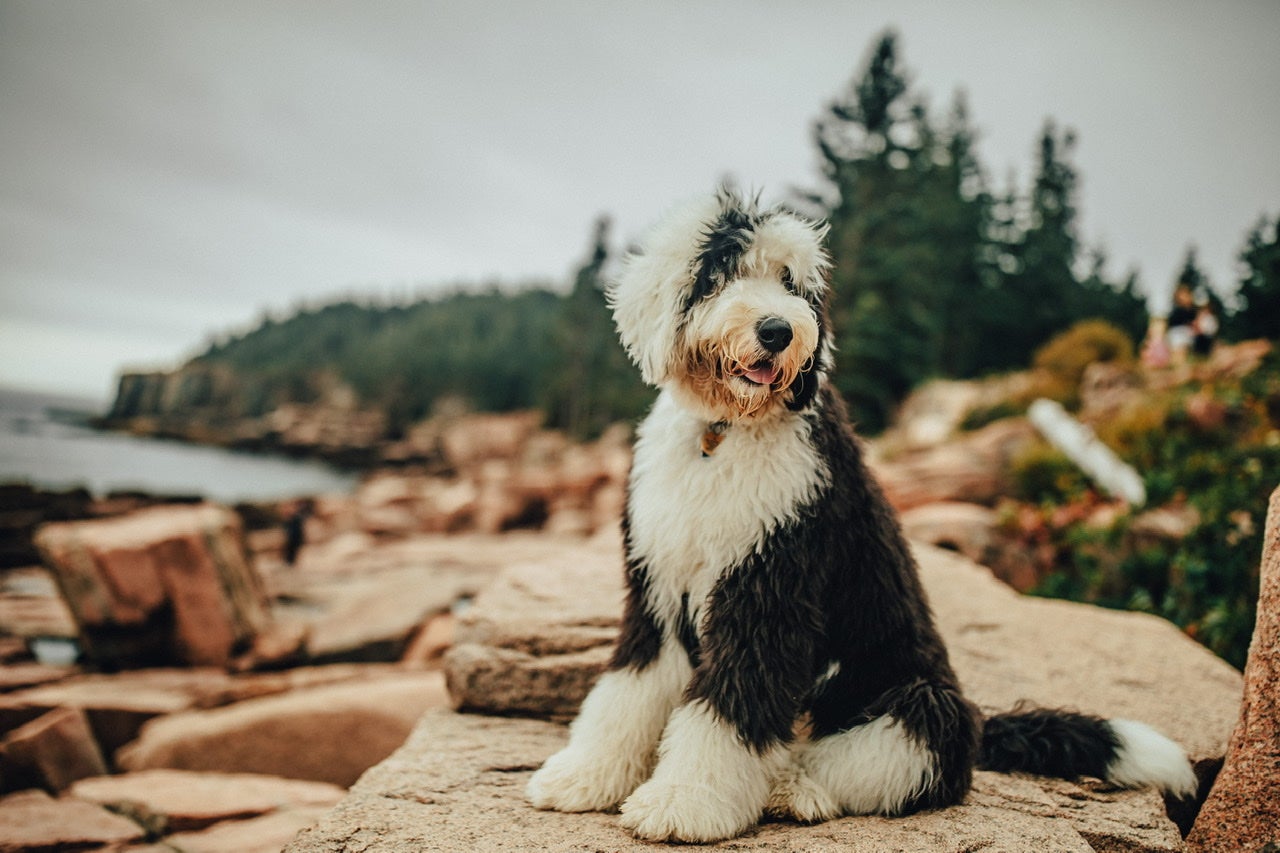 A silver-lining to the COVID-19 pandemic. Annie Lou was adopted in April 2021. She has brought plenty [of] love, laughs, and fluffiness to our new fur family. Bringing her home was the best decision EVER!

Angela K. and Aung KP., Newton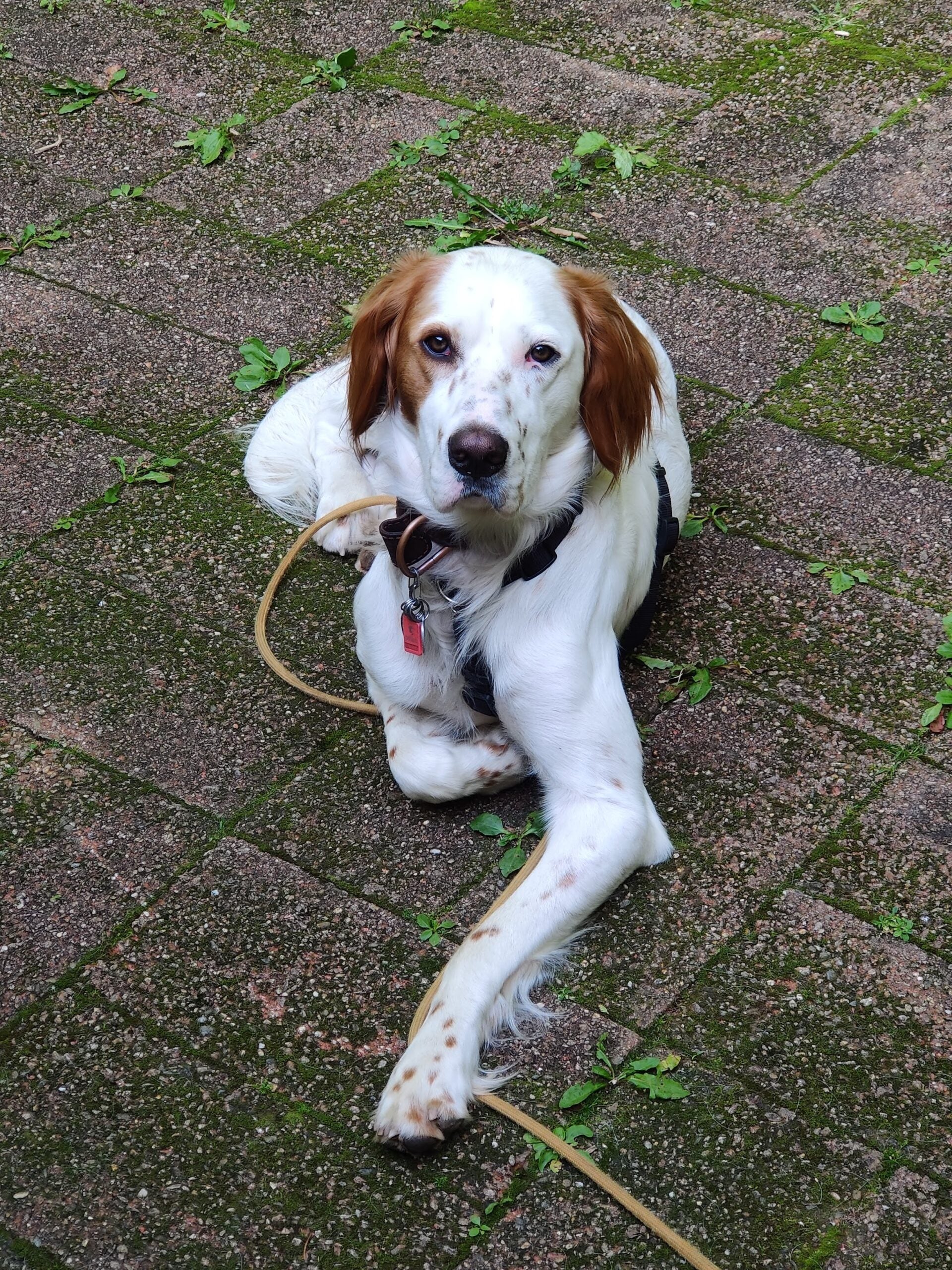 I lost my field spaniel to illness in March 2020. Early summer 2020 when I realized work travel wasn't happening for quite some time, I decided it was right to bring another family member home. Rogan the English setter is now one year four months and is the best boy.

— Anonymous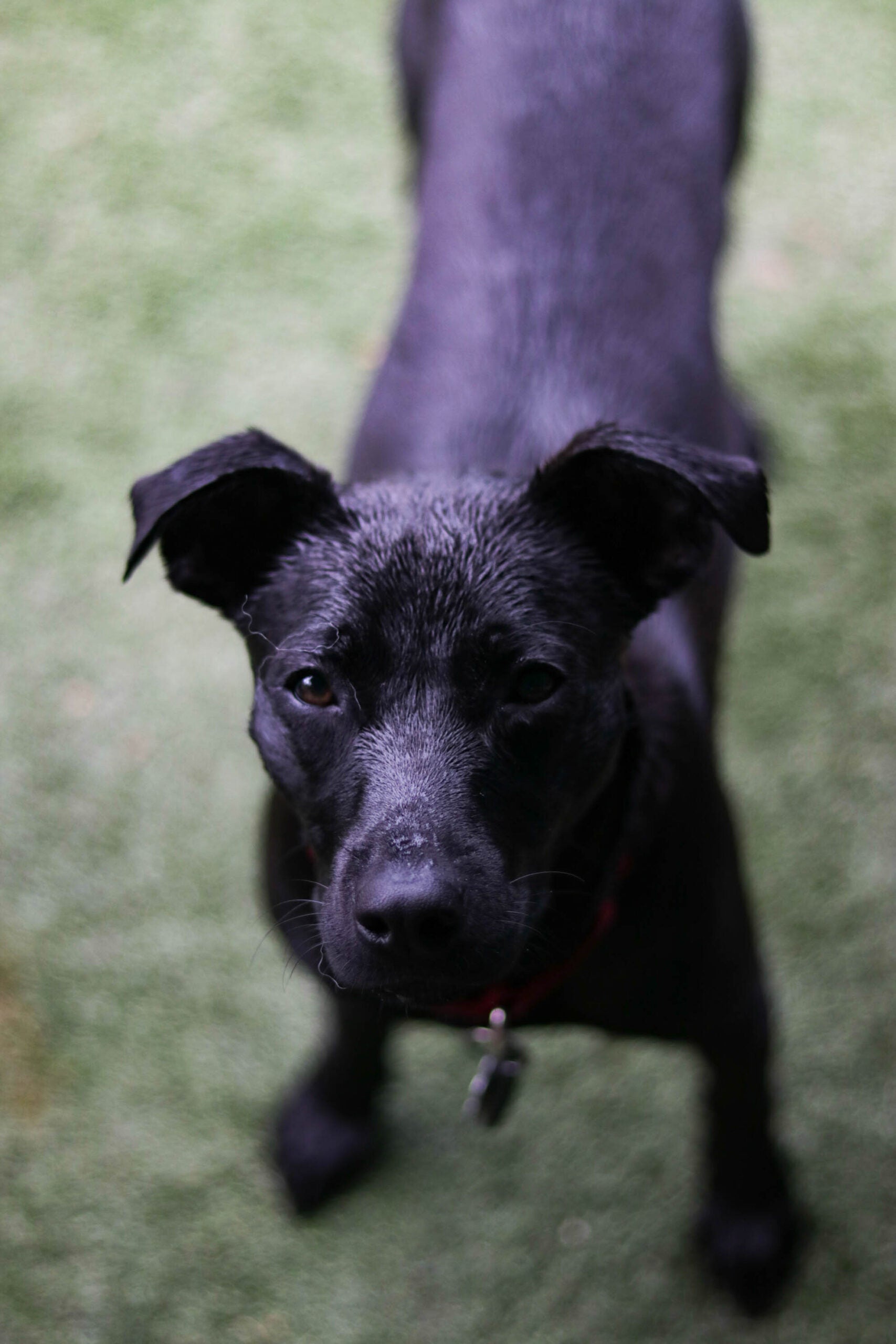 Miles was our first rescue who we adopted from Baypath Humane Society in 2010. She passed away in January 2021. Our house felt so empty despite having three kids under 10, so in June we adopted a beautiful puppy through Last Hope K9 Rescue, an all volunteer and virtual organization. She came from Arkansas and her given name was Basmati Rice. Her siblings were all named after different types of rice, so the name stuck.

— Matt H.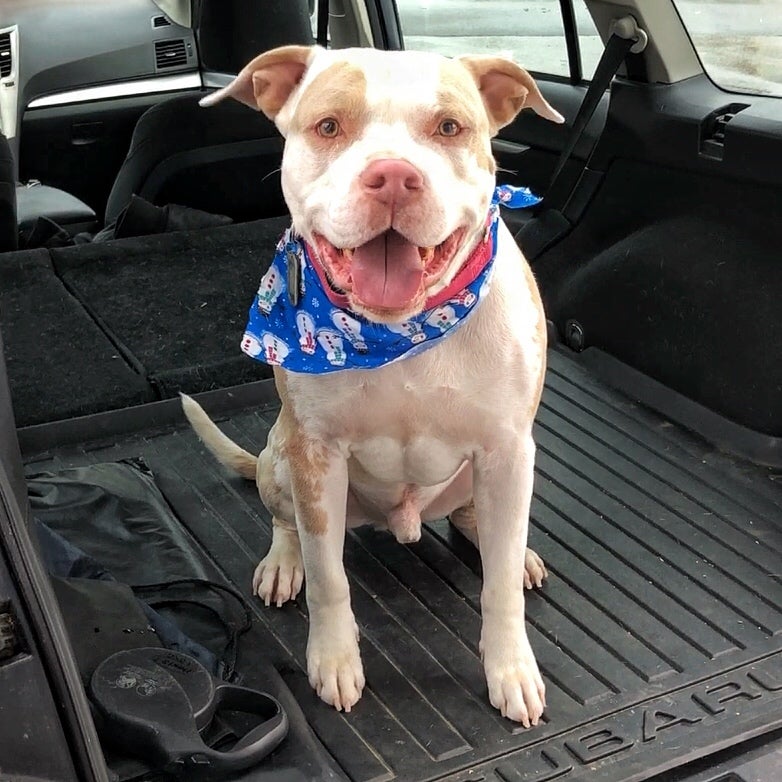 I really didn't want to get a dog. MAYBE a cat, but even then I wasn't sold on the idea. I'd had a German shepherd before, and he was a wonderful pet, but he could definitely be a handful at times and 13 years of living (mostly) alone with a dog takes away a lot of one's flexibility. But I'd never been entirely closed off to the idea, so when my partner, Levi, excitedly showed me the picture and description of Melo on the Animal Rescue League of Boston's website during the height of the pandemic last August, I said sure, we can at least go meet him — but no guarantees.

Levi called and left a message with the shelter on Sunday, and again on Monday, and again on Tuesday, asking each time if we could make an appointment to see him. We ended up stopping by unannounced on Tuesday afternoon, even though they were technically only open by appointment. They told us we couldn't see Melo right then, but they had us fill out an adopter profile form and said they would call us back later that afternoon if they had any openings coming up. Turns out they did, the following day. When we met him, he stole our hearts.

He's just such a sweet, gentle, well behaved boy who's seemingly happy about everything and really only wants to be loved and nothing more. We decided right there on the spot to adopt him, and we took him home the next day. He's really clever — maybe even too clever for his own good — but most of the time he wants nothing more than just to curl up with us on the sofa with his head pressed against our laps.

It's been a little over a year now, and we've all adjusted to life as a family rather nicely. Levi is a school teacher who's returned to in-person learning, but I work from home in an IT job so I'm able to take Melo to the park every day, which he loves. He's an older gent. He'd just turned seven when we adopted him, and he's eight now, but you'd never know with his energy and enthusiasm. He's just a huge bundle of joy. He just loves everybody, and everybody loves him back. Even though I wasn't set on getting a dog at first, now it's impossible to imagine this home without him.

—

Jesse B., Jamaica Plain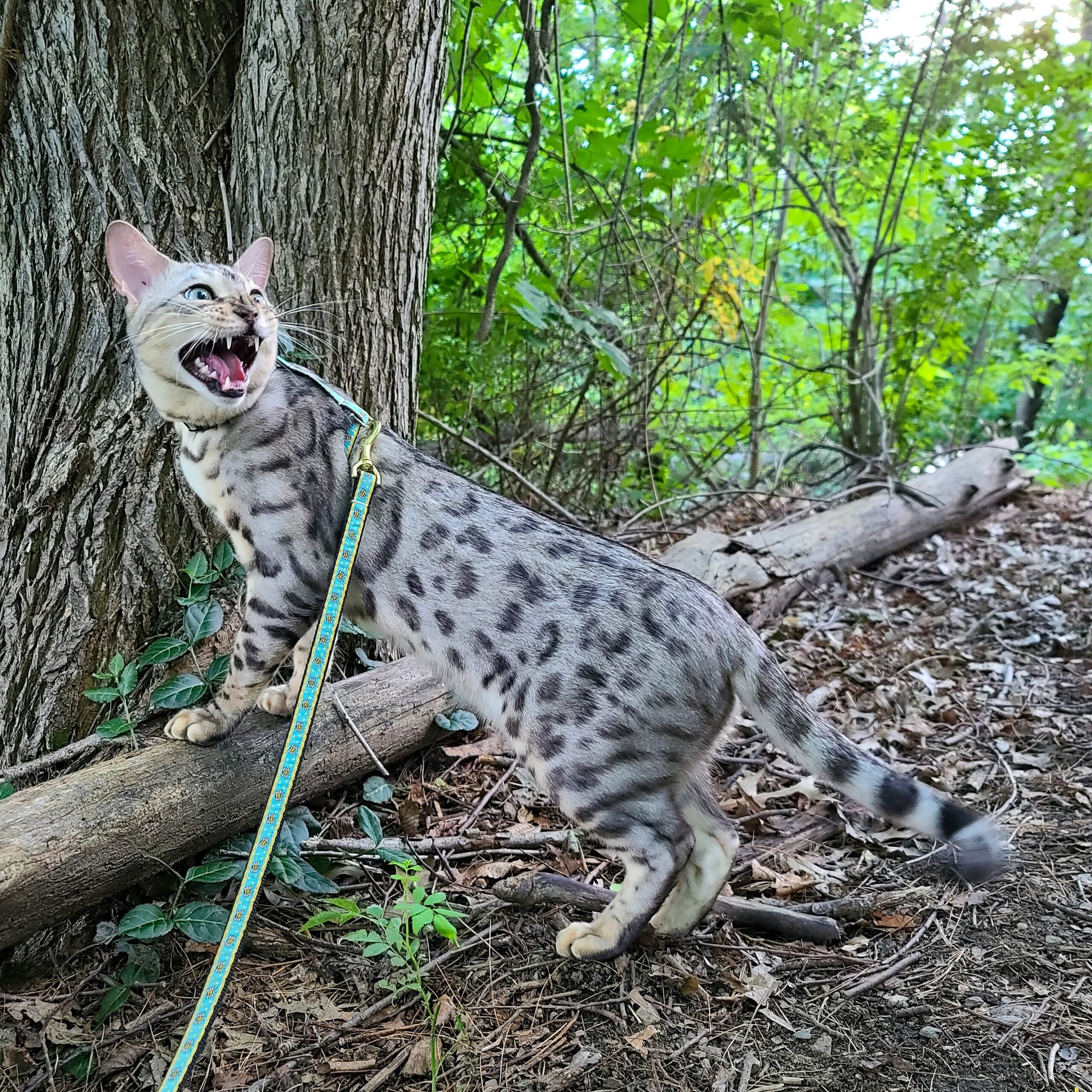 I developed an anxiety disorder and was having night terrors during the pandemic; nothing was helping me, so my doctor recommended a cat. The rest is history.

— Anonymous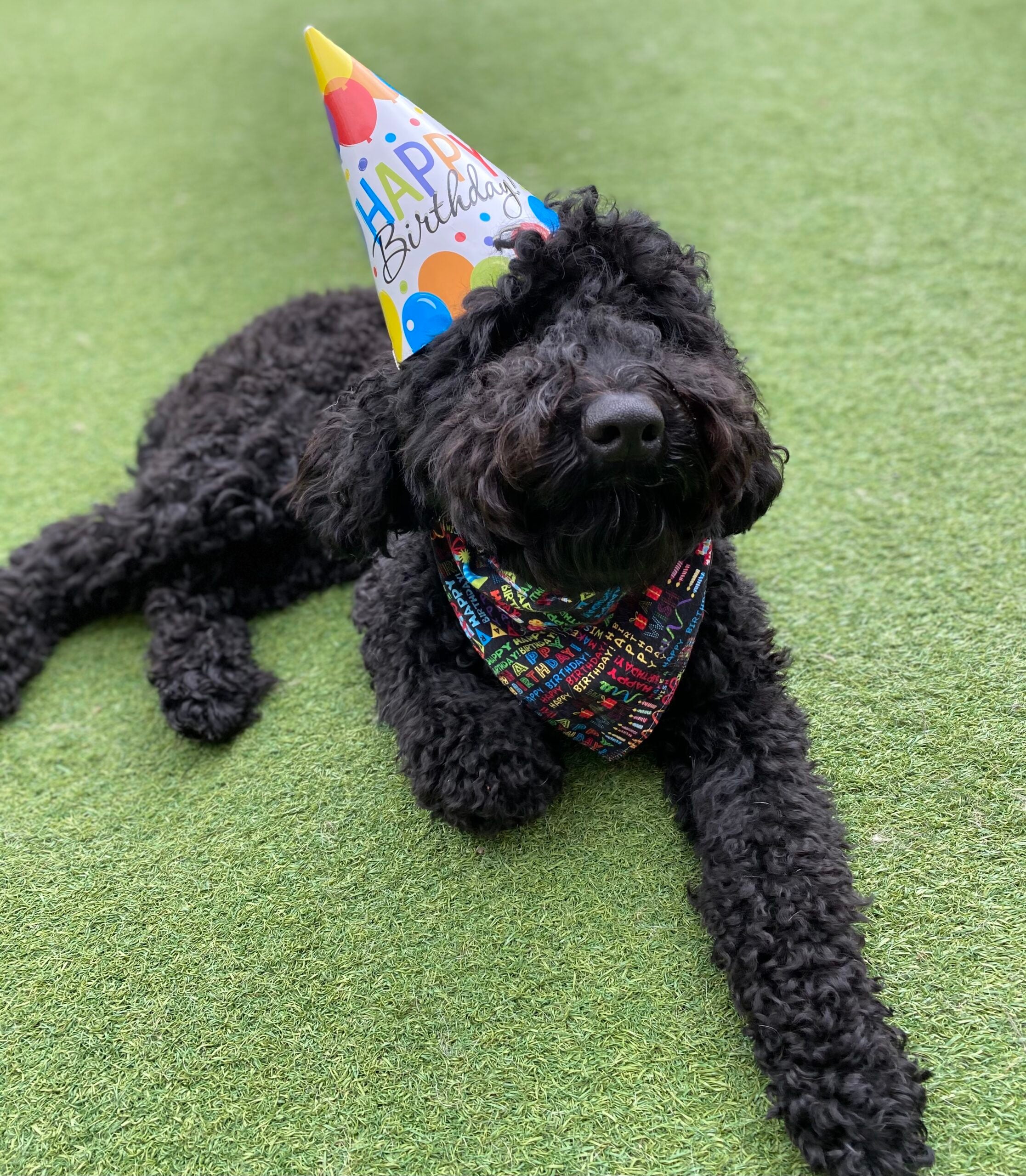 We finally broke down Dad!

—

Shauna and Nora, Medway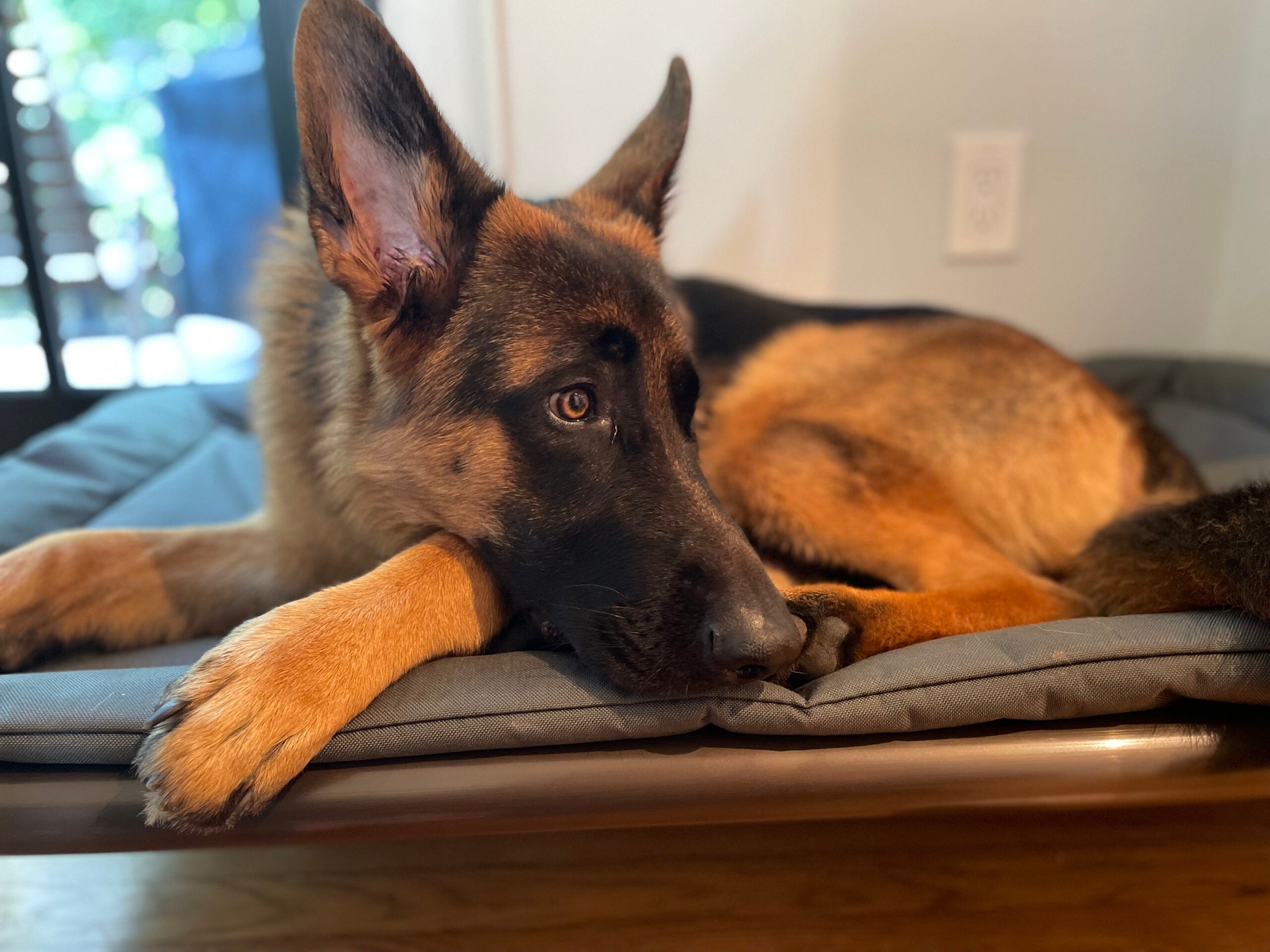 Marten is our family pet and it was right time to get a puppy. Plus, he gets us outside for walks and is with us all day while we are working from home.

— Anonymous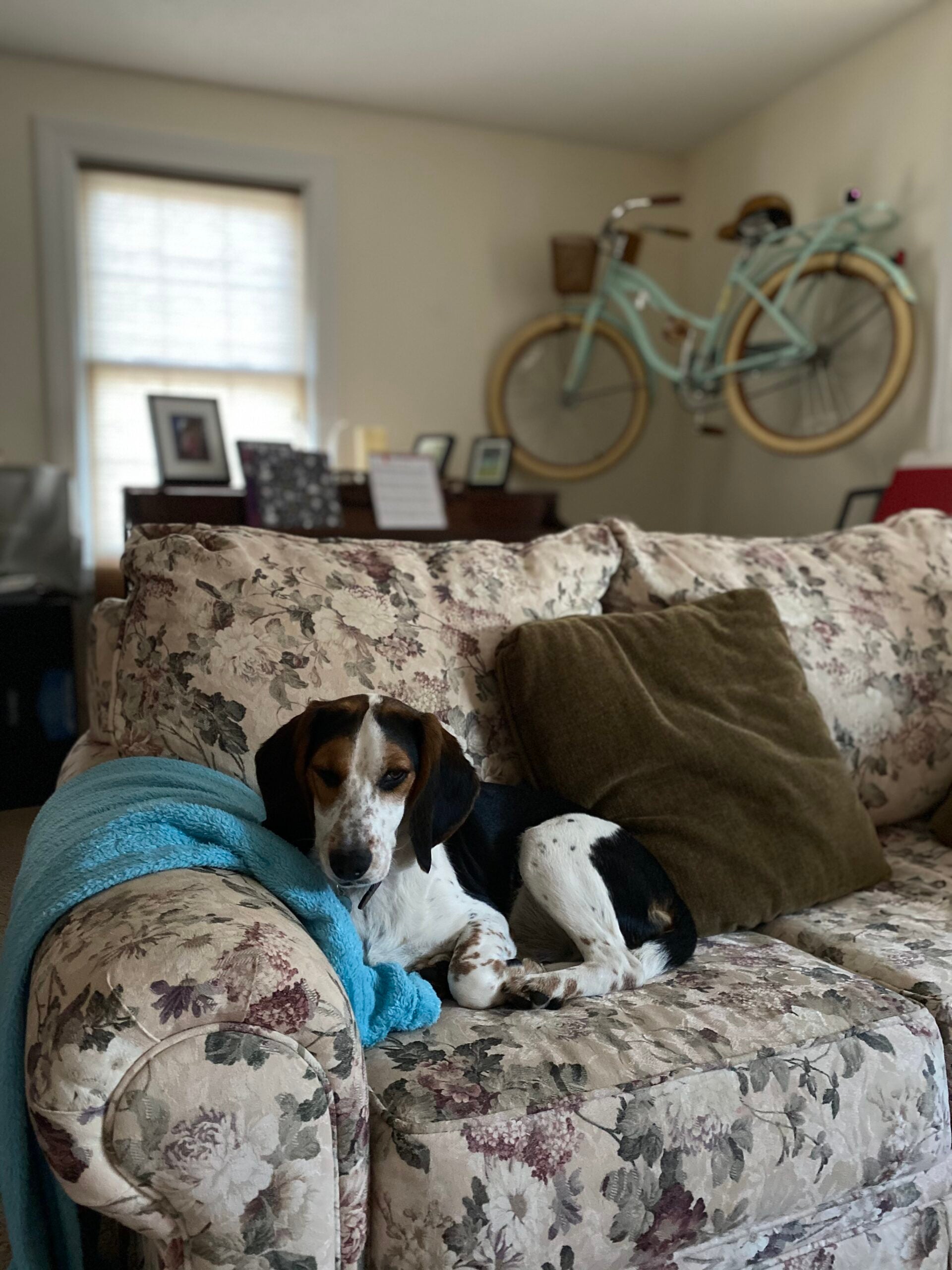 My family decided to adopt a pet during the pandemic. We were dealing with so much loneliness and the kids were getting depressed. So, we thought it was the best thing to do. And I'm glad we did. Gandalf is a sweet and sassy beagle who has brought joy and a lot of exercise to our household in East Boston. We were forced to go outside even in social distancing and we made a lot of new friends.

—

Zayra A., East Boston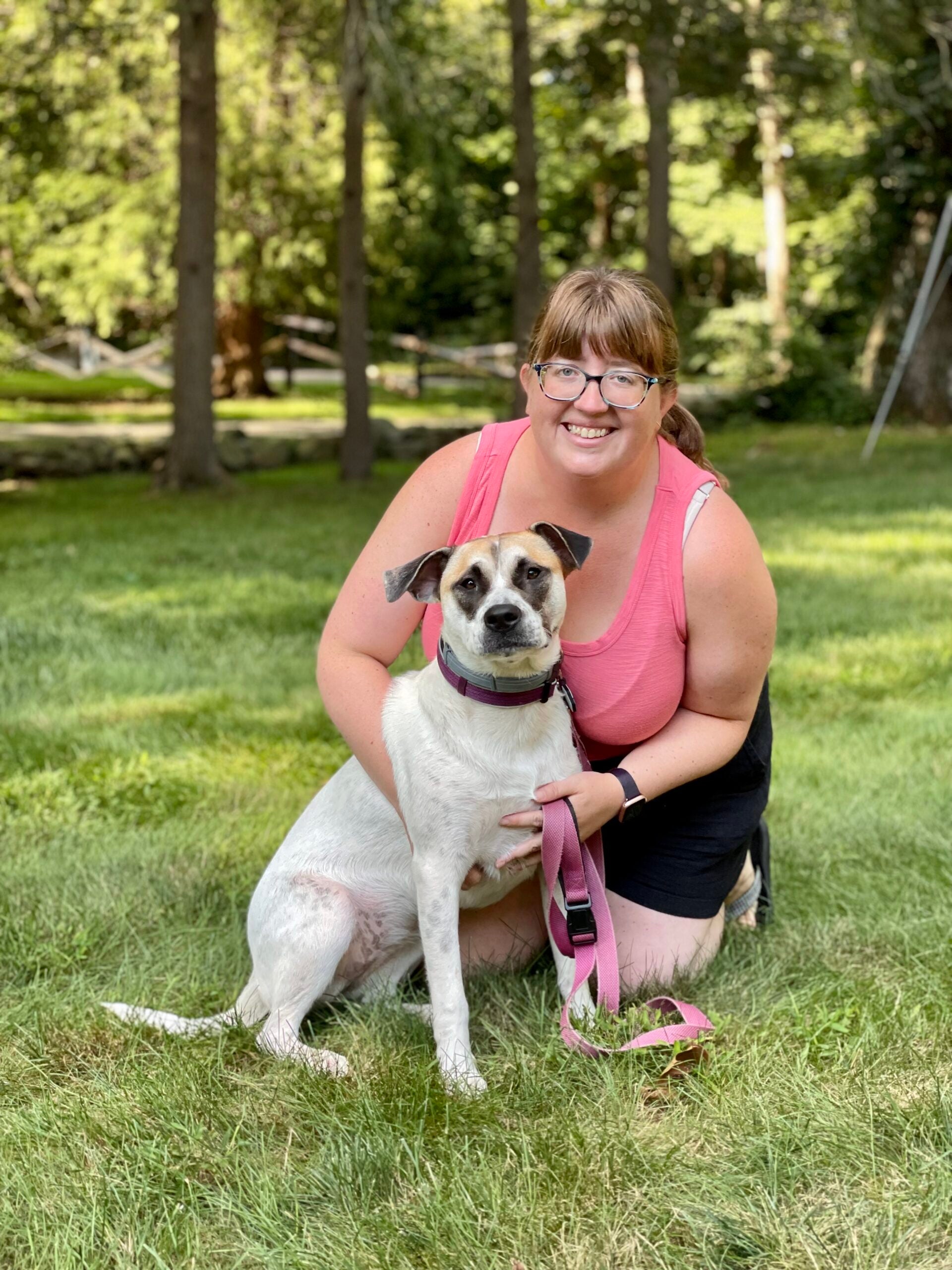 My pup, Dolly, came to me by way of married friends of mine who first adopted her from a shelter in Alabama but because they had a toddler at home and the puppy was a bit of a wrestler and nipper, they were quickly overwhelmed. I visited frequently to help them out and immediately fell in love with their pup. When they suggested having to give up the dog, I told them they couldn't give up a dog like her, so good natured, affectionate, and responsive. She just needed training.

I ended up adopting her, got her trained during winter 2020-21 (what else was there to do?) and named her after the wonderful Dolly Parton. I was living alone in a brand new condo (yes, I am a COVID cliche) and feeling quite lonely during the pandemic, being a natural extrovert. But having a puppy meant I suddenly got to meet tons of new people on walks and get to know lots of neighbors. Dolly saved me from a lonely pandemic and has introduced me to the other wonderful dogs and dog owners in the neighborhood.

— Jess, Salem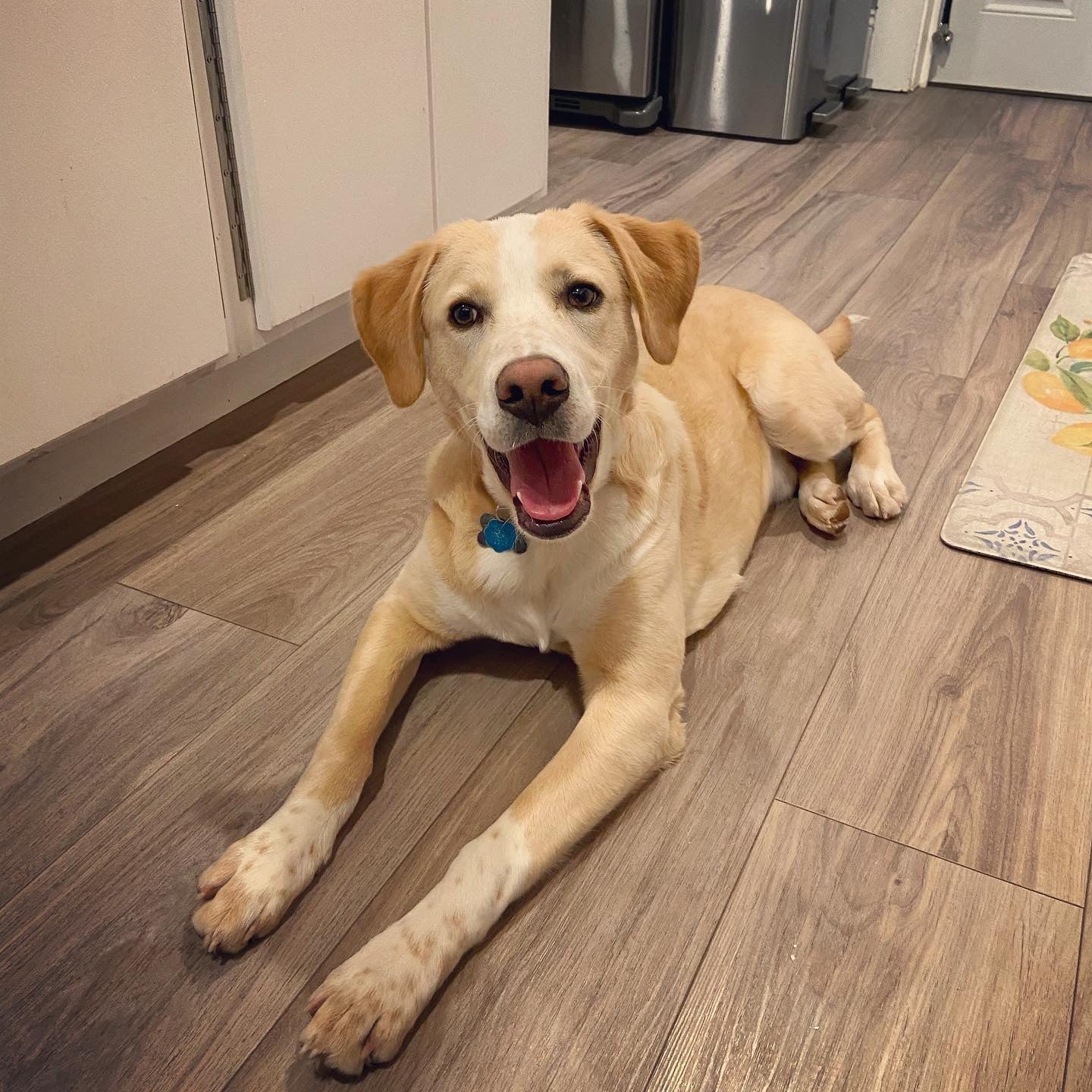 We planned on getting a dog once we bought a house. We planned to wait another year or so but when the pandemic hit we were stuck inside a one bedroom apartment and decided we needed more space. Mortgage rates were great so we bought a house with a big yard and started to apply to dog rescues as soon as we moved in. A few months later we were picked up Wilson, a lab-mountain cur mix, in the middle of a snow storm.

He has stolen our hearts from the moment we brought him home and I can't imagine life without him. Even when he steals our socks or eats my slippers, he just flashes that adorable puppy face and snuggles me and all is good in the world. It's truly unbelievable the amount of love I have for him. I didn't realize it was possible to love a dog this much. He has made our lives so much happier each day.

— Amanda, Madbury, N.H.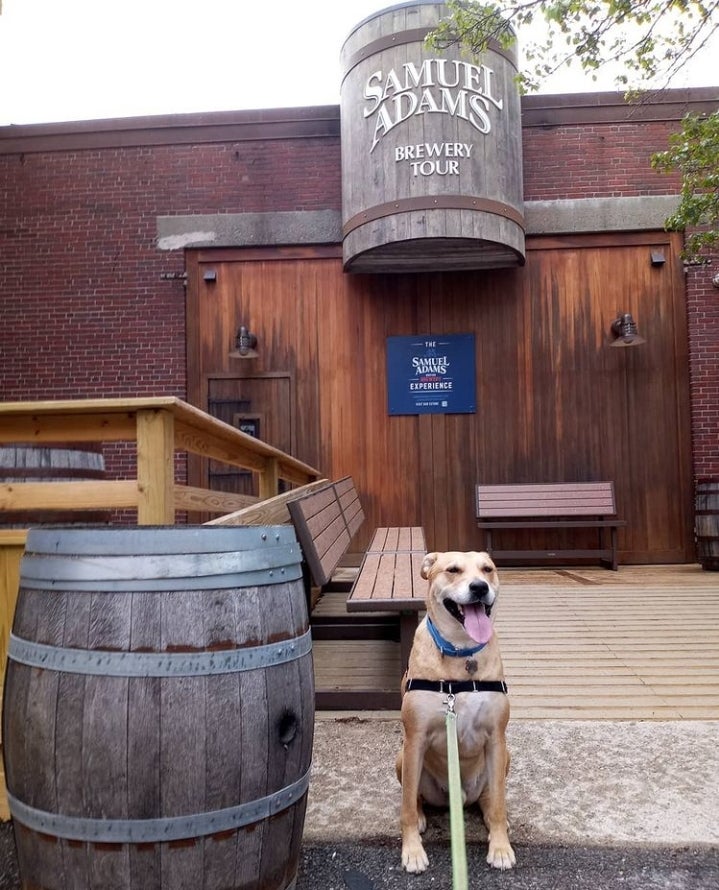 At the very start of the pandemic in April of 2020, my retired racing greyhound lux passed away. I searched high and low for another rescue, only to be put on waitlists and not find the right match for a dog. I happened to stumble upon Mirage at the wonderful Potter League in Middletown, R.I. He had been in two other homes prior and his last home was lost due to a foreclosure. In May of 2021, Mirage started anew at his third home with me in Jamaica Plain where we enjoy long walks and running together on the Southwest Corridor! Third time's a charm!

— Leslie, Jamaica Plain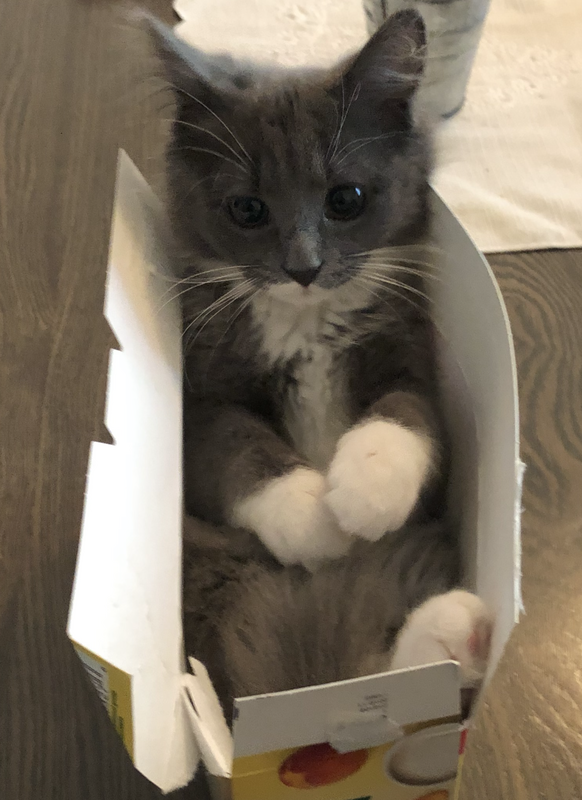 My wife Marina and I adopted two cats during the pandemic and their love helped us stay sane during the lockdowns. It was crazy competitive to find pets in April 2020. I heard of people getting thousands of applications for one puppy. We needed to know where to look and be ready to jump on the opportunity as they arose. Our cats are named Thanos and Natasha and we couldn't imagine our lives without them. They helped us fill a void while unsuccessfully trying for a baby for 12 months. Now we have a baby on the way, and our family is complete.

—

Andrew E., Lexington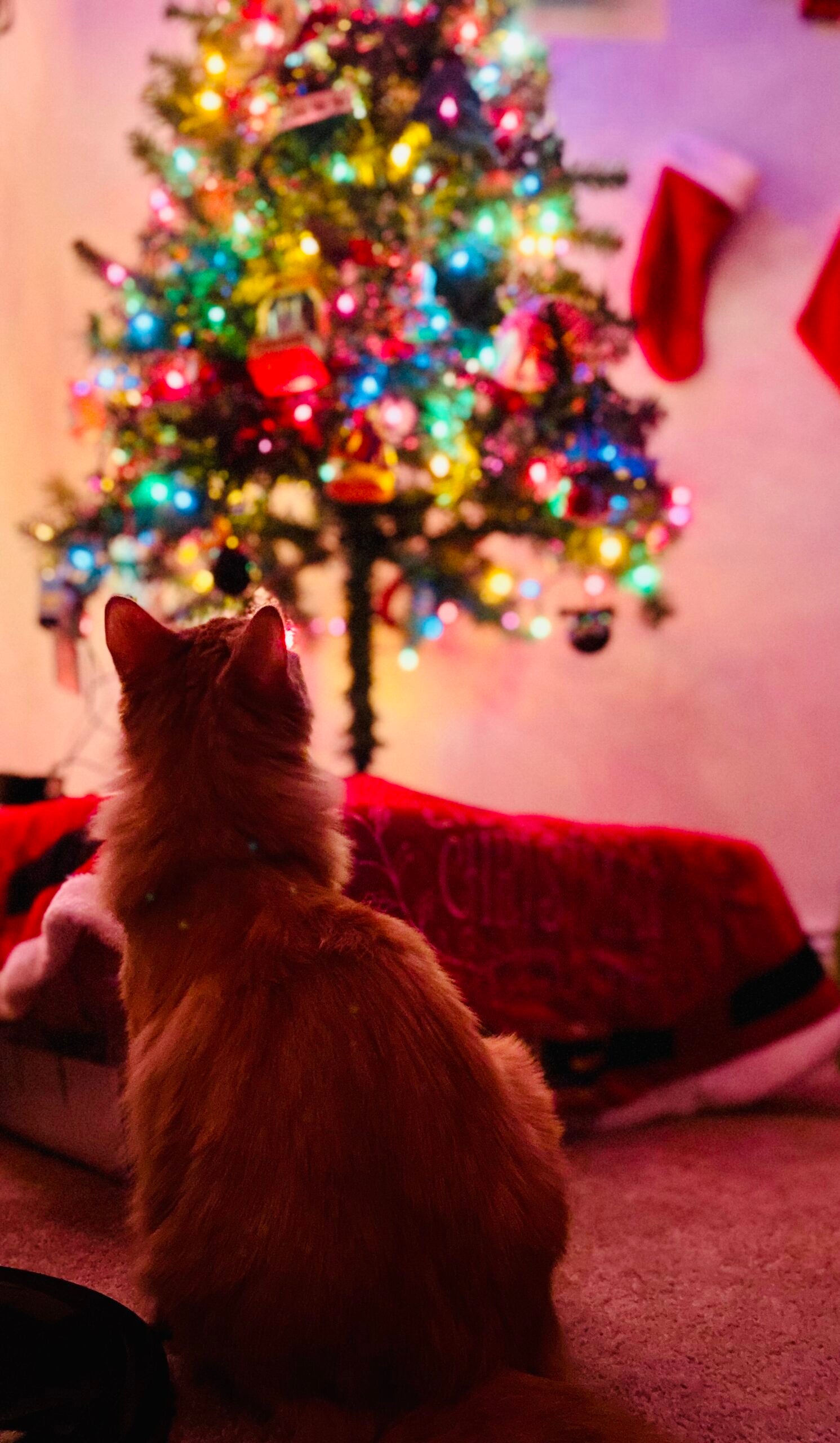 We were casually looking for a cat after having lost our previous cat mid-pandemic. We had no idea we'd find a crazy, doofy, lovable little fluff like Ozzie a.k.a Princess Ozzie. We love her with all our hearts!

—

Anthony C. and Victoria C., Medford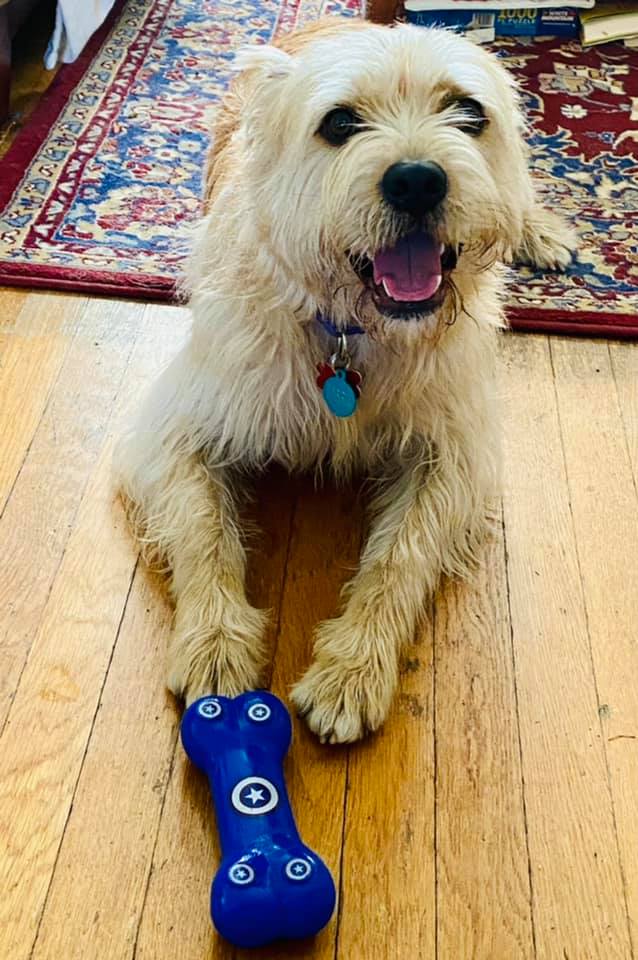 My family was the rare example of people who had actually been looking to adopt a dog for years. After losing our beagle in 2014, we started to look into rescuing a pup, but the catch was he needed to be hypoallergenic. Very hard to find! Fast forward to March of 2021 and the fates aligned: A coworker of mine began fostering dogs during the pandemic and told us about the sweetest 2-year-old goldendoodle from Texas named Teddy. He has been an absolute joy and added so much extra love and fun to our home in Hyde Park. The kids love taking care of him and I love the company he provides as I still work from home.

— Megan M., Hyde Park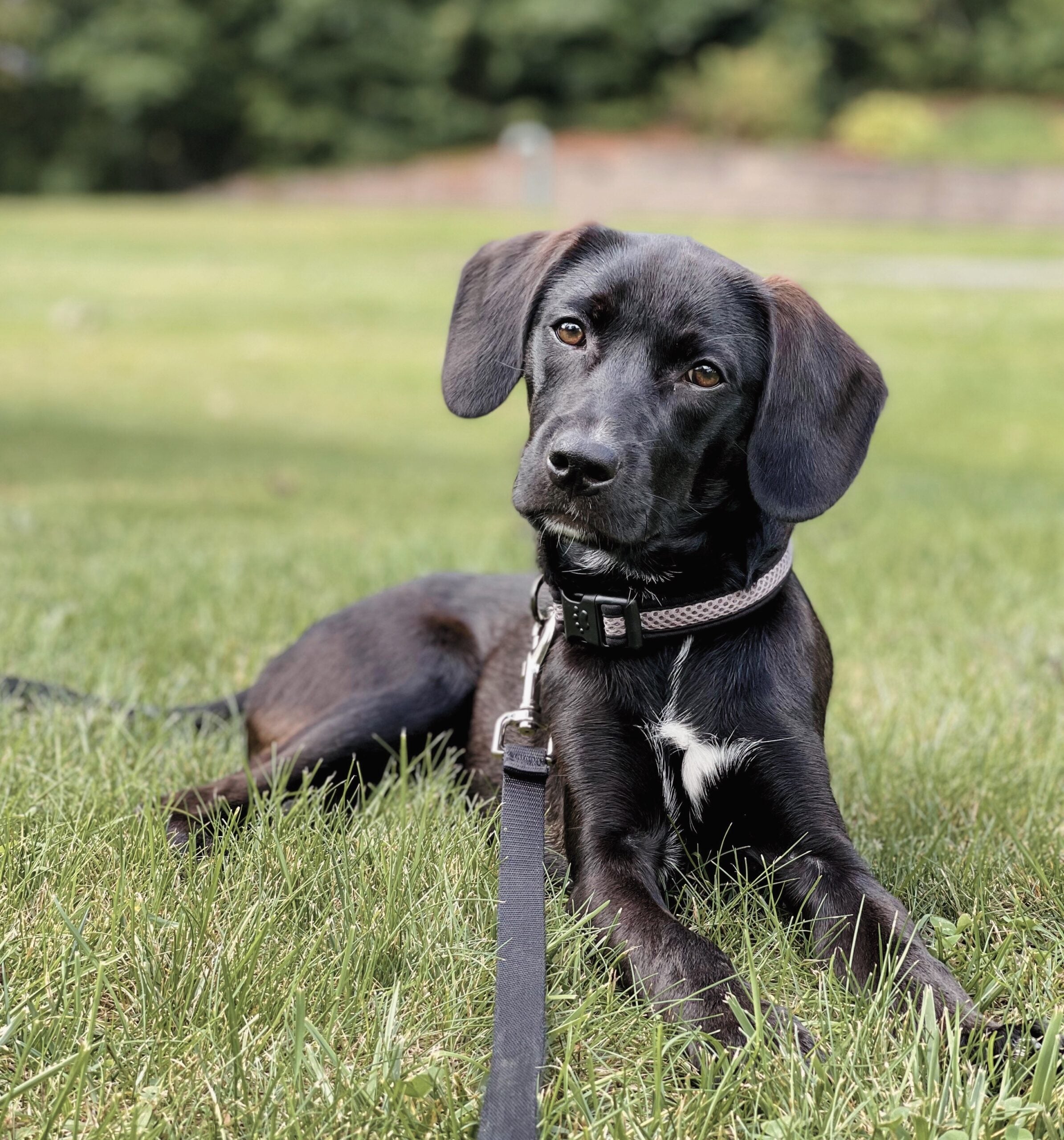 We are a family of five, with three daughters, ages 4, 9, and 11 who spontaneously adopted a puppy last week! My husband grew up with dogs and always wanted to have one in our family and after several years of the girls asking, we finally made their dreams come true. We have been staying home since the beginning of the pandemic because one of our daughters has asthma and we don't want to risk her being exposed to COVID. It can sometimes get boring or monotonous for the girls, although the three of them get along and entertain each other really well.

We were able to do virtual learning all through last school year, but it wasn't offered this year and we are homeschooling. We really wanted to make sure that the girls are as happy as possible and since we are all at home, we decided to go meet a puppy that we had seen online at one of the local shelters. Once we met him, we knew we couldn't leave him. He was super excited to meet us (so excited that he peed on all of us… at least once!) and even though we were completely unprepared to bring a puppy home, we decided to go for it. The staff at Second Chances Animal Shelter was so friendly and helpful. They made the process super easy. We were able to complete the adoption process right there and take Ollie home with us. He's a retriever/black lab mix and is so sweet.

Ollie just turned four months old today and he's made himself right at home. We've all settled into our new routine nicely. He loves our big yard and long driveway and is definitely interested in making friends with our neighbor's dogs someday soon. Since we are homeschooling, the girls love to take quick breaks throughout the day and bring Ollie out for a run around the yard. He definitely brings joy to us in a time that it can be sad and overwhelming thinking about our friends and family that we haven't been able to see in person. He's exactly what we didn't know we needed and we know we were so lucky to just happen to see his photo online when we did!

— Sarah R., Webster
Responses have been lightly edited for length and clarity.
Newsletter Signup
Stay up to date on all the latest news from Boston.com