Readers Say
Bracket: Vote for the most iconic restaurant in the Boston area
Which restaurant will come out on top?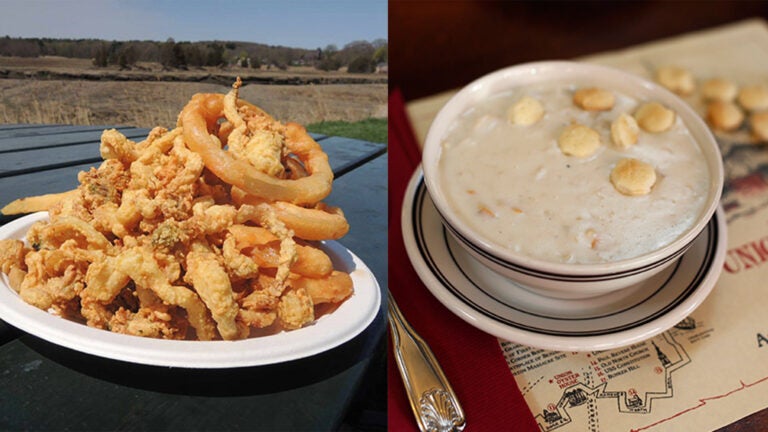 What makes a restaurant iconic?
Over the past few months, we asked our readers to weigh in on the restaurants they consider iconic in the Boston area, the ones whose roots run deep and remain a vital presence in the local dining scene.
The nominations we received were wide-ranging, from centuries-old taverns to neighborhood bánh mì shops. Pizzerias and steakhouses were a popular pick, as were seaside clam shacks (we'll let you folks decide among J.T. Farnhams, Woodman's of Essex, and The Clam Box). And when we asked why you loved the places you did, the praise came pouring in.
"Generations of families have grown up there," Mark in Taunton shared about Sullivan's Castle Island.
Sonia Lipetz from Newton called out Watertown's Deluxe Town Diner for its "cozy, old-time feel with round stools at the counter and booths and tables packed in tightly," while Paul from Brookline nominated China Pearl, noting that it's been a community space for "marriage banquets, birthday and other celebrations, dim sum, fundraisers, and just plain dining."
Abe & Louie's was called "classic old school," Cabot's was deemed "nostalgic," and The Agawam Diner was referred to as a "must-visit antique diner." In short, Greater Boston is rife with restaurants that have a special place in the hearts of customers across New England.
But we're looking to narrow the field down to a single restaurant — and, though we received nominations for plenty of now-shuttered restaurants, one that's still in operation. Our bracket starts with 64 institutions, nominated by both readers and local experts, which will then be whittled down over six rounds to the final two restaurants.
Update: Voting has ended. Find out which institution was named the most iconic restaurant in the Boston area.
Note: By participating in the bracket, you will need to sign up using e-mail, which will be added to Boston.com's newsletter list.
Sign up for The Dish
Stay up to date on the latest food news from Boston.com.