Readers Say
Boston.com readers hate social media, but quitting the apps isn't so simple
"These online communication tools and technologies are here to stay."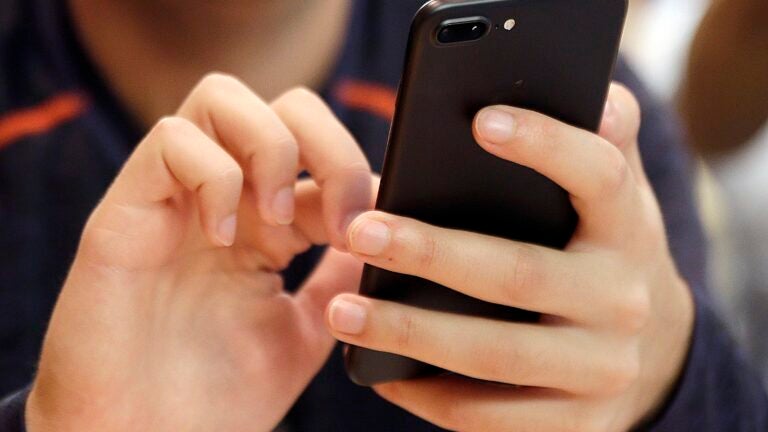 In recent years, a growing number of people have decided that the time has come to quit social media once and for all. Megan, a reader from Canton, is one of many people who decided to make their reliance on social media a thing of the past.
"I'm a millennial and I pulled the plug on social media after the 2016 election. I couldn't stomach the vitriol coming from friends and family so I cut the cord," she told Boston.com, pointing to the ways she's seen people become "addicted" to social media even when it made them miserable. "People can't seem to quit it. I'd love to go back to a time when people weren't obsessed with social media."
Social media allows us to connect with one another on both personal and professional levels, but as it has cemented itself as a pervasive part of our lives, many are starting to rethink their relationship with it.
We spoke to Boston residents who rely on social media for professional and personal reasons about the role social media plays in our lives and asked Boston.com readers to share the same. No one was ignorant of the negative aspects of social media, but when it comes to cutting it out completely, few consider it a simple choice.
Earlier this month, Facebook, one of the largest and most commonly used social media platforms, was dealt a blow when former Facebook data scientist Frances Haugen told lawmakers at a congressional hearing that Facebook knowingly allows the spread of misinformation and content that harms children on its platforms in order to prioritize its own growth. It's only the most recent in a string of scandals that have called into question the ethics of the company.
"I dream of the day that all social media platforms fail and die and go away," said Mike from Andover. "They have done more damage to this country than any other modern technology."
Sixty-four percent of Americans say "social media [has] a mostly negative effect on the way things are going in the country today," according to a 2020 survey from Pew Research Center. But the majority — roughly seven in ten — still regularly use the platforms.
For Kristina Tsipouras Miller, the chief executive officer of Boston Business Women, social media is essential to doing business. Tsipouras Miller leads a collective that offers advice, mentorship, and workshops for women entrepreneurs in the Greater Boston area. The group, which includes over 33,000 members, relies heavily on its Facebook group to build community and stay connected.
"I would say 80% of what we do is focused around our social media," Tsipouras Miller said. "I think the [businesses] that are not utilizing social media are probably suffering the most. So many of our members have taken a lot of their companies virtually. The whole landscape has changed."
In early October, Facebook and all of its products including Instagram, Messenger, and WhatsApp, suffered the worst global outage it had faced since 2008. Tsipouras Miller said she and her team being unable to connect with their members for so long was a wake-up call. Rather than leave social media behind, the group plans to diversify the platforms they use to communicate by using Slack channels and LinkedIn groups.
"We are now trying to strategize ways to shift," she said. "God forbid something happened with Facebook and Instagram, how can we connect with our audience? How we can still make a big impact? How we can communicate with everyone?"
Business owners have become increasingly reliant on social media platforms since the start of the pandemic, said Susan Bloomstone, a business owner and mentor at SCORE Boston, a service that provides free business mentoring for entrepreneurs. When businesses went into lockdown due to the COVID-19 pandemic, many entrepreneurs were forced to adapt by taking their products and services online. Without social media, they would be unable to connect with their customers.
"It's become really invaluable for businesses. And what you're using it for is to generate your brand, to be able to get revenue and sales," Bloomstone said. "Businesses were all very frightened during the COVID time and a lot of them pivoted. Social media allowed them to have much more effective strategies."
Even when social media isn't tied to your financial livelihood, it can still be a vital part of your life, especially as a way to communicate with loved ones. WhatsApp, in particular, has become an essential platform for millions of international residents and immigrants in the United States because it allows for free international calls, messages, and video chats.
When Facebook's services went dark on Oct. 4, Shagun Modi, a Boston University student, wasn't annoyed she couldn't scroll through her Instagram feed, she was worried she couldn't get in contact with her family in India.
"WhatsApp call and WhatsApp video calls are such a blessing to connect with my family," she said. "My entire family and my friends are based in India and due to the time difference, it can be really hard to connect with them. When I wake, they go to sleep. When I sleep, they're just waking up. Social media plays a big role in my life in finding time to talk."
Modi admits there are some negatives. It can be easy to get too attached to the platforms in a way that impacts both her productivity and mental health, she said, but the benefit of being able to easily talk to her family and friends is more important.
"I don't think I would be very happy quitting social media completely," she said. "Being in the U.S, it's very difficult to say I could quit."
Like Modi, some Boston.com readers who responded to our survey said they believe there's too much value in social media to quit it completely.
"It's easy to say just don't use Facebook," said Vanessa from Southie, adding that Facebook was where she connected to friends and colleagues while in graduate school. "This isn't just a matter of chatting with friends and family I could call on the phone. Sure, I use LinkedIn but if I got rid of Facebook, I'd miss out on professional events, job postings, and the ability to get advice from people in my field."
Still, 56% of the 58 readers polled said they hate social media. Some said plan to delete their accounts if they haven't already.
"I've been free from social media for nearly five years and I will never go back," said one reader. "Social media is limitless procrastination and relentless marketing. I will sit upon my high horse and look down on all who are at its mercy!"
Bob C. from Sudbury, however, said he believes quitting completely is short-sighted. He credits the platforms for bringing people together and providing them with "information, insight, education, enlightenment, even entertainment." Social media use will only increase, he argued, not go away.
"I honestly believe that the emergence of social media as such a popular and prevalent way to engage with one another has been the biggest revolution in communications since the invention of the printing press," he said. "There is no denying the pervasiveness and power of social media. Those who don't jump on the social media bandwagon are going to be left behind. These online communication tools and technologies are here to stay."
Boston.com occasionally interacts with readers by conducting informal polls and surveys. These results should be read as an unscientific gauge of readers' opinion.
Newsletter Signup
Stay up to date on all the latest news from Boston.com