Readers Say
Readers: What do you want to know from Boston's new mayor Michelle Wu?
We want to know what questions remain as Wu takes office as mayor of Boston.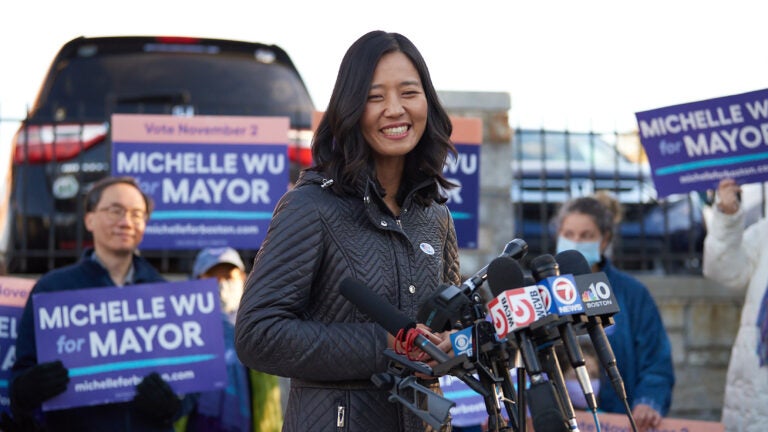 Two weeks after Boston elected Michelle Wu as the city's next mayor, the at-large city councilor, is taking office. Wu will be sworn into the city's highest office on Tuesday and begin the process of enacting the progressive policies she promised on the campaign trail.
"From every corner of our city, Boston has spoken. We are ready to meet this moment," Wu told the crowd during her victory speech earlier this month. "We are ready to become a Boston for everyone."
Wu won the race with 62 percent of the vote, a win that Boston.com readers predicted ahead of polls closing. In an informal poll on Election Day, 56 percent of ​​3,180 readers said they expected Wu to be Boston's next mayor.
Before the race was called, some readers shared their thoughts on the election. One reader wished luck to both Wu and her competitor Annissa Essaibi George, who ended the night with 38 percent of the vote.
"Nice to see two young, intelligent, powerful, women of color taking on leadership roles," said Eric of Lowell. "Need more of this in America. Best wishes to both!"
Regardless of who won, readers said, city leadership would need to focus on important issues like education and housing.
"[Education] must be at the top of the list along with housing so people can afford to live in Boston and educate their children here. Otherwise, we are a city that prioritizes wealth at the expense of the people who make the city work! Whoever wins needs to focus on our schools," said Frances.
Throughout her campaign, Wu solidified herself as the progressive candidate with policy proposals like rent control, "abolishing" the Boston Planning and Development Agency, free MBTA service, and other bold promises. Now that voters have chosen Wu to hold office, Bostonians no doubt have questions about what the new mayor's focus will be.
"Michelle Wu is up to the task of leading us and she has an army of people ready to join her. These are changing times that require a new generation with inclusive racial leadership and a profound commitment to make things happen," said Quique of Hyde Park said. "Moreover, we need someone with a consciousness of the enormous environmental challenges ahead and the urgency for action right before us. The nature of the moment requires this new progressive vision!"
Given the unusually short transition period for the new mayor, some Bostonians may still have questions about what a Wu administration will look like.
What questions do you have for the new mayor? Are you curious about what the biggest priorities of her new administration will be? Do you want to know her favorite restaurant in Boston? Or what it means to her as the first woman of color to hold office as Boston's mayor?
Tell us what questions about mayor-elect Michelle Wu and her agenda you want to have answered by filling out the survey below or e-mailing us at [email protected] and we may feature them in a future article.
Share your questions about Boston's new mayor Michelle Wu
Newsletter Signup
Stay up to date on all the latest news from Boston.com