Readers Say
Readers share their tried-and-true Thanksgiving dinner traditions
From hosting 'second wind' parties to making fruit cups, these Thanksgiving traditions will never fade.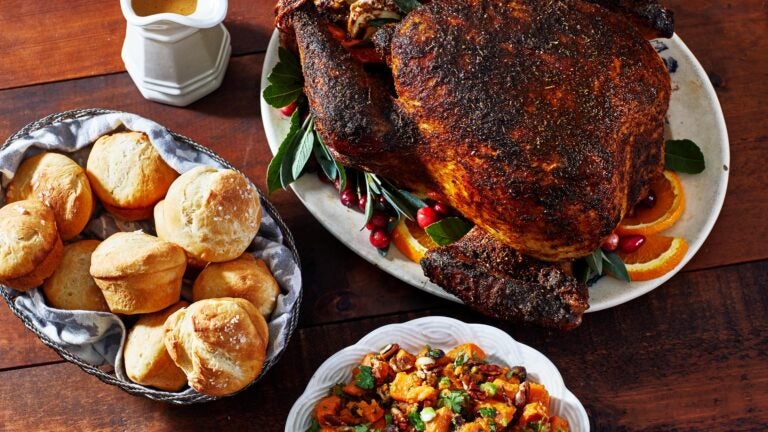 It happens like clockwork: Every year, on the fourth Thursday of November, those who celebrate Thanksgiving dive into plates of holiday fare, passing tureens of gravy while wondering which type of pie to slice into first.
What exactly happens before, during, and after that dinner — the traditions that have developed over years of celebrations — depends on whose house you're in. When we asked our readers to share their favorite Thanksgiving dinner traditions, responses ranged from must-have dishes to long afternoon walks (with an occasional family argument or two).
Our readers also really love classic Thanksgiving fare, revealing that their favorite holiday dishes include turkey, stuffing, "anything that includes sweet potatoes," and green bean casserole. One reader represented their New England roots, noting that their favorite dish was "my homemade lobster and corn chowder, served as an appetizer."
As you get ready to carry out your own Thanksgiving dinner traditions next week, take a look at some of the traditions our readers shared with us.
Filling the table with family recipes
For many of our readers, cooking specific dishes for Thanksgiving dinner was a tradition they couldn't go without. Their must-haves included dishes like "trash can turkey," brownie pie, lasagna, stuffing balls (stuffing baked in a muffin tin), corn casserole, creamed onions, Italian food, and Indian food.
Janice Q. from Nahant is all about the fruit cups.
"In memory of my husband's aunt and my mother, I always serve fresh fruit cups with homemade cranberry sorbet and pecan sticky buns," she wrote. "Those two ladies would come back to haunt me if they were ever omitted as part of the feast. I always put the Christmas carols on during dessert to the groans of the entire family. … It gives you such a feeling of well being to be surrounded by the delicious smells and being with the people who mean the most to you."
For another reader, the cooking traditions continue into the day after Thanksgiving.
"My sister and I live far from the rest of our family, and it is expensive to fly at Thanksgiving, so we spend the day with another family that transplanted to the Boston area," wrote Katie from Quincy. "Growing up, we would spend the day after Thanksgiving making Christmas crafts and homemade Chex Mix at my grandparent's house. We still take the day after to set up our Christmas decor and make my grandma's Chex Mix recipe!"
Giving thanks
In the spirit of Thanksgiving, readers shared their annual tradition of giving thanks during the holiday dinner.
"We have a 'Giving Tree' where each member of the family writes something on a leaf-shaped piece of paper they are grateful for," shared Ali M. from Walpole. "It's so nice to read all the creative and uplifting responses on the tree. My 10-year-old daughter is usually assigned with the task of creating the tree and cutting all the leaves for everyone's responses. It's a really nice tradition that will hopefully last for years to come."
Another reader described how "everyone at the table takes turns talking about what they are most grateful for in that given year. It's always a great mix of funny and sentimental things."
In that same spirit, some readers said that they make a tradition out of donating around the holidays. One excellent place to donate? The Greater Boston Food Bank, which recently kicked off its Hunger Free Holidays campaign.
Two parties are better than one
Beyond the familiar dishes and expressions of thanks, traditions are also forged around who exactly gets together for dinner — which sometimes means juggling extended families.
One reader has figured out a win-win system that works well for their family.
"On Thanksgiving Day, my daughter and [her] family go to her husband's family," the reader shared. "My son goes to his wife's family. My husband and I eat out at a hotel or at a restaurant. On Friday, all our family comes together for our Thanksgiving at my home. That way, all have Thanksgiving Day festivities with their respective families and no one is left out."
George K. in Brookline hosts not one, but two parties — a strategy that sounds like a perfect solution for Thanksgiving revelers.
"I host a traditional dinner party beginning at 4 p.m.," he wrote. "After several hours with the same people and knowing that others are obligated to family members for the dinner, I have another group of up to 20 people arriving for a 'Second Wind' party at 7:30 p.m., which revitalizes the party with new energy. This allows the party to extend until 2 in the morning."
Pre- and post-dinner activities
Walks, football games, a late-afternoon movie — Thanksgiving is as much about what happens before and after dinner as it is about the dinner itself.
For Kerry V. in Easton, a post-dinner walk at her family's gathering has been a constant since the 1980s.
"There have been countless photos of the group taken on my parents large front porch," Kerry wrote. "And the same question every year, 'Whose going on the walk? We're leaving in five minutes.' When I was younger, the walk was about silliness and bonding with cousins. … The walks helped us shed some of the turkey weight, but more important, we shared stories from the year, laughs, and the anticipation of dessert."
Another reader described the tradition of picking up two turkeys at Bongi's Turkey Roost in Duxbury — one to cook in the oven and another to cook on the smoker.
"Get up early, be the first one in line at Dunkin' for coffee after they open, and out in the yard before the sun's up lighting the fire by 6 a.m., rain, snow, or shine," they wrote about their Thanksgiving morning routine.
Of course, not every tradition involves nature walks and hot cups of Dunkin' coffee. Craven M. from Attleboro put it succinctly:
"My family gathers, begins to consume alcohol, political debate ensues, people leave the dinner and don't speak again until Christmas."
Ah, families.
Sign up for The Dish
Stay up to date on the latest food news from Boston.com.