Readers Say
RIP TCI: Massachusetts ditching regional effort to curb emissions amid crumbling support
Without the support of neighboring states, Charlie Baker's administration is pulling out of the plan to cut emissions.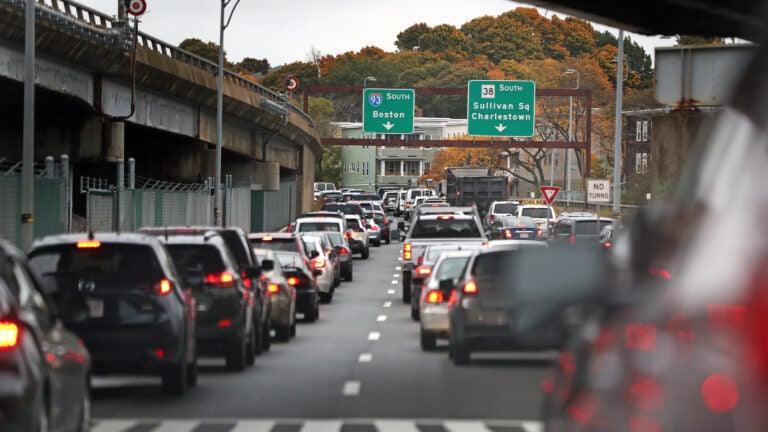 Amid evaporating support from neighboring states and a windfall of federal funds for climate initiatives, Gov. Charlie Baker's administration is throwing in the towel on its regional plan to cut down greenhouse gas emissions, known as the Transportation and Climate Initiative.
In a statement Thursday afternoon, Baker press secretary Terry MacCormack noted that the administration had always said Massachusetts would only move forward with TCI if multiple states were also committed.
"As that does not exist, the transportation climate initiative is no longer the best solution for the Commonwealth's transportation and environmental needs," MacCormack said.
The decision comes after the governor of Connecticut, one of the few remaining states in the compact, told reporters Tuesday that he would no longer be pursuing the TCI, calling it "a pretty tough rock to push when gas prices are so high."
Under the TCI, originally introduced in December 2020 with over a dozen signatories, states would set a limit on overall vehicle emissions each year and charge fuel distributors for the amount of gas and diesel they sell. A so-called "cap-and-invest" program, the TCI would then allow states to use the revenue generated by the fuel allowances to invest in more climate-friendly transportation projects. Supporters acknowledged that the effort could result in higher gas prices, but they contended the benefits would be worth it.
However, a year later, the number of states committed had dwindled to three: Massachusetts, Connecticut, and Rhode Island, as well as Washington, D.C.
And unlike Massachusetts, the governors of Connecticut and Rhode Island need their state legislatures to pass legislation to enter their states into the compact. Months passed, as the COVID-19 pandemic wore on and gas prices rose, and no such legislation has been passed.
Up until his comments this week, both Connecticut Gov. Ned Lamont and Rhode Island Gov. Dan McKee had stood by the initiative. But Lamont's comments Tuesday appear to be the nail in the coffin.
"It's probably not the year to do it this year with gas prices where they are," the Democratic governor said of the 2022 session, a reelection year.
It's a blow for Baker, a Republican, whose administration had spearheaded and repeatedly defended the project, mostly against conservative critics.
Paul Diego Craney, a spokesman for the Massachusetts Fiscal Alliance, a conservative group and by far most vociferous TCI critic, said Thursday that were "so pleased" by its demise.
"TCI is a regressive gas tax scheme that would have hurt middle class and the working poor the most," Craney said in a statement. "It's such wonderful news to see that Massachusetts families will not be forced to endure the economic hardship TCI would have imposed upon them."
Other state climate initiatives do, however, continue on.
Baker's office says the billions of dollars Massachusetts has at its disposal from the recently passed federal infrastructure funding package, COVID-19 relief funds, and surplus tax revenue from the last fiscal year make the state "better positioned to upgrade its roads, bridges and public transportation systems."
Baker's office says Massachusetts is estimated to receive at least $10 billion for transportation projects under the infrastructure bill, with the opportunity to receive at least hundreds of millions more through competitive grant programs for things like electric vehicle charging stations and rail expansion.
MacCormack said the state continues "making investments to reduce transportation emissions, deliver equitable transportation solutions and benefits and meet the state's ambitious climate goals." The governor himself spent Thursday afternoon a ground-breaking event on Cape Cod for Vineyard Wind, the first major offshore wind farm in the United States, imploring fellow elected officials to take more urgent action.
"If we truly want to get where we need to go as fast as we need to go on this stuff, we have got to figure our some way to move a little faster," he said.
Newsletter Signup
Stay up to date on all the latest news from Boston.com