Readers Say
'Catching it early can save our lives': Why this New York City firefighter is running Boston
"Cancer is the no. 1 cause of line-of-duty death for firefighters."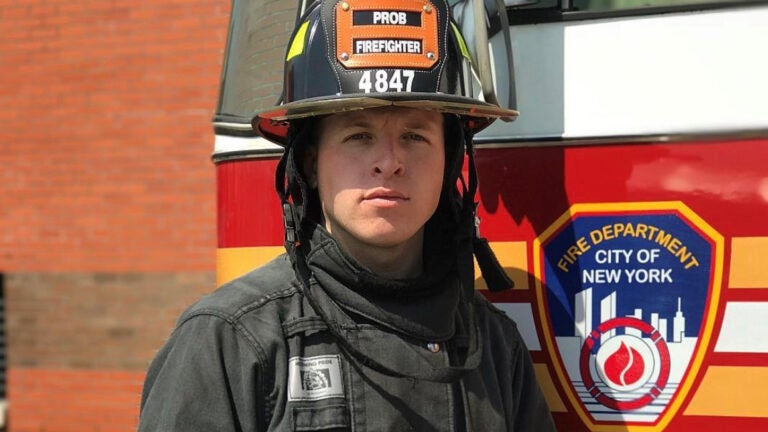 In our "Why I'm Running" series, Boston Marathon runners share what's inspiring them to make the 26.2-mile trek from Hopkinton to Boston. If you're running the marathon, you can share your story here.
Name: Dylan Vidoli
Age: 31
From: Brooklyn, N.Y.
As a member of the FDNY, I know that occupational cancer is a critical issue facing firefighters.
Cancer is the no. 1 cause of line-of-duty death for firefighters. We have a 9% higher risk of developing cancer than the general population and a 14% greater risk of dying from cancer. Catching it early can save our lives, and that's why I'm running the 2022 Boston Marathon on Team DetecTogether.
DetecTogether is a Westborough-based non-profit that teaches people how to identify early warning signs of cancer to save lives. Why early detection? In some cases, you are 10 times more likely to survive when cancer is detected early versus late. Having a strategy to recognize symptoms as early as possible is lifesaving.
Given our increased risk, DetecTogether has developed a comprehensive training program specifically for firefighters. They rely on fundraising to deliver this education to firefighters for free. FDNY has proudly collaborated with DetecTogether over the past few years.
In 2022, I will be running all three of the Abbott World Marathon Majors (Boston, Chicago, NYC), and I'm honored to be running the Boston Marathon for this important organization.
Editor's note: This entry may have been lightly edited for clarity or grammar.