Readers Say
'Research is where the hope is': Why Julie Shapiro is running Boston for Dana-Farber
"I run and raise money for Dana-Farber because I know research is where the hope is."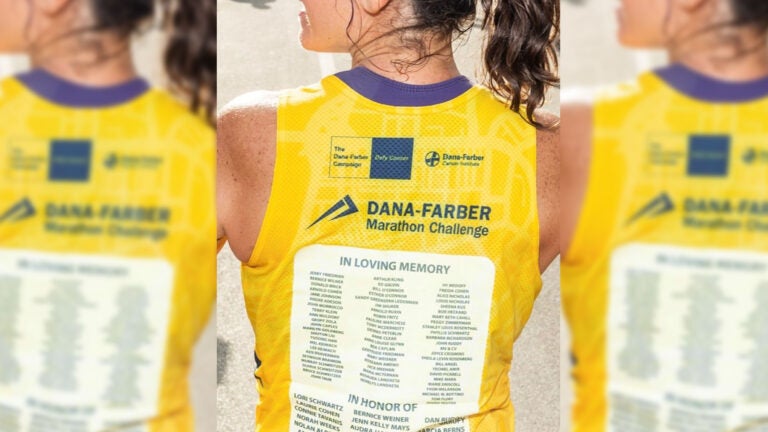 In our "Why I'm Running" series, Boston Marathon runners share what's inspiring them to make the 26.2-mile trek from Hopkinton to Boston. If you're running the marathon, you can share your story here.
Name: Julie Shapiro
Age: 57
From: Lexington
I started running for the Dana-Farber Marathon Challenge team in 2014 when my father was being treated at DFCI. I was already running marathons, so raising money for cancer research on a team of marathoners seemed like a perfect fit. I had no idea at the time that I would soon consider the team family, that I would become a team board member, and that I would consider fundraising to be, by far, the most important and satisfying work I do.
I run and raise money for Dana-Farber because I know research is where the hope is. One-hundred percent of what I raise goes directly to the Claudia Adams Barr program, whose researchers have helped transform cancer treatment, leading to improved care, quality of life, and survival for so many. It is so exciting to be able to contribute to something so important.
Together with the people who generously donate, I have raised over $150,000 to date as a member of this team, which has grown to 500 runners and has raised over $110 million since it started with just a few members over 32 years ago. I am inspired by so many, including my late father who was so appreciative of the care he received at DFCI.
I am also inspired by my patient-partner, Norah, who is 13 and a brain cancer survivor, and my in-memory partner, Kyle, who passed away at 21-years-old. I run in honor of and in memory of so many of my friends and family members who have fought cancer, and the many loved ones of my friends, donors, and teammates. And this year, I dedicate my run to Liam.
These are my reasons and my motivation to keep raising money for Dana-Farber, and I am far from done.
Editor's note: This entry may have been lightly edited for clarity or grammar.