Readers Say
Katie Adelstein is running Boston for early cancer detection
"I remember thinking I could NEVER run a marathon."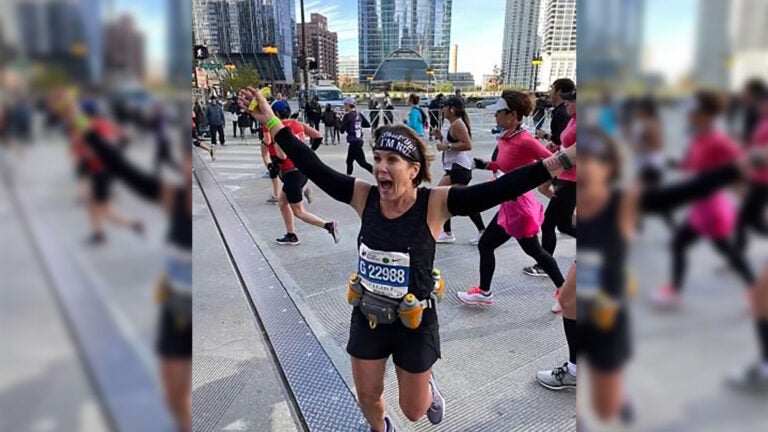 Name: Katie Adelstein
Age: 51
From: North Kingstown, Rhode Island
I ran in high school on the spring track team.
As an adult, I would run the annual 5K Turkey Trot and occasionally run charity 5K but anything longer was out of the question. I am now 51 years young, and I got the endurance bug at the age of 40. I joined a gym running club where I found out I could enjoy running more than 3.1 miles. I began running 10K races and half marathons. I remember thinking I could NEVER run a marathon.
My mom was diagnosed with stage 4 lung cancer in 2005. I knew when she passed away from this insidious disease that I wanted to make a difference in a small way. I joined a charity team and ran my first NYC marathon in 2014.
I then ran Boston in 2017 and Chicago in 2019. I am running Boston this year for DetecTogether. I love how this organization is all about the early detection of cancer and really any illness. My father-in-law is now battling pancreatic cancer. The cancer was detected 2 years ago at stage 3. Unfortunately, the cancer has metastasized and is now stage 4. He is battling for his life as I type this.
During my training, I have always called him Mikey Strong. It is fitting I am running the Boston Marathon to honor him. Mikey is/was a volunteer EMT and on the volunteer fire department in Westhampton Beach, New York for 15 years.
My father was also a 30 year firefighter with Brookline Fire.
DetecTogether teaches firefighters, who have an increased risk of developing and dying from cancer, how to detect cancer early when it's more treatable and survivable.
I am proud to run on their team.
Editor's note: This entry may have been lightly edited for clarity or grammar.