Readers Say
21 places to get an ice cream sandwich
We asked Boston.com readers where they like to get the cold dessert. Here are your favorites.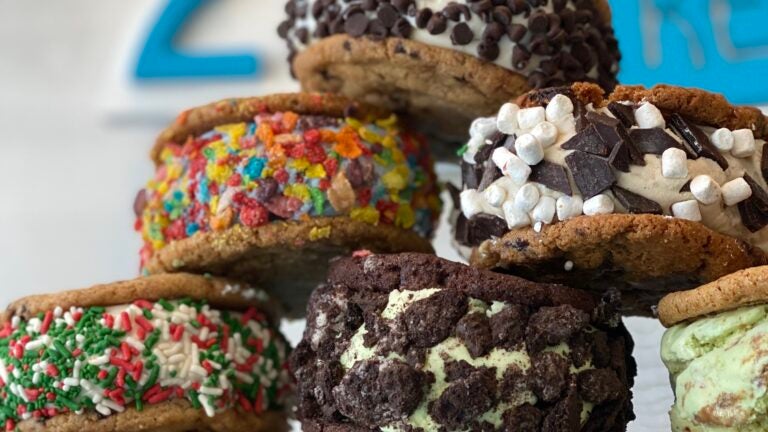 An ice cream sandwich is a nostalgic treat, something that can take you on a trip back to childhood. Today's ice cream parlors and restaurants are putting a creative spin on the classic dessert, pressing imaginative flavors between homemade cookies, from chocolate chip, to birthday cake, to oatmeal raisin.
We asked Boston.com readers to share their favorite ice cream sandwiches, and almost 70 people responded with their recommendations. Holy Cow Ice Cream Cafe triumphed — in a landslide — taking 50% of the vote. But readers also named places like Insomnia Cookies and desserts that can be bought at the grocery store, like Ruby Jewel.
Ahead, check out the top three picks selected by readers, as well as a map and detailed list of every spot.
This Back Bay restaurant is a destination for oysters, fish and chips, and other seafood dishes, but this summer brings a rotating lineup of housemade ice cream sandwiches. Upcoming flavors include Earl Grey ice cream sandwiched between lemon thyme shortbread biscuits and strawberry balsamic ice cream pressed between funnel cake. "Their ice cream is wonderful, and the creativity and innovative flavors and pairings with cookies (and non-cookies) really sets them apart, in my book," according to reader Lucas from Needham. The Banks Fish House earned 8% of the vote.
406 Stuart St., Boston
This bakeshop produces ice cream sandwiches that even the pickiest young eaters will adore. Using farm fresh ice cream, The Cookie Monstah offers an extensive menu of sandwich options. Look to the Party Monstah, birthday cake cookies with strawberry ice cream, or the Slim Shady (M&M cookies with vanilla ice cream). Thanks to some outrageously creative options, the shops garnered 9% of the vote. The Cookie Monstah has several locations across Massachusetts, and a convenient food truck option allows you to grab and go. Reader Phil from Westford said: "Fresh, large, soft cookies with delicious ice cream options. Yummmmmm!"
Multiple locations
Readers came out in droves to support Holy Cow Ice Cream Cafe, which took 50% of the vote for its locations in Peabody, Salem, and Gloucester. The ice cream shops have a variety of whimsical ice cream sandwich options, including the Breakfast Bomb (sugar cookies with cereal milk ice cream and a Fruity Pebbles rim) and the Mocha Madness (double chocolate cookies, cold brew Oreo ice cream, and a fudge chip rim). Readers raved about the unique flavors, pointing to the Old Fashioned, made with chocolate chip cookies and vanilla ice cream, and the Smorewich, a riff on the classic campfire dessert.
Mike Schifino, the owner of Holy Cow, let us know what makes the shops' ice cream sandwiches special.
"We make all of our cookie dough from scratch, and we use premium ingredients. We don't take shortcuts on anything. All of our ice cream is made in house using quality mix-ins that we make," Schifino said. "The composition of the cookie is made to complement the ice cream sandwich, to soften up once the scoop of ice cream is inside of it. … The cookies are made with butter, brown sugar, and chocolate chips that don't freeze up super hard."
He added: "[For the ice cream], we use a super premium 16% butterfat mix. The ice cream, what's special about it, is there's a low air content. It's a more dense, rich product. … We spin our machines at a slower speed than a lot of other places. Where you're going to get light, fluffy ice cream from some places that do the same recipe essentially, you'll get a different product from us because it's more dense and rich."
Multiple locations
Honorable mentions
FoMu Ice Cream: Customers are able to design their sandwiches with any flavor of ice cream that they want, with seasonal favorites being the blueberry shortbread, raspberry crumble, and strawberry rhubarb pie. Multiple locations
Trader Joe's: The grocery store has perfected a delectable treat, with vanilla ice cream sandwiched between chewy, crunchy cookies and rolled in mini chocolate chips. Reader Christina A., of the Seaport, called them "sublime." Multiple locations
Here's the list of reader-recommended places to get an ice cream sandwich in Massachusetts:
Ice cream shops and bakeries:
Restaurants:
Store-bought: