Readers Say
27 places that serve deliciously decadent ice cream sundaes
"You can't beat a classic banana split."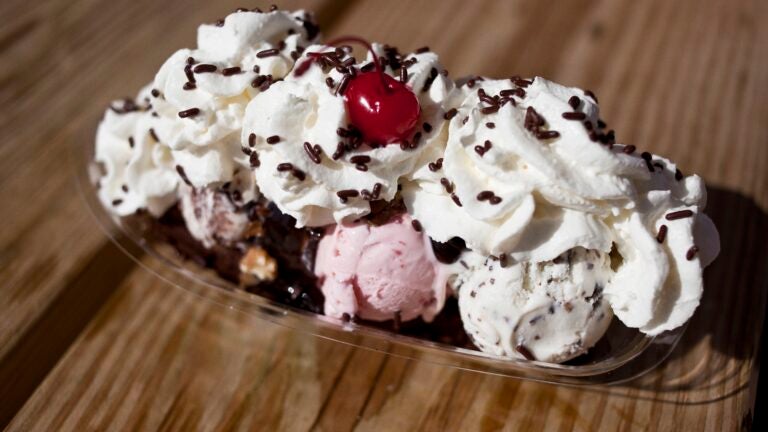 Scoops of ice cream layered with fudge and other toppings — a sundae is a special thing. Now that summer has officially started, we wanted to hear about the ice cream shops that serve the most decadent, over-the-top sundaes. Readers were quick to respond. Almost 100 people let us know where you can get a delicious frozen dessert.
You told us about some of your favorite places, where you can order sundaes that come with toffee, peanut butter cups, and cherries. The clear frontrunner was Cabot's Ice Cream & Restaurant, which took 30% of the vote. From Toscanini's Ice Cream to J.P. Licks, Boston.com readers identified 27 places where you can taste incredible treats, such as mocha parfaits and bowls of vanilla with butterscotch.
We put together a guide to the top seven ice cream shops serving elaborate sundaes, and we've also included a map of every recommended spot. Scroll down for a complete listing of every location.
7. Crescent Ridge Dairy
A family owned and operated farm, Crescent Ridge began selling milk from a truck in 1932. But don't miss out on their ice cream, which Crescent Ridge Dairy Bar started serving in 1968 — every month, they create a special sundae, and this June, the mint oreo sundae comes with marshmallow sauce, rainbow sprinkles, and more. Reader Sharon J. from Sharon, said that at Crescent Ridge, which earned 4% of votes, she prefers: "Pistachio ice cream with hot fudge, whipped cream and a cherry. All of their ice cream flavors are outstanding—rich and creamy and packed with whatever goodies the flavor requires. The toppings are amazing and the whipped cream is delightful."
407 Bay Road, Sharon
6. Putnam Pantry Candies, Ice Creams & Cafe
Putnam Pantry, a quaint spot in Danvers which collected 4% of votes, prepares desserts you mustn't underestimate. One reader explained that they have a "smorgasbord" where you can create your own sundae, choosing from toppings like sliced strawberries, crushed pineapple, and shaved coconut. Reader Phil from Peabody told us: "Battle of Bunker Hill is the best battle you've ever been in," referring to a sundae that comes with 17 scoops of ice cream. Putnam Pantry also sells candy and has a small cafe.
255 Newbury St., Danvers
5. Richardson's Ice Cream
Richardson's is an old fashioned dairy farm in Middleton, and they just so happen to have some of the most delicious sundaes, readers say. The place also tied with other listed locations, taking 4% of votes, and reader Lucien said that anything he orders there is wonderful. Janine from Middleton told us: "Richardson's has the creamiest, most delicious ice cream, hot fudge, and whipped cream!" According to their site, farm and ice cream operations are currently managed by the family's ninth generation.
156 South Main St., Middleton
4. The Scoop N Scootery
No guide to sundaes would be complete without The Scoop N Scootery, which delivers ice cream late into the night and boasts an extensive list of options. Also earning 4% of the vote, The Scoop N Scootery's giant menu includes sundaes like the Buttercream Dream, topped with peanut butter cookies, and the Strawberry Blonde, ice cream with a frosted red velvet core and cream cheese frosting. Reader Sara from Waltham said that she adores the "'Salt and Battery'—[a] perfect mix of salt/pretzel, caramel, and all the traditional sundae flavors!" Place your order before 2 a.m. at the Arlington location, and they'll bring the sundae to your door.
Multiple locations.
3. Sundae School Ice Cream
This Cape Cod favorite, which will further your ice cream education, garnered 8% of the vote. The spot first opened in 1976, when the owners, one of whom was a school teacher, were looking for a way to spend summers on the Cape. Readers raved about the coffee Oreo yogurt sundae, topped with hot fudge and whipped cream. An anonymous reader called for the "… hot fudge sundae. The hot fudge, whipped cream, and ice cream are amazing, of course with vanilla ice cream, nuts, and a cherry. Eating inside with a player piano is great! Have been going there since it opened in the 70s." Chau T. from Braintree told us: "With a name like that, it has to be good!"
606 Main St., Route 28, Harwich Port; 381 Lower County Road, Dennisport
2. Kimball Farm
With locations across Massachusetts and in New Hampshire, Kimball Farm first opened up when a family woodshed was converted into an ice cream shop. From then on, they achieved fame with their fantastic flavors, from French toast to gingersnap molasses. Readers were enthusiastic about Kimball, which took 13% of the vote, and they praised the strawberry ice cream with strawberry sauce, saying that it "makes a dark day seem bright." Kelly H. from Belmont said: "Vanilla peanut butter cup with hot fudge, whipped cream, walnuts and a cherry. The sundae is special because—the sundae starts with a more than generous scoop of delicious homemade ice cream, dripping with decadent hot fudge, piled with whipped cream, chopped walnuts, and topped with a cherry. The best!"
Multiple locations
1. Cabot's Ice Cream & Restaurant
A diner in Newton with a nostalgic setting, Cabot's has been a tradition since 1969. Cabot's is a clear winner among readers, gathering 30% of the votes. Their list of desserts is tremendous, including banana boat creations, homemade Belgian waffles covered in ice cream and whipped cream, the mud pie sundae, and a build-your-own option. Try the Killarney sundae, covered in pineapple and maraschino cherry topping, or the Brazilian combo, doused in coffee, maple nut topping, and more. Shirley D. from Dorchester told us: "Cabot's is a rare thing, an old school ice cream parlor that is still open. A perfect sundae isn't just about the ice cream, but about the presentation, and that's where old school scores; sundaes feel better when they are served in real dishes instead of paper cups. Everything is good here, but for all-out decadence, you can't beat a classic banana split."
743 Washington St, Newton
Full list of reader-recommended ice cream sundae spots in Massachusetts
Sign up for The Dish
Stay up to date on the latest food news from Boston.com.