Readers Say
27 places to get a delicious frappe
Boston.com readers shared the best places to enjoy the blended drink.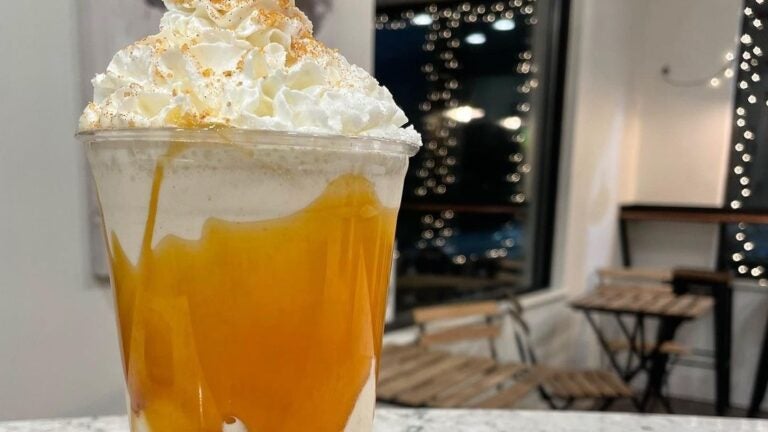 A frappe is a quintessentially New England thing, or at least the name is. What is known to the rest of the country as a milkshake, a thick, creamy frappe is sure to brighten your day.
We asked Boston.com readers about the best place to enjoy a frappe. Turns out, readers are fond of their frappes, sipping classics like a black and white or flavored with fresh-cut bananas.
Over 60 readers mentioned 27 spots, including diners like Veggie Galaxy, where you can enjoy a strawberry frappe with a grilled cheese. Frankie & Dia's Ice Cream and Hot Cocoa, located in Raynham, came in first place, scoring 21% of the vote.
Look below to see a list of the top six places to get a frappe. We've also included a map of every destination that readers recommended, along with a complete list. Have a look — while dreaming of getting a tall glass of your own.
6. Cabot's Ice Cream & Restaurant
This old-fashioned diner in Newton has been serving up wraps, melts, and frappes since 1969. Readers were excited about their chocolate drinks, emphasizing that at Cabot's, they are thick and delicious. The restaurant and ice cream parlor took 5% of the vote. Brenda B. from Wayland said that her favorite flavor is: "Banana. They cut fresh bananas into it as well. Yummy."
743 Washington St., Newton
5. Friendly's
The chain of family restaurants, beloved by children and adults alike, made the list with 5% of the vote. With plenty of french fries, burgers, and ice cream cream to go around, it's no surprise that Friendly's is so popular among readers. L. Woodcome from Cape Cod said: "Chocolate frappe. Have been drinking them since age eight or over 60 years. Consistently good over the many years. Sadly, there are fewer Friendly's to visit. A Massachusetts institution for many years." Meanwhile, Stephen G. from Maine praised the "coffee fribble," a hallmark Friendly's dessert.
Multiple locations
4. Kimball Farm
Readers are fans of Kimball Farm, with its locations in Westford, Carlisle, Lancaster, and New Hampshire. Kimball serves legendary ice cream, with flavors such as peppermint stick and raspberry chocolate chip, but readers are tuned into the chocolate and vanilla frappes. Annie from Carlisle said she prefers: "Coffee, always coffee. When I was a child, my favorite was a black and white frappe. (Do kids even know what that is nowadays?) But as an adult, it's only coffee. Absolutely the best!" Kimball Farm earned 7% of the vote.
Multiple locations
3. Daddy's Dairy
You could get a scoop of funfetti cake flavored ice cream at Daddy's Dairy, but wouldn't you rather sip on a frappe? We know readers would, saying that they adore the coffee Oreo, with its rich, strong taste and chunks of cookie. Kiley S. from Norwood said that she orders the "strawberry cheesecake frappe!!! The best EVER!! Ask for one pump of strawberry syrup and one pump of vanilla syrup in it. Instead of the usual two pumps of strawberry syrup. It's amazing." Daddy's Dairy took home 9% of the vote.
Multiple locations
2. Crescent Ridge Dairy
For ages, Crescent Ridge has been producing award-winning, small-batch ice cream. Readers are recognizing the shop's frappes, too, pointing to the July Frappe of the Month, the Orange Dream Freeze, topped with whipped cream and a cherry. John from Canton said that he likes to pick up the "black raspberry ice cream, with Oreo and chocolate sauce. Simply, a great and underrated combo." Crescent Ridge earned 12% of the vote, and readers like Don D., of Dedham, said their frappes can bring back childhood memories.
355 Bay Road, Sharon
1. Frankie & Dia's Ice Cream and Hot Cocoa
Reader Laura S. from Berkley said that getting the birthday cake frappe at Frankie & Dia's is "like celebrating your birthday any day." That's just one part of the charm of this Raynham shop, which took 21% of the vote. The owners named the spot after their two daughters, and they invite customers to come in and play a board game while they enjoy their desserts. While readers said they enjoy the peanut butter and chocolate frappe, as well as the espresso, Jen F. from Taunton said that a standout is the "hazelnut frappe. It has the perfect amount of Nutella and is thick and creamy. Absolutely the best frappe I've ever had."
407 New State Hwy., Raynham
Here's the list of reader-recommended places to get frappes in Massachusetts:
Sign up for The Dish
Stay up to date on the latest food news from Boston.com.