Readers Say
Nearly 300 readers voted: Here's the best brewery in Massachusetts
All 76 locations are mapped out.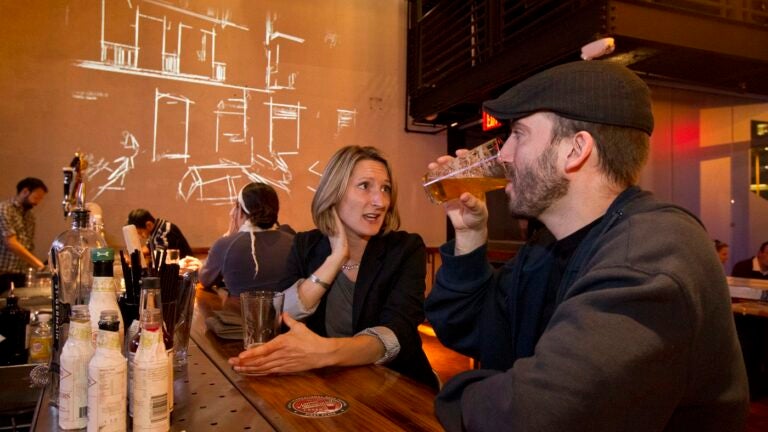 Massachusetts does not run short on local breweries producing excellent craft beers. Whether you're thinking of sipping a refreshing IPA or a palate-cleansing pilsner, there are many spots to visit across the Commonwealth. And Boston.com readers have a lot to say about where you should pop in and enjoy a cold one.
We asked you where the best breweries are in Massachusetts, and the responses poured in. We heard from nearly 300 readers who shared 76 breweries with us, including what they loved about the place and the drinks to order when you go. At the top of the list with 18% of the total vote was Tree House Brewing Company, which has multiple locations across Central and Western Mass., and Cape Cod.
Ahead, we put together a list of the top five breweries in Mass., according to readers, and what you had to say about them. Scroll down for a map, as well as a complete listing of every place you recommended.
5. Oakholm Brewing Company
At Oakholm Farm in Brookfield, an old hay barn was converted into a brewery, the site for Oakholm Brewing Company. They took 3% of the vote, tying with Trillium Brewing Company. Readers suggested you try a glass of the Crooked Post or the Super Slate, while you grab a slice from Pup's Woodfired Pizza or a chicken sandwich from Holm Cookin'. Nick from the South End said, "Oakholm did a fantastic job preserving their farmhouse location into a rustic, cozy brew house. Every time we've visited there's food trucks, live music, and plenty of space to hang outdoors in the beer garden."
80 Lake Road, Brookfield; 413-272-9620
4. Trillium Brewing Company
Tied with Oakholm for 3% of the total vote, Trillium's taprooms are located closer to Boston in Fort Point, Fenway, and Canton, plus check out their seasonal beer garden on the Greenway for a superb experience. Readers praised the sours, wild ales, and their Mettle IPA, as well as the wood fired pizzas and salads. One fan, Torin, said, "The Greenway beer garden and Fort Point patio and deck in the summer months are hard to beat." Marie of Rockland added, "The locations are all awesome, especially Fort Point and the new Canton location, the ingredients are sourced locally, and just the vibe of the workers is pleasant all around."
Multiple locations
3. Distraction Brewing Company
Ten percent of you voted for Distraction, a small, family-owned craft brewery in Roslindale Square, with a beer garden open when weather permits. Some of your favorite beverages on tap are the Belgrade Tripel, the Jalapale, and the Hoppily Distracted. Andrea M. from Carlisle told us, "Love it because [their beers are] completely different than any other flavors out there, and they work to be sure the flavors really meld nicely. Plus, it was started by families with both spouses working together, right before the pandemic, not just 'some guys with a good idea'!"
2 Belgrade Ave., Roslindale; 617-477-3677
2. Greater Good Imperial Brewing Company
Founded by microbial geneticist Paul Wengender, Greater Good's brewery and taproom in Worcester pours some quality IPAs, fruit beers, and stouts like the Java Mocha Chip. They took 13% of the vote. Readers told us about their favorite drinks to order, such as the Pulp Daddy, a juice-forward beer with a citrus aroma, and the WOOO!!, with flavors of pineapple, guava, and orange. You also let us know about the pretzel bites with pub mustard and the fried chicken sandwich. Mike from Leominster said, "Awesome range of different IPAs, this small brewery in Worcester has been blowing up! The tastes they come up with are deeper and richer than other well established breweries in MA."
55 Millbrook St. #2804, Worcester; 508-926-8736
1. Tree House Brewing Company
With a cult-like following and five locations, Tree House Brewing Company was the top reader-recommended brewery with 18% of the vote. Its primary location in Charlton has a giant campus that features an outdoor pavilion, hiking trails, and a lineup of food trucks. Other locations include a tap room and brewery in Sandwich, a bucolic spot in Deerfield that embraces community and the arts, and a peaceful place in Woodstock, Connecticut. In 2019, they even began roasting their own coffee and later opened a distillery in Charlton. Tree House recently announced plans to purchase Tewksbury Country Club and open a beer hall. Tyler F. of Pepperell told us, "I love everything about Tree House. The atmosphere, the community, the rotating releases, not to mention they celebrate their team! I'll try anything they make, but the cold brew is always a must, and if I'm having a beer, Julius all the way!"
Multiple locations
Full list of the best breweries in Massachusetts, according to readers
Sign up for The Dish
Stay up to date on the latest food news from Boston.com.