Readers Say
Boston.com readers share their favorite local Fourth of July celebrations (other than Boston)
The Boston Pops Fireworks Spectacular gets all the attention, but these towns offer great Independence Day events as well.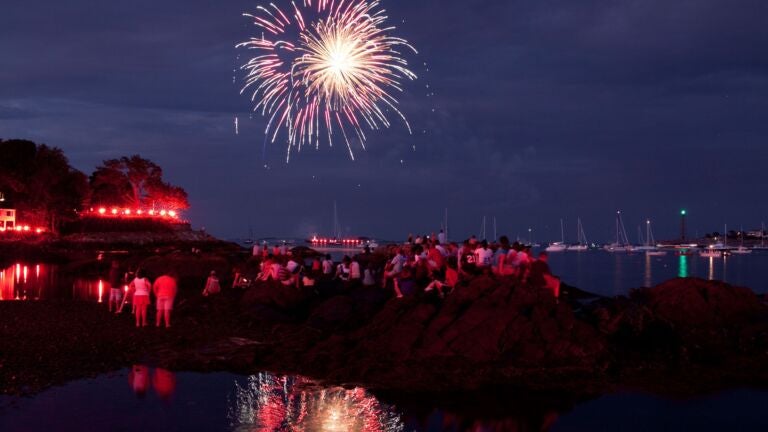 Everyone in the Boston area — and all of New England, most likely — knows about the annual Boston Pops Fireworks Spectacular. Based on the number of people who attend, the musicians who perform, and the sheer mass of fireworks set off, it's hard to argue with the fact that Boston's Fourth of July fireworks are the biggest Independence Day celebration in the region.
But Boston isn't home to the only show worth attending. In fact, nearly 100 towns will host Fourth of July fireworks shows in Massachusetts in 2022, and many celebrate other Independence Day celebrations as well.
Earlier this week, we asked Boston.com readers to share their favorite local Fourth of July celebrations besides the big fireworks show in Boston. In their responses, readers emphasized small-town traditions, bombastic fireworks, and waterfront viewing spots as some of the reasons their towns or cities offers up a superlative Independence Day experience.
Here are five local Independence Day celebrations that Boston.com readers picked as some of their favorites.
Abington
One reader aptly described Abington's fireworks as "bomb."
"It's well spaced, definitely visually entertaining, loud, and there's two finales," the reader wrote. "One of the best in the Southeast for sure, and I don't live there. Bonus: There is usually a carnival-like setup behind the high school as well, so if you grab your spot early, you'll have food and entertainment until the show."
Bridgewater
One reader hailed Bridgewater's Fourth of July celebration as "the best South of Boston."
"Parade in the a.m., then rides, food and music at Legion Field," they wrote. Fireworks start around 9:00 pm. They're great fireworks with plenty of noise. Check it out!"
Harvard
One Boston.com reader picked Harvard's Fourth of July celebration, saying that it "embodies small-town America." The town's parade is followed by a celebration on the town fields featuring pie-eating contests, a grease pole, sack races, an egg toss, and musical entertainment.
"You get the chance to meet up with generations old and new," the reader wrote. "And [you] experience nostalgia and wholesomeness akin to gold dust in today's day and age."
Marblehead
One reader highlighted Marblehead's Harbor Illumination, during which flares are lit around the edge of the harbor, bathing the shoreline in light.
"Marblehead [has] all of the different options of places to watch from," they wrote. "It has a small town patriotic feel!"
Wakefield
Multiple readers highlighted Wakefield's Fourth of July parade as being one of the best they've ever seen.
"Kids events throughout the morning, the great parade starts late afternoon, and then fireworks and a concert over the lake," wrote one reader. "It's the best!"
Need weekend plans?
The best things to do around the city, delivered to your inbox.