Readers Say
Here's where to find the best pizza in Greater Boston, according to readers
Readers named over 100 restaurants.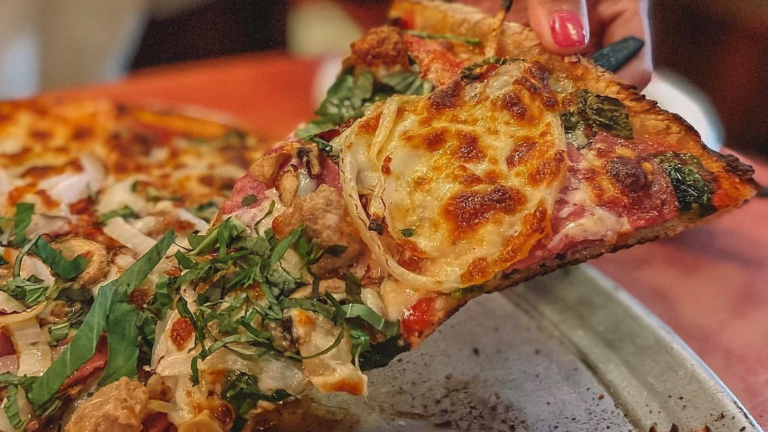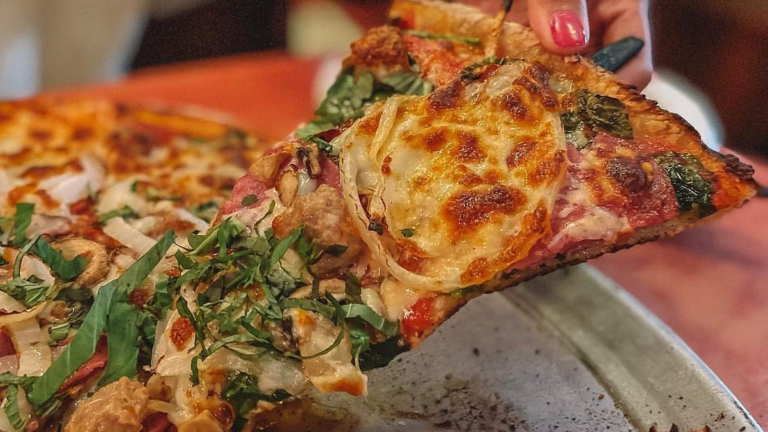 You probably already have an idea of what makes the perfect slice of pizza: flavorful crust, a slightly sweet sauce, and carefully melted cheese. Whether you enjoy yours topped with buffalo chicken or with an array of roasted peppers, Greater Boston pizza shops craft excellent pies with their own traditions. In the region, you can find an array of offerings, from classic Neapolitans to South Shore bar pizza.
We asked our readers where they go for the best slice of pizza, and nearly 400 responded, naming Regina Pizzeria as their top pick. This is the second year readers voted the century-old restaurant as their favorite pizzeria in the region.
Stuart Thompson, a spokesperson for the restaurant chain, told us about what makes Regina's so crave-worthy, from the aging of the dough to the tomato sauce laced with Romano.
"The crust is an important part of the pizza. It's not a thick [crust], but it's not a thin crust, either," Thompson told Boston.com. "When you bite into the pizza, you're surprised that the dough has that much flavor, and it's mainly because it's aged."
Below, we've put together a guide to the best places in Greater Boston to get a slice of pizza, including a map and list of all 130 locations recommended by readers.
Where to find the best pizza in Greater Boston 2023, according to readers:
A 🏆 means that this spot was among the top 5 in 2023 and 2022.
This chain, founded in Chicago and headquartered in Boston, is known for its Chicago deep-dish pizza, a thick and hearty pie with a high-walled crust and dense interior. There are 15 locations in Massachusetts. Readers praised the Detroit-style that they offer, which is rectangular in shape, featuring cheese caramelized along the edges of a light and airy crust. Others gave a nod to the Spicy Roadster, made with buffalo chicken and bleu cheese dressing, or the Veggie Extravaganza. An anonymous reader said that they enjoy "deep dish cheese! Buttery crust, chunky tomatoes, and lots of cheese!" Uno Pizzeria & Grill took 3% of the vote.
Multiple locations
At this Medford institution, you'll find pizza with a thin crust — similar to South Shore bar pizza — and prepared in a lightly oiled pan. Featuring homemade red sauce and a house blend, the pies use a dough that is "hand rolled daily, triple risen, and fermented slowly over multiple days," according to their website. There's a few varieties of pizza that readers prefer: the Honey Roni comes with a hot honey drizzle and pepperoni, and the Mac Attack features hamburger, mustard, pickles, and more. Ricky T. from Reading said he prefers "standard cheese pizza! It's so different than anything else around." For Pizza took 4% of the vote.
51 High St., Medford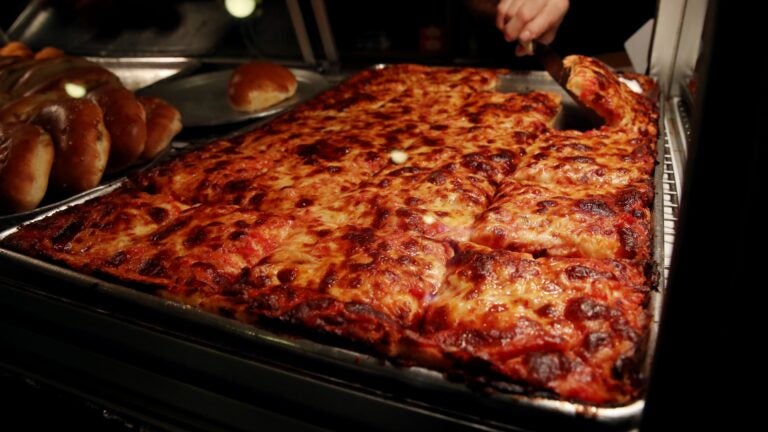 In the North End, you'll find Galleria Umberto, where readers rave about the Sicilian slices. The restaurant does not generally offer toppings, but that's because they don't need them, Katie B. from Medford said. You can't go wrong with a perfectly balanced cheese to sauce ratio and a not too thick crust, said Joyce S. from the North End. The pizza pairs well with an arancini and a coke, added Pete W. from Winthrop. Joshua G. from Boston said, "James Beard Award winner for simple perfection. Cheese slices straight from the pizza gods. No frills, no complications, just absolutely amazing pizza, every time. It's a secret because they close when they run out of pizza, never later than 2:30 p.m. So many people don't know about this treasure." Galleria Umberto took 4% of the vote.
289 Hanover St., Boston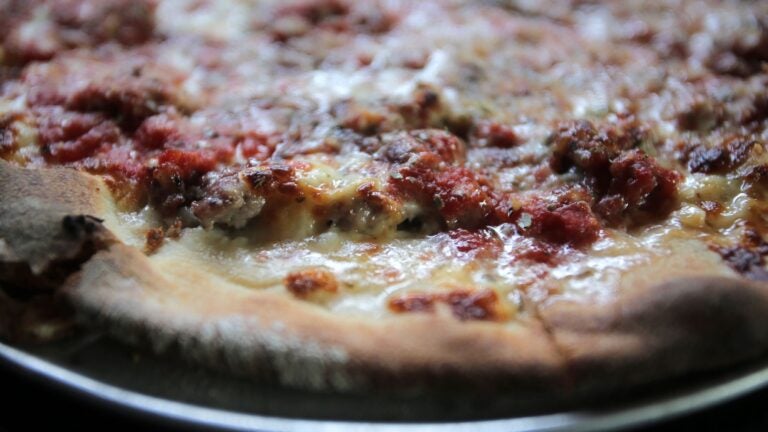 Santarpio's opened its East Boston location in 1903 and has quite a legacy around the region. They specialize in a well-charred, New York-style thin crust pizza, and the way they prepare their pies is unique: first the toppings are spread over the dough, then cheese and sauce are layered over them. "We make our dough fresh, daily, and we buy high quality mozzarella," manager Glenn Carlton told Boston.com. "Cornmeal is the base. We don't open up a jar — we cook our tomato sauce… Put all those together, and you have our magic."
Eric M. from Boston orders the white pizza. "Can't even find it most places," he said. "Not slurpy cheese. Crusty by design. Add some sliced black olives. And add a skewer or two of their signature fresh lamb skewers on the side, grilled right before your very eyes, if you sit at the counter… And they leave out any pretense, without request. But you know all this. Because it's Santarp's. Was, is, and always will be. Count on it." Santarpio's earned 5% of the vote.
Multiple locations
Fan favorite Regina Pizzeria, with its 12 locations around New England, once again was voted the first place title by readers. The original location on Thacher Street is considered to be the oldest Italian restaurant in the North End, and the intimate spot still has the German oven that was there when they first opened. According to spokesperson Stuart Thompson, three things make the pizza special: the flavorful crust, the light and slightly spicy tomato sauce, and the freshly shredded cheese blend. "All these little steps are what make it Regina's," Thompson said. "People duplicate it, I suppose, but [we're] sticking to [our] standards and not altering." When you visit one of the restaurants, be sure to try pies like the Giambotta, made with a variety of meats, or the Vegetarian Primavera, featuring a medley of vegetables and a garlic sauce.
Reader Alan from Brookline said, "I'm 67 and have gone to Regina's since high school. My favorite is roasted red pepper with an added dash of their olive oil with hot pepper flakes. There is nothing that compares to the master full mix of crust, tomato sauce, cheese, and the red peppers with garlic oil." Regina's took 13% of the vote.
Multiple locations
Honorable Mentions 🏅
Ernesto's Pizza: With a location tucked away in the North End, you'll discover Ernesto's, serving fresh baked slices and pies. Select from specialty pizza options, like the Saint Anthony, topped with mushrooms and artichoke hearts, or the Hawaiian, featuring pineapple and Canadian ham. Multiple locations
Readers say: "Pepperoni with hot peppers. It's like kissing Tom Brady!" —Bean, Medford
Picco: This spot's crusts are made with cold-ferment sourdough and are full of taste. Order their saffron butter poached shrimp and spicy 'nduja sausage or the Alsatian, Picco's variation on a tarte flambée. Don't forget to try their ice cream, made from scratch. 513 Tremont St., Boston
Readers say: "Perfectly charred crust every time." —CLS, Boston
Here are all the reader-recommended spots to get the best pizza in Greater Boston (2023):
Sign up for The Dish
Stay up to date on the latest food news from Boston.com.