Readers Say
Boston.com readers recommend the best places to volunteer
"I get a lot of satisfaction when I deliver my portion of a meal that will feed residents in a group house in my neighborhood."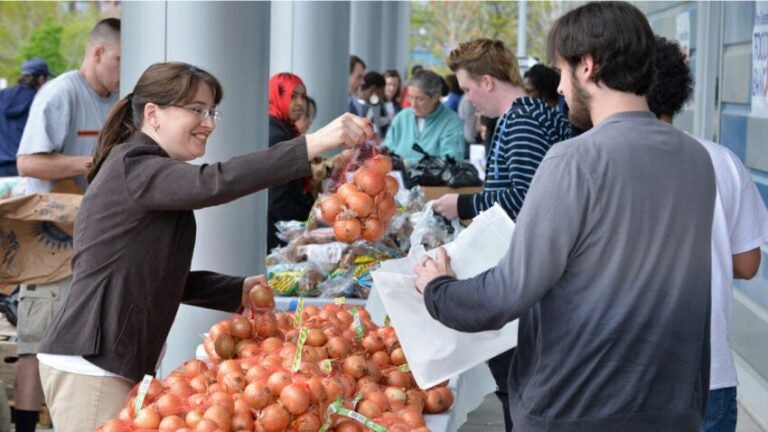 The last two years have made obvious the ways that many in our communities are struggling with basic needs, and how important it is for those who are able to lend a helping hand when they can.
The pandemic has made it harder for some to volunteer because of fear of COVID-19 transmission, but several of our readers said they had volunteered in the last year for causes that support women's rights, animal rights, environmental justice, housing, immigration, and more.
Jennifer L. from Arlington said she and her family volunteer at Community Servings, Community Cooks, and Boston Area Gleaners because they are very focused on "food, health, and sustainability."
Have you volunteered in the last year?
Yes.
No.
I plan to soon.
We recently asked readers how they volunteer their time in celebration of National Volunteer Week and they shared the charities, nonprofits, and organizations that they turn to when they want to give back to their community.
Below, you'll find a running list of hunger relief organizations, animal shelters, social justice groups, and more that readers recommend as places to volunteer in the Greater Boston area.
The Appalachian Mountain Club is dedicated to the "protection, enjoyment, and understanding of the outdoors." The group is the oldest outdoor organization in the country and volunteers have the opportunity to lead hikes, participate in conservation projects, orient visitors to the Appalachian Mountains, and more. As a volunteer, Diane from Mansfield said she leads local hikes and serves as the chair of the Southeastern Massachusetts chapter's executive committee.
Back on My Feet empowers those experiencing housing insecurity to rebuild their confidence by committing them to run or walk three mornings a week and then by providing job training, education, employment, and housing.
Katie R. from Boston started volunteering for the organization, which is headquartered in Philadelphia, three years ago as a running guide.
"I became a Morning Circle volunteer because I believe we all have a responsibility to make our communities stronger. I also believe in the power of movement. Running brought purpose to my life, and I want people to experience how it can bring purpose to theirs, too. Volunteering with BoMF has introduced me to the most resilient and determined people I know," she said. "When I see the progress our members make over time, I am so happy watching them experience that recalibration. One step at a time, forward motion gets us all where we need to be."
Christy Marieni, who has volunteered for the last five years, said working with the group has helped her gain a better understanding of addiction and homelessness, especially within her own community.
"It's so inspiring to see how commitment to goals and access to mentorship impacts our members and helps them gain the confidence they deserve. I love the community and being able to support the wonderful things BoMF does for its members," she said.
Big Brothers Big Sisters has long been known as a nonprofit working to uplift youth through community mentorship. The group matches adults with children as young as five to offer them meaningful connections with someone who cares about their well-being. You can apply to be a Big and mentor a child in Massachusetts through the group's website.
"I mentor an amazing young woman, now a junior in high school," Christine M. from Jamaica Plain said. "We were matched at the beginning of her freshman year. Friday we are starting college tours and I am confident she will be a star."
Ryan C. from Ipswich said, "Not only is this program work for the mentee but the mentor learns and grows."
Aiai R., who's been a mentor for nearly six years, said she's been able to see her student through big and small life events.
"I've always thought that volunteering is a two-way street, it's reciprocal, and that has been evident in this volunteer program. I've learned so much from my Little, giving me more perspective and self-awareness," she said. "Big Brothers Big Sisters is an incredible program — growing up can be tough and I think there's real value in mentorship/friendship during these important years/stages of life."
This group tackles food insecurity by starting at the farm. In order to bridge food distribution gaps, volunteers harvest surplus food from farms and send it to local food pantries, food banks, and meal programs.
"When I need fresh air, exercise, and good company, I sign up to assist the Boston Area Gleaners to get permission to pick vegetables from fields after the harvest. We also pack food boxes for distribution," said Jennifer L. from Arlington.
The goal of the Collings Foundation is to preserve automobile and aviation history, especially of World War II aircraft. The Stow-based foundation is looking for volunteers to assist with tours, maintain the planes, and greet guests. One reader from Bedford told Boston.com he is one of many volunteers who spend their time fixing the historic planes put on display by the foundation.
Community Cooks provides home-cooked meals to people in need throughout Greater Boston. The group is volunteer-led and has ramped up its work during the pandemic to serve more than 30,000 people.
"Community Cooks coordinates people who are passionate about cooking at home into a cooking community that offers a monthly meal for a local nonprofit," said Jennifer L. from Arlington. "I get a lot of satisfaction when I deliver my portion of a meal that will feed residents in a group house in my neighborhood."
Community Servings believes that "food is medicine." The Jamaica Plain nonprofit delivers meals to people experiencing chronic illness and nutrition insecurity such as HIV/AIDS, cancer, kidney disease, and diabetes.
"The organization provides nutritious, tailored meals to low-income people with chronic illness both in and outside of Boston. Every time I volunteer with CS I enjoy myself," said Caitlin H. from Roslindale. "The staff is friendly and helpful. I always learn a new recipe I get to try at home!"
Dot Not 4 Sale is a resident-led community group that advocates for the interests of Dorchester and builds uplifts cultural organizations in the neighborhood. Kristine from Boston said she works with the group because of its dedication to housing justice in the city.
Fresh Truck brings nutritious food directly to the people who need it most. The idea for the nonprofit came after a grocery store in Charlestown closed for reservations, leaving many residents without easy access to healthy food. Now, the truck brings fresh produce to a dozen neighborhoods in and around Boston.
Rain or shine, the Friday Night Supper Program provides a warm dinner to Boston's homeless population every Friday night. Volunteers are always welcome for set up, cooking, serving, and more.
Community fridges popped up in cities across the country during the pandemic as a way for neighbors to share their resources with those in need of food. The program is still going strong at 45 Mt. Auburn St. in Cambridge, where you can find a fridge stocked with canned goods and fresh food. Volunteers are needed to take inventory, deep clean the fridge, and more.
"A mutual aid project born out of COVID is now a heavily relied on food source for many people around the Harvard Square area," one reader said. "Volunteering is easy and can be catered to individual needs and schedules, including fridge checks, grocery shops, or monthly cleaning."
In the last year, the Greater Boston Food Bank has distributed 117 million pounds of food to people struggling with hunger. The food bank is the largest hunger-relief organization in New England and works with volunteers to ensure it meets the needs of those it serves. Due to pandemic restrictions, you can volunteer individually or as a group in shifts of 15 people.
This interfaith group includes dozens of churches, temples, masjids, and more across Greater Boston. No matter your religious affiliation or beliefs, you can volunteer with the group to tackle issues like food insecurity, criminal justice reform, affordable housing, and access to health care.
Horizons helps homeless youth and their families by providing "high-quality early education, opportunities for play, and comprehensive family support services." Volunteers work in playspaces, classrooms, and serve on committees. The group is currently accepting applicants for new volunteer training.
Amy from East Boston said she volunteers for two hours a week at a homeless shelter near her home.
"This incredibly professional organization is doing amazing things for children living in homeless shelters. As a weekly playspace volunteer, I am only seeing the tip of the iceberg of all the great things they do, but I enjoy doing my small part," she told Boston.com.
This organization's mission is to improve the lives of people on the South Shore by providing "food, joy for children, mental health counseling, and homelessness prevention services." You can volunteer to work in their food pantry or their thrift store, where 100% of proceeds to their food pantry, mental health counseling center, and homelessness prevention program.
"This is a great group to volunteer for as they are the friendliest bunch of pantry pushers ever," said Cat B. from Hull. "They also have programs throughout the year if you're not into the food pantry scene. Bunny baskets, back-to-school backpacks, and holiday gifts. And my favorite thrift shop."
Last Hope K9 is a Boston-based, volunteer-run dog rescue organization. There are a wide variety of tasks for volunteers who want to get involved, including helping with adoption and fundraising events, content creation, dog transportation, home visits, and more.
The Malden Food Bank is one arm of Bread of Life, a hunger relief organization that serves Greater Boston. Volunteers are needed to load food trucks, shelve food, and distribute meals. For certain shifts, the group is particularly interested in volunteers who can speak Portuguese, Haitian Creole, or Spanish.
"Once a month volunteers pack 650 bags of food for people in need," said Amanda from Stoneham, who volunteers with the food bank. "It used to be 400, pre-COVID, and there used to be much more food/donations, but the war and post-COVID world is hitting many more people very hard and I don't see an end in sight — sadly."
The Massachusetts chapter of the National Organization for Women has been organizing and advocating for women's rights in the Bay State and beyond for more than 50 years. The group is looking for volunteers to assist with consciousness-raising events and fundraising efforts.
Massachusetts MRC units are currently working to provide local responses to the COVID-19 pandemic. There are 35 units across the state and all are in need of volunteers as the pandemic continues. Volunteers can do both clinical and non-clinical work.
"I was a non-medical volunteer for pediatric COVID vaccinations in Arlington. I recorded their vaccinations online and on their vaccination cards. I was stationed with a nurse or doctor, who performed the actual vaccination," said Alex F. of Somerville.
This non-profit sends free books to over 10,000 incarcerated people each year and helps them with basic legal aid and preparation for the GED, all in an effort to support their "educational, vocational, and personal development." Volunteer opportunities include picking and distributing books. The group recommends that volunteers be at least 16 years of age or be accompanied by an adult.
This day shelter is open every day to homeless people in need of food, clothing, and shelter. Currently, there are volunteer opportunities available for people interested in assisting in the kitchen and at Expressive Art Therapy, a program that offers free art therapy to those in need.
Boston.com Today
Sign up to receive the latest headlines in your inbox each morning.