Readers Say
Here's a running list of the best restaurants for outdoor dining in Greater Boston
"The patio can't be beat for the atmosphere, the view of the water, and the amazing sunsets."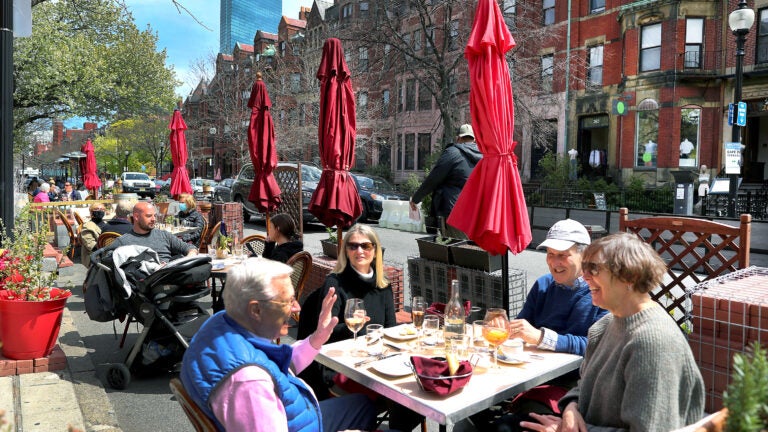 The outdoor dining season returned to Boston on May 1, and readers knew before the season even launched which restaurant they wanted to be hitting up across the region.
The Outdoor Dining Pilot Program was created in 2020 as a temporary state legislation to provide relief to businesses that were experiencing financial struggles due to the pandemic.
In February, Mayor Michelle Wu announced the creation of the new permanent outdoor dining program, which will allow businesses to renew their outdoor dining accessibility annually. Although, not every neighborhood is getting the same benefits. The North End will have to make do with some more restrictions — outdoor dining will be limited to sidewalks of "adequate width" only.
The City of Boston is working to create a task force to determine how to fix the issues moving forward. In the meantime, Boston said it will attempt to buy back jersey barriers from North End restaurant owners and provide relief for storage-related costs.
We asked readers to send us their favorite outdoor dining experiences in Greater Boston, and they shared their favorite restaurants and what made it the best in the city. Ahead, we put together a reader-recommended guide and interactive map of the best patios to enjoy outdoor dining during the spring and summer months. We'll plan to update this list once we learn more about the 2023 outdoor dining program. Don't see your favorite below? Send us your recommendation in the survey below or at [email protected].
The best restaurants for outdoor dining in Greater Boston, according to readers
A 🏆 means that this restaurant was recommended in 2022 and 2023 by readers.
Alcove (50 Lovejoy Wharf, Boston)
Located at the water's edge near near Boston's North Station and TD Garden, Alcove is a reader favorite. This restaurant serves coastal New England dishes and drinks from brunch to dinner. It is self-described as a neighborhood restaurant that serves as a host to date nights, pre-game meetups, business lunches, and dinner parties. Readers who chose this restaurant said it was the best for its nice environment and beautiful views.
"It's beautiful, spacious, and overlooks the water along the Harbor Walk; and with one of a kind sunsets over the Zakim Bridge."

— Heidi, Cambridge
Antonio's Bacaro in Hyde Park is both a restaurant and a Venetian-style wine bar that boasts a made-from-scratch menu. Elizabeth B. from Hyde Park described the outdoor patio as a "city oasis."
"Cozy but comfortable, nestled behind the restaurant. Awesome outdoor atmosphere. Joe Garufi did an amazing job of extending his restaurant to the outside. Food atmosphere and staff are all amazing every time!"

— Elizabeth B., Hyde Park
B&G Oysters (550 Tremont St., Boston) 🏆
B&G Oysters takes the classic oyster bar and elevates it with delicious menu items and its great outdoor setup. The restaurant is located in Boston's South End and has an al fresco patio that's tucked away from the street. Reader Sarah N. spoke highly of how the restaurant combines "friendly service with classic New England seafood dishes including fresh oysters, a celebrated lobster roll, and a food-friendly wine list."
If you want to have fun while you enjoy your meal, head to Beehive, where you get specialized brunch, cocktails, and live music with your patio dining.
"Great food and service, fun atmosphere in and out."

— Esta E., Back Bay
Cloth-covered tables, leather chairs, and rustic, modern style dining is the scene you'll experience at Bistro du Midi. A restaurant meant to reflect the "classic, casual" bistros of France, serves seafood, flatbreads, and more. Bistro du Midi is designed to have a sophisticated look incorporating unique artwork and decor. With the restaurant resting at ground level, you may be surprised about how appealing the bustling city is through the windows or right in front of you.
"Charming setting with a great vibe surrounded by a busy and beautiful city."

— Nancy, Beacon Hill
Although these are two separate eateries, they share a patio space in Brighton. Visit Brighton Bodega for its Asian-inspired small plates and Devlin's for the drinks menu. While you're there, you may get to experience some live jazz.
"These sister restaurants in Brighton share a lovely patio area set back from the street with a good vibe and excellent food! I love the constantly changing and always creative Brighton Bodega menu, and the steady favorites menu of Devlin's."

— Wendy, Cambridge
Chart House (60 Long Wharf, Boston)
Chart House has served hungry patrons in the Boston area for more than 60 years and continues to do so with its patio dining experience and "perfect views."
"It is not in a too-crowded area. [It's] not amidst cars and too many passersby, so you can hear the water and the silence once in a while. There is valet parking at the back so I can drive in, dine, and drive out."

— Lissa W., Uxbridge
Cosmica (40 Berkeley St., Boston)
This South End restaurant serves modern Mexican cuisine including tacos, cocktails, and snacks. "Our chef-led kitchen showcases artisanal Mexican cuisine that draws from tradition with our own twist."
Located in the Seaport, Davio's serves pasta, steaks, and seafood. Decked out for a more fancy evening by the water, Davio's offers a scenic view of the city line framed by sunsets. Davio's prides itself on its attention to detail and attentiveness to guests' needs, as well as their signature steaks, cocktails, and more.
"Davio's Seaport is a sheer pleasure; a vast, gorgeous harbor steps away, immaculate service, excellent, professionally-rendered cuisine, quiet, and dynamic."

— Donna W., West Roxbury
Outdoor dining is becoming more popular in Boston, but there's something about it that feels very European, especially at this South End spot. Sit out on the patio for its modern French menu and wide selection of wines.
"It's just the best. Great views, food and drink, and THE BEST people watching!"

— Chris H., Boston
Harp + Bard (1099 Dorchester Ave., Dorchester)
Harp + Bard is the Savin Hill restaurant for a good time watching a game, hosting a party, or just grabbing a quick bite to eat. Readers praised the menu for serving everything fresh. Whether it's "steak tips, seafood, salads, burgers, clubs, soups, breakfast, or pizza" you can't go wrong, according to Malcolm G. from Dorchester.
Located in Harvard Square, Henrietta's Table has simple homestyle food that takes you back to "Grandma's kitchen." Their menus rotate so there will be something new to try daily. Henrietta's Table takes pride in their farm-to-table dining that they have offered "since before it was a trend or a hashtag."
Readers like Charla R. and Karen H. agree that Henrietta's Table is the perfect place for outdoor dining in Greater Boston.
Horse Thieves Tavern is located in historic Dedham Square and serves classic New England dishes with a modern twist. Readers said the food never disappoints and the view outside can't be beaten.
"Casual and relaxed vibe south of the city. Food is great, something for everyone in your group, and the outdoor patio they had last summer was a great spot under the stars and a cool glow from the old-school neighborhood cinema across the way."

— Alexis H., Dedham
"They are right next to lots of cool things and have an awesome view."

— Lucas W., Brookline
Readers say they love the Italian food served at IL Capriccio, but the Waltham restaurant also boasts an extensive wine list that can be best enjoyed on its new outdoor patio.
"Il Capriccio in Waltham moved after the pandemic hit and their new location has a patio. What makes it great is that you get the same world-class food and service just outside."

— Cindy T., Waltham
La Voile (multiple locations)
French restaurant La Voile, which translates to "the sail," was originally founded in 1947 in Cannes, France and was one of the "oldest and most appreciated restaurants" in the city at the time, according to their website. This French brasserie moved to Boston after considering opening a US branch and instead opting for a full-scale relocation. Now it has locations in on Newbury Street and Beacon Street, and offers an array of French cuisine.
Legal Harborside offers seafood favorites, events, and a rooftop lounge. The restaurant couldn't be closer to the water, which makes for some breathtaking ocean views. Don't miss the third floor promenade deck which features "a four-season rooftop lounge with a retractable glass roof and walls for cocktails and bites." From their outdoor rooftop lounge you can see the ocean, ships, and city line.
You can't talk about outdoor dining in Boston without talking about the North End, and readers say Lucia Ristorante gives one of the best patio dining experiences in a neighborhood with pretty stiff competition.
"Lucia uses the outdoor courtyard at St. Stephen's so you are set in this beautiful historic space, away from the street and under trees and string lights overhead. Absolutely magical."

— Mary R., North End
Mamma Maria (3 North Square, Boston)
Mamma Maria is a North End establishment located in a charming 19th-century row house. At this Italian restaurant, you'll find fresh, locally-sourced ingredients and a great ambiance to enjoy them.
"Amazing outside space, plenty of room, in a beautiful part of the North End. It feels like dining out in Rome."

— Joe A.
Oleana (134 Hampshire St., Cambridge)
Located in Cambridge, Oleana offers "vivid flavors, aromatic spices and commitment to the freshest ingredients." Their menu consists of Turkey and Middle East cuisine like locally-sourced meats, wines, and produce. Oleana's patio is lined with ivy-covered gates for a more private feel and decorated by lights to set the mood for an evening out to dinner.
"Oleana has a patio that transports you. The exceptional food compliments the vibe beautifully. I have always had a magical experience when dining outdoors at Oleana."

— Kate D., Everett
Peregrine (170 Charles St., Boston)
Peregrine serves food from the Italian islands of Sardinia and Sicily and also has influences from Corsica and Catalonia. The restaurant is named for the Peregrine falcon which is native to those places. The restaurant itself is designed to tell the story of what a Peregrine falcon may see on their journey.
Ben W. from Beacon Hill voted Peregrine the best outdoor dining experience for their nice patio.
Another taste of Europe in the city comes from Petit Robert Bistro, where Parisian and Gallic dishes have been served in a patio setting long before the pandemic.
"They were doing it pre-pandemic! They followed the model of the Parisian bistro perfectly. Not to mention the food is delicious." — John, South End
Porter Cafe (1723 Centre St., Boston)
Porter Cafe takes a unique spin on their outdoor seating arrangements. Located near West Roxbury, Porter Cafe made the quiet space between their cafe and an ornate wall a kind of outdoor dining hallway. Lit by lamps and covered with awnings, their seating gives a cozy, quiet feel and acts as a refuge from the streets.
"They have retractable awnings to cover you from light rain or sun, plus infrared heaters to keep you warm when needed."

— Dermot O., West Roxbury
Porto (Ring Rd., Boston)
Porto can be found on the first floor of the Pru and offers indoor and outdoor dining. Their patio is surrounded by shrubs and greenery and covered by decorative arches and lights. Porto prides itself on offering a journey to the coast of Italy and an award winning team.
"Porto has one of the best patio experiences in the city."

— Stephanie, Chelsea
ReelHouse (multiple locations)
ReelHouse is a harborside restaurant with locations in East Boston and Quincy that serves New England fare "with powerful flavors from around the world." If you want to walk off your meal afterward, both restaurants offer patios located along the waterfronts of East Boston and Marina Bay.
"Best views of Boston, lots of walking paths right next to it with the Boston cityscape."

— Ashley, Charlestown
Saltie Girl (279 Dartmouth St., Boston)
The seafood bar, which opened in 2016 and has since expanded to Los Angeles and London, offers everything from oysters to fried chicken to waffles with an array of cocktails and wine. The restaurant was inspired by Sidell's love for the ocean after growing up on the East Coast with her dad, according to their website. "I have long been fascinated by the many ways to enjoy these fruits of the sea. Hence, 'Saltie Girl' reflects a way of life and a passion for eating nature's bounty," according to restaurant owner, Kathy Sidell.
"If you want to enjoy a crisp glass of rosé, a mouth-watering lobster roll and indulge in fresh oysters, while people-watching in the Back Bay. This is the best patio for a first date or family outing. It's a patio to remember a specific and special Boston dining experience and make it memorable for every guest."

— Nate B., Back Bay
Salt + Stone (463 Assembly Row, Somerville)
"Salt + Stone is the perfect place for lunch, after work drinks, dinner, brunch, and private events, dine-in or takeout."Salt + Stone is located on Assembly Row and close to downtown Boston, they pride themselves on their vibrant atmosphere with an extensive bar and two outdoor patios. Definitely, a restaurant to keep in mind as the weather gets warmer.
Sogno (304 Cambridge Rd., Woburn)
Self-described as the place to gather with family and friends over a delicious meal, Sogno is inspired by Italian culture, history, and hospitality. They offer a wide selection of cocktails, margaritas, and wines, and brag about their entrees inspired by all different regions of Italy.
At Sophia's Grotto, the cobblestone patio is tucked away inside a courtyard so you can enjoy your Italian meal removed from the hustle and bustle of any main streets.
"They have a phenomenal outdoor patio, far from the street, which is spacious, cobblestoned, and surrounded by trees and fairy lights. The food is fantastic as well. The whole experience is a treat."

— Anna K., Jamaica Plain
Stephanie's on Newbury is located on one of Boston's most popular streets, which makes it a great place to grab a meal during a day of shopping. The restaurant specializes in New American patio dining. Reader Preston R. from Back Bay said he appreciates that they don't use up resident parking spaces to give a great outdoor dining experience.
Temazcal (Multiple locations)
Offering elegant seating, authentic Mexican food, cocktails, and a transporting experience. The Temazacal "captures the essence of old-world Mexico with a contemporary twist," reads their website. Their outdoor seating is fully covered and equipped with deck fans and hanging lights.
The Fours (Multiple locations)
The Fours has two locations, one in Quincy and one in Norwell. However, this restaurant was voted to have one of the best outdoor dining scenes in Greater Boston for its Quincy location. They have classic wooden table seating with umbrellas in a spacious patio. "A neighborhood staple" in Quincy, The Fours has an extensive American food menu and "warm, friendly" atmosphere.
"The outdoor patio is part of a small pocket park."

—A reader from Quincy
The patio at this Boston mainstay was among the most recommended by readers who said they loved getting classic New England fare and taking in some historic Boston sights.
"Lovely outdoor set up with same wonderful cuisine as indoors with no worry about COVID. 5 stars!"

— Kathleen H., Middleton
"It is so charming. I love looking around and seeing the Boston skyline."

— Kim A., Lynnfield
"The patio is set up perfectly right out front of the historic Oyster House and it's bustling with activity, right on the Freedom Trail."

— Greg B., Lynnfield
Urban Hearth (2263 Massachusetts Ave., Cambridge)
Urban Hearth values ingredients, craft, service, and community. "Serving creative, handcrafted food in a convivial and comfortable space is what we do best," their website reads. Reviews rave about their hospitality and quality, from their food to their wine list, with many excited to go back.
Viale (502 Massachusetts Ave., Cambridge)
Viale serves seasonal Mediterranean dishes as well as wood-fired pizzas and pasta. The restaurant is currently raising funds for Ukrainian relief to support the family of one of its servers so you can come by and order a drink to support the cause.
Fabulous oysters and martinis! Takes your mind off the traffic zipping by.

— J. Greenwood
At Washington Square Tavern, the beers and wine are free flowing, which makes it a perfect spot for a bite to eat with friends on a warm evening.
"Covered outdoor dining, heaters for every table, and great food and wine!"

— Rachel, Brookline
This hotel and restaurant is a hidden gem that offers an extensive food and drink menu, according to readers. Winthrop Arms calls itself a casual dining experience offering pub tables and flatscreen TVs.
"The ambiance is a throwback in time. The outdoor dining area is steps from the ocean offering a most comfortable dining experience during late spring, summer and early fall. If the breeze is right you can smell the ocean. The ocean aroma is a great compliment to the delicious seafood dishes."

— Bob D., Winthrop
Dinner with a view is guaranteed when you visit the patio at Woods Hill Pier 4, where readers say you can enjoy a great meal alongside a spectacular view of the city.
"The food and drinks are excellent, especially the frosé! The patio is very roomy. I think it's the best view in Boston looking over the water."

— Karen, Atkinson, N.H.
"Outdoor dining at the end of Pier 4 in the Seaport. Need I say more? It feels like you are literally eating on the water. Not to mention the food is great as well, although it is not cheap. Great, special occasion spot!"

— Conor, South Boston
---
What's the best restaurant for outdoor dining in Greater Boston?