Readers Say
These are the best sushi restaurants in Greater Boston, according to readers
Including the top 5 reader-recommended spots.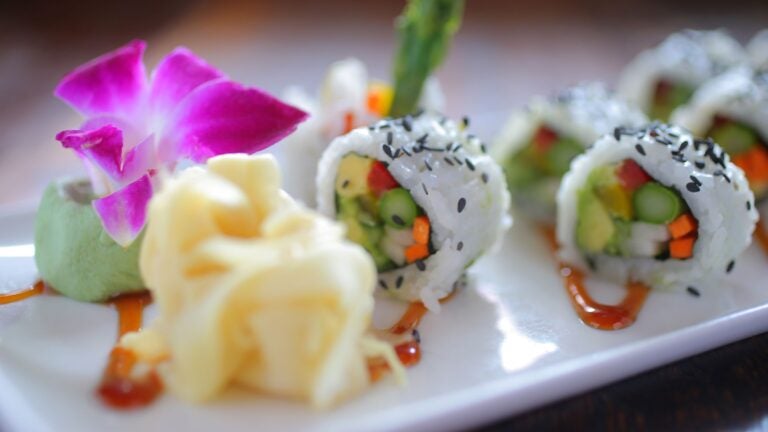 Sushi is always a delight particularly in the summer. Whether you choose a standard California roll or something more adventurous like eel and cucumber, Boston's sushi scene does not disappoint.
We asked for your favorite sushi spots around Greater Boston, and nearly 100 readers responded naming 46 restaurants. The most popular recommendation was Fuji, the Quincy-owned sushi restaurant from JP Fuji Group with several locations and a growing empire, taking 10% of the vote. Other favorites included a range of options from upscale eateries like O Ya to the spicy tuna rolls at Market Basket.
Here's a countdown of the top five sushi restaurants that received the most votes, plus a detailed map that includes all 46 recommendations.
5. FuGaKyu Japanese Cuisine
This elegant Japanese restaurant, which earned 6% of votes, has locations in Brookline and Sudbury, and guests can sit down in private dining rooms to enjoy their meals. Their menu includes both traditional and modern dishes, while their sushi bar serves items like the FuGaKyu boat, an assortment of sushi, sashimi, and maki. According to Kathy M., "The sushi here is bar none the best in Boston, and I have tried them all. Ginza in Chinatown came in as a close second, but the wide variety of really flavorful sushi items on the menu at FuGakYu makes it the best. It also has the best atmosphere of any of the sushi restaurants—private tables, a fountain, and a lunch buffet."
1280 Beacon St., Brookline; 621 Boston Post Road., Sudbury
4. O Ya
An acclaimed and inventive dining experience in the Leather District, O Ya delivers on unique and upscale cuisine. With sleek settings, the restaurant, which also took 6% of votes, is run by James Beard Award-winning chef Tim Cushman and restaurateur Nancy Cushman. They serve a nightly omakase dinner, a chef's choice menu of 20 courses, with a variety of nigiri, sashimi, and cooked dishes. To complement these beautifully crafted plates, choose a drink from their extensive sake and wine list. Brian G. from Medfield said, "Authentic. Lovingly crafted. Great ambiance. Wonderful staff."
9 East St., Boston
3. Super Fusion Cuisine II
When you're looking to experience the art of sushi in informal digs, look to Super Fusion Cuisine II in Watertown. Readers praised a few items in particular, such as the baked salmon maki, the Watertown maki, and the double toro maki, noting the fresh flavor and high quality of the fish. Super Fusion tied with FuGaKyu and O Ya with 6% of votes. David C. of Brookline said, "Chef Sam [Huang] is obsessed with fish. Literally, his phone is full of beautiful photos of fish as he negotiates with sellers. He is outstanding at his craft and widely respected across Boston as a sushi chef—but instead of opening a fancy place, he opened a relatively understated place in Watertown next to a cigar shop. A true hidden gem with an incredibly loyal staff that has stuck with him for years—for good reason."
54 Mount Auburn St., Watertown
2. Cafe Sushi
Nestled in Cambridge is Cafe Sushi, a simple spot that serves up creative concepts. It's no wonder that this eatery garnered 8% of votes. See the summer vegetable roll, which is topped with tomato, truffle oil, and balsamic, or look to "The Cheyo," which arrives with salmon, miso-glazed broccolini and pineapple, topped with avocado and roasted red pepper. Kevin W. from Cambridge applauded their lunch deals and said that they serve "the best sushi" he has ever had. Meanwhile, Billy from Harvard Square said, "This is hands down the best sushi in Boston."
1105 Massachusetts Ave., Cambridge
1. Fuji Restaurant
The JP Fuji Group has a number of restaurants around Greater Boston serving up innovative sushi and craft cocktails. Readers were especially delighted by the Fuji at Ink Block location, but you can also try visiting their spots at High Street Place, Kendall Square, and Quincy, just to name a few. Enjoy their sushi boats, including variations like the scorpion, the dear hyung, and the prism dream.
With enough variety of sushi to satisfy both novices and connoisseurs alike, Fuji ensures that you will go on a journey when you enter their restaurants. Natalia A. from the South End said of the Ink Block spot, "We always order lobster rangoons to start, as well as the red crab California maki (fancy take on your traditional California roll). We also get the Miss Waldorf and the Queen's roll if we're feeling fancy! The Queen's roll is the best bite in Boston — caviar, wagyu, and spicy tuna. You simply can't go wrong with this splurge! We love Fuji because of the wide variety of makimono and noodle dishes they offer, as well as the freshness of their fish. They also offer a delectable menu of nigiri and sashimi. A must-try in a convenient and fun location!"
Multiple locations
Full list of reader-recommended sushi restaurants in Greater Boston
Sign up for The Dish
Stay up to date on the latest food news from Boston.com.