Readers Say
Will Bill O'Brien turn around the Patriots' offense? Here's what Boston.com readers say.
O'Brien was picked to be New England's next offensive coordinator on Tuesday.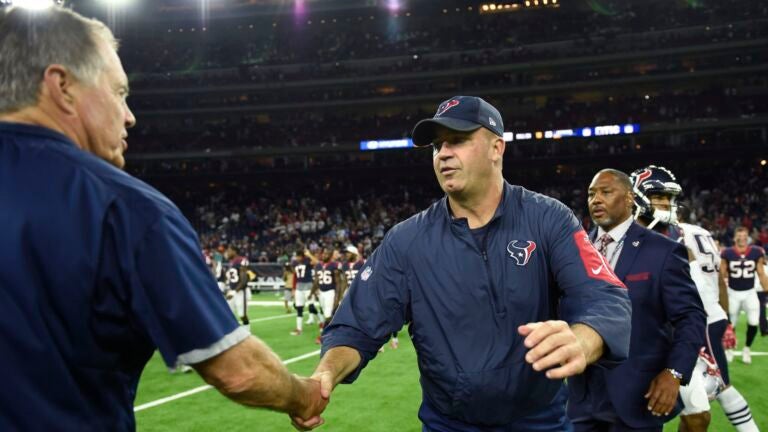 The New England Patriots officially announced Thursday that Bill O'Brien would be returning to the team next season as offensive coordinator.
O'Brien previously made it to a Super Bowl in the same position with the Patriots and also found success away from New England. But given that the Patriots' offense was a mess last season, we wanted to know what you thought about the hire, and if O'Brien is the right person to fix the offense.
We asked two poll questions: "Should Bill O'Brien be the new offensive coordinator" and "Who is your ideal pick for the position?"
We received more than 600 responses to our poll, the majority of whom agreed with the hiring of O'Brien (89%), and that he was their ideal pick for the position.
Our voting list of suggested hires included O'Brien, Nick Caley, Shawn Jefferson, and Keenan McCardell, as well as an "other" option. Most respondents (83%) chose O'Brien as their ideal pick.
After O'Brien, the top two selections were Caley and Jefferson, who received 24 and 21 votes, respectively.
The "other" option received 40 votes with quite the range of responses from readers. Some wanted to continue to search within the Bill Belichick network and try to hire people like Josh McDaniels, Tom Brady, and Adrian Klemm, while others wanted to move away from the current coaching tree.
One respondent didn't provide a specific example but just said, "someone other than a Bill disciple." Another stated they wanted to see someone picked out of the Sean McVay or Kyle Shanahan coaching trees.
Other ideas ranged from Eric Bieniemy, the current Chiefs offensive coordinator, to just sticking with Matt Patricia. One person said they'd like to see Sean Payton calling the plays, but given his pursuit of a head coaching position that would be unlikely.

The "other" write-in submissions that received the most votes was former Cardinals head coach Kliff Kingsbury, who was a Belichick draft selection in 2003.
Should Bill O'Brien be the new offensive coordinator?
Yes
No
Who is your ideal pick for the position?
Bill O'Brien
Nick Caley
Shawn Jefferson
Keenan McCardell
Other
We also asked readers if they trusted Bill Belichick, Bill O'Brien, and Mac Jones to turn the offense around, and the responses varied among readers. Ahead, see a sampling of reader responses.
Some responses have been lightly edited for clarity.
Do you trust Bill Belichick, Bill O'Brien, and Mac Jones to turn the offense around?
Some readers are confident the current group can turn things around.
"Yes, O'Brien has had success before here and other places with good offenses, and the Patriots have more skill than they are showing."
"I think this is going to make a big difference with turning the offense around."
"Yes. It can't go further but the other direction anyway."
"Indeed, this team needed a real OC with a proven track record. O'Brien was pretty good 10 years ago with [the] Pats and now has even more experience and knowledge. [It] can't be any worse than what we've seen from Patricia and Judge. [W]elcome back, Bill."
"Actually, I do. I think Jones can get the Pats back into the playoffs, time will tell. One thing is for sure, there is a lot of veteran QB talent out there, including Tom Brady, and Aaron Rogers, so the Pats could move on. I just am not sure if it's the right move."
"95% chance they will do better (i.e. make the playoffs), but in terms of being Super Bowl caliber, 15% chance unless a key acquisition or two are completed."
Some readers though, don't have the same confidence in the offense as its currently constructed.
"They need to revamp their WR group and add another receiving TE or the hire of O'Brien won't make a difference."
"Not alone. They must have additional OL help and coaching and a #1 receiver."
"No. Mac is average QB."
"No. Mac ain't the guy."
"Not Mac Jones."
"I'm starting to lose confidence in Bill Belichick's choices. Bill O'Brien was nothing special, rather dull, when running the Patriots offense before. He is out of his league then. Maybe he's grown, but I doubt it. We need a great OC. Not a run of the miller."
"I trust Bill O'Brien and Mac to turn the offense around but after all these years I am losing faith in Bill B's selection of coaches and what is going to happen with Jerod Mayo who should be the Defensive Coordinator. The draft selections the last couple of years have been very good while the prior ones were fair to poor."
"Yes, provided they also hire a real good OL coach."
"Yes, if Bill lets BOB hire the OL guy he wants and do what he wants"
"I hope it works. My concern is rehiring coaches that were here with the GOAT. When coaches (Josh McD, and so on) went elsewhere, they were not very successful. What did their coaches win without Brady? Nothing. When Bill O'B was here they had the GOAT and they didn't win. Not blaming Bill O'B, but it is a fact they didn't win with Bill O'B as OC. His time in Houston was hit and miss. He had Watson, whom at that time was a good QB and they didn't win. The Houston drafts overall were not very good. Google the Houston drafts. If they didn't win when they had Brady, they are going to win with Mac? I'd like to see them hire someone who was successful without Tom Brady."
Get the latest Boston sports news
Receive updates on your favorite Boston teams, straight from our newsroom to your inbox.