Readers Say
Amid a pandemic and a flood, Bob Slate Stationer endures as a reader favorite
"Gorgeous stationery, unrivaled pen collection, knowledgeable staff. What's not to love?"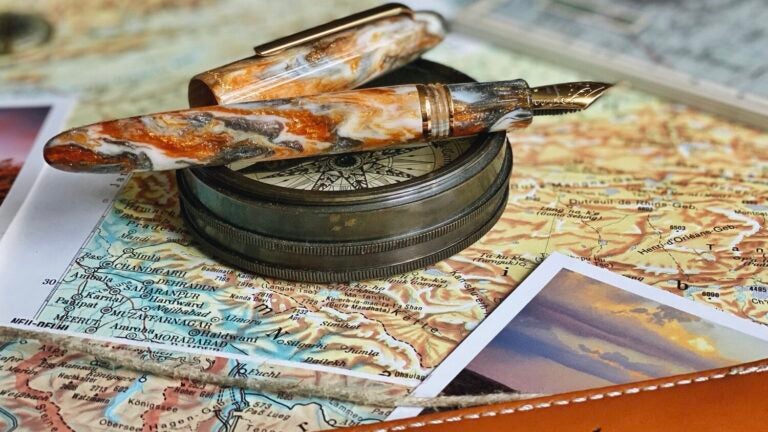 Bob Slate Stationer is no stranger to weathering tough storms. The long-standing stationary store has been serving the people of Greater Boston's stationary needs since 1930 and in that time has survived everything from the Great Depression to its most recent battles — the ongoing pandemic and a building flood that threatened to shut the store down just as it was ready to get back on its feet.
At the Harvard Square store, you'll find stationery, fountain pens, crafting or gifting materials, calendars, and more. Despite the challenges they've faced since the pandemic, owner Laura Donohue said they owe their success to their dedicated community.
Bob Slate Stationer was named by many Boston.com readers as a local favorite that stood out as an integral part of the community.
"Since 1930, Bob Slate has been serving the Cambridge community and has withstood the test of time. While reinventing itself and modernizing its inventory it also carries the staples that any student, professor, or consumer needs," said Lisa D. from Barnstable. "A friendly and very knowledgeable staff stands at the ready to help with fountain pens, personalized stationery, gift-wrapping, or holiday items. Whatever you might need, Bob Slate is there to help! It is not to be missed!"
A regular customer before she bought the store from the Slate family in 2011 after their retirement, Donohue knows what it's like to feel welcomed into the store.
"I was a devotee of the store since I was a student at Harvard and I always came there for not just my supplies, but just for a comforting experience," she said. "I like to think of it as a community institution where people come in and see pretty things and just enjoy themselves. For some reason, it is a great comfort to them to be able to come into the same place for such a long time and see that it hasn't really changed that much."
Since she took over, Donohue has made small upgrades like highlighting new inventory and changing displays, but for the most part, she's set on keeping its classic charm to give customers a "sense of consistency and tradition." It remains a place to indulge in the "art of written communication."
"Gorgeous stationery, unrivaled pen collection, knowledgeable staff," said Sabina G. from Arlington. "What's not to love?"
The pandemic and lockdowns that followed came as a blow to the store, which was forced to shut down along with many other non-essential businesses in the spring of 2020.
"It was a panicky moment when we heard that Harvard was closing down because Harvard never closes for anything," Donohue said. "We just closed down and waited and it got just more tense and stressful by the minute."
Without an established online store, Donohue had to rely on financial assistance from the city of Cambridge, the state, and her own personal savings to make sure the store would stay afloat until they could reopen for in-person sales again. Then, just as lockdowns had lifted and campuses had reopened, bringing back foot traffic to the store, disaster struck again.
Donohue and her employees came into the store one day in October 2020 to find that a water leak in the building had flooded the store damaging much of their inventory and technology.
"That was actually the day I almost gave up," she said. "I thought, I just can't go through this, too."
The store's landlord allowed them to move into an empty space next door, and Donohue and her staff began the process of moving, one carton at a time, to the new location. Because of the pandemic, it was difficult to get the necessary repairs done as quickly as she would have liked, but Donohue credits her staff for their efforts in keeping the place running smoothly for customers.
Her fellow business owners in Harvard Square, who like many local businesses also faced a difficult year, were also incredibly supportive, said Donohue.
Much of the recovery effort has been made possible by donations from customers. After the flood, Donohue turned to GoFundMe to raise money for the store. Bob Slate Stationer is now back in its original location, but recovery is still ongoing.
Do you know a local GoFundMe to support this year?
"We were left with a very substantial bill, and [I] got on my knees with all humility [to] beg for the assistance of our loyal fans and [to] just see if they can help," Donohue said. "I was just absolutely amazed and so grateful and so appreciative of how the customers just dove right in."
For Donohue, the last two years have only highlighted the importance of having a store like Bob Slate Stationer. Many people rediscovered their love of writing and crafting over the pandemic and having a brick and mortar stationery store meets a need some didn't know they had. When looking for specific stationery, Jessica V. from Arlington said the store is the first place she looks.
"Bob Slate's is filled to the brim with quality stationery products from greeting cards to hard-to-find notebooks like the 5.5×7 quad ruled one with green-tinted pages. They have a vast pen selection from everyday pens to gifts," she said. "The staff is very knowledgeable and invested in helping customers find what they are looking for and will take special orders. Highly recommended for stationery lovers and office supply aficionados alike."
Bob Slate Stationer will have its doors open to anyone rediscovering or experiencing the "joy of writing" for as long as it can, said Donohue.
"I'd like to do what I've been doing for 10 years," Donohue said. "I do believe that what we are is a local cultural institution and we need to stay here and be here and provide that experience of walking in the door."
---
This store is one of the dozens of local businesses recommended by readers as among the best in the Greater Boston area. See Boston.com's list of local businesses and nominate your own here. Find the businesses listed in the interactive map below.