Readers Say
Boston.com readers react to Nantucket's topless beach proposal
"It's high time we got over this ridiculous taboo."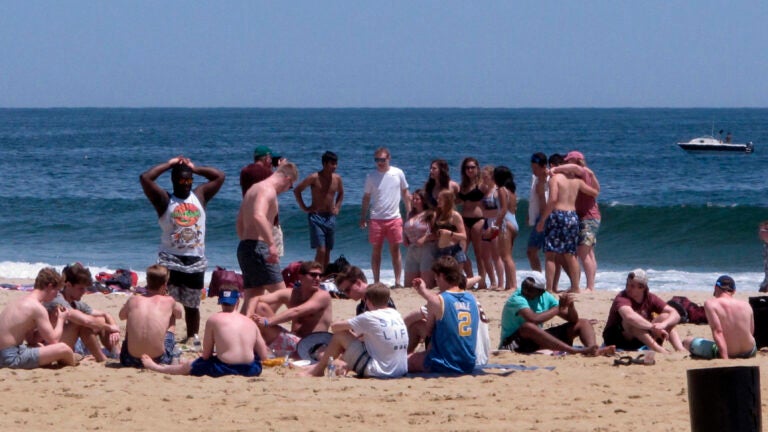 Should Nantucket beaches go topless next summer, most Boston.com readers say they won't be shying away.
Currently, it's illegal for women to be topless on any Massachusetts beach, but that could change on the island. In an effort to "promote equality for all persons," Nantucket residents voted in favor of a "Gender Equality on Beaches" bylaw amendment proposed by Dorothy Stover, a seventh-generation Nantucketer, which would allow anyone to go topless on any town beach. The measure still requires approval by the state's attorney general.
We asked readers how they felt about the possibility of the island permitting all beachgoers to go topless, and the majority of respondents, or 75%, said they would visit those beaches. Many readers agreed with the reasoning that men and women alike should be allowed to be barechested.
"I don't see it as a problem at all. The beaches are already topless, for men. Why is the same right for women not permitted if they wish? Plenty of men choose to wear a shirt, or not, on a beach," said Gwen K. from Brighton. "Women should be able to exercise the same privilege. Any novelty would be short-lived."
Would you visit a topless Nantucket beach?
Concern for young children was the primary reason named by those who said they wouldn't go to any topless beaches. M.K. from Rhode Island was one of several readers worried that topless beaches would make the island less "family-friendly."
"I do not think it should be topless because families may be uncomfortable bringing their children to the beach," she said. "I'm a woman and I'm all for equality, but, let's face it, breasts are still considered more sexual than utilitarian in the U.S. I think that it could especially be problematic for those who wish to bring their children to the beach for a relaxing day of sun and fun. Designate one beach if you want, but we don't need all of Nantucket to become bare-breasted."
Some readers acknowledged that they likely wouldn't feel comfortable going topless themselves, but that wasn't reason enough to limit others from doing so if they're comfortable.
"I would go to a beach on Nantucket, but I would not be topless myself," Nancy from Avon said. "I think it should be allowed, it isn't that big of a deal."
Below you'll find a sampling of responses from readers sharing why they think Nantucket should, or shouldn't, allow its beaches to be topless.
Some entries may be edited for length and clarity.
Would you visit a topless Nantucket beach?
Yes
"All public beaches should allow topfreedom for everyone. All humans have breasts that are made of the same parts. It is sex discrimination to assume someone's gender simply by the shape of their chest. It is also silly to think that only female chests are sexually attractive to some." — JB, Beverly
"I would go to the topless beach, but I would not go topless. But, if others want to, then what's the big deal? For people who would be offended, there is a simple solution. Don't go to a beach that permits people to be topless." — Vinca, Worcester County
"It's high time we got over this ridiculous taboo. …" — Jeff, Norwell
"Men are topless all the time, they have breasts, nipples, etc. Why can't a woman if she wants to? It shouldn't be illegal for women to go topless if men all around are going topless. Let's support people being comfortable as they are." — Ang
"They should because it really doesn't make sense that one gender is breaking the law and the other is not while each doing the same exact thing." — Rick R., Stoneham
"Prevailing restrictions on topless beaches are a clear indicator that the Puritan influence never really abated in New England. The initiative for toplessness on Nantucket is about many things, including improving gender equity, and it may ideally help to dilute the pernicious associations of women's bodies with sexual objects. Listen to the women on this one…again. They know what's best for themselves." — Scope, Roxbury
"Everyone has nipples (barring dermatological issues). Saying some nipples are less appropriate to be seen on a beach than others based on gender has no logical consistency." — Allison M., Dorchester
No
"This is inappropriate for a 'family' beach. For those who wish to go topless, there can be designated beaches while still preserving some beaches that are suitable for a family with small children." — Phyllis M., Pawtucket
"Too many tourists will be crowding the beaches just to see topless women." — Kathleen, Boston
"Nantucket thrives on family tourism. That will all come to an end if the beaches become topless. People won't want to bring the kids there. It will ruin the revenue the businesses get from tourism." — J
"I get the concept but not in practice since not all behave as expected and anyone can snap and post. No expectation of privacy." — A, Boston
Boston.com occasionally interacts with readers by conducting informal polls and surveys. These results should be read as an unscientific gauge of readers' opinion.
Boston.com Today
Sign up to receive the latest headlines in your inbox each morning.