Readers Say
Boston.com readers share their extraordinary encounters with sharks
"All we could do was curl our toes hoping they were not a snack."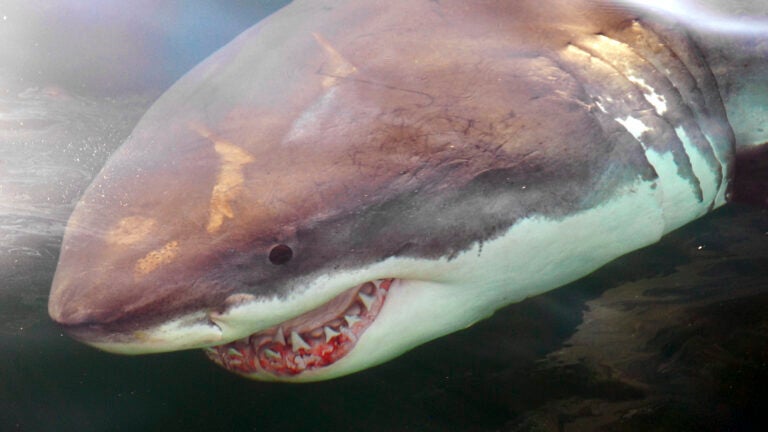 The New England summer also means that sharks are returning to its shores.
Boston.com recently asked readers if they had any shark encounter stories as initial sightings have started to pop up for the season.
Have you ever encountered a shark?
We heard from more than 30 readers who shared their own sightings that included fin-featured fishing expeditions to sharks dropping by while surfing and swimming. Ahead we share the top eight shark encounters from readers.
Responses may be lightly edited for clarity.
I looked and saw a dorsal fin
"Swimming at Nauset Beach, post Labor Day. The water is perfect and a dozen or so people line the shore (compared to thousands that would be found there a month earlier). I go in for a dip. The water temperature is a little chilly, so I return to my chair. A guy comes over to me and says, 'I was going to say something but there was a shark right where you were swimming a couple of minutes earlier.' As if on cue, I looked and saw a dorsal fin 100 feet or so offshore. It was positively exhilarating."

– Matt O., West Roxbury
What is that? What the heck is that!?
"I was surfing hurricane waves in Marshfield a few years ago in the fall with three other guys. The waves were amazing and we were all having fun when the tip of a fin rose out of the water about 20 yards away from us. Someone yelled 'What is that? What the heck is that!?' The fin rose fully two feet or more out of the water as it approached and we all paddled like crazy to the shore.

"There were a few other surfers just arriving at the beach who witnessed the whole, mad scramble and I remember saying, 'Did that really just happen?' as I panted for breath. Someone pointed out to the lineup and said, "It's still happening!' When I looked where he was pointing, the fin was slowly moving around the lineup. We watched as it turned for open water and swam away with the fin slowly receding until it vanished completely.

"We spent some time getting our nerves in order and after deciding it was gone and could have attacked had it wanted to, we paddled back out for more waves."

– Jessie M., Barnstable
The shark's eye is something that will never leave my memory
"This was Short Beach [in] Nahant back in 1994. I was 11 years old and it's a day I will never forget! It was August and a very hot day, and as I walked into the water and got to a point where the water was at my knees, I saw a 4- to 5-foot shark swim mere inches in front of me. I never ran so fast in my life as I did that day! The shark's eye is something that will never leave my memory. Almost 30 years later, and I'm still petrified of the ocean."

– GG, Reading
We saw a shadow under us
"Sitting on our surfboards near the river mouth at Ogunquit Beach, Maine. In 6 feet of water we saw a shadow under us, we thought it was a ray, but it was too long, about 6 feet in length. We looked at each other, whispered 'shark' — all we could do was curl our toes hoping they were not a snack."

– Steve G., Ashland
We saw an active attack of a seal!
"Last year I was off the coast of Chatham on a fishing charter. The knowledgeable captain was just saying how the sharks will wait off of Monomoy Island where the seals are. Suddenly off our bow about 100 yards we saw an active attack of a seal! It was amazing!"

– Tony
He wasn't expecting to catch anything
"Some friends and I chartered a fishing boat from Portland, Maine and the mate used one of the fish we caught as a bait and put it on a line off the back of the boat. He wasn't expecting to catch anything.

"Fifteen minutes later we saw a thresher shark breach about 30 feet out and it was hooked! We got it reeled in right up to the side of the boat for a closer look before releasing it, and it was massive. Twelve feet, with half [of] that being the 'tail.' No sooner did the mate warn us of the powerful tail did it come up swiftly and slam the edge of the boat putting us all on the back of our heels. The creature then snapped the line and was back on its way out to sea."

– Robert K., Arlington
There were literally dozens of sharks feeding on the whale
"I remember commercial fishing years ago out of Portsmouth, N.H. We were about 60 miles off shore and when we came across the corpse of what I believe was an enormous humpback whale. There was no way of knowing how it had died but as we got closer to it, we noticed a ton of movement/splashing surrounding it. Sure enough there were literally dozens of sharks feeding on the whale.

"They had zero fear of our boat and were focused 100% on filling their bellies. Many of these sharks were well over 12 feet with several lifting their heads completely out of the water to latch onto the whale's blubber. I grabbed my camera and managed to get some amazing pictures. It was an experience I'll never forget!"

– Brad, Hampstead, New Hampshire
I snapped my right hand down..and grabbed the shark's tail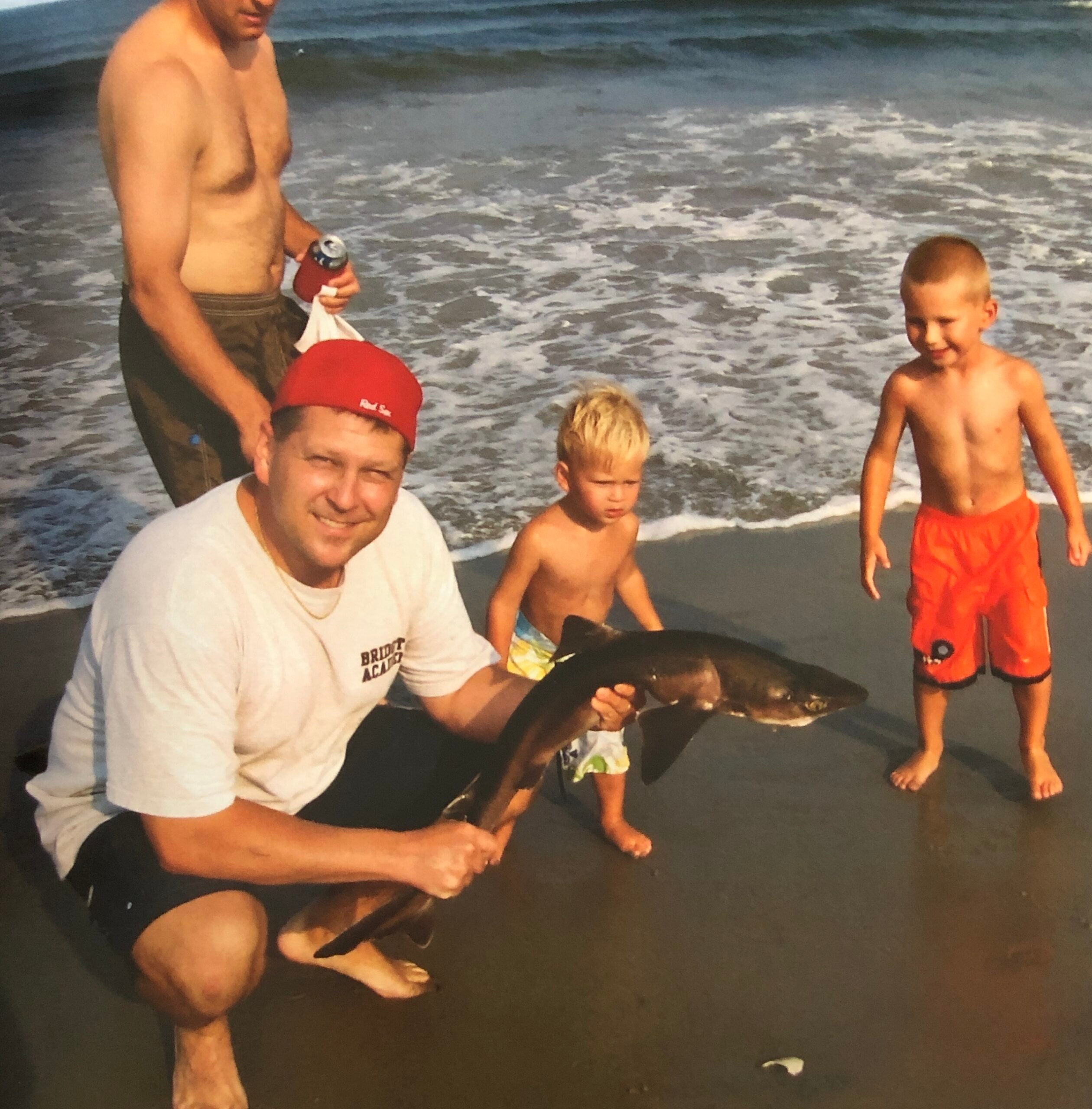 "Over the course of a few decades, I acquired some knowledge of sharks. Never fear, always respect.

"Several years ago, on a beautiful summer afternoon, my wife and our three little boys got in our Jeep and drove to Sandy Point on Plum Island…Luke, Mikey and Johnny loved to find sand dollars, swim, scream, and run around. On this day, their cousins Zach and Samantha were there with their parents, Wendy and Big Mike. It was a great day for fun and sun.

"At some point I was in the water with Luke (who was 5) and I heard screaming. I turned around and two women…were wildly waving their arms. … I turned and looked at Luke and saw a dorsal fin circling around him. I knew that it was not a shark of enormous size. But it was a shark and Luke weighed 40 pounds.

"'Luke,' I screamed. 'Out of the water. Now!'

"For once, I got no argument. Luke – oblivious – began leaving the water. The shark was behind him, those women were really screaming now and a small crowd was along the waterline. I slid toward Luke and the shark appeared to be moving lethargically. I got between Luke and the shark, and the shark swam through my legs and circled back around me. … I snapped my right hand down as fast as possible and grabbed the shark's tail. Knowing how the shark would react, I yanked upward as fast as possible and made sure to keep it as far away from me as my arm would allow.

"… My wife took out the camera, Big Mike, Luke, and Mikey closed in and I got the greatest photo in my collection. I put the shark back in the surf, pulled it back and forth, forcing water into its gills, and eventually it snapped and swam off. I then celebrated with a beer — or 13. Shook a few hands. Ate a sub. Played wiffle ball.

And although I've never actually heard the following words, I know they were said at some point: Oh yeah? My dad barehanded a shark. I saw him do it!"

– Michael R., Bradford
Boston.com occasionally interacts with readers by conducting informal polls and surveys. These results should be read as an unscientific gauge of readers' opinion.
Boston.com Today
Sign up to receive the latest headlines in your inbox each morning.