Readers Say
Boston.com readers share their favorite fall movies and TV shows
It's the perfect time of year for some of our all-time favorite movies and shows.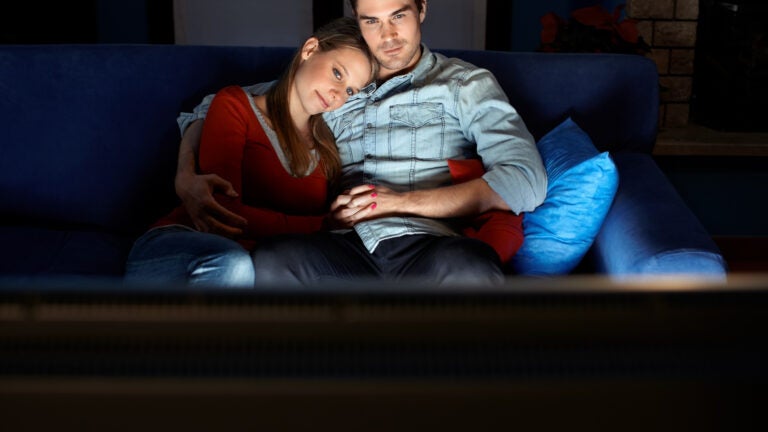 The leaves are turning, the weather is getting cooler, and the time to hibernate on your couch is fast approaching. It's fall, which means it's time to cozy up with a pumpkin spice latte or a warm cup of tea and put on a movie or TV show.
There's something undeniably welcoming about the season and all that it brings, which is why it's the perfect time for some of your all-time favorite fall movies and shows.
There are more than enough good options, new and old, to go around. Depending on your taste, you might opt for a spooky season favorite like "Hocus Pocus" and "Stranger Things" or the dipping temperatures might remind you of your favorite back-to-school throwbacks like "Gilmore Girls" and "When Harry Met Sally."
Hollywood, however, has been nothing like the picture-perfect fall backdrops of many classics.
After the writers' strike came to an end at the end of September, and with the SAG strike still ongoing, many movies and TV shows have been delayed or pushed back.
But readers aren't too bummed out about it. Instead, they're excited for the few shows expected to be released this fall.
"I'm really looking forward to 'Napolean' by Ridley Scott," reader Frank L. from West Roxbury said.
Our readers have spoken and have shared their favorite fall movies and TV shows with us. Check them out below:
"Poison Ivy II: Lily" (1996)
"Classic spooky movie series starring Alyssa Milano."

– Anonymous reader
"The Trouble with Harry" (1955)
"I happened to see 'The Trouble With Harry' in the Fall as a teenager and my thoughts return to it every year around this time. If you've ever wondered what a Hitchcock comedy would look like, this is it! While not one of Hitch's masterpieces, I keep returning for the film's offbeat charm, quirky characters, and spectacular Vermont scenery! A bonus – seeing Shirley MacClain in her debut role as well as a very young Jerry Mathers."

– J.S., Manchester, NH
"The English Patient" (1996)
"The English Patient" is one of my favorite movies of all time. As a reader, I almost always default to the, "But the book was better than the movie". For the English Patient, they were both equally as good. 'The English Patient' novel was riveting and it reminded me of another WW2 book, Penelope Lively's "Moon Tiger," with a woman dying in a hospital bed recounting her love of a British tank commander. (And of course we have Paul Harding's great Pulitzer Prize winning novel 'Tinkers', which has it's protagonist dying in a hospital bed in his living room on the North Shore of MA). What a collection of actors in "The English Patient". Will Dafoe, Ralph Fiennes, Juliette Bincohe, Kristen Scott Thomas. I welled up in tears as Lazlo (Fiennes) carried Katharine's body (KS Thomas) from the cave. I choked up too as Lazlo finger kicked the glass morphine containers toward Hana (Binoche) as he lay in pain badly disfigured with burns."

– Frank L., West Roxbury
"The Masked Singer" (2019-Present)
"It's fun to try to figure out who is the singer underneath the costume based on clues, etc."

– Karen P., Framingham
What's your favorite fall movie or TV show?