Readers Say
'Don't bother flying!': 10 readers share their recent airport horror stories
"It was exhausting and extremely frustrating. I won't be making any more plane trips anytime soon!"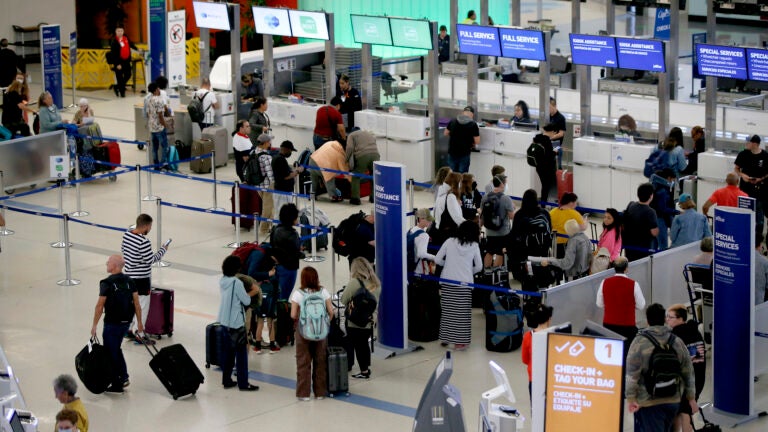 If you've flown out of any major airport in the U.S. in recent weeks, there's a good chance you dealt with last-minute delays, cancellations, or frustrating communication with your airline of choice.
Americans are more eager than ever to travel, but while airlines have welcomed back the millions of travelers buying tickets, they apparently aren't quite ready to get them to their destinations with no hiccups. Over 1,400 flights were canceled nationwide over Memorial Day weekend alone; this July 4th weekend, thousands of flights were delayed or canceled as airline traffic returned to pre-pandemic levels.
The Transportation Security Administration screened nearly 2.5 million passengers at airport security checkpoints Friday, the most since February 2020.
Delays have mostly been due to industry-wide staffing shortages or bad weather. JetBlue spokesperson Derek Dombrowski told Boston.com that the airline decided in April to "reduce flying by more than 10% this summer" in order to "reliably operate our schedule with our current staffing and other constraints on the national aviation system."
"The bulk of recent cancellations and delays have been due to lengthy air traffic control delay programs that result from weather and other ATC staffing issues," he said. "With 70% of JetBlue flights touching the congested weather-prone northeast corridor, JetBlue, in particular, has felt these impacts and downline delays."
Despite the reduced capacity, Dombrowski said JetBlue had a "sufficient number of pilot and inflight crews to operate our schedule in June. For example, in June we had 16% more pilots than in June 2019 on 8% less flying hours."
Delta, another airline named by readers who answered our poll, said they "remain focused on recovering resiliently when external factors like weather and air traffic control programs affect our operation."
"Canceling a flight is always our last resort, and we sincerely apologize to our customers for any disruption to their travel plans," Drake Castaneda, a representative for the airline, said. "Delta automatically rebooks customers to the next best available itinerary — additional changes to flight plans can be made directly through the Fly Delta app or on delta.com."
Have you experienced any recent flight cancellations or delays at Logan Airport?
Would you reconsider any travel plans if the travel disruptions continue?
Given the current state of airline travel in the country, some readers say they're seriously reconsidering flying until the industry gets a better handle on the challenges they're facing.
"June 17, Delta canceled my flight without notifying me in any way. Showed up at Logan to find the flight canceled and the help desk options were a QR code or three phones on the wall. Could only get a new flight 24 hours later and missed a day of my best friend's bachelorette," Erin M. of Waltham said. "Would seriously consider extending your trip to account for disruptions — or drive!"
Below you'll find stories from 10 readers who've faced frustrating delays, cancellations, or lines while trying to travel through Logan Airport.
Some entries may be edited for length and clarity.
"Two days of frustration."
"Our flight to Greece by Delta on June 22 was delayed at first by five hours as we all waited to board at Logan. Then, Delta canceled the flight after waiting around. We were all sent home or to sleep on cots in the airport as the hotels were "limited," according to Delta reps. The next day, we returned to be delayed again for another two hours. The pilot for Delta was walking around explaining what was happening as the Delta reps were not helpful at all. It seems the pilots are as sick of this as passengers are. We finally made it to Greece after two days of frustration. We missed a night at our already-paid hotel and had to pay for Ubers to come to and from the airport four times. We won't be traveling again any time soon." — Nicole P., Medfield
"Two-day journey to get back from NYC with three cancellations, numerous delays, a $575 1-star hotel stay near JFK, and a round trip flight from JFK to JFK after flying over Logan due to 'weather' despite it being one of the nicest days in New England. Both Delta and JetBlue have provided no sincere apologies nor compensation for the two-day trek. Transparency around labor and pilot shortages could have allowed for better-advanced planning instead of the good 'ol weather excuses." — Andrei G., Boston
"5:30 a.m. flight to brother-in-law's wedding in Turks was canceled at 10:45 p.m. the night before. I was flying with my husband and three small children. I stayed up the entire night, did not sleep a wink, and got on a flight out of Worcester, an hour further away from my house to get there in time for the wedding. Paid three times the price for car service to get there. Seats were all crazy with little kids. Our return trip was just as bad. Stuck in Charlotte airport for seven hours, and the flight took off at 1 a.m." — Liz M., Beverly
"[Driving] will still be cheaper than flying and much less stressful!"
"My JetBlue flight from Logan to SFO on May 22 was canceled at midnight the night before my 8 a.m. departure. (No reason given.) I was making the trip to visit my 93-year-old mother while my brother was out of town, so I had to scramble to arrange a caregiver to come in to be with her until I could get there. I couldn't reach anyone at JetBlue by phone or online until morning, and the website kept giving me error messages, so I couldn't rebook my flight.
I finally just booked a new seat myself on a JetBlue flight later that night through LAX (with a very long layover). When I finally reached someone on the online chat, they couldn't find another open seat and said they couldn't reimburse me for the difference in fares, since I booked the ticket myself—they just gave me a $200 credit and refunded my original one-way trip, but I was out an additional $400 or so!
When I got to the airport around 8 p.m. that night, I managed to get on standby for a direct flight to SF and finally took off around 11:30 p.m. — more than 15 hours after my original departure! It was exhausting and extremely frustrating. I won't be making any more plane trips anytime soon! In fact, my family will be driving from Boston to Toronto later this month. Even with the high gas prices, [driving] will still be cheaper than flying and much less stressful!" — JS, Winchester
"Arrivals was a nightmare."
"Forget the flights! Just getting to Logan to pick someone up is a nightmare. At MIDNIGHT on Tuesday, June 28, I zipped to Logan in 12 minutes. Waited in a nearly empty cell phone lot. Then disaster ensued. My Google map said it would take an HOUR to go the one mile from the cell lot to Terminal B. After getting the one-finger salute from someone, I bailed. Exited the airport, looped around, and picked my friends up in the completely empty DEPARTURES section 7 minutes later. It was awesome. Will pick up in departures moving forward. Arrivals was a nightmare." — Jennifer R., Newton
"I have traveled for work for the last 5.5 years, and I've never seen it this bad."
"I fly frequently for work and have been pretty lucky in the past years to not have experienced anything too terrible regarding flight delays or cancellations. It seems to have only been bad recently.
My flight from Pittsburgh to Boston on Delta was canceled about 30 minutes prior to taking off. It was on a day when nearly 40% of flights in the region were delayed or canceled. The person at the gate said it was because there was no crew to staff the flight, but Delta recorded the reason as having been due to weather. I am not sure what the real reason was; the weather in both Pittsburgh and Boston was sunny and clear. Since airlines do not compensate for weather delays or cancellations, I did not receive any sort of compensation or miles for the inconvenience. I had to get a hotel and fly home the next day.
The next week, when I was flying from Miami to Boston, I was delayed for 4 hours. JetBlue gave me a $50 credit in my account to use for a future flight. It was nice of them to provide something for the inconvenience. The pilots had announced to us that they had come in on their day off and thanked us for our patience." — Kristina, Winthrop
"In the past three weeks, I have had to drive back home to Boston from Washington, D.C., and Pittsburgh due to flight cancellations. I have traveled for work for the last 5.5 years, and I've never seen it this bad. The airlines need to do more to incentivize employees to come back." — Brett, Hanson
"Our trip is now canceled."
"We were heading to a wedding in Portugal, Delta flight scheduled for 11:10 p.m. on Tuesday, June 28. After the plane arrived (late), we boarded an hour late. The pilot started the engine, and there was an issue with a valve in the right-side engine. After an hour on the tarmac, the plane headed back to the gate to have the temperature system reset. After refueling, the pilot started an engine, turned it off, and at 2:15 a.m., after sitting in the plane for 3 hours, he told us the flight was canceled and to deboard and go to the Delta counter to reschedule plans.
We decided to head home, arrived by 4 a.m., and spent the next 3 hours trying to rebook, but to no avail. Our trip is now canceled; we had to pay 2 nights hotel, which we are hoping Delta will reimburse." — Mark H., Stow
"I had my flight canceled by JetBlue because of technical problems on June 25. Everybody was on the plane ready to depart, and my flight was rescheduled for June 27. The same thing happened. Everybody was on the plane when they took everybody out and told those with connections to go reschedule our flight. I canceled my ticket and requested a refund. They lost my luggage, sent it to Orlando, and I didn't have any answer where it is. I was going to Brazil to visit my mom, she's in cancer treatment and I was very sad." — Natalia, Worcester
"24 hours later and my bag is still nowhere to be found."
"This all just happened [on June 28]. Flight from Amsterdam to Boston on Delta/KLM was delayed 3 hours due to a "crew issue." Flight canceled, and I'm on my own for a hotel with a hotel reimbursement offer. Check-in at 5 a.m. in Amsterdam, but the free upgrade from the previous flight is gone and I'm put back in the main cabin. Flight is good, with a number of empty seats due to many rebookings. The flight lands, and my bag is missing! Delta baggage staff basically have no idea where my bag is, and I submit the missing bag claim. Twenty-four hours later and my bag is still nowhere to be found. No updates in the FlyDelta. In fact, the app says my bag was taken OFF of the plane in Amsterdam when it should have stayed on!
Some of my most prized possessions are in that suitcase, including a keepsake that's been signed by several dozen if not over 100 famous DJs and a tribute wristband to my friend who passed away years ago. In addition, my friend's bag was misplaced by British Airways/Finn Air from SFO to Albania and he had to spend a week without all the stuff he packed!
Honestly, if this is par for the course for the summer then I say don't bother flying!" — Alex, Cambridge
Boston.com occasionally interacts with readers by conducting informal polls and surveys. These results should be read as an unscientific gauge of readers' opinion.