Readers Say
Here are the best bakeries in Greater Boston
When you're looking for croissants, cookies, and hand crafted pastries, visit these spots.
After a busy week, sometimes it feels like one of the best ways to catch your breath is to duck into a bakery, order a coffee and treat, and spend some time reading. In Greater Boston, there are many dynamic bakeries where you can spend an hour of your day, and we turned to Boston.com readers to learn about them.
We asked readers for their favorite bakeries, many of which are also cafes, and we heard back from over 700 people. They named 124 spots in the area, sharing stories of almond croissants that hit the spot and traditional cannoli filled with sweetened ricotta. The top reader recommended bakery is Butternut Bakehouse in Arlington.
"There's just so many senses that get tickled," Butternut Bakehouse owner Suzana Samad told Boston.com. "You walk in, and it smells great. You're presented with an abundance of choices, all the varieties of sweet and savory delights. And then you're welcomed with a warm greeting by our staff." She added, "It can really make your day."
Below, find our guide to the best bakeries in Greater Boston. Our top three spots are all immigrant-owned. We've also included a map that features every place that readers recommended, as well as a breakdown of what customers seek out when they visit a bakery. Readers also told us about national grocery and department stores, such as Whole Foods, Star Market, and Walmart, which we omitted from our list.
Readers told us what draws them to a bakery
We also asked Boston.com readers for the most appealing aspect of a bakery. Of the 726 readers who voted, 59% told us that they enjoy baked goods, while 22% said that they visit for the vibe. Thirteen percent go for the beverages, and 6% of polled readers said they are impressed by something else, when they're there.
Of the readers who voted "other," here are some features of bakeries that have drawn them in.
Hospitality: "The staff is amazing too. And they have a pay it forward program to allow community members with fewer financial means to get food there." —Anonymous; recommending Butternut Bakehouse
Savory items: "I also enjoy their chicken pot pies; they are delicious, as are their homemade soups." —Geraldine H., Everett; recommending Hi-Rise Bread Company
Neighborhood: "The walk through Chinatown is a treat in itself!" —Noelle C., Cambridge; recommending Ho Yuen Bakery
Readers share the best bakeries in Greater Boston: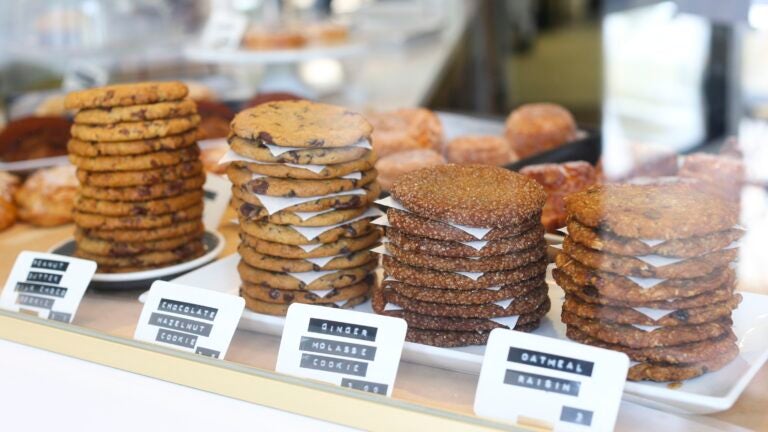 This Plymouth bakery saw unexpected success when it first opened at the start of the pandemic in 2020, and today, it has continued to have a strong customer base. Maybe it's the croissants — co-owner and co-founder Keegan Thim Yee, who runs Keegan Kreations with his wife Yilin Chen said that the shop has made 20 different kinds of the French baked good, such as the pistachio rose and the morning bun, infused with apple cider and filled with apple jam. Yee, who grew up in Malaysia, said that the French-inspired bakery will occasionally feature menu items with an Asian twist, using ingredients like the Filipino calamansi or ube. Other offerings include the tiramisu, lemon meringue tart, and chocolate raspberry roulade, for the Christmas season.
Growing up, Yee's parents did not want him to indulge in desserts and would serve him fruit instead. He only knew how to make crème brulée at the age of 25, and at a potluck party for a Bible study group, people would ask him if he was a baker. A friend eventually took him to Johnson & Wales University for a tour. "Through the window, I [saw] student chefs making cakes, and I was like, I think this is what I want to do for the rest of my life," he said.
Reader Sandra M. from Braintree said, "What don't I order? We get the pistachio croissants, almond croissants, scones, morning buns, lemon blueberry cake, burnt Basque cheesecake, and cookies. Beautiful cakes for special occasions. The staff is super friendly. It is probably a good thing [that] I live more than 30 minutes away, otherwise I would be there every day they are open." Keegan Kreations will open another location in Kingston early next year.
Keegan Kreations took 9% of the vote.
20 Court St., Plymouth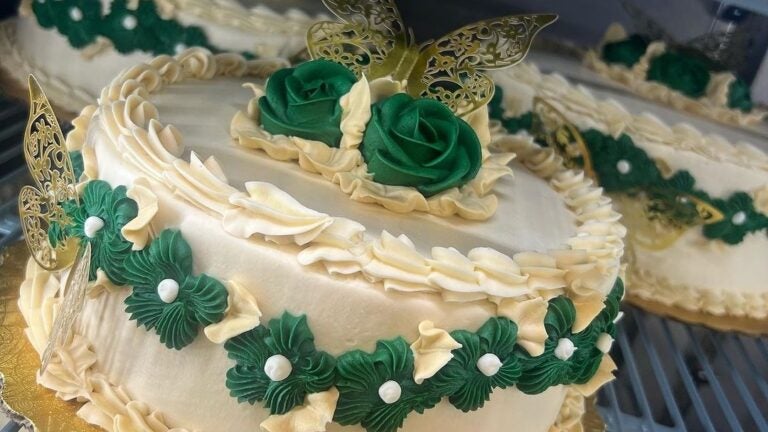 If you're looking for a classic Italian bakery in the city of Everett, stop by Elm Street Bakery. Owner Al Costa, who is originally from Portugal, has been at its helm for 38 years, but it's been a bakery under different ownership for over a century, he said. When you walk in, you'll see the American line, featuring danishes, muffins, and turnovers, but the Italian baked goods are their specialty. You'll spot a variety of cookies: butter cookies, champagne cookies, anise biscotti, almond bars, and more. Think of ordering a ricotta pie, a specialty of Elm Street Bakery's, to please a party. The secret to a good one is having it baked at a high temperature and not letting it boil, to keep the cheese smooth, Costa said.
Elm Street Bakery is the destination to visit when you need a custom designed cake for an occasion. Costa said that if you bring a picture in, a staff member will decorate a spectacular cake, using fondant. "To me, it's the person who [makes the cake]," he said. "If the person has an eye for it — it's all about imagination. If you have imagination and you love to do the job, it will come out beautiful."
Reader Stephanie from Everett said, "The pastries, cakes, cookies, muffins, and danishes are absolutely delicious. I usually get a variety of mini pastries, like [fruit tart], red velvet cake, carrot cake, eclair, mocha, cheesecake, the list goes on! So many great options, and they taste amazing. I have never bought anything I didn't like. They also do great cake decorations. I have gotten all of my kids' birthday cakes there, and we are always so impressed with how they turn out. And we get whipped cream frosting! Definitely a favorite. I'm a sweets lover, but they also have great breads, calzone, and pizza. Love this place so much!"
Elm Street Bakery took 9.6% of the vote.
173 Elm St., Everett
Owner and founder Suzana Samad had a dream of starting her own bakery, and after having experimented with selling goods at farmers' markets, she opened Butternut Bakehouse in Arlington in 2019. The spot is a small batch bakery, and when guests walk in, they immediately notice the aroma of pastries baking. Butternut specializes in croissants, and their morning bun is a best seller. But the shop offers more than breakfast pastries: you'll see rich and fudgy chocolate bouchons on the menu, apple fritters topped with apple cider vinegar glaze, and Kaya doughnuts, made with a Southeast Asian coconut jam. You'll also want to look to their cannelés, a cake with a caramelized, sugary exterior and a soft, pudding-like interior. Butternut offers seasonal fruit almond galettes, and for Thanksgiving, they'll come in a pear flavor. Drinks like the chai lattes and hot cocoa are popular, too, and syrups are made from scratch.
Samad is originally from Malaysia, and she said that in her home country, desserts are not baked but are more commonly "steamed, fried, or stewed." Most of her formal training in baking came from pastry school and working in restaurants when she moved to the United States. Today, running the bakery, she takes pride in Butternut's connection to the community. "We have daily customers who come in, who are essentially our neighbors," she said. "It's kind of gratifying to see that happen. It becomes a life of its own."
Reader Em from Arlington said, "My friends and I are regulars there and order cretzels, banana bread, apple cake, and chocolate croissants! They also have really good coffee and tea: my favorite is their iced mocha and the London Fog. Butternut always has really nice music playing, and the staff are so friendly and ensure they get your order correct." Butternut will open another location in Belmont before the end of the year.
Butternut Bakehouse took 10.2% of the vote.
787 Massachusetts Ave., Arlington.
Honorable Mentions 🏅
Hearth Artisan Bread: When you visit Hearth, choose from a variety of bread offerings, from the rosemary, to the cranberry orange candied ginger and the Kalamata olive. You'll also be able to get fresh bagels and danishes here, as well as pizzas with a variety of toppings. 123 Camelot Dr., Plymouth
Readers say: "I challenge anyone to buy their bread here and make it home in your car with a whole loaf! It is impossible to restrain yourself from eating the whole loaf on the ride home! I haven't eaten anything here that I didn't love, but my favorite is the four cheese bread (available on the weekends) — chock filled with savory, out of this world chunks of cheese!" —Kristen, Hanson
Eva's Little Kitchen: The menu items at Eva's will satisfy your sweet tooth: look to the signature banana bread, chocolate babka rolls, and monkey bread topped with cream cheese icing. Also think of ordering the brioche breakfast sandwich and one of their cookies, like the homemade Oreos or brown butter matcha. 200 Great Rd., Bedford
Readers say: "The [chef/owner] Eva and her staff make absolutely delicious food — there is nary a menu item that I wouldn't order, honestly. My family's favorites are the pop tart pastries and the almondy twice-baked brioche. During the pandemic when they were offering a meal delivery service as well (which became very popular in our area), Eva herself delivered a few meals to our doorstep; given how magical her food is, it felt like having a famous movie star ring your doorbell. This business is truly special." —Nick Z., Bedford
All of the best bakeries in Greater Boston, according to Boston.com readers:
Bakeries have been marked with a 🍰 if they were also named by readers in our 2023 gluten-free guide.
Sign up for The Dish
Stay up to date on the latest food news from Boston.com.