Readers Say
Here are the best places to get fried clams in Massachusetts
We heard from 238 readers, naming 71 spots.
As you savor the last days of summer, there's still a chance to get in on a classic Massachusetts experience: enjoying a plate of fried clams. If you've ever stopped at a seafood shack in the state, you know that there's nothing like sitting at a picnic table outdoors, dining on crispy, juicy clams that are full of flavor. Accompanied by a side of tartar sauce or taken plain, the dish is one that Boston.com readers relish.
We asked readers to share their favorite places to get fried clams, and 238 people responded, recommending 71 spots. Our first place winner was the Clam Box of Ipswich, who moved up from second place since our vote in 2022. Woodman's of Essex was readers' top pick last year and claimed the second place title in 2023. Once again, many of readers' beloved eateries were in the North Shore towns of Ipswich or Essex. We spoke with the Clam Box's owner, Johanna Aggelakis, who told us what she thinks makes the region's fried clams so special.
"It's the quality of the clams. It's like any delicacy around the world," Aggelakis said. "You're going to go to the Treasure Coast for stone crab. You're going to go to the places where they're more unique. That's the reason I believe people come to Ipswich. The beaches are beautiful; it's a great town. But the heartbeat of the town is the clamming industry and the clam business."
Below, find a guide to the best fried clams — whole bellies and clam strips alike — in Massachusetts. We asked readers whether they prefer the dishes from Ipswich or Essex, and you'll discover the results of our poll by scrolling down. We've included a map that identifies every spot that they recommended, so that you can place an order for fried clams at a location near you.
Readers share whether they prefer Ipswich or Essex clams
In 2022, the top three restaurants serving fried clams that readers recommended were either in Ipswich or Essex. This year, we asked readers which town makes the better dish. We heard from 235 people, and 35% said that they are equally good, while 26% said that they prefer neither. Below, here's what readers had to say about where they get their seafood.
"They're both good": "Because both Essex and Ipswich bring out the full flavor of the clams with the special way they batter their fried clams. The batter gives the clams that special crunch that is so appealing, and we do enjoy ours with their yummy tartar sauce. Both Essex and Ipswich have the know-how when it comes to frying their delicious fried clams. Best of all, they're never greasy tasting, which can be a real turn off!" —M.J.L., Waltham
"Neither": "Way better clams down the Cape. Essex and Ipswich are overrated." —Meg L., Roslindale
Where to find the best fried clams in Massachusetts, in 2023, according to readers:
A 🏆 means that this spot was among the top 5 in both 2022 and 2023.
At this South Shore takeout spot, you can place an order for fried clams and know that the recipe for their breading is pretty much the same as what it was when the eatery first opened in 1958. According to manager Susan Daily, Hingham Lobster Pound uses clams from Ipswich that have medium sized bellies. They're very sweet, she said, and they don't have an aftertaste. A serving of them comes with French fries, coleslaw, and tartar sauce. While there isn't much parking, guests like to take their meal to Hingham Beach for a relaxing day outdoors. Reader Mark from Quincy said, "Everything about this is perfection. The fried whole belly clams are the best: perfectly breaded, fried just to done, massive, and served hot. The space is small, smells like the ocean, and is full of friendly staff. You cannot do better than the Hingham Lobster Pound."
Hingham Lobster Pound earned 3.8% of votes.
4 Broad Cove Rd., Hingham
If you're looking to enjoy a plate of fried clams in a cozy, welcoming sports bar, The Park Lunch is the place for you to visit. Typically, clams are sourced from Essex County, according to co-owner Dan Wilmot. They are first dipped in evaporated milk, then given a light coating, before they're fried, and Wilmot told us that the oil is changed regularly. "You hear it," Wilmot said. "When you pop them in the fryer, you hear a certain sound. You know they're ready." The restaurant also sells a fair amount of baked haddock, fried scallops, and hamburgers, but really, they're famous for their fried clams, enjoyed with a glass of beer. The Park Lunch's walls are decorated with pendants from school sports teams — colleges and high schools — everywhere, and it has a following from local policemen, firemen, and nurses. At this spot, everyone seems to know your name, Wilmot said. Reader Ann M. told us that the fried clams are "cooked the way you want them."
The Park Lunch earned 4% of votes.
181 Merrimac St., Newburyport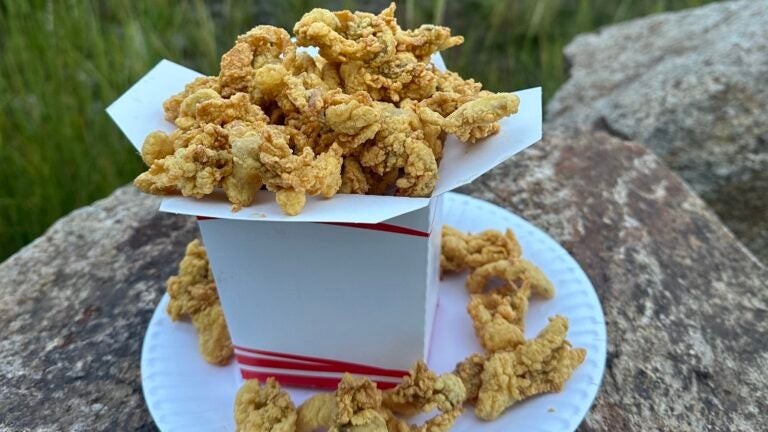 Not far from the famous Woodman's of Essex, there's another iconic restaurant serving fried clams. J.T. Farnham's is known for the freshness of their dish, according to owner Aguinaldo Ferreira, and they use clams that are usually from Maine, Ipswich, or Essex. They have smaller bellies and are known to be tender. When they are prepared, they are dipped in a "top secret" wash, said Ferreira, before they're tossed in corn flour. J.T. Farnham's has scenic marsh views, and Ferreira added that every time he sees a customer come visit the restaurant by boat, he goes out to take a picture. Ferreira took over from the former owners, Joe and Terry Cellucci, in April of this year, and he continues to carry on the spot's tradition of serving quality seafood. Reader Lauren C. from Framingham said, "The clams are piping hot, crunchy, and sweet. I can't get enough of them; I drive an hour just to go there regularly. The restaurant is on the marsh, so you have a beautiful view to go with a tasty meal."
J.T. Farnham's earned 10% of votes.
88 Eastern Ave., Essex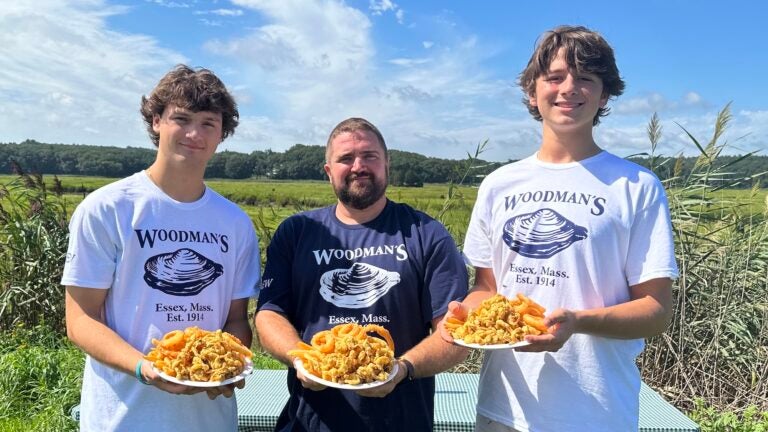 Woodman's of Essex opened in 1914 and has remained beloved for a reason: they claim to have invented the fried clam. The North Shore attraction began as a concession stand selling groceries, potato chips, and clams, owned by Lawrence "Chubby" Woodman and his wife Bessie. The story goes that in 1916, a man known as Tarr jokingly told Chubby that he should try frying his clams the way he did his potato chips. The Woodmans tried it out, and the results were great: the fried clam was born. Today, the eatery uses the same, original recipe, featuring evaporated milk, corn flour, lard, and clams. "The recipe is simple," one of the owners, Steve Woodman, said. "You want the clam to come through." He added that the restaurant prefers to use local clams from Essex, but they're also known to source them from Maine or Cape Cod. Visitors love to enjoy the fried clams with a beer or a soft drink, like lemonade. Another bestseller at Woodman's is their lobster rolls, which Steve called the "perfect sandwich to go."
Reader M.K. from New Hampshire said the clams are "cooked to perfection every time. Consistently delicious. Atmosphere is an entire experience, and the people are SO nice. Major bonus points for having Gifford's ice cream too."
Woodman's of Essex took 17% of the vote.
119 Main St., Essex
When you visit the Clam Box of Ipswich, you'll note that the building is shaped something like a cardboard takeout container, distinguished by its trapezoidal shape and flared roof. Built in 1935 by Dick Greenleaf as a present to his wife, the spot is a nationally-recognized landmark. The eatery is now owned by Johanna Aggelakis, who said that during the summer time, customers line up an hour before opening to get their hands on a batch of fried clams. Local native clams are shucked the day they're prepared at the Clam Box, where they're coated in a light batter, made from pastry and corn flour, Aggelakis said. The oil that they're fried in is a mixture of beef and vegetable oil, changed twice a day. While the Clam Box serves clam strips, they are best known for their whole belly clams. "The flavor of Ipswich clams, people understand what that is," Aggelakis said. "They have a sweet flavor to them, because it's a soft shell clam. The minerals from the Ipswich flats seep into the clams themselves. So you can actually taste that sweet flavor, along with the briny, salty, ocean flavor."
Visitors will travel from faraway — New York, Connecticut, and Rhode Island — to visit the Clam Box, according to Aggelakis. They have the option of sitting in the restaurant's dining room, enjoying their meal outside under a tent, or getting their fried clams to go. Many have a ritual: they'll stop by the Clam Box for lunch, get a scoop at White Farms Ice Cream, then go to Pavilion Beach for a stroll. In the autumn, Aggelakis enjoys meeting the tourists who come to the region for leaf peeping. As customers wait in line, they often talk to each other and may even end up sitting together, while they dine.
Reader Donald A. from Maine told us, "The fried coating is pretty light, so you really get to taste the clams and feel you haven't got too much fatty fried coating. For the experience, [you] can eat in, eat outside, or in [your] vehicle, depending on the crowd and the weather. And, I've been around Ipswich and Rowley all my life, but now live away, so the Clam Box is part of the good memories from the old days that now make for an enjoyable visit to the area."
Clam Box of Ipswich earned 19% of votes.
246 High St., Ipswich
Honorable Mentions 🏅
Choate Bridge Pub: In downtown Ipswich, this casual, laid back neighborhood spot offers a fried clam plate that comes with fries and onion rings. Readers said that they enjoy how the pub draws more locals than tourists and that there are great tap beer selections, like Ipswich Ale and Guinness. 3 S Main St., Ipswich
Readers say: "Large, crispy, delicious portion that comes with homemade tartar sauce." —Deborah M., Lowell
Tony's Clam Shop: Settle down at what this Wollaston Beach eatery calls its "breezy, ocean front patio or backyard garden," and you'll enjoy fresh New England seafood. Dig into your order of fried clams, accompanied by a cocktail, like the Tony's Rum Punch, the peach lemonade, or the spicy margarita. 861 Quincy Shore Dr., Quincy
Readers say: "The clams are not greasy or overly battered. If you get the clam roll, eat the clams and then look at the roll; you will be surprised at how little grease the roll absorbed. And the outdoor seating is excellent." —Len D., Braintree
Here's the complete list of reader recommended spots to get fried clams in Massachusetts:
A ⭐️ means that this shop was voted among the top 5 at some point over the past two years.
Sign up for The Dish
Stay up to date on the latest food news from Boston.com.