Readers Say
Here's how readers are dining out — or not — during the latest COVID surge
More than 40 percent of readers are pausing restaurant visits, according to our poll.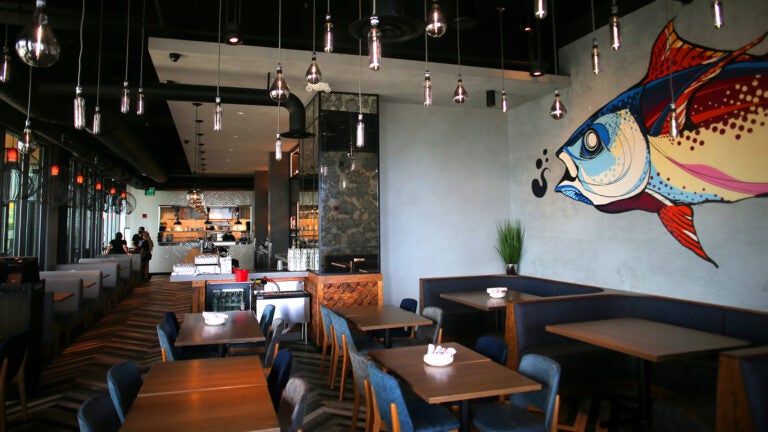 Earlier this week, we asked Boston.com readers whether the recent COVID-19 surge has changed the way they dine out. Were they visiting restaurants less? As often as before? Have they avoided dining out completely?
As it turns out, close to half of the respondents noted that they are not currently dining out because they are waiting for positive case numbers to come down.
Are you dining out amid the omicron surge?
Yes, I'm dining out as frequently as I was before the surge.
Yes, but less frequently than I was before the surge.
No, I'm waiting for positive case numbers to decrease.
No, I haven't dined out at all since COVID began.
More than 40 percent of readers are putting a pause on restaurant visits amid the surge.
As restaurants across the Greater Boston area have announced that they're temporarily closing due to positive test cases or out of an abundance of caution, many diners are waiting for case numbers to decrease before returning to their favorite spots. It's a move that even some restaurant employees can understand.
"I work in a restaurant, so there's a certain inevitability to having to be exposed," said Elizabeth from Boston. "I was slowly starting to get more comfortable dining back out, especially after my booster shot this fall. Dining out was such a big part of my life before COVID and working in that environment, I was eager for the normalcy. But it's clear that omicron has changed the established 'COVID rules.' It's astounding to me our government (both local and national) hasn't done more to address it. While restaurants need customers to survive, I commend restaurants that are taking a pause or moving to takeout only during the surge; it's the smart choice, not only for the employees to keep them safe, but also to preserve human life and protect our community."
For customers who have decided to hold off on dining out for the moment, takeout has, once again, become a crucial way to support restaurants.
"Up until December, I was eating out every Saturday night," wrote Rebecca from Holliston. "For the past month I have not and will not do so until the surge passes. I have done takeout so as to support my favorite local restaurants."
Another reader echoed that sentiment, noting that "we are intentionally doing more takeout again to help local restaurants."
It's not a decision that diners take lightly.
"I'm so sad to be going back to takeout only," Jill from Somerville shared. "I love going to restaurants and supporting my community, but I just don't feel safe. The reality is I'll be cooking at home more instead of getting takeout too. But I'm glad places are closing instead of staying open through this scary time."
So when will diners be going back? It's all about the case numbers.
"I used to dine in but I have decided to play it safe and not dine out until this COVID surge gets under control," Emma from Newton wrote. "It is undeniable that I am concerned with catching COVID at a restaurant, removing my mask scares my in public and it feel unsafe. For now, I will stick to takeout and hope to return to my normal life in a few weeks."
Barbara from Chelmsford shared that she used to dine out at least two evenings each week, and even go out for breakfast every few days.
"As the omicron [variant] has taken over and COVID numbers rise, it no longer feels safe to do so," she wrote. "We were relaxing our vigilance a few months ago, but that has changed. Until the numbers radically improve, we will be eating at home."
Roughly one-third of readers are dining out as frequently as they were before the surge.
Surge? What surge?
For nearly 30 percent of readers, the COVID surge hasn't slowed down the frequency of their restaurant visits. Many noted that it's "time to stop living in fear."
Dave from Sturbridge said he was "not changing a thing."
"I am done changing my habits and adjusting my life," he wrote. "I have had the three shots, this is a virus that will never go away. Let's all move on."
A number of readers who frequently dined out emphasized that they were fully vaccinated, which made them feel safe.
"I'm actually going out more," wrote Ryan from Roslindale. "I'm vaxxed, boostered, and I'm done worrying about this virus. Time to get back to normal life. No masks, no concerns."
Joe from Boston wrote, "At this point, COVID is part of life. I am fully vaccinated and understand the risks. I am glad I am allowed to make decisions as an adult."
Conor from South Boston feels the same way.
"I'm triple vaxxed and already had COVID," they wrote. "Feel about as immune as I can be, so I am fine going into a local restaurant and eating. Someone needs to support these businesses or else the only places that will be left are the Chili's and Applebee's of the world."
Some diners are choosing to only dine at specific restaurants where they know they'll feel safe.
"We dine inside of restaurants, but only the ones that we've been frequenting for the last two years and mostly the ones that are now requiring proof of vaccination and booster status," Nick from Milton shared, while Casey in Westwood wrote that they were "[g]oing to less crowded restaurants" and "not sitting at the bar."
Some readers who are still dining out are choosing to do so less frequently during the surge.
Whether it's scaling back dinner outings or cutting back morning coffee shop visits, around 13 percent of readers who took our poll said they were still dining out — just less frequently than before the surge.
"The risk is clearly increased, but with vaccines, boosters, and rate of instances of COVID considered, the risk seems worth it," wrote Ted from Charlestown, noting that he is dining out two to three times per week instead of four to five.
Extra precautions are being taken during the surge, like avoiding crowds and not visiting restaurants at peak hours.
Megan from Quincy noted that she is "eating earlier so as to avoid bigger crowds. Also being selective about restaurants — we're choosing ones we think will be more quiet and spread out. And our backup is always: if, when we get there, it's more crowded than we're comfortable with, then we'll get food to go instead."
"We have greatly reduced going out, but not down to zero," shared Alex from Wakefield. "We are a foodie family and it's an essential part of who we are and what we enjoy. But we're trying to do it cautiously by targeting places with big open dining areas, and at times where we don't expect crowds (like early Sunday dinner)."
Other readers haven't dined out since the start of the pandemic.
Surge or no surge, around 17 percent of readers haven't been going out to restaurants since COVID first hit Massachusetts in 2020. For many who fall into this category, it's a matter of keeping their families and others safe.
"[I'm] too concerned with others not thinking about more than just themselves and increasing the risk to all," wrote one reader, who stated that they've only been ordering takeout.
"My husband is immunocompromised and the risk of eating out is not worth it to us," Amy from Quincy shared. "And frankly, I don't feel like getting COVID myself. We are both vaccinated and wear KN95 masks when indoors at stores and the like."
Takeout has become a primary way for these readers to support restaurants, but some are even beginning to put a pause on that.
Jen from Dorchester said she is "sticking to takeout only, and as numbers are going up I'm even passing on that."
"Our family is not doing indoor dining and won't be during COVID," Beth from Cambridge wrote. "We do delivery and pick up but are not picking up during the current surge to avoid being inside a dining room with unmasked diners."
"I exclusively cook at home," explained Maureen from Chelmsford. "I did order takeout once or twice since the start of the pandemic in late February, early March 2020. … I am basically self quarantining and plan to continue for the foreseeable future. It makes me very sad and somewhat depressed. I am concerned about the impact on all these businesses and the economy. I just wish everyone would do their part and get vaccinated."
And then there are those who aren't dining out for, ahem, parental reasons.
"Where's the option for, I have three children and, regardless of COVID, dining out is about as enjoyable as getting a cavity drilled?" one reader inquired.
Fair enough.