Readers Say
Here's why readers don't want rent control on the 2024 ballot
A new petition would allow cities and towns to regulate residential rents and fees. But Boston.com readers aren't convinced it will help the city's housing crisis.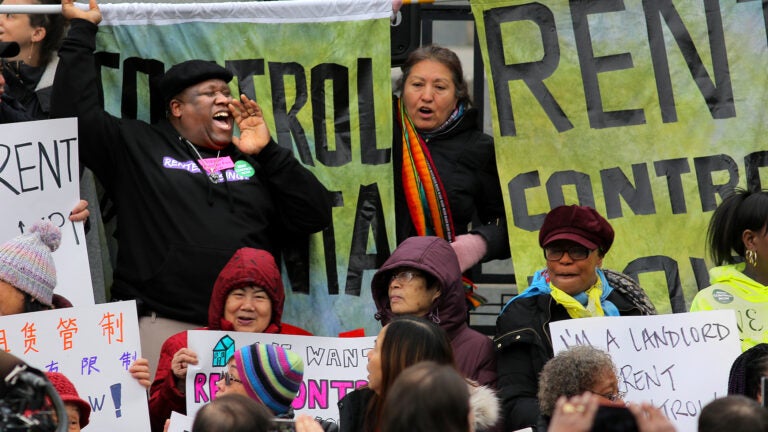 In early September, State Rep. Mike Connolly received notice that his petition to lift the 1994 statewide ban on rent control was certified by Attorney General Andrea Campbell.
The petition would allow cities and towns to regulate residential rents and fees (including brokers fees), residential evictions, and the removal of housing units from the rental market (such as by demolition or condominium conversion), among others.
"We believe there's a really excellent opportunity to pass this into law," Connolly, a Cambridge Democrat, told the Boston Globe. "A lot of people look at 2024 as such a pivotal election, and certainly we have found a lot of encouraging interest and support at this very early stage."
The 2024 ballot campaign push has received pushback from those against rent control, as well as from supporters.
The real estate industry has warned that putting a cap on rent increases could spook developers and slow housing production. Meanwhile, some housing activists question the timing of the ballot campaign and disagree with how to pursue the cause.
Boston.com readers, too, aren't totally convinced rent control is the way to help Boston's housing crisis, which has been plagued by a record-low inventory of apartments coupled with rising rents.
The majority (68%) of the 128 readers who responded to our poll about rent control said they would vote against the measure if it were on the 2024 ballot, with 32% indicating they would vote for it.
If there were a question on the 2024 ballot that would give cities and towns the ability to institute rent control, how would you vote?
Many readers, like Hugo, a homeowner from Roxbury, said rent control would lead to a lack of investment and repair on the housing stock, which over time, causes neighborhoods to deteriorate.
"It is one of the most damaging policies the local government can pursue," he said.
Landlord Nelson M. from Jamaica Plain said rent control is "a band-aid measure with numerous unintended negative consequences."
"Unfortunately, it is one of those policies that sound nice in practice but end up hurting low-income renters the most and discourage landlords and developers from producing and investing in rental housing," he said.
For others, though, rent control is needed to address the state's housing needs and help protect tenants from rent hikes and evictions.
Annie, a renter from Cambridge, said she and her family have been forced to move six times in 12 years because of "exorbitant" rent increases or her landlord selling the property for profit.
"Everyone deserves housing stability whether they rent or own," she said. "Too much power has been given to landlords and it has caused a terrible housing crisis that harms so many."
Read below to see what Boston.com readers had to say about rent control on the 2024 ballot.
Some responses have been lightly edited for length and clarity.
I would vote against it
"Rent control has never worked. It would only lead to more dilapidated apartments in Boston (a city with grossly overpriced apartments that often come without AC, washer/dryer, and other modern amenities) and lower the supply of apartments even further thereby enabling landlords to further raise prices. [It doesn't do] anything to address Boston's main issue — supply and quality of apartments." — Marty M., Dorchester (renter)
"If rent control is approved, it would create conditions that would lead to fewer new housing units being built. This would further depress the supply of available housing. Rent control may also lead landlords who own a small number of units to sell the units for conversion to condos. This would impact renters who are not able to buy condos." — Mary, Weymouth (renter)
"Obviously, property prices in Massachusetts at both rental and ownership levels are insanely high. But allowing local politicians to control rent prices is a poor remedy. I remember the rent control days in Boston when politicians stingily refused property owners modest increases in rent. These owners often faced losing their property because their rental income didn't cover increasing real estate taxes. And too often these 'controlled' units were inhabited by renters who weren't the target group for rent control. Solutions for high rental costs are needed. But please don't return to the days when politicians could manipulate privately owned properties." — Neil R., South Boston (homeowner)
"I remember driving through Cambridge during rent control. Property after property was in disrepair because homeowners and landlords couldn't afford to invest in repairs and home improvements due to the low rents." — Nick, Cambridge (homeowner)
"This is not how to create affordable housing. You place too much of a burden on the landlords. If you really want affordable housing, then build it! Cities and towns can change zoning laws and create affordable housing. Not much will change until the local government builds affordable housing and changes zoning laws. Create more housing, and demand will decrease along with the cost of rent." — Bob, West Roxbury (renter)
"Everywhere rent control has been implemented, it has had the same long-term effect: a deterrent to investment and a reduction in the quality and quantity of housing for rent. How many times does this have to be proven a failure before people stop trying it? I also think it is unfair to effectively seize private property in pursuit of a public good. If the government wants to increase affordable housing, focus on enforcing existing zoning reforms. While everyone seems to agree we have a critical shortage of housing, every city and town in Mass. is trying its hardest to use zoning enforcement to prevent new housing from being developed. Everyone wants more housing, just not in their town. Focus on the real problem: NIMBYism." — Dale D., Gloucester (homeowner)
"Building owners may be less likely to maintain their buildings properly. They might also increase rent annually as much as possible on tenants they may not normally raise rents on. I currently have multiple tenants whom I have not raised rents on in years." — Fred, Grafton (landlord)
I would vote for it
"The reality is folks like myself out killing ourselves just to keep a roof over our heads working multiple jobs in keeping up with the $2000-$4000 rent. How insane, where is the self-care? Then to top it there are no agencies to even assist those that fall behind because according to them the income is too high. How is that if we're not able to barely pay the rent? Let's make sense, folks." — Key, Boston (renter)
"I support the idea of rent control but I'm not fully convinced Mike Connolly's plan is structured in a way to bring about the positive change many people or the government is looking for." — Allen, Boston (renter)
"Rent control is one of the many tools that need to be deployed to save our cities and protect poor and middle-wage earners from constant struggle and price gouging. I don't think it is a silver bullet, not many people do, but it is definitely a useful tool." — Alex, Jamaica Plain (homeowner)
"It isn't fair that landlords and all these management companies can raise rent so astronomically high without having to give any sort of reason. All this is doing is causing people to move out of areas and move farther away. This inevitably ruins the towns/cities economies and makes it harder for jobs to find workers." — Jenny, Quincy (renter)