Readers Say
Here's why hundreds of readers support free community college
"So happy I can pursue my dreams," one of the nearly 460 respondents to our poll said.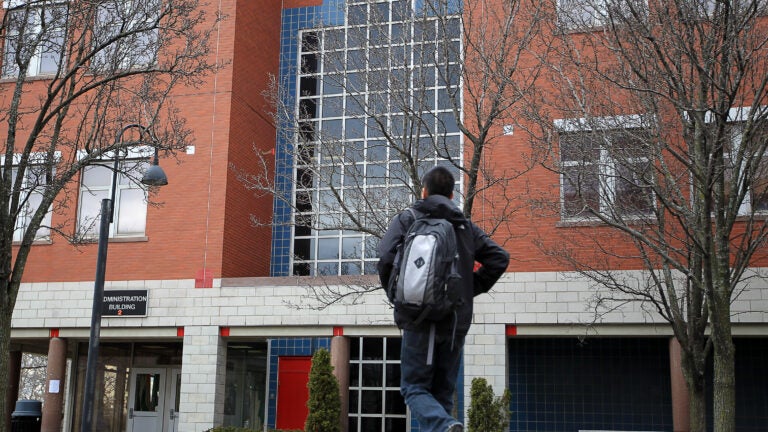 A new state scholarship program, MassReconnect, covers community college costs for residents over 25 who have not previously earned a degree or certificate.
It's an "absolute game changer," according to Nate Mackinnon, the Executive Director of the Massachusetts Association of Community Colleges, "for the Commonwealth and the students."
And Boston.com readers agree. Many of them already have plans to enroll at a community college thanks to the program.
"Always wanted a degree but it costs so much money," Josephine P. from Lowell told Boston.com. "Now at 55 years old I can go and earn a degree in accounting."
MassReconnect was signed into the fiscal 2024 budget last month by Governor Maura Healey, with $20 million earmarked for the scholarship program, and an additional $18 million set aside to fund nursing students.
According to Census data, there are 1.8 million Massachusetts residents who have a high school diploma but no college degree, and would be eligible for the program, Mackinnon said.
And within that population, there are 719,000 SCNC, or "some college, no credential," adults who started college and have some credits under their belt, but have no degree to show in the marketplace as an employee, Mackinnon said.
"That is our first target population, and partially why the program is called 'MassReconnect,'" he said, adding, "We want to help fix that by getting them back into our institutions and putting them on the pathway to attaining their associate's degree."
Tracey T. from Littleton is now one of those students the program aims to help.
"I finished enrollment today and I had tears of joy returning after being at Mount Wachusett Community College 30 years ago! I faced difficult life hurdles and I could never get a degree. I now get to fulfill my dreams, with some credits accepted decades ago! It's mind-blowing."
The program would help many of these students who are unable to attend four-year institutions or pursue college courses due to the high cost of tuition and the burden of student loan debt. Not to mention that the program is also expected to help address the "severe workforce shortages" across Massachusetts' largest industries, Healey told the Boston Globe.
Mackinnon said every community college in the state is reporting an increase in new student enrollment this fall, with some colleges seeing an increase as high as 20% to 23% compared to last year.
"It used to be said that community colleges were America's best-kept secret," Mackinnon said. "And we are so excited that the secret's out, and people have now figured out the value community colleges have both in Massachusetts and around the country."
The program specifically targets residents over the age of 25 in order to maximize a student's financial aid package. Because individuals aged 25 and older are no longer seen as dependents by the federal government, the expected family contribution (which includes parental income) for students over 25 goes down substantially and their federal financial aid goes up in return, Mackinnon said.
There are even plans in place to expand free community college to Massachusetts residents of all ages. In fact, the legislature has put $12 million of planning money in the budget to get to a place as early as next fall where every Massachusetts resident, regardless of age, can attend community college for free.
"I look at MassReconnect as us trying to see how this works and figure out the kinks now, while also targeting an immediate workforce problem of adults who are in jobs that they'd like to get out of to get into higher wage careers," Mackinnon said.
In our poll asking readers for their thoughts on MassReonnect, the majority of readers (86%) showed support for the program. The majority (73%) of readers who said they were eligible also said they would participate in the program.
How do you feel about the program?
I think it's a great idea!
I don't think it will be effective
If you're a Massachusetts resident over the age of 25 eligible for the program, do you plan to partake?
Many readers responded with personal stories of their dreams deferred because of the financial burden of college, as well as their support for the program and its benefits for the state's economy.
Ahead, see a sampling of reader responses regarding the MassReconnect program.
'I had to drop out of college because I couldn't afford it. Now I can go back.'
"I am a minimum wage worker with only a GED education from 2005. I have tried to go to college for years but could never afford it. So happy I can pursue my dreams." — Britney, Mattapan
"Students I taught who were not able to attend college because they lacked the money for it and were burdened with the practical limits of child-rearing, full-time employment, and housing demands. It would be a wonderful opportunity for them to continue their education at a reasonable pace and cost." — Deborah B., Dorchester
"I love this idea, I dropped out due to money issues and this is a great deal for everyone else who wants to move ahead but can't." — Nathalie G., Lowell
"I had to drop out of college because I couldn't afford it. Now I can go back." — Teresa, Dorchester
"I was thinking of going back but didn't because of costs…but this is a game changer!" — Carmen, Haverhill
"I am so glad to learn of this program, which I anticipate will significantly reduce the long-standing lack of equity in access to education which disproportionately impacts marginalized populations. Free community college would open doors to so much personal growth and so many intellectual, social, and career opportunities for folks who otherwise would not be able to afford a college education or receive such opportunities. I myself carry over $100K in student debt and despite maintaining work in my career, still live paycheck to paycheck. The opportunity to achieve a college education at no financial cost would have completely changed my circumstances. We need this legislation nationwide. I am so grateful and proud to live in Massachusetts." — Libby C., Beacon Hill
"This is the type of thing that makes it possible for Massachusetts residents to grow and provide further services for their communities. I have had to avoid taking on any type of student loan debt in order to raise my children without them going hungry. This is exactly the type of thing that makes it possible for me, my community, and my country to grow." — Nathan, Ludlow
'I need to show my daughter that I'm able to go to school like her and that I will succeed!'
"When I graduated high school I was already a single mom of two. I went to a community college in the evening but couldn't continue because it was just too difficult to balance young kids, tuition, and work. Now in my very later years, I have a passion that grew within the huge gap. Now given the chance to go back to college, tuition-free, why not? I want this degree so I can get a better job and the job I've been wanting." — P.C.L., Easton
"I've always wanted to go back to college but after having kids I felt as though my time was 'up.' I felt it would be irresponsible to take money away from providing for my children in order to pay for myself to go back to school. This is an opportunity I won't pass up and am grateful for." — Anna D., Worcester
"I've been wanting to go back to school. I'm a full-time worker and mom of two kids! I wanna show them they can do anything they put their minds to!" — Tiffany L., Monson
"I'm an immigrant who is now a U.S. citizen. I am working on my high diploma currently. I always have dreams of going to college and earning some form of degree in the health field. The dream was also not to fail my child. She is currently in her third year at UMass Dartmouth and doing great, which is putting a financial strain on the family, with other living expenses. I hail this program as the best thing that could ever happen to the residents of Massachusetts who have big dreams and are willing to be an integral part of society but have their dreams elude them because of financial constraints. I am super excited and can't wait to start college." — Karla W., Roxbury
"I'm female, 30, living in Springfield, Mass. I participated in the Springfield Technical Community College and never completed my associate's degree due to lack of funds. I was six months pregnant in my second semester of freshman year of college, just about to finish when I realized I needed to work. Unfortunately, that's the route I chose but that was 10 years ago and I'm ready for a career!" — Erika D., Springfield
"I need to show my daughter that I'm able to go to school like her and that I will succeed! Although my illness has held me back for almost 10 years, it's important to pursue my dreams. I'll never give up!" — Najah M., Somerville
'It will definitely help with the shortage within our state's workforce'
"With the current shortage of essential workers, especially in the healthcare field, this will go a long way in solving some of the problems the state is facing." — Samuel K., Worcester
"This MassReconnect initiative would certainly improve the confidence of residents of college age to pursue good education and acquire the necessary keys and skills for a much brighter economically-solid future, which will then have a positive impact in the immediate society and beyond. Good education and good economy are intertwined and directly proportional." — Osaretin I., Avon
"Personally speaking, I didn't go to a traditional college due to cost and cost alone. I'm incredibly excited about this opportunity and I think it will definitely help with the shortage within our state's workforce. I plan to return to college at the ripe age of 44 and I'll now be able to pursue dreams that I never thought would be achieved." — Sunny C., East Bridgewater
"It gives a chance for mature residents to acquire a new skill that will help alleviate the shortage of skilled workers with the current employment opportunities in the Commonwealth." — James W., Lynn
"It is absolutely a great idea. It will help the state job market and the state in general." — Rebecca, South Shore
"As a former Mass. community college professor and retired executive dean, I know Mass. students from Boston. I am speaking from pure experience. To be sure, this program will offer the proverbial 'ladder of opportunity' to many disenfranchised people." — Raymond T., Dedham
Boston.com occasionally interacts with readers by conducting informal polls and surveys. These results should be read as an unscientific gauge of readers' opinion.