Readers Say
More than 500 readers voted: Here's how they feel about a North End outdoor dining fee
"Singling out the North End for an additional fee, and giving them a shorter season on top of it, is unfair."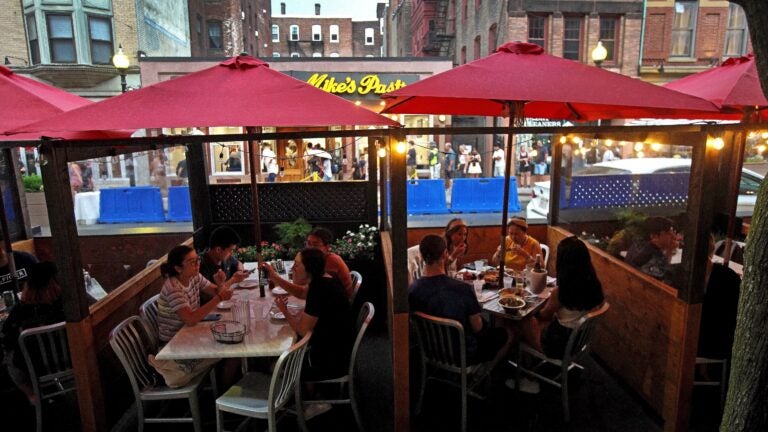 The city may be calling for stricter rules for North End residents who want to resume outdoor dining this spring, but most Boston.com residents feel the restaurants in the neighborhood should be able to move ahead without too much influence.
We asked readers how they felt about the city's $7,500 fee for North End restaurants participating in the Outdoor Dining Program, and most of the 510 readers polled said they felt the requirement was unfair.
"Crowds, trash, and rats are not unique to the North End. If additional fees are needed, such fees should have been apportioned over the whole city, not just the North End. This feels like poor planning, penalizing and shifting costs to small business owners, and a cash grab on the part of the city," Kristen S. from North End told Boston.com. "Impose the same fee across ALL neighborhoods, or none at all."
Do you think there should be a fee for North End restaurants to participate in outdoor dining?
Yes, it's needed to support the neighborhood.
Yes, but only with the flexible guidelines.
Many readers echoed their thoughts that the fees would only be fair if they were applied across the board. The city, however, has cited the additional burden faced by the North End, which has a large number of restaurants and draws big crowds of Boston residents and tourists alike. Residents in the North End have complained of decreased parking, rodent infestation, and excessive noise brought about by outdoor dining.
Last week, Mayor Michelle Wu announced that the city would take a more flexible approach to outdoor dining requirements in the North End by allowing restaurants to pay the fee in installments and apply for hardship waivers.
"I really believe that the vast majority of community members are on the same page here — both the restaurant owners and the residents who all just want to see a safe, thriving, healthy, livable community," Wu said on WBUR's Radio Boston.
Several readers said the city should use this as an opportunity to turn Hanover Street into a pedestrian-only street.
"Hanover Street should close to cars at dinnertime and maybe afternoons on the weekends," said Sara from the North End. "What's so hard about outdoor dining is the sidewalk is between the restaurant and the tables, and the sidewalks are already tight for how popular the North End is for meals. Have a designated valet, Lyft/Uber location during these times and allow pedestrians to walk in the middle of the street."
Ultimately, the majority of readers saw the continuation of outdoor dining in the neighborhood as a benefit both to restaurant owners and the residents of the city.
"Quite frankly, I'm shocked that there isn't more outdoor dining in the city, to begin with. It's fantastic for both local businesses and their customers alike and can be a real draw for both local residents and tourists alike. Look no further than Europe for great examples of this," Alex from Cambridge said.
Ahead, you'll find a sampling of responses from readers about how they feel the city should handle the outdoor dining requirements.
Some responses have been edited for clarity and grammar.
Should North End restaurants pay a fee to participate in outdoor dining?
No, it's not fair.
"The city already requires restaurants that participate in outdoor dining to pay substantial amounts of money, including the requirement to rent a parking space (which is made available to community members) to replace each one they occupy with a dining plaza. Singling out the North End for an additional fee, and giving them a shorter season on top of it, is unfair.
"It's especially bad because the North End has the potential to be a truly walkable neighborhood, with its narrow streets and densely packed buildings. We should be encouraging MORE dining there, not less, and moving toward a longer season. We should be encouraging the development of additional retail that caters to the foot traffic generated by the restaurants. Perhaps Hanover Street should be closed to cars altogether or have restricted hours when cars are not allowed." — Shirley D., Dorchester
"If there is a fee, spread it out throughout restaurants in the city. An across-the-board fee would be minimal for each restaurant, instead of North End establishments paying a big $7,500 charge." — Neil R., South Boston
"Please keep outdoor dining without charging extra fees for restaurants in the North End. I live in the suburbs and the only reason I go to Boston in the summer is to walk Newbury Street and North End streets and have a lovely lunch or dinner outdoors. I would suggest it be written that the restaurants will be required to sweep and pick up food particles and trash at end of the evening and hose down the area in front of their respective restaurants. If any restaurant in Boston doesn't follow these bylaws, then impose an individual fine.
"I, for one, won't plan on indoor dining in Boston for at least one, maybe two years. I try to avoid indoor crowds at all costs while COVID still persists. Please don't demand a fee for outdoor dining…let the restaurants make a reasonable living and allow their patrons, like me, to enjoy our lives as best we can.
"Outdoor living and dining is the safest way to enjoy life as it is now. Don't make it difficult for us many." — Carrie C., Littleton
"I live in the North End and saw the difficulties the restaurant owners and workers went through throughout COVID. Many closed, others shut down on days when there was no business. I am not aware of any other situation in which the city applies additional costs to a specific neighborhood for services? Should Southie pay more for the Parade? Back Bay for Marathon Monday? This seems to be selective and be divisive. Will the city look at other neighborhoods that disproportionately use resources at times in the future? If they do, it becomes impossible to govern. If they don't, it is not a good look. Either way, they should not enforce a $7,500 tax on small businesses." — Dennis, North End
"The city should be encouraging tourists to take public transit to the North End and do a better job of issuing parking permits to residents to accommodate them. There's a giant parking garage across the Rose Kennedy Greenway, tourists can park there. Allow the businesses to operate free of charge." — Andre B., Allston
"To address local residents I think it is fair to have a later start date, May 1, and limit hours. But the extra fee does not seem fair. The city will collect more taxes from outdoor dining and I don't like a fee being added to my bill by the restaurant either." — Heather M., Cambridge
What's the best outdoor dining experience in Greater Boston?
Yes, it's needed to support the neighborhood.
"Don't back down. The restaurant owners will make the money back in no time. They are just being greedy. Outdoor dining on Hanover Street really takes away from the charm of walking and driving down Hanover Street. If they want outdoor dining, let them pay for it." — Harry F., East Boston
"I'm all for standing up for small businesses against government overreach, but this absolutely isn't what's happening here. For the millionth time: North End residents were the ones complaining about how outdoor dining is ruining their lifestyle (with stuff like parking and traffic already a major problem, and narrowing the streets for dining just making it harder).
"Anyone who thinks these restaurants are small, cute family restaurants has clearly never been to the North End. This is NOT a small business issue. It's big business trying to get out of paying a fee for screwing over the residents of their neighborhood while presenting themselves as the victim. The mayor has been willing to negotiate, and I think she's doing a fine job at it. I said what I said.
"Also, anyone who goes to Mike's instead of Modern shouldn't get to speak on this issue because that clearly means they're not from the area." — Andrew C., Dedham
"Keep in mind that outdoor dining at the vast majority of restaurants citywide, nearly all, occurs on public property. No privately owned restaurant has an unfettered right to generate a profit on public property. North End restaurants have no obligation to offer outdoor dining. If they choose to do so this year, there is an additional fee. The city isn't forcing anything on these establishments — the restaurants choose.
"Comparing the North End to other areas of the city and claiming that the additional fee is 'unfair' is like comparing apples and oranges. No other neighborhood in the city has as many restaurants in such a small area. The residents of the North End bear the brunt of outdoor dining. Actual residents should have some say in the matter — and those in North End say it hasn't worked so well. The mayor is responding to the concerns of those residents. If some North End restaurants claim they can't compete with the fee, well then that's capitalism." — RG, Charlestown
"Mayor Wu is doing a good job. Her most recent proposal is flexible, provides options, can be cheaper, and is proportional to use and location. And there is a problem to say the area is not unique which is a grave distortion. Given that it is unique, the beneficiaries must pay for the direct problems created — waste, rats, and parking." — Stephen B., North Andover
"As a North End resident, I like the outdoor dining and think it should continue but the parking and trash definitely need to be offset. The fees should be slightly lower. My only issue is that it's only the North End which is unfair." — John F., North End
"The city's and residents' concerns are valid. Other neighborhoods are not like the North End in that they don't pose the same challenges for outdoor dining. Having said that, I have not heard anything about how the fee is going to fix the problems created by outdoor dining in the North End. Is it going to pay for extra police patrols? Is there going to be more frequent trash collection? Is there going to be a curfew due to noise complaints? The city has to explain exactly how they are going to use the money, but they haven't." — Manny, Haverhill
Yes, but only with the flexible guidelines.
"If it really costs that much more to keep the city clean, it makes sense. I suppose the problem is the price. Maybe be more transparent, at least with the restaurant owners, about how much extra the city has to pay for maintenance in the area and have them rebut with what they think is reasonable. It's obvious that everyone wants to do it free of charge but 'fair is fair,' I suppose. Times like this it's best to be transparent as well as flexible in my opinion. This isn't to say, however, that the city is the only one that should be transparent. The least restaurants can do is give a projection of their earnings and costs of maintenance as well. Might find some new and interesting data." — Dan, Dorchester
"I've lived in the North End for 20 years. The outdoor dining has been a great addition but adds to an already over-congested Hanover Street in the summer. Ideally, Hanover should be one way for the outdoor dining period- if not pedestrianized completely. It's only a matter of time before a car plows into a table or a server is hit by a car. In addition, the city needs to provide more parking for residents. Between the outdoor dining and copious construction in the neighborhood, we have fewer and fewer options." — MCC, North End
"I like the idea of having a cost to offset the impact of outdoor dining. Noise, congestion, parking limitations, and rodents are real issues for residents. I would want to know for sure how the city was using the money collected. Would they be able to rent from a garage the same amount of parking spaces lost on the street? I was not pleased with Wu's initial comments that she would withdraw outdoor dining for the North End if they don't agree. It seemed that she was taking a my-way-or-the-highway approach and that is not what this city needs at all, especially not now." — Elizabeth, Medford
"While I think that some permitting is required, I feel the $7,500 fee is unreasonable ESPECIALLY coming out of the pandemic when these businesses are getting back on their feet. Also, outdoor dining increases capacity, increasing meal tax revenue. With a need for more staff as well, you are looking at income tax growth as well. Plus, have we ever considered fees for the hundreds of people who congest the sidewalks waiting to buy pastries at Mike's, Modern, and Bova? As someone from the North Shore who loves coming to the North End, support your local businesses." — Jason, Peabody
Boston.com occasionally interacts with readers by conducting informal polls and surveys. These results should be read as an unscientific gauge of readers' opinion.