Readers Say
Here's how Mass. should address rising cost of child care, according to parents
"Child care has been the most expensive item in our monthly budget. In our area, it's nearly $4,000 a month for infant care. How is that possible?"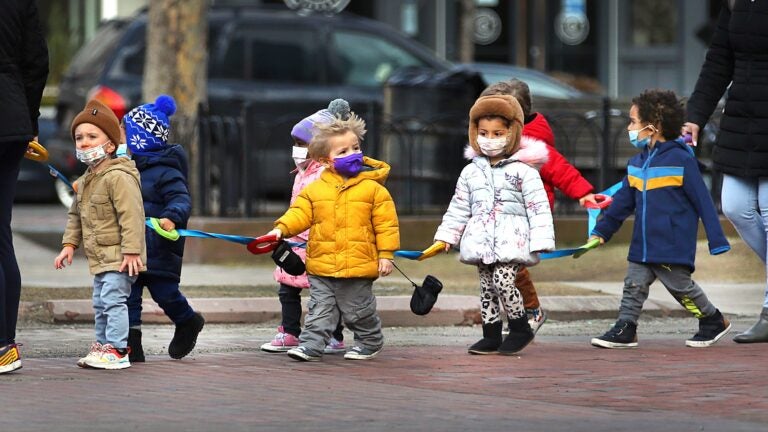 Parents in Massachusetts are drowning in the cost of child care, and many are looking to the state to help relieve some of the strain.
Although high child care costs aren't new to Massachusetts, the pandemic has laid bare how drastic of a problem it can be for so many families in the state, especially those with two working parents.
We asked readers how they think the state should ease the burden of high child care costs, and most of the 201 people polled said they would support a universal early childhood education program in Massachusetts.
Some Boston.com readers are among the millions of women who were forced to leave the workforce to care for their children — many of whom will be unlikely to return.
"Due to pandemic child care shortages, I had to take an unpaid leave of absence to care for my, at the time, six-month-old for several months," Mandy from Medford said. "I'm on multiple waitlists for child care. We have a nanny right now, but we are barely affording it. She's paid fairly, but I know she could make more elsewhere, so we're lucky to have her."
A new report by the state legislature's Future of Work Commission named child care as one of the biggest challenges to a thriving post-pandemic economy, and Massachusetts is becoming an increasingly expensive state to start a family.
To combat this problem, child care advocates have called on the state to fund a universal early childhood education program for birth to age five that would be funded similarly to K-12 schools.
The program under the proposed bill would be funded similarly to K-12 schools and serve children from birth to age five. Currently, in Massachusetts, not all school districts offer tuition-free, full-day kindergarten. Lawmakers haven't moved forward with this program as proposed, but have expressed support for other efforts to help families afford child care. Massachusetts House Speaker Ronald Mariano has called for legislation to address the problem.
Should Massachusetts adopt a universal early education program?
Yes.
No.
Other
Yes, my child or children are under 5.
Yes, my child or children are school-aged.
No.
Other
Some readers, however, are not in support of government intervention on this issue because of how it would impact taxes in the state.
"People who have kids should pay for their own kids," said John from Milford. "I have a child, no one should have to give any of their money to raise something I chose to have."
Greg from Middlesex said he was concerned about the quality of care that would be provided if the state adopted a universal child care system.
"Universal child care will draw in less experienced child care operators to the market," he said. "Creating a significant expansion in operators does not mean our children would be well taken care of and would likely result in less professional care. Maybe this isn't for the government to deal with, lower our taxes so we can spend that money where we see fit."
Some parents told Boston.com they've looked to child care options in neighboring states because of the high costs and limited options in Massachusetts.
"I moved my kids from daycare in Massachusetts to one in New Hampshire. They are very comparable centers, but the cost in New Hampshire is much more reasonable," said Lisa A. from North Andover, who added, "Less regulations. Mass. has so many regulations providers must comply with that unnecessarily drive up costs."
'Something needs to change'
Many parents described to Boston.com how child care challenges negatively impacted many aspects of their lives, including employment opportunities and limitations on planning for the future.
Ashley from Sudbury is a single mother of three and making $20 an hour, working 45 hours isn't enough to cover the cost of child care. She said she's been on the waitlist for child care since last July.
"I pay about 2/3 of my income for child care. I am on SNAP to be able to afford food. If I weren't living with my parents, we wouldn't have anywhere to stay," she said. "I'm on a waitlist for Section 8 and public housing because my parents could kick us out at any time. It's incredibly stressful. If there were a way to minimize child care costs, I would barely be able to afford to rent our own place. Something needs to change."
Like Ashley, Martine from Somerville said child care was her largest expense.
"Child care has been the most expensive item in our monthly budget. In our area, it's nearly $4,000 a month for infant care," she said. "How is that possible?"
Massachusetts is the most expensive state to have a baby, and the average annual cost of infant care in the state is more than $20,000, according to the Economic Policy Institute.
Without reliable, inexpensive child care, many families have had to rethink their plans for the future. Some parents said they were deliberately having fewer children than they'd like because they know the cost would be too great.
Jessica from Franklin said despite deciding not to have a third child, spacing out her pregnancies so she wouldn't have two children in daycare at the same time, and putting her children in the least expensive daycares she can find, she still pays 20% more for child care than she does on her mortgage.
"Child care has been the limiting factor when making decisions for my family. I decided to go back to school to pursue a nursing degree and the cost of child care for my 16-month program is more than the program itself," she said. "I'm sad to see my children get bigger but I'm so happy to not pay for child care anymore. Two years to go!"
Some of the changes Jessica said she'd like to see are more subsidies for child care, a cap on what can be charged to families, a sliding scale based on income, and a restriction on "for-profit" child care centers.
"I'm hopeful that things will change for future generations. However, I fear that although my family has struggled with child care and we've had it severely limit our lives, the changes will not come in time to impact my family. My generation is unfortunately in between the way things were versus the way things are going."
'Extremely difficult to find daycare in general'
Many readers with young children said that even when families can afford child care, there are often too few options available to them.
"You get stuck in a not-so-great program because there are long waiting lists for others or you can't afford a nanny or better daycare," Danielle B. from Medford said. "For school-aged children, there are not enough options for after-school care. Therefore you are forced to take a part-time job or go into debt paying for a nanny."
Lauren from Winthrop said her search for child care caused a great deal of stress during her pregnancy.
"Not only are child care costs high, but it is extremely difficult to find daycare in general. I started looking for something at seven months pregnant for my son to start daycare at three months old. Only found something two weeks before returning to work. Stress increased significantly because of this," she said. "We are still on waiting lists that we paid non-refundable holds for. It has impacted the hours I can work as a mother and made me think seriously of going back full time was worth the cost of the full-time daycare."
The Future of Work Commission's report found that even before we were hit with COVID-19, the state's early education and child care system was "deeply strained and over-capacity." Currently, in Massachusetts, parents in some school districts also have trouble finding tuition-free, full-day kindergarten.
Sara R. from Brighton said she'd like to see the entire system subsidized so that changes can be made without making it even more difficult for parents.
"It has to be subsidized so the workers can be paid fairly without making it unaffordable for parents," she said.
'Immediate support will be more beneficial'
Most readers who said they would like to see the state step in to make child care less expensive for families agreed that subsidizing child care programs would be the best approach.
"I think tax credits are too abstract for many people. I think a direct subsidy would be a better approach. Said another way, you as a parent go to child care provider X. Child care provider X bills the state for the credit and bills the parent for the difference. Preferably the credit should pay for 100% of the cost of child care of the lowest cost provider. Parents wanting more will have to be willing to pay the difference," suggested Mark from Arlington.
"Hopefully, this means that low-income families will have zero child care costs during normal business hours," he added.
Low-income families are among the hardest hit by rising child care costs, and as income inequality widens in the state, the problem will only worsen. On a national level, President Joe Biden's Build Back Better plan has created a framework to "limit child care costs for families to no more than 7% of income."
"We need to close the child care access gap for working families," State Sen. Eric Lesser said during a recent State House hearing. "We need to increase salary and training opportunities for child care workers."
Before the 7% cap is realized nationwide, Evan from Boston said moves should be made to "provide financial support to parents to use toward child care options of their choice."
"Do not let perfect be the enemy of the good. The 7% of income cap is a nice long-term goal but any immediate support will be more beneficial to parents than further years of debate and no action," he said. "Look into ways to reduce costs and reform regulations for child care providers so additional costs do not have to be passed on to families."
Boston.com occasionally interacts with readers by conducting informal polls and surveys. These results should be read as an unscientific gauge of readers' opinion.