Readers Say
100 readers voted: Here's how they feel about bike safety in Boston
"Is Boston 'bike-friendly' in an objective sense? No."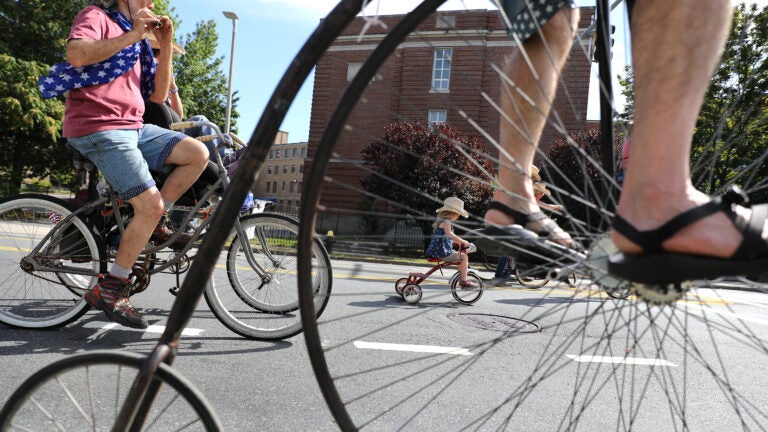 If you want to go for a bike ride in Boston, readers say it's important to know what you're getting yourself into.
A recent study by Clever, a real estate data company, looked at the biking infrastructure and accessibility of major U.S. cities and named Boston the eighth-most bike-friendly city in the country. We asked readers if the results of the study matched up with their experiences cycling in Boston. A majority of respondents, or 54%, said Boston isn't bike-friendly enough both because of road conditions and public attitudes.
"By comparison to other cities in the U.S., almost certainly," said David W. from the North End. "But is Boston 'bike-friendly' in an objective sense? No."
In Boston, Cambridge, and Somerville, more work has been done to create designated bike lanes and encourage cycling. A look at ridership activity in Boston found that Bluebike ridership tripled after the city established a protected lane on Commonwealth Avenue. More lanes continue to be added around the city, and the construction of lanes on Massachusetts Avenue continues despite some public pushback.
Readers who regularly cycle in and around the city said they've noticed these changes, but the city still has a ways to go in adopting more bike-friendly attitudes. A number of readers said they've encountered aggressive and careless drivers on the roads.
"Some parts of Boston have decent bike infrastructure. However, the attitudes here are extremely unfriendly to bikes," shared AK from Brighton. "The amount of screaming and abuse I get every week, in spite of being a safe, careful rider, cannot be ascribed to a 'bike-friendly' place."
Do you think Boston is a bike-friendly city?
Why do you bike in Boston?
But some readers, even those that say they regularly ride in the city, said there's not much more Boston can do to improve cycling infrastructure without negatively impacting neighborhoods. Some of their concerns include limited space for parking and congested roads.
"A lot has already been done. I'm a biker, but I think the area is limited in terms of how much some streets can be changed," Mahler from Cambridge said. "The loss of parking space in Cambridge, for example, is a bad consequence of increased biking lanes and other street redesign projects. In all honesty, I think the biking 'community' makes some unreasonable demands. Extreme caution must be used at all times when biking anywhere, especially in the city."
We also asked readers why they bike in the city, and most said they do so for leisure rather than commuting, in part because many roads and bike lanes are unreliable. Brigid from Dorchester said she'd like to see more work done in her neighborhood to make it possible for more people to ride.
"I live and work in Dorchester and bike to work when the weather allows. The road conditions are awful; I've had four flat tires in five weeks. It's hard enough to deal with nonexistent bike lanes and motorists that aren't paying attention without having to dodge potholes and glass," she said. "I would love to see the next steps for the Blue Hill Transportation Action Plan. Blue Hill Ave. is absolutely terrifying to bike on."
One hundred readers offered up their ideas on how city officials could make Boston a more bike-friendly city. Below you'll find a sampling of those suggestions as well as a list of the reliable bike lanes and routes readers most often use.
Some entries may be edited for length and clarity.
What should the city do to make biking more accessible in Boston?
Protected lanes, road debris, car tax, and more
"Critical gaps in the network of bike lanes need to be addressed, and newly-constructed bike lanes should provide as much protection from traffic as possible. Often you have a decent bike lane and it just ends abruptly, putting you in traffic or on the sidewalk. If you're a first-time rider, this can be very discouraging (and dangerous!). In-person demonstrations and fun PSA-style awareness/education campaigns could also help would-be cyclists learn more about how to be safe and efficient bike riders. The city could create some sort of fund, stipend, or grant program to help would-be riders get all of their safety accessories as the helmet, lock, lights, etc. can really add up. Driver's ed courses could perhaps spend more time reviewing guidelines for sharing the road with bikes. Community conversations can clear the air between these groups and make sure everyone is heard." — Alison M., Jamaica Plain
"Create more bike lanes. This is an old city that wasn't meant to handle cars. In the inner core where there is plenty of transit access bike lanes should be prioritized." — Sergio C., Cambridge
"The city should tax all cars going in to Boston a modest fee and use the money to create entirely separated bike lines just like in the Netherlands." — Stefan, Rockland
"I find two big hurdles to bike safety: Number one is non-segregated lanes with parking on the sidewalk. It is so frequent to see motorists ignoring the lanes and outright stopping on them, forcing cyclists into the roads with trucks, as well as the danger of an unaware driver swinging their door open to get out of their car directly into the bike lane. The other biggest danger is road cleanliness and debris. The streets are often cleaned and [swept], but almost never the bike lanes, leaving huge rocks, branches, and gravel which is extremely dangerous. During the snow season, the snow is almost always pushed directly into the bike lane making them dangerous and unusable. Better maintenance would make safety so much better." — Shayn, Allston
"Add shoulders to more roads so cars and bikes can co-exist. The problems arise when there isn't enough room for all vehicles. More bike lights/lanes in key intersections as well. Porter Square Cambridge works really well now." — Lucinda S., Cambridge
"Get cars to drive slower. What has been done on the Mass. Ave. bridge is brilliant. Cars used to speed over the bridge at over 50 mph, right next to cyclists, but now the bikers can ride across the bridge with confidence they won't be killed. [Also] enforce the 'no handheld cell phone' law for drivers. You want a good laugh? Ride a bike around the city streets and count the number of drivers texting or checking email or otherwise looking at their phones. It's like 40% of drivers. How safe does that make someone on a bike, or a pedestrian for that matter?" — Michael B., Boston
Nothing, they've done enough
"They've done too much to the determent of people who live outside the city. Especially, when one considers the lack of bicyclists during the cold weather months." — Al, Concord
"Way TOO bike-friendly that it causes problems for cars and pedestrians! Get off the road and go bike on a trail! I would never bike in or around Boston with all the crazy drivers. Bikers are even worse than drivers! Make it less accessible and improve traffic patterns for cars!" — Liz, Arlington
"I wish they would stop clogging up the already tight city streets with more bike lanes that can't even be used half of the year! People need to get their priorities straight. Most people aren't going to bike. We can get a lot more bang for our buck if the money was spent on mass transit." — Eric, Needham
"By taking away lanes for biking in the city of Boston, it has created more traffic, more headaches, and definitely more hate towards bikers. This town is too small for biking." — Zam, Boston
Where readers recommend biking
We also asked readers to share where they like to bike in Greater Boston. Francois D. of Brookline said he got rid of his car five years ago and now relies on a bike to get around town. His favorite paths are along the Charles and Emerald Necklace. Brigid from Dorchester said her favorite routes are the ones she uses recreationally.
"There are some great bike paths: the Southwest Corridor, Neponset River Trail, and Minuteman Bikeway to name a few. Biking recreationally is much easier than commuting via bike," she said.
These are the bike paths and lanes recommended by readers:
Commonwealth Ave. bike paths
East Boston Greenway
Emerald Necklace
Esplanade/Dr. Paul Dudley White bike path
Jamaica Plain bike baths
Longfellow Bridge
Minuteman Bikeway
Neponset River Trail
Northern Strand Rail Trail
Southwest Corridor
Boston.com occasionally interacts with readers by conducting informal polls and surveys. These results should be read as an unscientific gauge of readers' opinion.
Boston.com Today
Sign up to receive the latest headlines in your inbox each morning.