Readers Say
'He's done next to nothing': Here's how readers feel about Joe Biden's presidency
"He's doing exactly as I expected, as I didn't have high expectations from the beginning."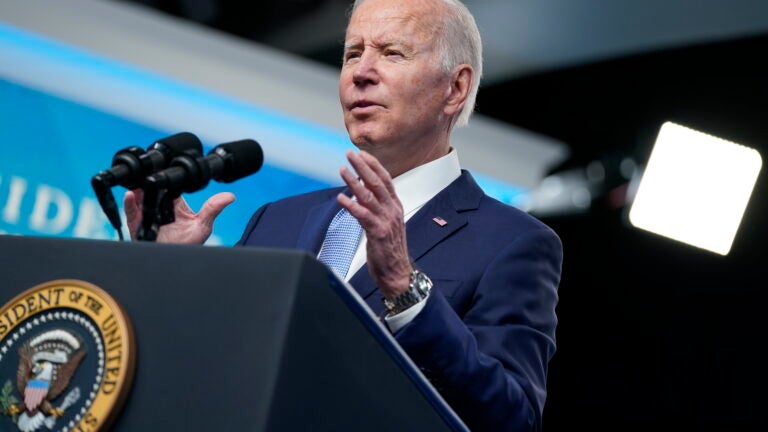 In the midst of a pandemic, a faltering economy, and trouble abroad, President Joe Biden is also facing a decline in support from the American people.
Massachusetts was a solid victory for the president during the 2020 election, but a recent Suffolk University/Boston Globe poll found that only 46% of registered voters in the state surveyed currently approve of Biden. We asked readers how they felt about Biden's time in office so far, and most said he was doing worse than they expected him to do when he entered office.
One reader from Canton said she's unhappy with Biden's policies but it's about what she expected when he was elected.
"I'm a Democrat, but Joe Biden wasn't my top choice. He's doing exactly as I expected, as I didn't have high expectations from the beginning. There isn't really anything he can do in the next 6 months to increase my confidence in him," she said.
How's Joe Biden doing as president?
Better than I expected
About as I expected
Worse than I expected
When asked what the president would need to do in the next six months to regain their confidence, close to half of the 376 people polled in the Boston.com survey said Biden was too far gone or should resign.
The issues that came up most frequently with readers were concern over the economy, rising inflation, and the ongoing Russian-Ukrainian conflict.
News abroad has many readers rattled as active fighting between Russia and Ukraine continues. The Russian invasion of Ukraine began on February 24, and Western officials believe that Putin plans to declare war on Ukraine on May 9, further escalating the conflict.
Domestically, inflation has been worsening for months, causing sticker shock for many Americans who are struggling to keep up with the rising cost of living. Boston.com readers aren't alone in their concerns about the economy. A new CNN poll found that the public's view of the economy is the worst it's been in a decade. Last April, 54% of Americans said economic conditions were somewhat good, but that figure has since dropped to just 23%.
"We are too far down the road of incompetence, finger-pointing, and far-left ideology," said Jim from Wayland. "Wasn't he supposed to be the middle-of-the-road adult in the room?"
While many readers said they would like to see Biden enact more conservative policies to tackle these problems, James from Mission Hill said he's disappointed in the Biden administration for not being progressive enough.
"He's done next to nothing, minus some incremental relief on student loans and a meager extension on rent eviction assistance. His administration keeps telling us everything is great on Twitter while most are struggling with inflation on food/housing/gas, growing medical and student debt, the ongoing pandemic the administration so desperately want to think is past us, and just the lack of urgency overall to address problems," he said.
Katie in Norwood wrote, "At this point, I don't know if there's anything Biden can do to turn it around." Other readers shared ideas for what he can do in the next six months to increase their confidence.
Below you'll find a sampling of responses from readers on what the Biden administration should address at this point in his presidency.
Some entries may be edited for length and clarity.
What would Joe Biden have to address in the next six months to increase your confidence in the job he's doing?
"Get inflation moving in the right direction, get action on the infrastructure bill. I'd like to see the stock markets improve and prices come down on groceries, gas, and the cost of living." — Wayne B., Provincetown
"Do something about the price of gas. Do SOMETHING about food costs, and inflation. What is he doing to combat these that are killing the middle class? Not nearly enough!" — Della, Salem, N.H.
"Help me to be able to afford a house sometime within the next 50 years." — Rick, Waltham
"Stop the oncoming recession before it begins." — Mark S., Lynn
"Get inflation under control. Stop prioritizing social agenda goals over our economy and security and energy independence." — Mike, Framingham
"Several of his policies already have been ruled unconstitutional by the courts, he handed Afghanistan to the Taliban, and he refuses to rein in spending fueling high inflation. His foreign policy is a mess, and he seems completely ignorant of the drug and human trafficking occurring at our southern border.
"I would require a conciliatory speech outlining how his policies will change, followed by observable follow through on said policies. Only then could I begin to trust that he is working in the best interests of the country." — Chris, Worcester
"It's not Biden as much as it is the Senate, though. I think as polarization and division get worse, we're seeing how dysfunctional and horribly flawed the Senate is, with nationwide legislation hinging on the whims of a couple of conservative Democrats. The president cannot pass legislation without Congress. To that end, the Senate Majority Leader has more influence than the president. Biden would have to find a way to move the discourse in that direction." — Paul, Cambridge
"I'm proud of the job he's doing. I don't know where this poll is coming from because I didn't participate in it. It doesn't represent me! Congress do your job!" — Dee W.
"Better than I expected. Continue diplomacy and sanctions against Russia. Continue actions to control COVID. Continue to move forward with affordable medicine. Make sure the Democratic Party fights for him and doesn't let the Republicans further erode our democracy." — Pat
Boston.com occasionally interacts with readers by conducting informal polls and surveys. These results should be read as an unscientific gauge of readers' opinion.