Readers Say
'Unacceptable': Here's how readers feel about the baby formula shortage
"We plan to take a drive to Western Mass. because a store there said they had the formula we were looking for."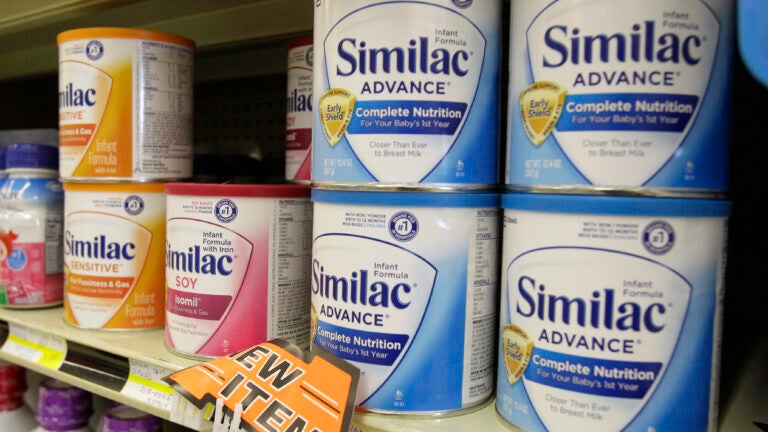 The ongoing baby formula shortage is just the latest in supply chain issues plaguing consumers in the United States, and it's having real-world consequences for Boston.com readers.
We asked readers how the infant formula shortage and other supply chain shortages were impacting them, and more than 30 readers shared how stressful it's been not to have access to essential products. Cynthia W. from North Andover, whose newborn relies on formula, said this problem should be a top priority nationwide.
"It feels isolating and lonely, as if this is just a problem for mothers when in fact, it is a national crisis that doesn't seem to be causing the level of alarm and reaction that it warrants," she said. "It is literally life and death for some babies. How is this not the number 1 issue for our country today?"
Parents: Which of the following describes you?
I breastfeed/fed my child.
I currently use or have used baby formula.
Which product shortage is impacting you the most?
Forty-three percent of baby formula products are out of stock nationwide, and some families have been forced to search in neighboring cities and states to get their children fed.
Abbott Nutrition, the largest baby formula manufacturer in the country, shut down a factory and recalled its Similac products because of bacterial contamination earlier this year, and since then, shelves have been increasingly sparse. The company recently reached a deal with the Food and Drug Administration to reopen its factory within two weeks. Should a court approve the consent decree, it will take six to eight weeks for the formula to reach stores.
The Biden administration said it would allow more baby formula to be imported from Europe to address the shortage by streamlining the FDA's review process to make it easier for foreign manufacturers to ship formula to the country.
We are doing everything we can to make more infant formula available while the closed factory comes back online.

Last night, there was another breakthrough.

The FDA will allow formula from outside the US to be safely imported, which will quickly increase supply. pic.twitter.com/UCtkPYfxd5

— President Biden (@POTUS) May 17, 2022
Infant formula is just one example of the products that have either disappeared from stores or had prices skyrocket because of the high demand and low supply. Supply chain back-ups have impacted groceries, pet food, home goods, and more. Readers told Boston.com that they're seeing the effects not only in the headlines, but in person as they do their own grocery shopping.
The problem isn't likely to resolve anytime soon, according to economists who've warned that we're seeing the results of early pandemic disruptions.
"I am deeply concerned about the looming food and fuel crises," said one reader. Another said while they haven't been impacted by the formula shortage, the problem is "unacceptable for mothers in America."
Much of the focus of the shortage has been on parents with infants, but Betty D. said it's important to remember that there are older children and adults who also rely on formula to meet their nutritional needs.
Her son is disabled and has been tube-fed formula for years, which she had previously received monthly through MassHealth and Medicare, but her family has been unable to access formula for three months now.
"We had some extra and started making it in a less wasteful way. I then bought some from a pharmacy in Staten Island and a nutritionist sent us another 4 days' worth. I bought a liquid version of it from a DME company in California, and several more from eBay," she said. "Maybe we can last another month and I am grateful to have the financial resources to afford it."
Below you'll find a sampling of responses from parents about how they're handling the baby formula shortage.
Some entries may be edited for length and clarity.
'It's very stressful to see the shelves so empty.'
"My son needs specific sensitive baby formula or else he throws up a lot and is cranky and we can't find it anywhere. My wife is also seven months pregnant and we worry about how we're going to feed her when she comes if the shortage continues." — Ryan, Westfield
"We are having a very hard time finding formula. I have already switched my daughter from Similac to Enfamil due to the shortage and now I'm having trouble finding Enfamil as well. It's very stressful to see the shelves so empty." — Julie K., Chestnut Hill
"I am very concerned. It is an absolute disgrace that parents fear not being able to feed their infants. We had to switch our daughter's formula and now that one has also disappeared from shelves. We plan to take a drive to Western Mass. because a store there said they had the formula we were looking for. I do feel lucky that our daughter does not rely on special formula so that we can keep switching and that we only have four more months of this and can switch to milk." — Andrea, Chelmsford
"We can find alternatives for almost every product but our baby has to eat and the options are very slim. We are fortunate that we can search and pay for formula but many families don't have that option." — KC
"I recently went back to work, so my son has become more dependent on formula. As a high school teacher who only gets 20 minutes for lunch, it's not enough time to pump. So I really only have one 45-minute block where I can pump milk for my son. He was born with GI issues and has had two surgeries, so he needs specialized formula. People with older children don't realize how bad the shortage is." — Jennifer, Wrentham
"You cannot find formula anywhere! My daughter cannot have cow's milk so she is on a special formula. Our pharmacy told us the formula is on backorder for SIX MONTHS!" — Kerri, Oxford
"It starts off as one brand issue with recall and now any other brand we try to switch to is sold out too. I'm buying four-plus tubs at a time so I don't have to keep switching his formula, but it's miserable. Four tubs, four weeks. We have to start looking ASAP for next one." — Ben, Hanson
Boston.com occasionally interacts with readers by conducting informal polls and surveys. These results should be read as an unscientific gauge of readers' opinion.