Readers Say
Here's how readers feel about the tax burden in Massachusetts
"I do not believe our tax burden is unfair or oppressive, but I do believe we can do better."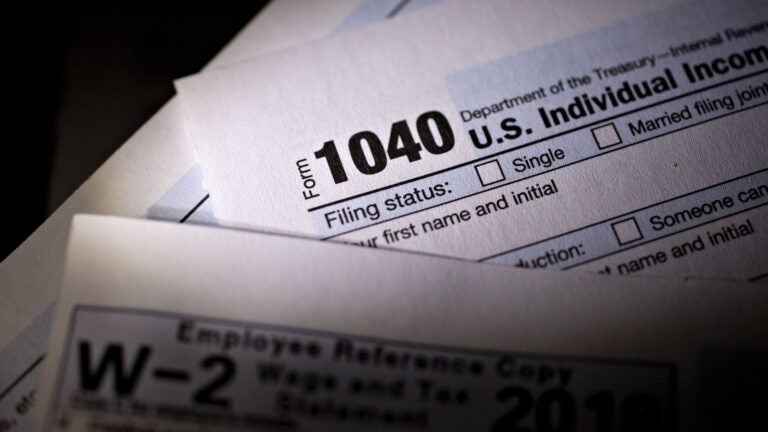 Massachusetts residents may not have the highest tax burden in the nation, but many Boston.com readers are still feeling the strain of the taxes they're expected to pay.
"Between excise taxes and insane property taxes, the extra income tax, the burden is too high," said Sean M. from Marlborough. "Where do the taxes go to?"
An analysis of state and local tax rates in the largest U.S. cities by ChamberofCommerce.org found that Boston has the 10th lowest estimated tax percentage. The study took into account the estimated state and local income, property, and sales, and auto taxes for residents. A family of three earning $75,000 in Boston, has a total estimated local tax percentage was 6.9%, or $5,177 every year — much lower than the double-digit percentages seen in other large cities.
Mark from Nahant said he never put much stock in the 'Taxachusetts' nickname.
"I have long known and tried to spread awareness that just because Taxachusetts has a catchy ring to it, does not mean it's rooted in absolute truth," said Mark from Nahant. "There are other places that pay the same or more than us! I think one of the larger issues here is that our roads are absolutely terrible and the MBTA has been a mess for a long time. But, ironically, it's still worse in plenty of other places and we are lucky to even have public transportation. At least we invest in communities, education, and public space here!"
Despite the results of the study, however, most readers told Boston.com that they think taxes are too high in the Bay State.
"Once you add state sales, property, excise, gas, federal and every other tax, and a 'service fee' before state income taxes, there's little left for actual disposable or investment income. The tax system needs serious reform and simplicity," said Casey from Raynham.
For many readers, the tax burden is enough to have them considering a move out of the state. Last year, Massachusetts was ranked number seven in the nation for residents moving out of state, according to an annual movers report by United Van Lines.
"Personal income tax recklessly wasted by foolish politicians, plus excise taxes that do not fix our awful roads, equals one guy that can't wait to move to Florida," said Brian H. from Waltham.
One of the driving forces for people seeking residency in other states, according to the United Van Lines study, is because of retirement. Sylvia G. from South Yarmouth said that the tax burden in the state makes it very difficult for senior citizens like herself to stay in the state, and for the aging population in the state, this presents a big problem.
"I think that senior citizens like me could be able to live in our homes longer if we had more tax breaks. I had to sell my home this year because I could not afford the expense of taxes and upkeep, even with fuel assistance and SNAP benefits, etc," she said. "I have been on over 24 different waitlists for more than 3 years on Cape Cod for subsidized housing for seniors, and nothing is available. I am forced to move out of state to find affordable housing, away from my friends and family."
A popular destination for those leaving the state is our neighbor New Hampshire, where the tax burden is some of the lowest in New England and in the country. The total tax burden from Mass. residents is 8.8%, compared to 6.4% in New Hampshire, according to a study by WalletHub.
"Sales tax is too high. Should be limited to 5%, especially with New Hampshire a short ride away for many. The income tax has not kept current with inflation, limiting the deduction for social security at the same rate for years," said Theo N. from Somerville. "The tax on so-called unearned income is unfair to retirees as it punishes those who saved for their retirement. The excise tax is a disincentive to purchasing a new car."
While most readers said that they pay more taxes in Massachusetts than they might in a nearby state, many said they were happy to pay for what they get in return. Instead of being concerned about how much they pay, these readers said they'd rather focus on how that money is being used.
Robyn O. from Jamaica Plain said she'd like to see more tax money go towards the "greening of Massachusetts."
"They are fair. Our tax rates are much lower here than in many other large cities, and we need a good tax base to fund the many services it takes to run a city, fund our public education and safety systems, and support those in need," they said. "I am in strong support of increasing tax on gasoline and other polluting energy sources and using those funds to build electric charging stations, to incentivize people to buy electric cars, to green our energy production, and to make our homes and businesses carbon neutral. We can't afford NOT to do this."
Public schools came up frequently as a reason Massachusetts residents are comfortable with paying their share in taxes. The Bay State has the most highly-ranked schools in the country, according to a 2022 report by U.S. News & World Report, and the best high school in the state is right here in Boston.
"I have no problem with our current tax rate understanding that's why our state has one of the better public school systems in the country, along with parks, access to health care, etc.," said Jonathan from Newburyport. "Not everything is perfect. I wouldn't mind paying a little more in taxes if that meant we'd see expanded public transit (commuter rail), more bike access in various municipalities, and maybe something like free tuition at state schools for associate's degrees."
The results of the study that found Massachusetts residents don't have as high a tax burden as they might think seemed to go against the experiences of the people actually paying those taxes. Deshawn M. from Fitchburg, however, said he wasn't surprised by the findings.
"I do not believe our tax burden is unfair or oppressive, but I do believe we can do better. I don't think being middle of the pack is a good justification for our tax rates," he told Boston.com. "Not being the worst (or near the worst) should not be a justification for staying where we are or heading in that direction."
Boston.com occasionally interacts with readers by conducting informal polls and surveys. These results should be read as an unscientific gauge of readers' opinion.