Readers Say
Boston.com readers have mixed views about the Trustees phasing out Crane Beach parking permits
Permits will not be sold or renewed after April 30.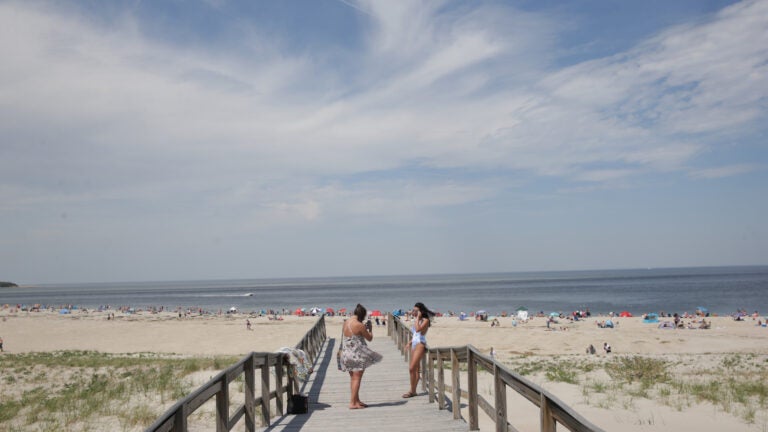 The Trustees of Reservations is phasing out Crane Beach parking permits in favor of member discounts and Boston.com readers have expressed mixed feelings about it on Facebook.
The soon-to-be-gone permit system allowed Trustees members to purchase Crane Beach parking for $85 with membership and reserve multiple tickets each week at no additional cost. Permits will not be sold or renewed after April 30, but valid permits will be honored through May 1, 2024.
"Participation in the permit program has grown significantly in recent years, so we don't want to phase it out too abruptly," Peter Pinciaro, director of the Crane Estate, said in a statement. "There are now so many more permits than parking spaces at the Beach that it has become too hard to reserve a ticket. The program is no longer working well for anyone. The deep discounts we plan to offer will continue to provide a Member benefit while also making it a little easier for people to reserve tickets to visit Crane Beach."
Under the new system, non-members pay $40 per car in-season on weekdays and $45 per car in-season on weekends, while individual, family, and contributing members pay 50% off the non-member rate, supporting-level members pay $10 in-season, and sustaining and sponsor-level members are free.
Advance ticket reservations are still required from Memorial Day weekend through Labor Day.
Ahead, Boston.com readers respond to the change.
'I'm all for this new approach'
"As a member who has been unable to reserve summer tickets for the last two years, despite trying on a frequent basis, I'm all for this new approach." — Amy L.
"I think this is a great idea. Human nature gets 'lazy' sometimes. Having a permit can make one relax the need to cancel a reservation. You don't really lose anything by not canceling. If you pay as you go, the lot attendants can better plan. Just like a no-show throws a restaurant off, so it has effects here too. Ideally there would be a prepay online system to alleviate the need for transactions at the gate. Simpler for all." — Megan P.
"A welcome change — yes!" — Alison T.
"Paid for a membership and could not get in once this summer — super frustrating. Hopefully this helps." — Carol H.
"Perfect example of how natural resources are under such overwhelming demand. Bravo to the Trustees for keeping up with growth in popularity to keep the beach from becoming over exploited." — Beth D.
"Hopefully this helps. I paid for a membership and two stickers, and was not once able to get in this summer. Very frustrating." — Jenn B.
'This is really disappointing'
"This is really disappointing! I will not renew next year." — Kristin C.
"I recently renewed my membership and permit, but it will likely be the final time. As a longtime member, the recent changes are concerning. The increases in prices and membership levels are frustrating to say the least and promote exclusion, adding yet another barrier to access. Many families just cannot afford these prices." — Kimberly R.
"Bad move on the part of the Trustees." — Sarah P.
"Hate to say this but they will lose a lot of annual members." — Paul B.
"How can a family afford to pay that amount to park their car. That is shameful!!!!" — Ruth S.
"Limiting spontaneous access to nature and charging three times minimum wage for entrance is elitist, snobbery and privatization of nature. It's wrong on every level and it's very sad." — Merry K.
More thoughts from readers
"Seems like another option could be capping the amount of permits sold. It doesn't sound like the program was the issue, but how they executed and oversold it." — Stacy M.
"I have been a member of the Trustees for years and could care less." — Dan S.
"Selfish people book and just don't show. Lack of consideration of some ruins it for all. Sad." — Kristin F.
"It's impossible to just decide to go to the beach anymore…A beach trip is supposed to be relaxing. How can it be when you have to plan it days in advance? I get the lack of spaces, but the reserve ahead system just doesn't work." — Melissa G.
"Not just the prices that's infuriating. They make you jump through hoops in the hopes to get one of these insanely priced passes. No thanks. I haven't gone to any of these overrated, bougie beaches for years! I find all the quiet little nooks so much nicer." — Robin M.
"My hometown. Haven't been in 6 years!! Still finding nice places to go…for no fees." — Donna K.
"I'm sorry but I've said this for years, it's ridiculous that you have to pay to go to spend the day at the beach. It's just sad." — Sue M.
"How about keeping natural resources public so everyone can enjoy them?" — Toni D.
"I realize beach properties need to be maintained, but as a North Shore resident for 50 years, I cannot afford to enjoy the beaches around me. It's ridiculous." — Andrea M.
"Should go back to first-come first-served." — Joanne B.
Responses are lightly edited for clarity.