Readers Say
More than 300 readers voted: Here's how they'd revamp nightlife in Boston
"We need happy hour. This is not controversial. The Puritans are gone."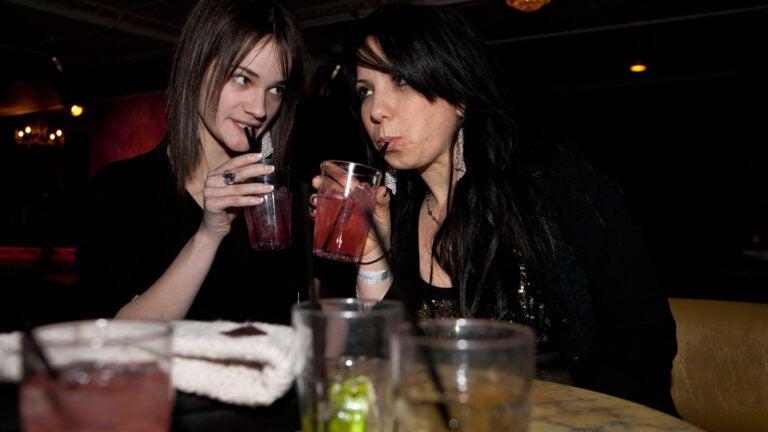 Boston.com readers want their nights to be long and filled with fun, but Boston's regulations and limited options put a damper on most late-night plans.
To combat Boston's long-held reputation as a "boring" city, City Hall plans to hire a new director of strategic initiatives. This hire's focus will be on "extending the city's nightlife, helping establish more Black- and Brown-owned businesses, and expanding transportation options," according to a report from Boston Business Journal.
We asked readers if they thought Boston's nightlife needs the boost that city officials think it does, or if things are fine the way they are, and 88% of the 364 people polled said improvement should absolutely be made.
"Nightlife doesn't just mean bars and clubs. There's a real shortage in Boston of late-nite dining options — cafes, diners, restaurants, etc.," said Christopher M. from Somerville. "I've heard that it's very difficult to get a 24-hour license in Boston, this may have something to do with it. A couple more late [night] food places would go a long way in encouraging people to stay out."
Do you think Boston needs a better nightlife culture?
No, things are fine as they are.
Even though most readers say Boston has some serious work to do to boost the late-night scene, a number of other readers take issue with our implication that the current night-life culture makes the city dull.
"City's not boring, but zoning laws prevent bigger capacity bars, and a lack of late-night food truck options force people to head home early," said Sam M. from Boston.
Readers who have lived in other cities say Boston is great in many ways but it doesn't stack up to the nightlife they've experienced elsewhere. Jo S. from Back Bay called Boston, "a liberal city whose nightlife is imprisoned in a chastity belt."
"When I lived in Atlanta there were way more bars to go to that had good music and dancing. In Boston, most bars are for standing and talking only. A lot of bars play okay music but it's just not the type of music you would dance to. Also, the lighting is often too bright for dancing," said Samantha from South Boston. "I feel like the only places you can dance right now are clubs that have $40 covers which no one wants to pay."
Other readers compared Boston to cities like New York, Chicago, Detroit, and Los Angeles. For the Boston defenders, the fact that Boston is unlike those cities is exactly what makes it appealing. When asked what changes the city should make to nightlife, Jo from Somerville said, "None. Keep it quiet and peaceful."
Elsa from Natick wants to close the city down earlier. She asked, "Why would anyone go out to a bar or club instead of staying home to watch the Patriots, Red Sox, Celtics, or Bruins? If people don't like the lack of nightlife, they should move to New York instead!"
For those that do want to see Boston change, concerns about transportation, venue quality, and diversity were common threads. Among the top suggestions from readers was the return of happy hour. Support for that is high statewide, with 70 percent of Bay Staters in favor of allowing bars and restaurants to offer drinks discounts during happy hour. Last summer, there was renewed interest from state lawmakers on the issue, but Gov. Charlie Baker said he would be "hard-pressed to support changing it."
"We need happy hour," Mitchell S. from Jamaica Plain said. "This is not controversial. The Puritans are gone."
A big part of the role of the city's forthcoming late-night czar will be to tackle the rules and regulations that would allow for a more vibrant social scene.
"[The director] will help understand what are the permitting issues, licensing issues, etc. that will make Boston stay up past 10 o'clock at night," Segun Idowu, Boston's chief of economic opportunity and inclusion told the Journal.
Readers have done a lot of thinking about how to inject some more life into Boston's late-night culture. Below you'll find a sampling of responses from readers sharing what they think is holding the city back and what should be done to fix the issue.
Some entries may be edited for length and clarity.
Better public transportation
"There's no late-night transportation. If you go downtown, you have to drive, and there's no parking. And if you drive you can't drink. There are very few places where the kitchen is open after 10, so dinner after the theater is always difficult." — Wizen, Hyde Park
"Late-night transportation is literally non-existent. The MBTA has attempted pilot programs in the past, which I've taken advantage of, but was always just a temporary thing. Driving is expensive because of parking, and getting home is always a mission because of late-night construction and detours inside the tunnels. Sometimes driving from the city back to East Boston takes a full hour, no exaggeration. And Uber and Lyft will run you a minimum of $50 to go ANYWHERE at 2 a.m." — Nick M., Boston
"Transportation, transportation, transportation!!! This isn't a new answer, but I was at a bar until 1:30 a.m. the other night, and then literally walked home for an hour and 15 minutes because the price of an Uber was ridiculous, and the T was closed! And let me tell you, loud, drunk people are more of a problem when they're walking home for an hour than when they can get on a train/in a car/etc. and be home and in bed in a fraction of the time." — Charlie, Fenway
"We need public transportation to be extended. I know it's been tried but it's worth reviewing how it can be implemented. Also at least close at 3 a.m. Closing at 2 a.m. is not feasible. I almost feel like it's not worth going to a club just for 2 hours. Between the parking, club fee, and drinks just for 2 hours is not worth even driving into the city." — Jose C., Lawrence
More late-night food options
"Restaurants, bars, and transportation options should be open past 10 p.m. If there are not good places to get a bite past 9 p.m, there will not be people up to drink." — Alex V., South Weymouth
"Nightlife seems to have shifted to the Seaport. Which is a great area, but even still, the restaurants/bars/clubs in the area are wildly expensive and oftentimes packed. There also feels like little-to-no late-night food options. Sometimes it's impossible to find a slice of pizza beyond 12 a.m. Outside of that, a lot of bars are sort of lame, to be blunt. Few have an innovative vibe or atmosphere that draws a desire to go out." — Michael G., East Boston
"More late-night food options available. It's nearly impossible to find food when the bars close." — Alexandra S., Boston
"At the very least, we need more late-night fast eats and food trucks in the city. It's fine if bars are only open until 2 a.m. but there are little to no accessible options for late-night food without using an app or drive-thru." — Sam M., Allston
A greater variety of venues
"More diverse venues other than dives or Mr. Brightside cover groups. I don't mind the song but I would just like some variety as opposed to generic things…Perhaps a few more late-night options to disperse crowds going home at the same time." — Bryan, Wilmington
"The city has a long way to go in developing and shifting its nightlife from the stale, fratty [atmosphere] of its sports bars. … This city is in desperate need of real authenticity by way of dimly-lit, no-frills, walk-in-and-chill, hole-in-the-walls. Keep and expand outdoor dining and drinking by lighting up the streets and creating a space safe from traffic. Not everything needs to be wrapped in a pretty bow to be marketable or palatable. Give us the grit and the grime! Give us more live music venues! And give us happy hour!" — Jo S., Back Bay
"We need more versatility. We need to reach into our diverse community to create nightlife that has multidimensional options for everyone. Tastemakers need to engage and create something different than our beloved pubs." — Henri, Jamaica Plain
More LGBTQ+ and POC-friendly spaces
"More spaces for queer folks, BIPOC-run spaces. We need more drag, more live music that's not a cover band or massive concert, more [independent] theater, more not-mainstream-stuff. Chicago is PACKED with all of that. I don't know how Boston lacks it. I'm sure the crazy high rent and cost of liquor licenses, etc. contributes. Maybe the city can lower/subsidize BIPOC & queer-owned venues for the first 5 to 10 years." — L, Cambridgeport
"Speaking as an LGBTQ+ individual, SPRINGFIELD has a better gay nightlife culture than Boston. That's insane to me and speaks volumes about the boring nightlife of Boston." — Connor, Malden
"Black-owned clubs with ethnically diverse music…not just an 'insert genre here' night 😒😴." — Anonymous
"More nightlife options, particularly [for] Black and Brown people/Black- and Brown-owned. Black residents have their options ping-ponged around by start-up clubs that abandoned them when they get to a certain point, or they get shut down too frequently, or harassed by…neighbors." — J, Hyde Park
Relax the regulations
"The high cost of liquor licenses creates a high barrier to entry to open a bar in the city. As far as diversity goes there should be more space for non-sports bars, cocktail bars, or bars focused on dancing. Right now everything caters to the college crowd because that's the only way to make money to make up for the cost of a liquor license." — Casey C., Somerville
"Bring back happy hour and remove city ordinances restricting businesses' hours of operation. Relax zoning laws to allow more bars and venues in walkable distance from residential areas." — Ben, Dorchester
"Happy hour needs to be allowed, bars should be allowed to stay open later, to-go cocktails should be allowed. The city should incentivize new bars and restaurants to come to Boston." — James R., Boston
"Liquor licenses should be more available. They are expensive and limited, from what I understand, keeping the nightlife limited as a result. A lot of bars closed during the pandemic and as a result, you have areas, such as areas along Huntington Avenue with several university students and almost no bars." — Rob, Roxbury
"Expand mixed-use zoning into more residential areas. Not all nightlife is loud music, so people living in quieter neighborhoods can still access more relaxed but enjoyable nightlife easily without venturing into louder more student-heavy areas. Additionally, for noise that is unavoidable with the expansion of nightlife, diffusing it throughout the city will make it less intense and more manageable in any given neighborhood." — Noah, Beacon Hill
Boston.com occasionally interacts with readers by conducting informal polls and surveys. These results should be read as an unscientific gauge of readers' opinion.
Boston.com Today
Sign up to receive the latest headlines in your inbox each morning.