Readers Say
How to order coffee like a Bostonian, according to readers
"I asked for a regular coffee down South and they brought me out a black coffee with nothing in it."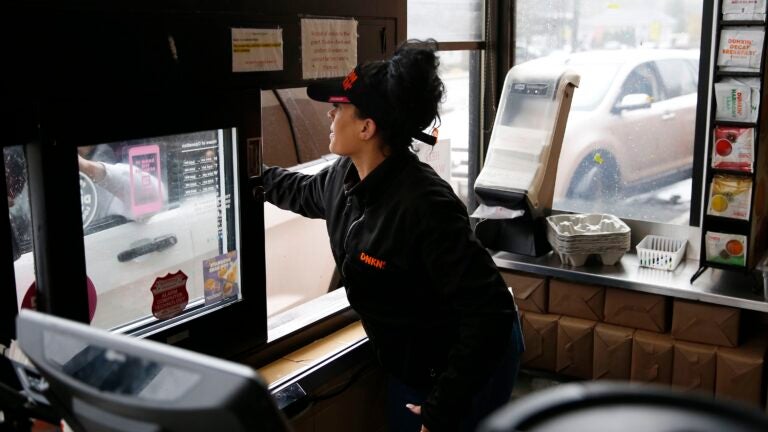 Warmer weather, COVID-19 cases declining, and the return to in-person work make up the perfect recipe to get out of the house and see the world again.
On any walk around Boston, it's likely you'll pass a Dunkin' — there's one on just about every block — or another local favorite and decide it's time for a caffeine fix.
But how does a true Bostonian place their coffee order? We asked readers what coffee order they only hear in Boston and of the more than 130 respondents to our survey, a clear trend emerged.
Ahead, we share the top coffee orders by mention and what readers had to say about them.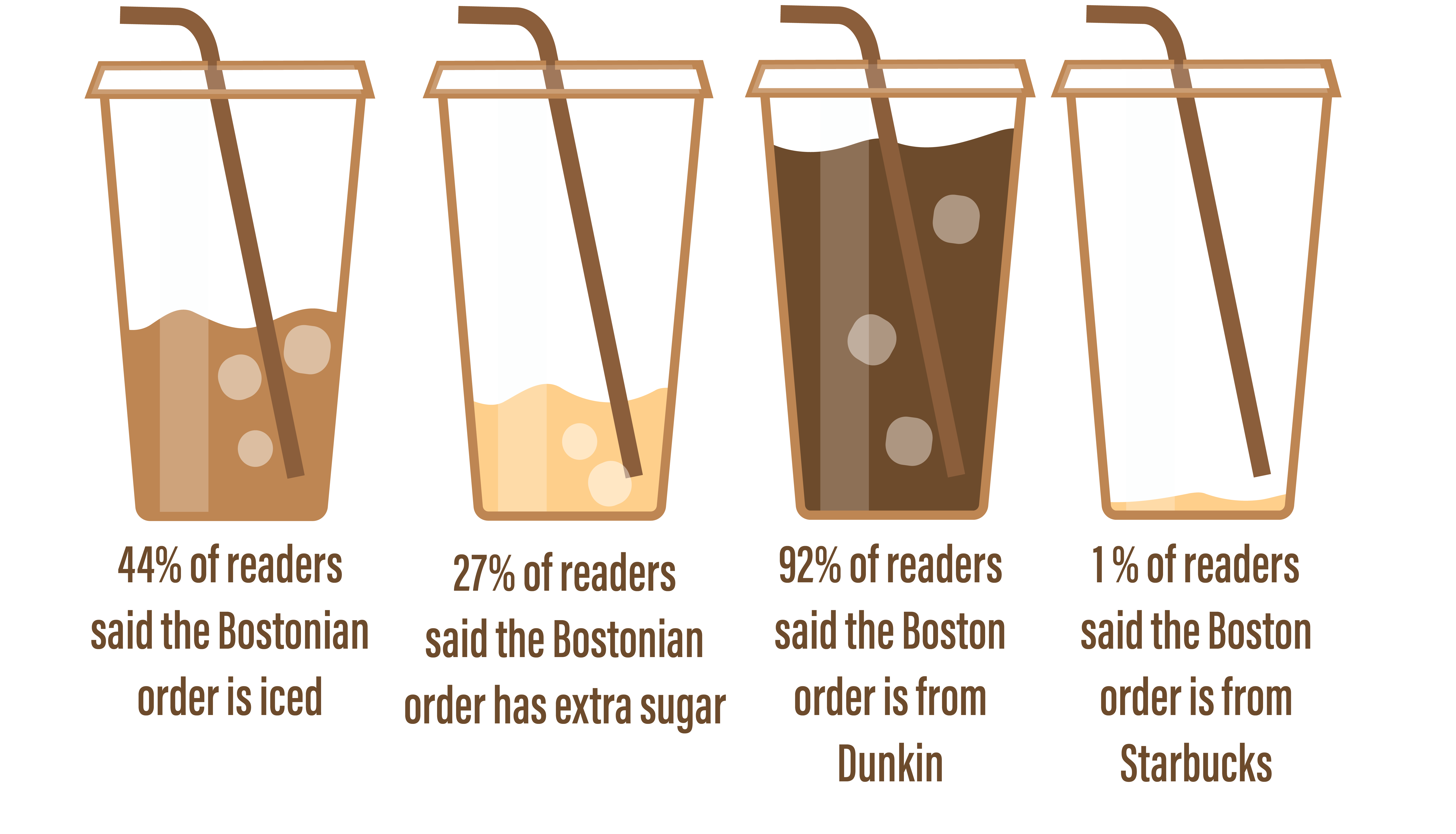 Top coffee orders
Iced coffee. Iced coffee, mostly served with cream and sugar or just black, received the most mentions from 55 readers, several saying it's especially telling if you order it during the winter.
Medium regular. This coffee order, typically a medium-size coffee with cream and sugar for the out-of-staters among us, received mentions from 54 readers.
Anything "extra extra." With 19 mentions, readers say adding "extra extra" is an add-on to your order of any size. Translation: extra cream and extra sugar, kid.
French vanilla or caramel. A handful of readers noted caramel or french vanilla among the top flavors to include in a favorite local order. No questions asked on that.
What readers said about the most Bostonian coffee order
Some responses have been edited for clarity and grammar.
The reigning champ of the Bostonian coffee order is the regular, which to the large majority means a "regular" amount of cream and sugar. However, the consensus doesn't seem to spread past Massachusetts state lines. Here is what some readers had to say about the classic.
"A regular coffee includes cream and sugar. That is Boston. Friends of mine from elsewhere have come here and ordered a regular coffee expecting black and were surprised by the regular coffee in a Boston coffee shop." — Paul Z., Pueblo, Colo., and visits Malden every year
"Large regular. Nowhere else do they know what 'regular' means – even Dunkin' in other states." — Anne C., Norfolk
"​​Regular, which we all know means regular or normal amount of cream and sugar, or extra extra, which is, duh, extra of both cream and sugar. Apparently that's not a thing everywhere else. I asked for a regular coffee down South and they brought me out a black coffee with nothing in it." — Mel, Quincy
"I did not realize a 'regular coffee' was a Boston/regional thing until I was in my 30s." — Michelle, who lives in Portland
"Anything from Dunkin' followed by the word: extra extra. Dunkin's outside the state have no idea what extra extra is, trust me I've tried. The lingo is purely Massachusetts." — K, Hyde Park
"Extra Extra, meaning xtra cream, xtra sugah, kid." — A reader in Medford
These readers didn't have the majority in agreement, but they embody Boston in only the way Bostonians can. They could be some inspiration for your next trip to Dunks.
"Large iced cinnamon sticky bun with milk and 3 sugars" — Aimee, Somerville
"If you're from out of town, you might say 'iced coffee', but only in Boston do you often hear people ask for an 'iced Dunks'" — Matt C., Melrose
"Medium iced, black. The end." — Sara, Burlington
And last, but not least, an astounding life hack to avoid getting cold hands while drinking iced coffee in the Boston winter.
"Medium hazelnut iced coffee with cream and sugar, and a hot cup to go around it." — Kelsey, Franklin
Boston.com occasionally interacts with readers by conducting informal polls and surveys. These results should be read as an unscientific gauge of readers' opinion.