Readers Say
How two North Pembroke fifth-graders are helping children in Ukraine
"I feel like the fundraiser might make kids think that if they have something they want to do, they can do it."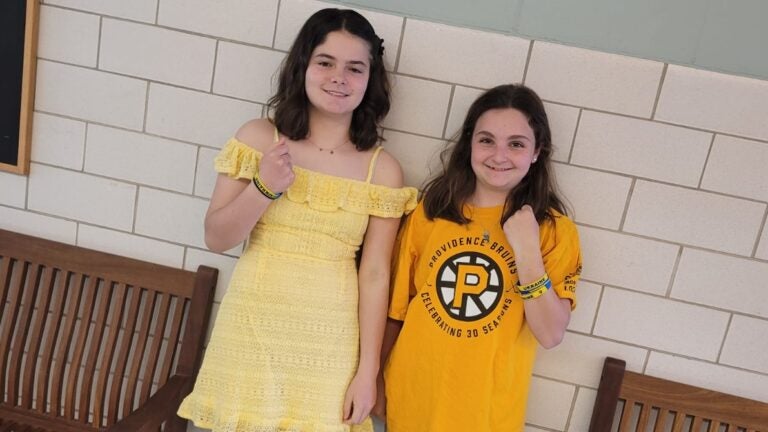 After the Russian invasion in Ukraine began in late February, it's been hard for many to make sense of the continued destruction and loss of life the war has created.
Madeline Rejewski and Violet Carson, two fifth-graders at North Pembroke Elementary School, first learned about the war as many of us did through images and stories shared on the news. It would've been easy for the girls to take in the distressing stories and move on with their lives, but they decided they wanted to do more.
"I was watching the news about the crisis in Ukraine and how horrible the pictures were…I told my mom that it was really bothering me and she said, you can either let it bother you or you can do something about it. So we came up with the idea of the fundraiser," Rejewski told Boston.com.
Spurred by a desire to help those in need, Rejewski and Carson launched a fundraiser selling blue and yellow bracelets at their elementary school to raise money for Save the Children, an international non-profit organization that has been helping children in Ukraine. But before they could start fundraising, the girls needed to have a better understanding of the situation and how they could best help.
The duo spent their weekends researching the Russian-Ukrainian conflict with the help of their parents. They learned about the history of the region and how current events were harming those that live there. As they researched, they weighed charities they could support like Red Cross and the United Way, and landed on Save the Children.
"It was really inspirational to see that when I said if you guys want to do this, you really need to understand what's happening in Ukraine," said Kimberly Rejewski, Madeline's mother. "Most kids when you say they have to learn something, they run the other way but they gave up their Sundays to do the research, watch videos that teach kids about what's happening in Ukraine, and learn."
Their initial goal was to raise $200 by selling the $3 bracelets, but in the last two weeks, they've been able to collect $2,100 for Save the Children.
The entire fundraiser, from inception to execution, was led by the girls, according to Erica Swift, the principal at North Pembroke Elementary. The duo came to Swift and their teacher, Meghan Grier, with a pitch for the fundraiser.
"If there's something going on in the world, you can either wait for somebody else to do it or you can do it yourself. With the girls bringing that message to the forefront, I think it's inspired a lot of people," Grier said. "They were so professional and how they presented their ideas. We guided them but they completed everything on their own. Where we could've done it for them, they did everything."
Ultimately, the Sundays they spent researching the conflict paid off. When it came time to tell their peers about their fundraiser, Rejewski and Carson were able to teach their fellow students what they'd learned through grade-appropriate presentations.
"We felt like it would motivate people at school to help if they saw that it was people their own age doing something," Carson said. "For the younger kids, so they could understand it better, we just told them the general idea. We read a story to them that was based on kindness and giving. The book didn't really go along with the crisis but it just showed that kindness can go a long way."
The girls' efforts have made a big impact on other students at the school, according to Swift.
"We've now had kids as young as grade one asking how they can do something to help," she said. "We teach kids how to have good values. Now, when we say you can make a difference, they can conceptualize it."
Carson said she knows many children their age aren't empowered to take on projects for the causes they care about, but she hopes their efforts will inspire kids in other schools to do similar work.
"I feel like the fundraiser might make kids think that if they have something they want to do, they can do it," she said. "It might motivate them to do it themselves if they didn't think they could do it before."
Boston.com Today
Sign up to receive the latest headlines in your inbox each morning.