Readers Say
Hundreds or thousands for concert tickets? No thanks, say irked Boston.com readers
"No reason to pay for overpriced, past-their-prime nostalgia acts when there are plenty of younger, better musicians out there."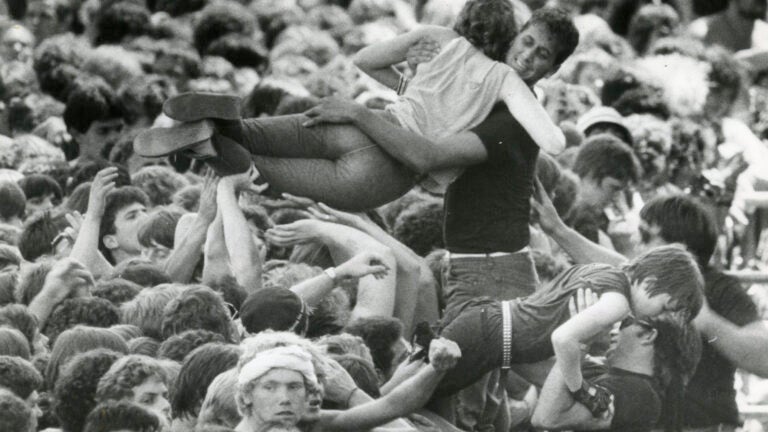 Music lovers of a certain age require very little prodding to regale you with stories of cold nights spent sleeping on sidewalks in an effort to score concert tickets for their favorite artists — a procedure that in the Internet age seems almost quaint, and not a little bit insane.
But is it crazier than shelling out hundreds or even thousands of dollars to see some of those same acts? At least the old way rewarded exceptional effort and not just the size of your wallet. With skyrocketing ticket prices making headlines of late, there seems to be some consensus among Boston.com readers that when it comes to concert tickets, things haven't changed for the better.
"I would take my lawn chair, head into Harvard Square the day before tickets went on sale and sleep overnight waiting for Ticketmaster to open," recalled Jacqui from Salem in response to our ticket price poll. "The whole experience was one I would never forget. I did this for countless shows.
"The last time I saw U2 at Foxboro I paid some $300 for the ticket and I swore that as long as the prices would continue to rise, concerts were no longer in my future — and your article sealed the deal for me," she said.
Most Boston.com readers agreed with Jacqui: With more than 660 responding, more than half — 52% — said attending live concerts was no longer worth the cost, while 29% said they were done with high-priced superstar acts and would stick with smaller shows and venues.
As ticket prices skyrocket, is it still worth going to live concerts?
Yes, if you can afford it nothing beats a live show
No, it's gotten too pricey
For smaller acts, yes, but not for the "big names"
Should "dynamic pricing" — raising ticket prices in real time based on demand — be illegal?
"I see live music all the time," said Daniel M, of Newton. "No reason to pay for overpriced, past-their-prime nostalgia acts when there are plenty of younger, better musicians out there."
But not everybody is willing to wave goodbye to the likes of Bruce Springsteen or Paul McCartney, or more recent stadium acts with hefty price tags like Harry Styles; 15% of readers who responded are apparently stalwarts who won't back down even as concert costs climb.
"The pandemic made me realize how important live music is," said Andy of Charlestown. "The connection between you, the artists, and fellow fans. It was terrible to go over a year without a show. We can't take it for granted. Who knows what tomorrow brings, so if it is worth it to you, spend it."
One thing readers are more in agreement on, however, is that the concept of "dynamic pricing" — the process by which ticket prices increase in real time based on demand — is, possibly, pure evil. In fact, a full 73% of respondents said it should be made illegal.
"They should just set their prices accordingly so that everyone pays the same price for a compatible seat," insisted Jack M. of Lynn. "If dynamic pricing continues then you can add top tier concerts to the list of things that only the wealthy can afford."
Some pointed out, though, that dynamic pricing and similar schemes are just part of the price we pay for capitalism.
"It is the free market so dynamic pricing should not be illegal," said Ted from Westwood. "However I think anyone who pays these crazy prices proves the axiom that a fool and their money are soon parted."
Below, Boston.com readers weigh in on whether live concerts are still worth the cost.
Some responses have been edited for length and clarity.
Live concerts are no longer worth it
"Since 2017, I have spent $500-$1200 to get 'decent' seats (as in, not in the clouds with God) for 2-4 tickets to several concerts featuring big name artists. Only ONE gave a performance even close to worthy of the price (Guns 'n Roses, Gillette 2017). The rest were hyped-up, barely two-hour shows. It was all about getting you in the door for the money grab so these artists can keep up their lifestyle and give a third-rate performance while pushing you toward the gift shop on the way out. A 1000%-plus increase in prices is NOT supported by the quality, which has decreased significantly. YouTube is free." — Sara, Plymouth
"It's not just the price. In a packed concert venue you also have a much greater chance of getting COVID. Add the two together and it's just not worth it." — Chris G., Pelham NH
"It's just not worth it when you add in the parking fees and everything else. Just watch the videos at home on the big screen and surround sound." — Mike B., Boston
"Mainly because people won't STFU and I am denied the opportunity to enjoy the music I paid to listen to. Way too many folks over-served. Cheaper to watch the live stream from home!" — Ann M., Beverly
"It is about affordability, and I just cannot afford it. It is about priorities, and following a performer all over is just not a priority. It is about reality, and this is no longer real." — Mark T., Taunton
"It is pure unadulterated greed! Yeah, lots of stuff costs more, but the performers and the rest have taken avarice to a new level. The outrageous prices they are charging are not worth it. Most especially for the older bands and single performers. Saw America several years ago and they could not hit the notes. Waste of $125 per person. Turn on the radio and enjoy the times they were the best. Stop going to concerts and they will start finding their rocking chairs." — Oxbowmann, Wayland
"It's out of control. I love live events but not at the cost of my mortgage and child's college fund." — Brian R., New York
"There are more important things I can/need to spend my money on. A concert lasts 3-4 hours and then you go home. And honestly you end up forgetting about the details as the days go on." — Jenn, Ludlow
"It's horrible that the wealthy are the only privileged people who can afford to go to a live concert … Greed has gotten out of hand." — Louise F., Centerville
"Capitalism encourages greed. Art was not intended to be affordable for only the wealthy. Artists need to put an end to artist greed." — Mike, Rochester
"Ticket prices are just the beginning! What about the cost of one beer which exceeds the price of a six pack? And paying to park at these venues? Do you need to pay to park at Walmart, Target or Market Basket?! It's pure greed, plain and simple." — Tom C.
"I'm a 36-year devoted Springsteen fan, and like countless others, this week's ticketing debacle rocked me to the core. It was like finding out your spouse of nearly 40 years had always been cheating on you. Coming out of the pandemic, I've paid ridiculous dollars to see artists/bands that I'm unlikely to see again due to their age or planned retirements (Genesis, Elton John, Paul McCartney, Roger Waters). I was planning a trip to NYC to see Billy Joel at his monthly MSG gig, but I'm just tired of all this and don't need to shower egotistical multimillionaires with more money. I'm out." — Patrick G., Portsmouth, NH
Sticking with smaller venues
"There is SO much great music happening in smaller venues and the tickets are reasonably priced. And some of these performers will be future legends. You can get a ticket to a show at Sinclair in Cambridge for $20- $30 and see a fantastic band. Or go to O'Briens in Allston and pay $10 for some solid rock and roll. Or how about Toad in Cambridge where there is no cover and the band may pass a hat?
"Do these people who complain about ticket prices really like live music? Or are they only interested in the big names because they can tell everyone they saw them? If anyone needs suggestions let me know and I'll point you toward a show that meets your taste and won't break the bank." — Robert K., Arlington
"I still love going to shows, but for the cost of two normal seats at a stadium show, I can see four or five shows of lesser known artists in a more intimate setting, and even get a meet and greet and selfie with them at the merch table afterwards." — JL, Shrewsbury
"A night at the Sinclair is better than any show at Gillette." — Mark, Quincy
"Smaller acts and venues are still reasonably priced at $45-$65/ticket, but when you're paying for these large venues with 40,000 people you're basically relegated to watching the performance on a screen. I love the crowds, and the community feeling, but at some point, most people can't spend an entire paycheck on one night." — Brittany, Quincy
"Stadium experiences are overrated generally — I much prefer to be up close with a band, dancing in a general admission-only crowd. The exorbitant fees and prices demanded by 'larger' shows, coupled with the impersonal, cash-grab feeling of it, don't equate to a good enough time to justify the cost." — Mike, Melrose
"There have been a few exceptions, but overall I much would rather go to 3 shows at the House of Blues, rather than 1 show with 65,000 other fans at Gillette. I have also come to appreciate how much better the quality of sound is at the smaller venues making live music so much more enjoyable (for me anyway)." — Gene H., Braintree
"I've seen 392 concerts in my life (I'm 36) and I'll go to a 'big show' every once in a while. But most of the shows I see are between 25 and 80 bucks." — Chris M, Somerville
"The smaller acts need to be supported as they are trying to gain traction, and in my town tix are typically under $35. (There is an amazing listening room here.) I see occasional larger acts and I like really good seats but I max out at $200/ticket. Half the time the sound systems are distorted to the point you can't make out lyrics in the large arenas anyway." — Barb B., Bethlehem
"Smaller venues do not do this. The Bull Run in Shirley, for example, has featured Los Lobos, Eric Johnson, Johnny Winter, Judy Collins, John Mayall. Prices are always reasonable (and fixed). The sound system is excellent." — Stephen C., Boylston
I'll still pony up for live shows
"It is all about what it is worth to you. Events like concerts are ways to unplug yourself from your worries and just have fun." — James, Methuen
"I make plenty of money and can afford anything I want, so I will pay whatever it takes if I want to go." — Shawn D., Methuen
"Ticket prices can be insane and they make it hard to go to shows of artists you aren't a huge fan of. However, for an artist you are obsessed with and puts forth the effort to put on amazing show, it is worth it still." — Katie
"I love music, always have and I just love seeing my favorite performers in person. I feel so alive!" — Eileen, Andover
"Concerts in person have a certain buzz and excitement — from the crowd who is so happy to be there, to the quality of the band, the on-stage dancing/antics and the interaction with the artist/band." — Lori, Western Mass.
"We just saw Elton John, a relatively cheap ticket at $60 plus fees for the top tier of Gillette, but the show was great, and the whole experience was so much fun tailgating with my adult children. I was thinking we should choose one big show every summer to see (next year it will be Bruce!)." — Susan M., Dennisport
"I have a short list of artists that I would want to see in person due to the recent increase in ticket prices. I also feel that if you're a big enough fan of a particular artist that splurging for the best seats you can get is worth it (but nothing that you are mortgaging your house for). Especially if you're only able to see a favorite act every 2-3 years on tour. You also have to factor in, how much longer is that artist going to be touring? With the unexpected passing of members of some popular acts, such as Tom Petty, Linkin Park, etc., I bet some diehards are regretting not seeing those artists the last time they were in town as they now will never get to see them again." — North
"If you pay attention and use presales and such, it's easy to get in at face value. Every show I've attended/going to this year, I've got my tix at face value. And these are big acts. Paul McCartney, Elton John, etc." — Robert G., Salem
"Nothing beats the communal, and often cathartic, experience of being in an arena, club, or some other venue, with other fans, watching and listening to a favorite artist perform live. Listening to pre-recorded music or watching on a screen is just not the same. There are very few artists I would pay more than a couple hundred dollars to see (Springsteen is one of them), but the best ones make every dollar spent worth it." — Martin, Newton
What about dynamic pricing?
"I would instead favor measures to make ticket scalping impossible. Tie tickets to the original purchaser, perhaps by requiring them to present the credit card used to purchase the tickets when attending, and therefore make them impossible to resell; they could only be returned to the venue, which would then reoffer them at the price originally paid." — Shirley D., Dorchester Center
"It's scalping. The price printed on the ticket, with a 10% fee to cover operating costs if I'm buying from Ticketmaster, is fair. Anything more is theft. I buy directly from venue whenever I can." — Donna G., Malden
"Ticketmaster can manipulate supply and demand as they choose. It is not a transparent market. They can hold tickets back to create the sense of a decreased supply if they choose. It is probably illegal." — Aaron, Worcester
"This is technological price gouging. I am fine if Ticketmaster wants to sell a few premium seats but to track sales and online traffic to constantly up the price is BS." — Terrence
"Scalping has been around as long as there have been concerts and the artists have made plenty of money despite that. If they now feel entitled to get a cut of the scalp then they should just set their prices accordingly so that everyone pays the same price for a compatible seat. If dynamic pricing continues then you can add top tier concerts to the list of things that only the wealthy can afford." — Jack M., Lynn
"What's next if it isn't illegal? Restaurants raising the price of food at noon when there's a long line of people wanting to get in and eat? Supermarkets raising prices when there's a long queue of people waiting for cashiers? Emergency room doctor raising prices when an accident involves multiple injured persons, all requiring his immediate attention? Conversely, will restaurants lower their prices at midnight? Will supermarkets lower their prices when no one is in the store? Will the emergency room doctor give free service when no one is seeking medical attention?" — Frank L., Sacramento, CA
"The market demands what the market demands. If they want to try and sell tickets at that price, they can do so and run the risk of decreased demand or public outcry." — Mark, Quincy
"It's a free country. Concerts are a luxury item. I won't go and I hope that others feel the same … but sure, charge what you can. My interest in bands that overcharge drops in proportion." — Jennifer, Needham
"Bands/musicians are welcome to charge whatever they'd like. That it prices me personally out of their audience is what it is. I can hate it as much as I want but that doesn't make it illegal." — Mike, Melrose
"We live in America, supply and demand are woven into our society. It might not be fair, but that is where we are." — Gene H., Braintree
Boston.com occasionally interacts with readers by conducting informal polls and surveys. These results should be read as an unscientific gauge of readers' opinion.