Readers Say
'I'm leaving early and praying': Readers brace for the Orange Line closure
"It feels like 27 more steps than it really needs to be."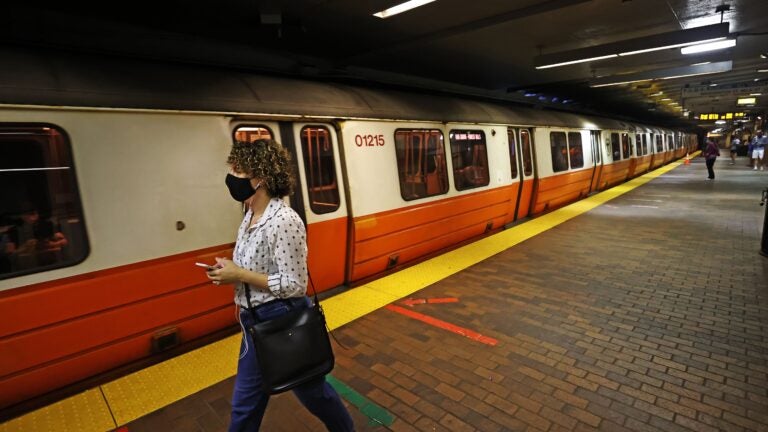 The month-long shutdown of the Orange Line starts tomorrow, August 19, and Boston.com readers are preparing for the worst.
MBTA is offering riders shuttle buses, increased services on other T lines, and free commuter rail services at certain stations, but it's still likely that the closure will present major challenges to commuters.
We asked Boston.com readers how they're preparing for the service interruption, and regardless of the alternate plans they're making, few readers are expecting this to go smoothly.
Nicole from Malden said she anticipates her typical two and half hours of commuting will now cost her four to six hours out of her day. To get through the month, Rachel C. said, "I'm leaving early and praying."
This closure will affect commuters whether they typically ride the Orange Line or not. MBTA officials warned this week that drivers should expect "significant" traffic delays in and around Boston as a result of the shutdown. Boston drivers already lose 78 hours a year to traffic congestion, and it seems that the problem will only worsen in the next month.
"We expect to see more traffic congestion on various highways, intersections, and routes … for drivers, bikers, and pedestrians as MassDOT and especially the city of Boston make roadway changes to accommodate these buses," Baker said.
What will you rely on during the Orange Line shutdown?
Ride-share services (Uber/Lyft)
Officials also encouraged those who can work from home to do so for the duration of the closure, something several Boston.com readers said they're already planning to do.
Alyssa from Norwood said her solution will be "staying at home and not going into Boston."
Not everyone has the option to avoid traveling into and around Boston altogether, and for those who actually rely on public transportation, the upcoming closure will require some flexibility and a lot of patience. Below you'll find a sampling of responses from readers sharing how they're readying themselves for this unprecedented shutdown.
Some entries may be edited for length and clarity.
What changes are you planning to make to your commute during the Orange Line shutdown?
Navigating the MBTA
"Taking the commuter rail then walking to Park Street to hop on the Green Line to work as that is the only way, given the Green Line is shut down from Union to Govt. I get it is necessary, but it's too little too late. They've had plenty of time to fix this issue and they just sat on it until it got worse. I'll probably end up getting to work two hours later. It's incredibly frustrating." — Elena, Malden
"Planning on trying the Silver Line even though it is out of my way. It beats going through Malden and Medford to get to Wellington Station where all the shuttle buses will be packed with riders from Oak Grove and Malden Station. The trains are packed and I'm sure the shuttles will also be packed." — Anonymous, Everett
"I will have to take the commuter rail from the North Shore, as usual, however, I'll need to take a train earlier than I already take to account for the possibility of not being able to get on the Green Line. My new route will be commuter rail to North Station, the Green Line to Park Street to connect to the Red Line, then take that to South Station. It feels like 27 more steps than it really needs to be. If the weather isn't blistering hot, I'll walk to North Station from my job on High Street." — Lisa S., Danvers
'I'd rather just walk an hour and a half'
"I normally take the Green Line (E Line) train from where I live in Somerville to where I work in Boston's Longwood Medical Area, but with both the Orange Line and the Green Line extension closing for the month, I plan to take the CT2 bus in the morning and walk the 3.5 miles home in the evening.
"As I've been experimenting with different routes in preparation for the shutdown, I decided that the bus isn't a viable option in the evening because it is almost always late, and sometimes a whole bus gets skipped during rush hour, meaning I end up waiting an additional 45 minutes or more for the next one. It isn't worth it. I'd rather just walk an hour and a half and know when I'm going to get home with at least some degree of accuracy." — Renee, Somerville
Opting out of the T
"I've always driven to work (MBTA commuter rail passes cost more than my car does), but I'm planning to leave much earlier due to the expected WORSE traffic on I-93. I commute from Lowell/Lawrence to Downtown Boston each day. I am considering asking to work remotely depending on how bad traffic is in the first week." — Sharon, Lawrence
"Trying to work from home as much as possible. Driving is going to be near impossible and the shuttle services will be extremely slow." — Taylor, Charlestown
Silver linings of the shutdown
"I will walk from the Back Bay station to the office. It's only 15-20 minutes each way and it's a great way to get some exercise. The chance to walk along the SW Corridor Path in full bloom is always such a treat, especially when it's populated with adorable babies and dogs." — Cathy B., Wellesley
"I bought an e-bike and I could not be more excited. I've been trapped on the T for years and a bicycle has given me freedom! I'm faster, fitter, and happier." — Rachel, Boston
Boston.com occasionally interacts with readers by conducting informal polls and surveys. These results should be read as an unscientific gauge of readers' opinions.